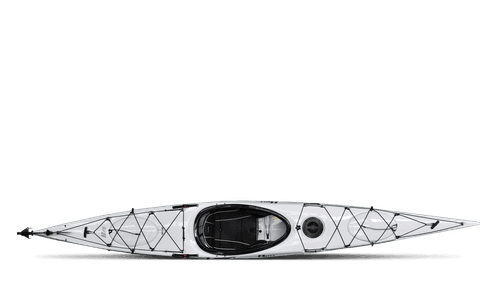 Edge 14.5 Options
Edge 14.5 Description
With its slender bow and slim deck profile, the rudder-equipped Edge 14.5 is where elegance and efficiency cross paths it has just the right amount of chine and keel to make it track well, yet has a swift and versatile character. And to top it all off, it has most of the features serious sea kayaks call their own.
Edge 14.5 Specs and Features
Structure: Rigid / Hard Shell
Cockpit Type: Sit Inside
Seating Configuration: Solo
Ideal Paddler Size: Average Adult, Larger Adult
Skill Level: Beginner, Intermediate
Ideal Paddler Size: Average Adult, Larger Adult
Skill Level: Beginner, Intermediate
Additional Attributes
BOW & STERN SEALED BULKHEAD WITH 15" RUBBER HATCH
Pilot rudder system
ADVANCED CONTOUR FIT OUTFITTING
SAFETY STRAPS
Read reviews for the Edge 14.5 by Riot Kayaks as submitted by your fellow paddlers. All of the reviews are created and written by paddlers like you, so be sure to submit your own review and be part of the community!
I am in the market for the…
I am in the market for the above kayak and therefore cannot submit a review. As soon as I purchase one I will be HAPPY to do so. I look forward to reading the reviews that you get from this contest. Thank you in advance! I think I will be rating it 5 stars from what I have seen and read!!! I am looking for the speed and comfort that it has to offer, as well as the buoyancy from the front and back hatches. A rudder is another factor I am looking for and it has to be at least 14 feet! I can't wait to get on the sea!! To win it would be a dream come true!!
The Edge 14.5 is the perfect…
The Edge 14.5 is the perfect kayak to suit my needs, large enough for the great lakes yet small enough for the smaller inland lakes. Sleek lines, with a stern hatch and bow hatch there is plenty of room for gear for the day trip I like to take. Weighing in at 50lbs it is light enough for me to handle by myself.
Great ocean kayak for the…
Great ocean kayak for the bay
The edge 14.5 does just…
The edge 14.5 does just about everything very well. The size is perfect length for 85% of most kayaking trips. It does not have that extra 3 feet or so , which hinders sea kayaks on most smaller river trips. The colors are good, and it is equipped with good hatches for enough cargo space to even camp for a few days. Bungee cords are played out nice and the overall look is impressive .
I believe it was the 14.5…
I believe it was the 14.5 and not the 15. I seem to remember the handle up front being the difference. The kayak glides really well and paddles easily. For just kayaking and not fishing, which is what I usually use my kayak for, this model slices through the water very smoothly, much easier than my fishing kayak. For a leisure adventure with no rapids and not fishing, this kayak is an excellent choice for an enjoyable day out with friends.
The Edge 14.5 was very easy…
The Edge 14.5 was very easy to handle at about 60 pounds. Once in the water it was easy to maneuver and was relatively fast for it's size. It has plenty of storage room for supplies. I borrowed the Edge 14.5 from a friend and it was one of the best experiences I had kayaking. I hope to have one of my own someday.
My friend let me use his…
My friend let me use his Riot Edge 14.5 Sea Kayak. It was perfect for all my needs, Living in the North Carolina mountains and fishing for bass and trout it was very comfortable and felt very safe. I also used it too run out my braided line when shark fishing on Mexico Beach, Florida. The kayak was light enough to transport but, sturdy enough with it's stiff center spine in the water. I loved the placing of the drain plugs and adjustable padded seat with it's spacey leg room. All in all it was ideal for my needs and lots of fun.
Believe me the brand name…
Believe me the brand name Riot does mean riot because you will have a personal riot driving this kayak with it slim deck profile. Keeping control and smooth handling in almost any environment, it is an extremely beautiful kayak, but don't let the cool style and slender bow fool you. It is of the upmost professional workmanship for a reasonable price, if your a serious and enjoy being risky but safe, this kayak will surely match your expectation. Honestly I don't believe you could find a better built kayak for the price, and it could be the only one you buy in your life time. Might as well buy the best, and even if your just starting out, this one will last a lifetime and you won't learn any bad habits, or tricks with the Edge 14.5 Riot. Easily fit on almost any vehicle, light and solid...enjoy, live long and strong.
This semes to be light…
This semes to be light enough to take with just about any where, and comfortable to be on the water to were it wount cause me to many problems. Looks like a good fit
Was given this kayak for use…
Was given this kayak for use for the day. Spent the afternoon paddling around the Monterey Bay and the marina. The kayak was easy to use for a novice, and I like the responsiveness it had with steering. Something I like about the Riot was how easy it was to get in to and start from the shore. Carrying it from the car to the beach was not hard since it was relatively light. Once on the sand, I drag it the rest of the way. The kayak glided through the water with ease, and way easier than the clunky kayak from the rental company. I glad I got to try this kayak, and look forward to buying my own. Although I will be getting a tandem.
Great product for the price.…
Great product for the price. Fast and smooth across the water.
One of the best built in the…
One of the best built in the USA Light and easy to handle
I love Riot kayak. I have…
I love Riot kayak. I have owned a Riot Brittany 16.5 touring kayak for over 10 years, yellow & orange and and still loving it. It looks great and performed wonderfully. The glide is nice, it's fast for the length, and the seat's been comfortable. I would assume the 14.5 would be the same. Should be stable but fast, lightweight and easy to transport. 14.5 feet should be easy to manoeuver in the water and Good in open waters. Looks like a great kayak, that should easily suit the needs of newbies, intermediates, and beyond. Looking forward to a great summer of kayaking.
Have a used Wilderness 14ft…
Have a used Wilderness 14ft Pungo and compared the Riot to the Pungo. The Edge was a smoother turner and a little better speed. The cockpit on the Edge was not quite as spacious as the Pungo, but more than enough for 6ft 220lbs man. The seat in the Edge was quite comfortable. There is plenty of storage and bulkhead space to do an over weekend trip. Over all I give the Edge 4 stars.
First, some perspective: I…
First, some perspective: I am a 5'8", 170lb novice-to-intermediate paddler with experience gained through local kayaking clubs. This is a review of the rotomolded polyethylene 2015 model which I bought like new 2 years ago. I've taken this kayak out on many 1-3 hr jaunts on small, calm lakes after work as well as longer day trips on Class II (and III, when flooded) streams in Iowa and Minnesota and the choppy open waters of Rainy Lake, Ontario.
The Edge was a rare garage sale find. It is solidly constructed with ample rigging and storage space for a week-long trip I am planning this fall, The day hatch in front of the cockpit is convenient, but I notice the threading tends to stick on hot, humid days. The rudder, which is operated by foot braces, has been most useful as a skeg on windy days since I prefer to practice edge-turns, but it is very responsive. The seat is quite comfortable with some adjustment options, but the back was too high above the cockpit combing to allow a sprayskirt. It also impeded in-water recovery a bit, so I replaced it. The cockpit opening is comfortably large, but probably a little too wide for my body size.
My biggest complaint is the weight. At 51 lbs, it is quite difficult to load onto my roof rack and to portage. It also takes more power to match the speed of composite boats of similar length, but the Edge still far outmaneuvers shorter rental recreational kayaks. The durable polyethylene does stand up to frequent bumps and scrapes when water levels are lower though. Primary stability is slightly tippy at first, but is good for someone already comfortable on the water. Secondary stability is okay, but I think I would be better suited with a narrower cockpit that would be easier for me to brace. It is very fun to cut through small deck-breaking waves and rolling rapids and I feel secure enough in these conditions.
Overall, I think the Edge is a great river and lake touring boat for an intermediate, average-sized paddler without the budget to afford a composite model. I expect it will last me many years as my first kayak, and then many more for situations where a composite would not be as appropriate.
We live on a beach in the…
We live on a beach in the PNW. I tried paddle boarding but just couldn't get the distance I was hoping for. I purchased a rec kayak in May of this year and fell in love with the sport. Quickly I knew kayaking was my jam and I decided to upgrade. I did a ton of research and time and time again the Riot Edge 14.5 came through as the best choice for me. I am a larger paddler, not tall who has the beautiful Pacific Ocean off the coast of Vancouver Island as a playground. I have loved learning the feel of the Edge and how it responds. The fit is great, I feel like I'm wearing my kayak. The only thing I wish was that the rudder system and foot pegs would be separate. Bracing feels a little insecure as the pegs have give. I purchased the 2018 model over earlier ones at a lower price because I had read a lot of comments on the poor seating/too high back from more experienced paddlers. Riot listened to heir customers and made an overhaul of this years seats - the back is highly adjustable making it easy to go from a high back leisurely paddle to a low back distance paddle. All in all, great kayak that I do not feel like I will outgrow anytime soon!
bought a riot edge 14.5 in…
bought a riot edge 14.5 in 2014 liked the orangish color glided very well in the water turns very well with the rudder and keeps a pretty good track without the rudder the seating is not the most comfortable especially the knee contact with the inside of the kayak there is plenty of storage and the hatches are well made and they seal very well lots of bungees the weight is 60 lbs and and at 14.5 ft is very managable sliding it onto my rav 4 rack very nice kayak would buy it again!
Great product - I'm a big…
Great product - I'm a big guy and this can handle the weight with me and gear
Great boat. Easily…
Great boat. Easily manueverable in varying conditions. From fishing or sightseeing in S.W. Florida the Edge is an exceptional Kayak.
The Edge 14.5 has a design…
The Edge 14.5 has a design that is great for beginner and intermediate paddlers. As my skill level has improved this kayak has been there performing at my pace. It has a comfortable amount of primary stability with solid secondary stability. As a larger adult, it is an ideal kayak for me.
My wife bought the 14.5 as…
My wife bought the 14.5 as her first kayak when she first started kayaking. It was purchased from a kayak training center that sells off each year all their boats. It was an instant love affair. The boat was stable but playful all in one boat. It can go from flatwater to calm to slightly bumpy open water open easily. With bulk heads and hatches even short kayak camping trips. As we progressed and became more experienced and certified open water sea kayakers unfortunately the 14.5 couldn't meet her needs. With an extreme amount of sorrow she put it for sale. The potential buyer had to go a battery of questions as she wanted it to go to a good home. LOL! A candidate was choosen and she went to another loving family. My wife actually shed a tear as it was her first love and to this very day given the first opportunity she is going to 're purchase another 14.5 just to have to re-live the glory days. The 14.5 is an awesome all round boat and built with a high standard of quality it far exceeds all other rec boats on the market. I highly recommend her as a first purchase as a newbie or as a seasoned paddler looking for something just to play and paddle in.
Cheers Paddling forever Dale
This kayak seems to have all…
This kayak seems to have all the features that I would want. First of all at 14 and 1/2 feet it is long enough but not too long to make hauling a little easier. I also like that its stable and easy to use for less experienced paddlers. There also is ample room to carry all the gear and supplies needed.
This kayak seems to have all…
This kayak seems to have all the features that I would want. First of all at 14 and 1/2 feet it is long enough but not too long to make hauling a little easier. I also like that its stable and easy to use for less experienced paddlers. There also is ample room to carry all the gear and supplies needed.
No kidding...gave me the…
No kidding...gave me the Edge over all the other kayaks in the bay. Sleek, long easy glides and lovely on the turn. Beauty on the water!
Great for the salt water.…
Great for the salt water. Use it in front of the house.
Easy to keep straight and…
Easy to keep straight and quick response.
Borrowed from a friend and…
Borrowed from a friend and fell in love with kayaking. The Riot Edge 14.5 from Boreal Design delivers on comfort, style, practicality and performance. Very comfortable, adjustable seating, and LOTS of leg room. The slim deck and rudder piloting system along with the hard shell hull make for a straight stable ride and easy steering.
Seriously awesome when it…
Seriously awesome when it comes to speed performance and agility. As sharp looking as it is durable. Go anywhere do anything.
This robust boat does…
This robust boat does wonderful in lakes and rivers. We paddle some pretty big surf in Lake Huron, enjoy river runs and calm, serene marshes and wetlands. This boat does it all for me. This is my 7th season with my Riot Edge 14.5 and although it has a few scratches the boat performs as well as it did on my first paddle. I am 5'7" so feel like this is a great size for me. This boat has allowed me to get into beautiful spots such as Point Pelee National Park marshes that only paddlers have the opportunity to witness. It can be used for a great workout or a very peaceful connection with nature.
I bought this Kayak 3 months…
I bought this Kayak 3 months ago and already done some great expeditions with it, the longest one being 5 days around the Greek island of Thassos. It has enough space in the rear and front hatched to carry all the necessary gear/food for 5-7 days. The seat is comfortable and highly adjustable, the cockpit is large and easy to get in and out of. There is really nothing to complain about it, except maybe that it would have been nice to have some adjustable thigh braces. Overall, a great price/quality ratio, I highly recommend this product.
A few short years ago I…
A few short years ago I started Kayaking in S.W. Florida. My main interests were mainly for fishing in salt water marshes and areas I normally only fished from the shorelines but also for touring and paddling around beaches and coves.
My first Kayak was actually a yard sale find and a promotional Kayak for a brand of Orange Soda. It suited me well but lacked functionality and wasn't very good for waves and shoreline tracking, let alone fishing.
Then I found Riot's Edge 14.5' after researching through a multitude of manufacturers. I wanted something sleek and capable of handling shoreline waves, boat wakes and getting where I wanted to be as quick as possible.
I was able to have all that and more in this Kayak. I could easily cut through incoming waves and eakes without an issue. It tracks like a dream and handles very well. I have taken it on 20mile treks following shorelines and beaches. I've fished with my ultralight rod and reels for saltwater trout and redfish from it without and issue.
Overall. I am rating this kayak 5 stars for many reasons. The quality is impressive and if you love fishing or touring salt water, this baby has everything you need as far as comfort and longevity. This is a highly durable and well made kayak that I would recommend to anyone.
This kayak cuts through the…
This kayak cuts through the water like nothing I've ever experienced before. LOVE IT!
I purchased this kayak for…
I purchased this kayak for the screaming deal of $599. At this price I can not imagine a better value. This is a very aggressively shaped touring kayak. I have compared to some other touring boats that are much wider and slower. Did a 26 mile overnight last weekend in some of the most heavily trafficked water in Montana. This kayak dealt with large wake, in numerous directions simultaneously, quite well. Secondary stability with a fully loaded boat and lightly loaded deck was really nice. A few of the larger wake surfing boats were able to send me through their waves but I took little water and was no worse for the ware. Fit and finish is nice, seat is fairly comfortable (though I have limited comparison experience), ample tie downs and rescue lines, storage is quite significant. I carry fresh food and beer on trips up to two nights and I think I could probably pull off a week with dehydrated food and minimal luxuries. Paddles fast and tracks well with or without rudder.
The only drawback is the rudder actuation system. The pedals require the whole pedal to move making a proper knee locked under the gunwale kind of tricky. I have been able to overcome this by trapping my heel to knee and actuating the peddle with ankle flex. In general I could not be more happy.
Height: 5'11" Weight: 275 Shoe Size: 13 Now that you know my specs, on to…
Height: 5'11"
Weight: 275
Shoe Size: 13
Now that you know my specs, on to the review. Read to the end though as I reveal something shocking. The riot Edge 14.5 rotomolded Kayak is a solidly built boat with high end features for a bargain price. The fit and finish is great and you would not know it was a rotomold Kayak unless you looked very very closely...or tried to pick it up, as it is Heavy! 61 lbs according to Riot's website but, that was likely a figure given for the empty hull without the seat, hatch covers etc. I would say, the actual weight is over 70lbs with all the essentials actually on the boat. What makes the boat feel high end also weighs it down. The hatch covers are solid rubber and heavy but, they fit tightly and don't leak at all. The seat is well padded and adjusts via a mechanical ratchet assembly, again nicely made but, probably heavier than a strap based system. So, I gave this Kayak a 9 because I can't excuse the weight, otherwise this Boat is amazing. It is fast, has great secondary stability, the rudder keeps the boat on track and, it has ample, watertight storage space.
Shocking fact- I wound up giving this Kayak to my wife and I never actually took it out on the water. This was because, there was no way in Hades my feet were going to fit in it. I should have researched the specs a little closer before I ordered on-line. Although, it would not have done much good because Riot does not have the depth of the boat up on their website. But, you can consider my review valid because I inspected this boat ery closely for quality issues and, my wife told me what to write as far as the handling of the boat was concerned.
I have had my Edge 14.5 for 3…
I have had my Edge 14.5 for 3 yrs now and very happy with it. It was my first kayak, and I still do not want to part from it. It has a slick look, has a cargo capacity for a week or more (depends if you fish on your trip). The back rest is comfy but I find it impairs manoeuvres in rough conditions. Personally, I removed my back rest and use a paddle float as back rest. It is below deck, I blow it to get the support I need. With that set-up, rolling the Edge 14.5 is a breeze, and it allows you to be restriction free in rough waters and to do the moves you need to control the boat. Fast enough to keep up with 17 footers, but you will spend a bit more effort than them.
I go for hours without back pain, leg pain or any other kind. The plastic construction is rigid, no blong blong sound form the hull, storage compartments stays dry after many rolls, I rarely use the rudder, this boat tracks well, wind has little effect on it as far as weather cocking. Finish is great, did not need to adjust or fix anything since I got it 3 yrs ago.
It is one of those that you do not outgrow, it will always give you what you need, good for starters and good trainer up to advance level. Long enough for sea and big lake small enough for river running (not neck breaking white water), it is a good middle of the road kayak, that you will keep as back-up if or when you will buy other kayaks.
I upgraded from a rec bathtub…
I upgraded from a rec bathtub to the 2014 Riot Edge 14.5 Thermoformed. Despite my initial fears regarding stability I find this an easy boat to feel secure in even if it is quite narrow. Low Volume design means lower coaming and I think therefore easier paddling.
Kayak has nice touches like deck lines and straps for paddle float rescues which make it look a bit like a sea Kayak. Also it looks great with it's hatch covers colored the same as the boat but those covers go over a stretch neoprene hatch cover which can be difficult to put on. The rudder works well although, (and I know this arrangement is common on many kayaks) I find that making the footpegs do double duty as rudder controls is not ideal. Two piece rudder / footpeg gas pedal type controls (which was what was on my cheap rec winner) are, I think a better option.
To make the Kayak a better fit for me I bought some minicell foam and got my crafty wife to pad out the hip pads and thigh braces. We also removed the high seat back and made up a low back band which sits below the height of the cockpit to made entry and egress easier. Went for a seven kilometre paddle yesterday and all good. It's early days but I don't see me needing anything more in a Kayak.
I brought the Riot Edge 14.5…
I brought the Riot Edge 14.5 as a intro kayak until I figure out exactly what type of paddling I want to do. It's making the decision hard as I can do just about anything in it. Easy paddle on calm water, choppy ocean stuff and even some surf play. This is a good kayak that's priced well.
Only complaint is seat is not the best fit for me as I'm quite skinny and touring seat makes putting a skirt on difficult. Cockpit is large. Some would defiantly like a large cockpit as you can sit on the seat then put your legs in. This really is a great intro boat.
This is a great kayak for a…
This is a great kayak for a beginner to quickly paddle like an intermediate. The second time I took it out, I paddled about 6 miles across Canyon Lake, a large lake north of San Antonio. Dip the paddle and this boat takes off. There are a lot of power boats, also known as wave making machines, on this lake. This kayak rode the waves beautifully. Lots of swell and chop and she was eager for more. Drop the rudder for better tracking across open water, and raise it for maneuverability. The kayak responds well to rudder controls.
I have not had the opportunity to take it out in the gulf for some sea kayaking, although riding the waves and wake thrown up by all the power boaters on the lake on a holiday weekend gave me a good impression of the way it will handle.
It's easy to put up on edge. The seat is fairly comfortable. The seat back is higher than many I have seen, sometimes rubbing on my PFD. Not a big deal.
For the price point, it's a well designed, fun to paddle kayak. And will carry enough gear for a comfortable self-supported tour lasting 3 to 4 days.