A recreational kayak is a type of kayak that is designed for the casual paddler interested in recreational activities on a lake or flatwater stream. Browse all rec kayaks, compare specs, and read recreational kayak reviews from kayakers just like you! Or read the guide to recreational kayaks below for some additional guidance in finding the best boat for you!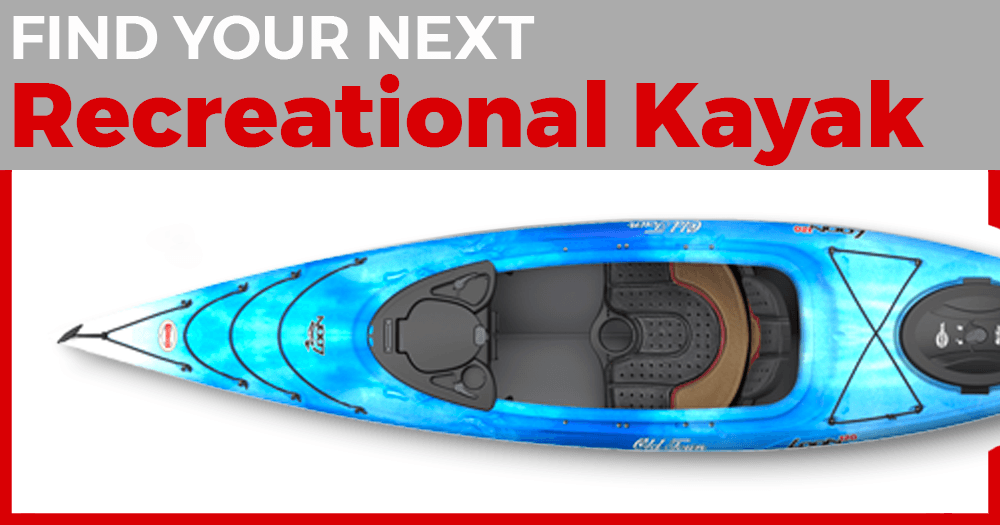 What is a Recreational Kayak?
In the early stages, a basic beginner kayak is what we call a recreational kayak. A recreational kayak is a boat that has a large cockpit, which is the opening that you sit in. It is super easy to get in and out of and works well for all sizes of kids and adults alike. These boats are very stable and durable, making them a little heavier than some other kayak materials. Most rec kayaks are made out of a plastic known as polyethylene plastic. To keep its structural integrity, it has to be made very thick in order to stay strong, and that adds to the weight. So in your basic beginner model kayaks, it will have a tendency to be a little bit heavier but much more stable because of their width.

Buying a Recreational Kayak
When you are buying a recreational kayak, or any kayak, there are several factors that any experienced kayaker will tell you to consider:
What bodies of water will you take your kayak on? Rec kayaks are best for lakes and flatwater and are generally intended to be paddled near shore. Anything more and you may want to consider a touring kayak or even whitewater kayaks.
What are your performance and storage needs? A rec kayak will be durable and stable, but what you gain in stability, you can lose in speed and tracking. Recreational kayaks often won't have much in the way of hatches, bulkheads, or storage, which is great if you're a casual, day-trip paddler.
Consider factors like length and weight- as a generic guideline, a recreational kayak won't be longer than 14' and will be a heavier, but durable, kayak. If launching the kayak can be done easily from shore and adequate means for transporting the boat are available, it is a great fit.
And no matter what/where/when you are kayaking, be sure to wear a kayak life vest!
Recreational Kayak Reviews
Be sure to read recreational kayak reviews before making your decision! All of the reviews you read are authentic and written by your fellow paddlers. With over 20 years of product reviews, there's no better resource for rec kayak reviews! Read this article for the best rated rec kayaks. When you read the reviews, be sure to look at more than just the score, look at what environment they paddle it in, conditions, and how it performed in those situations.
If you've purchased, borrowed or even paddled a recreational kayak, please submit a review and help out the next person!
Recreational Kayak Brands
Below is a list of some of the best recreational kayak brands that cover a wide variety of boats- from plastic rec boats, to inflatable, folding kayaks, and much more. Discover all of their products, read reviews, and find where to buy- both online and locally!