Folding kayaks usually are canvas or nylon skins stretched over wood or aluminum frames. Newer innovations have allowed designers to use interlocking panels and fold patterns to create strong folding kayaks. See the latest folding kayak models below!
What Are Folding Kayaks?
As their name depicts, folding kayaks can be folded or collapsed for easy storage or transport. The foldable kayak concept has been around for over a century, beginning with a skin-on-frame kayaks. Pictured below is the frame of a Klepper America kayak, the AE-I-450.
Evolution of Folding Kayaks
The skin-on-frame folding kayaks are remarkably strong and have certainly stood the test of time. The setup is quick even though the frame is solid and rigid. The likes of Klepper, Long Haul Folding Kayaks, Neris Kayaks, Pakboats, and TRAK make wood and aluminum folding kayaks. The newer wave of folding kayaks, led by Oru Kayak, implements more of a collapsible kayak making for quick setup.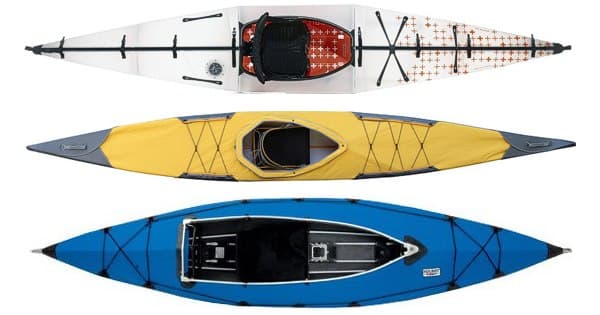 Who Should Buy a Folding Kayak?
Not all kayaking enthusiasts live on the ground-level with access to a garage or shed. If you're up a flight (or four) of stairs in an apartment building, condo, townhome or simply don't have ample storage space, then a folding kayak might be the space-saving solution. But are folding kayaks really only for people without houses or cars to transport? Not so fast - plenty of kayakers choose a folding kayak for performance and responsiveness. Compared to a hardshell, rigid boat, folding kayaks have a frame that can give a slight flex in response to the water, enhancing the touring experience.
Folding Kayak Reviews
When shopping for a folding kayak, reading through folding kayak reviews is paramount to identifying the right one for you. Talk to other kayakers you know who own or have tried a folding kayak and read reviews to learn about setup, maintenance, and performance. We've been collecting folding kayak reviews for over 20 years, so do yourself a favor and read them through!
Folding Kayak Brands
See the top folding kayak manufacturers below, from the companies that have been making folding kayaks for over 100 years to the newer brands that have pushed the innovation to new places.
Featured Manufacturers