As the season turns over and fall sales arrive, it's a good time to inspect, upgrade and replace the most important piece of safety equipment you own - your PFD or personal flotation device.
See the Best Kayak Fishing PFDs of 2022.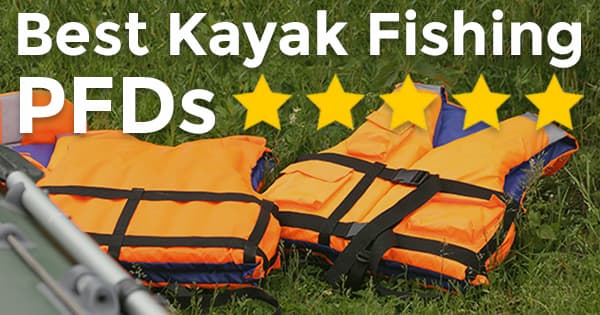 Up north, the cooler fresh waters of late summer are heating up the fall fishing season, while in the big lakes fish are feeding hard before they move into deep water for winter and offshore, the snapper blues are in. Down south, September marks the beginning of bass season in many places, and the next few months will see the big catfish start to come in. On the West Coast, many fall seasons run through the end of October or November; and along the Gulf it's inshore fishing for red and black drum, amberjack and triggerfish.
If you're anything like us, you're fixated on your tackle, your boat, your clothing, your truck...anything but your PFD. And if you're anything like us, you just went out and looked at your go-to personal floatation device and realized you got it in 1999.
That's way too old. Dangerously, irresponsibly old. While the shell or floatation material might (or might not) still be good, we know from hard experience that plastic buckles, especially those exposed to UV and weather, are the first things to get brittle and fail. We can't tell you the number of times we've picked up an old strap or backpack and had a buckle break (although that number includes twice already this year). That's inconvenient when it's a backpack, but could mean death if it's keeping someone's head above water, so we strongly recommend upgrading your PFD every 10 years. Go ahead and keep the old one as an emergency throw, but don't trust it with your life. By the way, don't sit on your good life vest as a cushion, over time it will break down the foam and lose floatation.
PFDs for kayak fishing have some of the toughest requirements of any of your gear. You already know how hard it is to find one that fits properly and doesn't interfere with paddling (which we're convinced is one of the main reasons for the explosion in popularity of sit-on-tops). Add to that the need for the features and toughness specific to the needs of paddle fishing, and we're thankful to have not just our own experience, but the tens of thousands of hours of knowledge shared by our friends and peers in the forums to sort through and find the Best Fishing PFDs of 2022.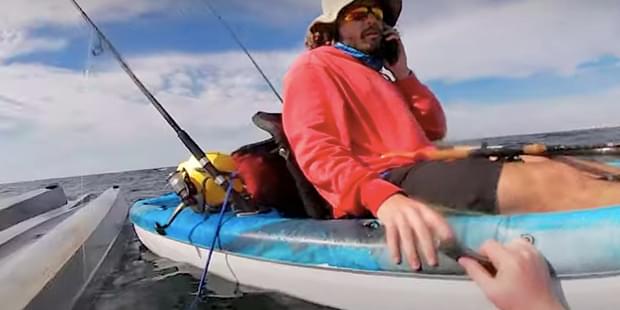 Treading water three miles offshore is no place for a wrong number
Questions To Ask When Buying a Fishing PFD
Do you need a Type I, II or III? We don't recommend anything less than a Type III, and if you expect to be on water other than protected ponds, a Type I is a good investment.
Is it built for paddling? You need good, free arm movement and if you're in a low seat, a high back.
Is it comfortable? Look for vests that have many adjustment options and that are sold in different sizes. You want it to be comfortable when snug—a loose PFD is useless.
How many pockets do you need? We had a life vest with far too many and we could never find anything. But you might have gear that needs to be separate.
Is it made for your type of fishing? If you're fly fishing, does it have a patch for your flies? If you're in salt water, you want to avoid metal zippers that can (will, trust us) corrode.
Does it have a warranty? As we said, your life—or someone else's—might depend on it. Our top pick from NRS comes with a lifetime guarantee, but all reputable brands stand behind their products.
Is it approved? Never buy a fishing life jacket that doesn't have a Coast Guard Approval Number AND a UL seal. European standards for life jacket testing are not as good.
The perfect fishing PFD for you is probably not going to be the one we like, or your friend likes. You might be spending your time on a five-acre pond fishing for bluegills, where something built for the ocean would be overkill. You might not want any pockets or features, and choose an automatic inflatable to keep down the bulk; or you might have 18 little boxes of flies and want a fly fishing vest with floatation. But more than any features or even absolute quality, what's important is that you're going to wear it. It's much better to have a cheap life jacket that you wear every time than an expensive one you use as a cushion.
About the Author
David's family history with boats goes back to when one of his ancestors fell off the Mayflower (they fished him back out), and they've been getting in trouble on the water ever since. He grew up sailing with his grandfather, while his parents were early adopters of folding kayaks, taking him on numerous adventures in the Adirondacks. For his bachelor party, he spent a week paddling in Maine with his best friend just after ice out. His current fleet includes 10- and 12-foot recreational kayaks and a monstrous 18-foot folding kayak that is only at home on open waters.