Best Kayak Paddle of 2019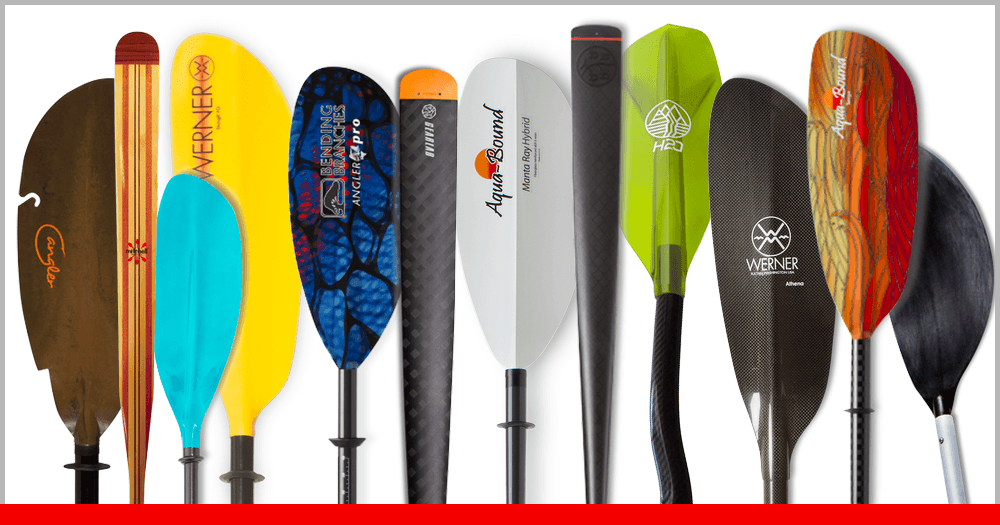 Are you curious what the best kayak paddle of 2019 might be? As you know, that's not a one-size-fits-all answer. You need to first understand your own personal needs and desires in a kayak paddle before determining what "best" means for you. We compiled a list of some of the most popular and most positively reviewed kayak paddles in 2019. In other words, these are the crowd favorites so far this year. Enjoy!
Best Kayak Paddles of 2019:
Gearlab Akiak Greenland Paddle
The Akiak is the first modern shoulderless Greenland paddle with exchangeable tips. Inspired by the Inuit tradition of strengthening paddle tips with bone, walrus ivory, and harder wood, Akiak integrates durable polyamide tips with a carbon fiber paddle. The tip unites smoothly with the paddle to form a seamless paddle stroke.
Check It Out
Akiak Greenland Paddle Reviews:
---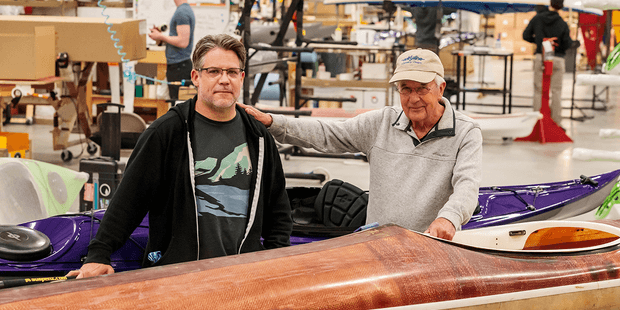 50 years of lightweight, maneuverable, high-performing kayaks.
Check out this interview with Tom Keane, Eddyline Kayaks Co-Owner, on their journey!
Aqua-Bound Tango Fiberglass 2-Piece
The Tango Fiberglass' multi-laminate fiberglass blades are truly hand-crafted using high-pressure compression molding, and they come in three hi-vis color options: Agua, Fuego, and Sunwave. Along with its all-carbon T-700 shaft, the Tango Fiberglass paddle has a super light swing weight yet is strong and very durable. The Tango Fiberglass is available in a 100% Carbon Posi-Lok® ferrule system which clicks into position firmly and securely. The Posi-Lok® features strong, corrosion-free construction, convenient dual-button release, and infinite feathering angles. Licensed Ferrule US Patent No. 6,881,11 The Tango Fiberglass is available in lengths from 210cm to 250cm in increments of 5cm.
Check It Out
Tango Fiberglass 2-Piece Reviews:
---
H2O Performance Paddles Crystal-X 2.0 Bent
The eye catching transparent blades paddle as good as they look. A strong diheadral design creates a blade that is extremely smooth and flutter free. This paddle is sure to be the center of attention wherever it goes.
Check It Out
Crystal-X 2.0 Bent Reviews:
---
Gearlab Kalleq Greenland Paddle
Announcing Gearlab's first flagship paddle - Kalleq, Inuit name for Lightning. It is the lightest and strongest paddle in their line thanks to its seamless carbon fiber construction. Kalleq incorporates the best-available technology and latest design, offering the ultimate paddling experience.
Check It Out
Kalleq Greenland Paddle Reviews:
---
Werner Paddles SKAGIT FG
The Skagit FG is a great value for those with a budget and enjoys a more relaxed, low-angle, paddling style. Find design features direct from our higher models, but at a lower price. The number one selling recreational kayak paddle in its price range, the favorite among recreational paddlers. Fiberglass reinforced nylon, injection molded blades are impact and wear resistant, a combination of light swing weight for the value yet premium design.The patented Smart View Adjustable ferrule allows for the solid feel of a 1-piece paddle and nothing to snag your gear.
Check It Out
SKAGIT FG Reviews:
---
Bending Branches Angler Pro Paddle
The four-time Angler Paddle of the Year just got an upgrade. The new Angler Pro boasts all new patterns, designed by Bending Branches' ProStaff team. It's lighter than the previous generation of Angler Pro's, with larger blades for a more powerful stroke. The Angler Pro has a smooth forward stroke for effortless paddling.
Check It Out
Angler Pro Paddle Reviews:
---
Aqua-Bound Manta Ray Hybrid
The Manta Ray Hybrid is built for high-angle paddlers, bigger boats, and paddlers looking for more power. With its all-carbon shaft and large, abXII fiberglass-reinforced blades, the Manta Ray Hybrid has a low swing weight and provides both comfort and power at a great price point. The Manta Ray Hybrid has two ferrule options. In addition to a snug 3-hole snap-button ferrule (0° to 60°, L and R feathering angles), this paddle also offers the Posi-Lok® ferrule system which clicks into position firmly and securely. The Posi-Lok® features strong, corrosion-free composite construction, convenient dual-button release, and infinite feathering angles.
Check It Out
Manta Ray Hybrid Reviews:
---
Werner Paddles Athena Touring Paddle
The Athena's small size blades pull effortlessly through each stroke, for less fatigue in smaller paddlers. Built with our most advanced blade designs, you'll feel exceptionally light, buoyant strokes while the smooth back face gives a quiet entrance and exit from the water. The Athena is the smart choice for smaller paddlers who have a low-angle style of paddling and want a blade to match their stature.
Check It Out
Athena Touring Paddle Reviews:
---
Pelican International Symbiosa Angler Paddle
The Pelican SYMBIOSA ANGLER paddle is a perfect match for your Pelican fishing kayak. It features a larger fiberglass reinforced nylon blades with built-in retrieval hook, a longer adjustable fiberglass shaft for wider kayaks like the CATCH 120NXT, drip rings, 0 - 65˚ blade angle adjustment, a tape measure along the shaft and a safety whistle integrated in the ferrule.
Check It Out
Symbiosa Angler Paddle Reviews:
---
Gullwing Paddles Gullwing Ergonomic
Why dig when you can glide? The Gullwing Ergonomic Kayak Paddle was designed for paddlers with back or shoulder issues, but has been enthusiastically received by a wide variety of paddlers. The innovative features of this paddle include angled blades that cut just below the water surface for glide rather than heavy dipping, changeable blades, bowed handle contoured like a kayak's prow made of powder-coated aluminum for lightweight paddling and improved grip, and above all, an ergonomic design for hours of fatigue-free paddling. Available in two models: 215 is a traditional kayak paddle designed for recreational paddling ($139) and 230 is a longer paddle designed for taller people or kayak fishing ($149). Coordinating paddle accessories are also available on Gullwing's website.
Check It Out
Gullwing Ergonomic Reviews:
---
Mitchell Paddles Mitchell Horizon
The Horizon is designed for the paddler seeking a traditional Greenland style paddle. This paddle has an oversized oval loom that is approximately 17" long. The blades are 3 ½" wide at the tips and are about 35" to 38" long, depending on paddle length. Blades are Spruce and Santa Maria with a polyurethane tip and the shaft comes in Laminated spruce, walnut and ash.
Check It Out
Mitchell Horizon Reviews:
---
Angle Oar Versa & Support Mount
Versa gives your shoulders, back and joints a break, allowing you the ability to paddle longer and farther with much less effort. The system mounts to most kayaks and includes a Versa paddle, which can be used straight or angled, on or off the mount. Versa rotates in every direction around a support post, creating a smaller range of motion and an energy-efficient paddling experience. Versa keeps people who didn't think they had the strength or endurance to kayak doing what they love. And because you can paddle Versa with one hand, it's great for anglers who can hold the rod with one hand and paddle with the other.
Check It Out
Versa & Support Mount Reviews:
---