Best All-Around Paddle Boards of 2022
From inflatables to hard boards, the gamut of All-Around Paddle Boards being offered in 2022 is remarkably complete. But how do you evaluate all of these SUPs and select the right choice for you, your experience, and planned paddling? Fortunately, your paddling friends have been hard at work. Here's the best all-around SUPs as paddled, tested, and reviewed by you!
So how do you evaluate your options and make a decision in 2022? To begin, you need to understand that an All-Around SUP is named appropriately. That is, an All-Around SUP is designed and intended to be used for all water types. Whereas other categories of SUP might be optimally designed for a specific water type or duration, all-around boards balance speed, stability, and tracking. If versatility and ease of use are your priorities, then an All-Around SUP is perfect for you.
Fortunately, the ever-growing SUP community has been paddling along and sharing their experiences through All-Around SUP reviews. By leveraging the reviews and experience that's been shared by thousands of your fellow paddlers, they've helped narrow the remarkable gamut of options down to the best of the best.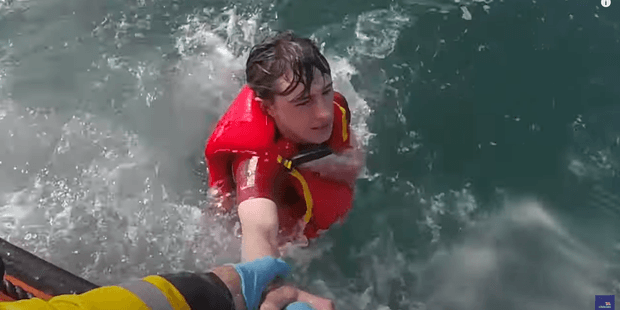 When a 17-year-old paddleboarder was swept out to sea, his survival depended on his cell phone and the voice on the other end of the line.
Considerations When Buying An All-Around SUP
An all-around board, generally speaking, is a great choice in SUP especially for those who are new to the sport or see themselves paddling mostly flat water. They're wider, thicker, and typically longer than a Surf SUP. But they're shorter and wider than a Touring SUP. They're designed to be the most versatile, all-purpose board which makes them the best choice if you're just getting into the sport because you can do everything with this one SUP.
Before you start evaluating All-Around SUP models and the many options, you need to consider a few different factors:
Volume & Board Size - The most overlooked, but also one of the most important, factors is your size in relation to the board. Volume is a great way to think about a board size. There's a certain amount of volume inside any board. That volume is what floats you. So you need a board with a certain amount of volume so that you'll be comfortable out there and you won't be unstable.
Width - Width is a big factor as it relates to SUP stability. As the board gets wider, you can expect it to be more stable. But as the board gets skinnier, it'll track straighter and faster. So you'll want to find a width that matches your preference for stability vs. speed and tracking.
Length - Board length is important not only for the type of water you see yourself paddling (Flat water? Ocean? River?), but also for your planned distances and duration. The longer the board, the more glide you can expect and you can get more distance and cover more distance. But the shorter the board, the more conducive to that surf-style performance you can expect.
Thickness - Board thickness is also often overlooked and misunderstood. The ideal thickness will depend on board material and whether you are looking for an inflatable SUP or a hard, rigid SUP. In general, you'll see and want your inflatables to be thicker than your hard, rigid board. Especially for inflatables, you want to make sure that the thickness and rigidity when inflated will be durable and perform for your entire duration.
Below we'll lay out a few of the absolute best All-Around SUPs to choose from. Rather than a single opinion, we've compiled this list using SUP reviews and experiences from thousands of paddlers just like you. So use this list as a starting point. Get some ideas, read some reviews, look through the entire All-Around SUP Gear Guide, maybe browse the message boards, talk to your local paddlesports retailer or paddling groups, and get out and try it before you buy it!
And, of course, when you're done, be sure to help the next paddler in their search by submitting a review!
Best All-Around SUPs of 2022