Touring Paddle Board Gear Guide
A Touring Paddle Board is designed for the SUP enthusiasts who want the ability to travel longer and further on more of an expedition-style paddle. Whether your route takes you near or far, you'll be confident in a Touring Board's storage capacity, stability, and tracking. Browse all of the latest and greatest touring paddle boards made available by brands like Sea Eagle, ISLE Surf & SUP, and Pau Hana. Read the complete touring paddle board buyers guide below or check out the hundreds of Touring Paddle Board Reviews as written by your fellow stand up paddlers to learn from their experience!

Touring Paddle Board Overview
While each board will have its own design and feature set to enhance its touring capabilities, there are a few things you'll want to pay attention to. The first is storage capacity. Look for an adequate number of D-Rings, tie downs, or bungee systems to safely and secure your gear. You also need to think about the shape of the board itself. A wider tail or wider board will be more stable, but a skinnier board will be faster and track straighter, so it depends on your performance style. The hull shape makes a big difference in terms of tracking, speed, and how the board will respond to waves. So you might opt for a displacement hull (think sharp, pointed nose) to help cut through the water or a planing hull (think flat and arched nose) to help float over any waves and stay stable.
How much should you expect to pay for a Touring Paddle Board?
This year, you can generally expect to pay anywhere from $820 to $1999 for a touring paddle board with your most common price points being around $1275. You can absolutely find them for more or less, but that gives you a pretty good baseline as you shop. The graph below shows the percentage of Touring SUPs that fall into each price range: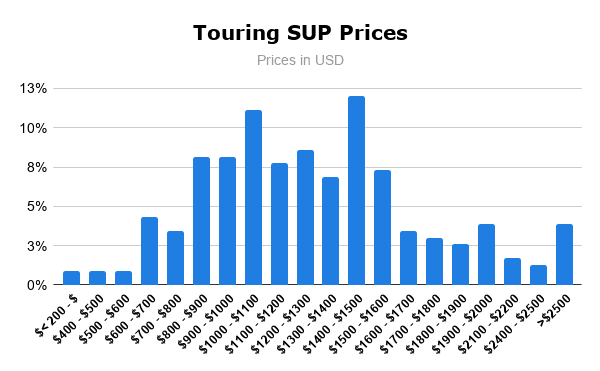 What is a good length for a Touring Paddle Board?
You'll find the length of touring paddle boards generally ranging from 10'4" to 14'0"with an average length of 12'0". Each length offers different trade offs and benefits, so the right length varies between stand up paddlers and your experience level, performance needs, and types of water you paddle. The graph below shows the percentage of Touring SUPs that fall into each length range: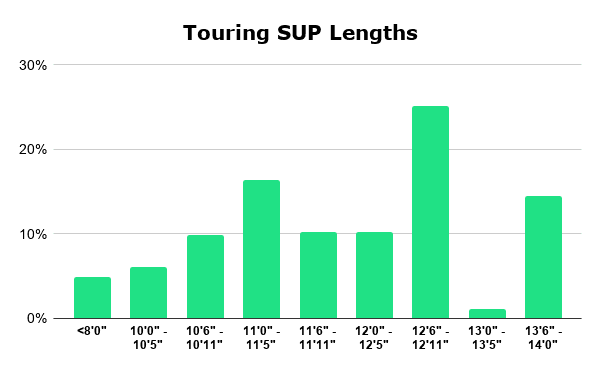 How much does a Touring Paddle Board typically weigh?
Generally speaking, most touring paddle boards weigh between 22-34 pounds with an average weight around 27 pounds . Weight will be determined largely by material, size, and features. The graph below shows the percentage of Touring SUPs that fall into each weight range: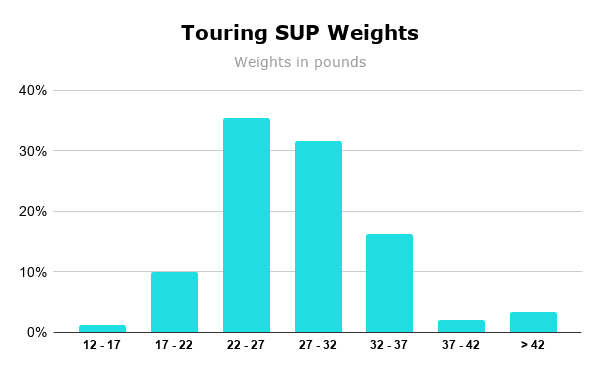 Touring Paddle Board Reviews
Paddling.com has been around and collecting product reviews from paddlers like you since 1998. With over 35,000 product reviews, there is no better expert than the largest paddlesports community! Of those reviews, there are 234 touring paddle board reviews and counting! Please be sure to submit a review and share your experience with the rest of us!
Here are the 10 touring paddle boards with the most reviews:
Touring Paddle Board Brands
To date, there are 48 touring paddle board brands like Sea Eagle, ISLE Surf & SUP, and Pau Hana. Below is but a snapshot of some of those brands, which you can click to view all of their products and product reviews.