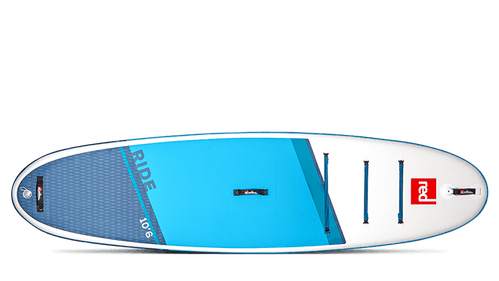 10'6" Ride MSL Options
10'6" Ride MSL Description
So, you need an inflatable paddle board that will see you right in all conditions. Well, look no further. Red Paddle Co's multi-award-winning Ride 10'6" is Red Paddle Co's most popular board.
Imagine how at ease you'll feel paddling out to sea on this versatile board. It offers excellent durability along with superior stability, so can withstand even the wildest of water adventures.
This board is designed to glide over water in all conditions. Whether you feel like a leisurely paddle on the lake with friends, or an action-packed adventure in head-high surf, this board offers a smooth and predictable ride. No matter what type of rider you are, you'll have endless fun on this all-round board. It's 120mm/4.7'' thick, providing incredible stiffness that doesn't compromise on performance.
10'6" Ride MSL Specs and Features
Structure: Inflatable
Seating Configuration: Solo
Ideal Paddler Size: Average Adult
Skill Level: Beginner
Ideal Paddler Size: Average Adult
Skill Level: Beginner
Read reviews for the 10'6" Ride MSL by Red Paddle Co. as submitted by your fellow paddlers. All of the reviews are created and written by paddlers like you, so be sure to submit your own review and be part of the community!
Great build quality....Great…
Great build quality....Great stability. 3 moulded fins give extremely suspect tracking....rounded shape nose gives for a suspect glide experience. Sold as a great all-round board but falls flat at the basics ie going in a straight line. The only thing this board has above my budget boards is better stability and build quality. Great board for beginners but you'll soon grow out of it if you require more than playful fun on the beach.
Decent all around board.…
Decent all around board. It's stable enough to bring my 70lb lab for a paddle around the lake. I had an issue with the first generation 10.6 and Red Paddle was quick to resolve the issue. Great customer service! My only complaint is the board is kind of slow.
I ordered the Red Paddle SUP…
I ordered the Red Paddle SUP and sent it back to Amazon. It came with a cracked handle on the pump, so it didn't work. They finally sent me a new handle after almost 2 months and even then, the board wouldn't inflate to the required level of psi so it felt incredibly wobbly in the water. Also difficult to fold up to get back into the carrycase, so not practical at all for regular transport. Pros Nice colors. Sturdy carry case on wheels Cons Pump was broken. Board wouldn't fully inflate with repaired pump. Red Paddle has horrible customer service so getting help with repairs or questions is incredibly difficult. Board felt wobbly and unstable in the water (maybe due to inflation issue). Difficult to get into the carry case once used. Usage Intended to use for touring and yoga, but returned to Amazon and replaced with a Pau Hana hard board
We tried out several boards…
We tried out several boards before deciding to go with the very versatile Red Paddle Co 10'6" Ride. We don't have a lot of space for storage so the fact that it's an inflatable was a key selling point. It comes with a back pack/bag and a dual chamber Titan pump that makes for pretty easy inflating. In addition there's a handy water resistant phone case and repair kit. We are new to the sport (2years) and find the boards easy to maneuver as well as pretty stable. We have taken the boards on everything from rivers, choppy ocean, flat calm ocean, and lakes and have had a blast. We haven't done any surf just yet but I look forward to that happening in the near future. Pros It's a great package deal. Cons Haven't found any yet! Usage mainly touring, some yoga
Nothing but issues and the…
Nothing but issues and the supplied air pump is total junk. Pros Seems to be a decent riding board. Cons The air pump is junk and so is the valve. I called customer service and had to cut a piece out of the hose (quality control issue) it's still a piece of crap. The valve is a nightmare after spending a half hour filling it up the valve won't close and dumps all the air. No help from customer service.

** UPDATE **
Customer service provided us with a new valve and better pump. This should resolve our issues. Usage
This is a perfect SUP board…
This is a perfect SUP board for touring, it is versatile and stable. Every family member have tried it, even my parents enjoyed it. The board slides lightly, thus you can reach a good speed. Cargo tie-downs is also a big advantage, as that allows you to take the necessary stuff with you without fearing to lose them in the water. Pros Cons Usage Touring
I LOVE my board! The Red…
I LOVE my board! The Red Paddle Co. 10'6" Ride would be a great all around board whether it was inflatable or not. I bought this board because I travel a lot, and I wanted a board that could fly and drive with me easily. It absolutely fulfills that need, but what I didn't know was how satisfied I would be with the board overall. It is stable, smooth, tracks well, reasonably fast, and very stylish. A bonus is that it comes with an awesome travel bag and pump! Pros I love the ease of inflation and deflation. I am also very impressed with the ride and control. Cons The only con is that it is not as fast as most hard-boards I have ridden. Usage Touring, exercise
I bought the Red Paddle Board…
I bought the Red Paddle Board based on all the reviews out there and so far it has delivered. I've kept both of mine inflated and I transport them in my truck. I've yet to hit the surf with mine as I have just cruied the flat water of my local harbors Pros Very stable, wide platform. Cons Tracking. On the standard SUP's I've paddled I can take 4-5 strokes per side without having to transition to the other side to keep straight. The small 3 fin system for me allows me only two strokes and then I have to switch sides in order to keep tracking straight. Usage Exercise, touring.
Great solid board. Couldn't…
Great solid board. Couldn't even tell it was inflatable as it felt very stiff and sturdy. We transported on the roof fully inflated with zero issues. Stores nicely and very compact when deflated. Pros Sturdy. Wouldn't have to worry about small impacts or crashes Cons Premium price tag Usage Touring.. Lakes.. Recreationally
The red paddle 10'6 ride is…
The red paddle 10'6 ride is the first board I have bought after having a lesson. I find it to be incredibly stable and easy to paddle. The biggest advantage for me is its portability. I can throw it in the boot of my car (not even a big car!) and travel off to explore the coast, or, more local to me, the canal system- and yes, I have had some funny looks! The bag is superb, so robust that I am planning to travel with the board overseas using it. It feels solid and can even fit the red paddle Titan pump in too. Initially I worried about punctures using an inflatable board but my word, these things are built to last! My next adventure is to attempt to catch a wave which is my summer ambition when I holiday down to Cornwall! All in all, for a beginner who needs mobility, this board is first class! Pros Portability Cons On the heavy side (but shows the quality of the internal drop stitch) Usage Exercise. Canal cruising. Surf (hopefully!)
If your getting an Isup, this…
If your getting an Isup, this is the only choice you should make. Great all round board. easy to store. Feels like a solid board when inflated. This board is extremely durable and can take a beating. Great package that comes with a 3 piece paddle which makes traveling with it really convenient, and the bag is one of the best out there and equally durable. Pros Comes with a 3 piece paddle and a really great bag that has wheels or back straps. Folds away easily for storage and fits conveniently in the car. inflates really quickly thanks to the new style of pump. Cons Sits a little low in the water, but if your worried about getting wet perhaps you should choose another sport Usage Touring, rivers, canals and sea. Some small surf
I got on a paddleboard for…
I got on a paddleboard for the first time this past weekend in Destin, Fl. The conditions were favorable, and the board was amazing! Lightweight, very stable, easy enough to handle for a beginner. Also great for on the water sunbathing. Even as a beginner I was able to hold a side plank without getting wet. Pros Lightweight, stable, easy to handle Cons With nothing to compare it to it was not that easy to turn Usage Exercise and touring
I love my Red Paddle 10'6".…
I love my Red Paddle 10'6". It's stable and wicked fun to ride. I get questions and compliments every time I take it out. I've ridden on slow, quiet waters and on choppy seas and each time, she performs like a dream. Pros Stable on the water and portable for me. I live in a condo and storing my Red Paddle is a piece of cake. Also, the new Titan pump is easy and fast to use. Cons There is nothing negative about it. Usage I use it for touring, exploring, exercise, and making my friends jealous of all the fun I'm having.
This is the board I rode this…
This is the board I rode this summer on my first ever attempts at SUP Paddleboarding. It is a really attractive SUP to look at, and just the right length and size for me ( I am 5'6 and a half!). It felt really stable in the water, perfect for those first tentative attempts to stand up and paddle without falling into the ocean! By the end of the summer holiday, I had even attempted SUP yoga on this lovely paddle board, and even when the waterski boat came quite close it stayed stable in the water! On the last day of the summer holiday, I paddled out on my lovely Red Paddle Co SUP paddle board out to the middle of the ocean and just watched the sun glittering on the waves. Just magical. I loved this board and wished that I could have taken it home with me! Pros Beautiful SUP board, good size, very attractive, stable in the water, ankle strap to keep it attached to its rider! The children loved it as much as I did! Cons Nothing! Only the fact that I couldn't take it home with me! Usage Stand up paddling (leisure), Sup Yoga., exercise.
I learnt to ride a SUP (Stand…
I learnt to ride a SUP (Stand Up Paddle Board) for this first time this summer and I loved it! The Red 10'6" SUP was just perfect for me. It is a beautiful SUP and was really stable in the water and comfortable to ride standing, sitting down, lying down, or doing SUP yoga! Pros Perfect for stand up Paddleboarding, beautiful design, just the right size (I am 5'7"), stable in the water, great for SUP yoga. Cons Nothing. Usage Exercise, enjoyment, SUP yoga, just standing on it and watching the sunlight glitter on the waves and the mountains in the distance!
Surprisingly sturdy…
Surprisingly sturdy considering it is an inflatable board! Pros Sturdy. Ideal length for shorter faster trips and just crusing. Cons Deck got dirt and stayed dirty after a cople of uses Usage Touring.
This board is amazingly…
This board is amazingly stable! A well built board, easy to pump up and most of all much more stable than I thought ISUP's could be. Well worth the asking price though a dual chamber pump looks like a must buy too, as it can take a while to get all the way to the recommended 20-25 psi with only a single. Used on calm water and in small waves and the board performed well on both. Pros Stability, build quality, compact packing. Cons If you get really serious you might want to upgrade for a proper hard board. Usage Touring, small wave surfing.
This is, in my opinion, the…
This is, in my opinion, the best inflatable in the market. After some years of paddling a solid board, I tried the redpaddle 10 6 and I can say it is a great all round board with almost the same performance as the solid boards. Pros The construction quality, with top grade materials. Its stiffness. The Titan pump. Cons The rounded rails make surfing this board a little less optimal than surfing a solid board. Usage All round board: touring, surfing little waves, exercise...
This board is great! Was…
This board is great! Was really surprised on how stable this inflatable is. Extremely easy and quick to inflate. Pros Extremely stable. When deflated can be stored just about anywhere. Cons Usage Recreation/exercise
For our first boards after…
For our first boards after one taster session on 'solid' boards on a lake these have been incredible. Light, manoeuvrable, stable and most of all... great fun. Pros Easy to inflate Very stable Easy transport and store Cons Nothing yet Usage Touring but looking forward to some sea action ☺
I got it as my first board…
I got it as my first board and for me it is a good all around board. Pros Stability Inflatable Cons None Usage Touring & exercise
I purchased my Red Paddle…
I purchased my Red Paddle board late in the summer of 2013 so I was only able to ride it a couple of times. But luckily I have been able to enjoy her for the whole summer of 2014 and I have loved almost every minute of it. It is a smooth and comfortable ride and I would recommend the Red Paddle board to anyone. My favorite thing is to go boarding bright and early in the morning. It is just me on my board in an empty lake and it feels like I am the only person on the planet. It is the most amazing feeling I have ever experienced. Pros Living in a condo restricts me from having a regular solid board, so the fact that Red Paddle sells an inflatable board is ideal for me. I am able to store it in the closet and it fits in the back seat of my car. I like that I don't have to install racks on my car in order to transport it from place to place. And I can also take it with me on vacation if I so choose to. What I like the best about the Red Paddle is the comfort and stability. Being an inflatable it is softer on the feet when paddling for long periods of time, and softer on the body when you fall. And being a newbie to the sport, I fall periodically :) I like how wide the board is as it offers me more stability. Overall it is a nice smooth comfortable ride. And very comfortable if you just want to float around and read a good book too. Cons The only con I have found is the pump that is provided for the board. According to the video on the Red Paddle web page it can be inflated easily in just a few minutes. I did not find this to be true at all. It took me 20 minutes of continuous pumping and I was unable to get the last few pounds of air in to reach the recommended minimum of 15 PSI. I have since purchased a BTP two stage electric turbo pump with a portable battery. I had to epoxy the valve from the Red Paddle pump into the hose of the BTP pump but now it works perfectly. Usage I mostly use my board for exercise and touring. I like to challenge myself to go further and further each time, and to explore new locations. And I love that I have the option of standing, sitting or just laying around. Its a great way to spend the entire day. Pack a lunch and bring along my tunes and I am set for the day.
I shopped around quite a bit…
I shopped around quite a bit and read a number of review before deciding on two of these board (pic shows 2013 model, I have the 2014 version). The key reasons I was drawn to these boards we the durability, firmness and price. Good inflatables are expensive and when you are buying two at once, deals are that much more desirable. My wife and I used them for the first time today and we loved them. They are definitely firm for an inflatable and very stable, and they glide much better than I was expecting. For reference I weigh about 175 and had a 45 lb dog on ridding with me and had no issues (I inflated to 20 psi). So far we are very happy with our purchases and can't wait to go out again. Pros Firm, stable, glides well, looks good (the 2014 models graphics are much nicer in my opinion) and the inflation process easy to figure out and helps give a good warm up ;-) Cons There is a D ring under the front of the board that provides a bit of drag. My wife didn't notice it but I wish it was removable and may find a way to cut it off. That's it for now, will update if I find anything else. Usage Exercise, touring, will be trying class I - III white water later this summer and from what I've heard it should do great. I could also see this working for Yoga as my wife and I both found it very stable even with a dog walking around.
A great board for the all…
A great board for the all round paddler, it floats and glides easily on flat water, while still riding smoothly and predictably in surf. Pros Light weight, but sturdy. Really compact and convenient, all the more so given its suitable for most waters, be it lake or ocean. Cons When the waves are killer, I wish it would inflate that little bit quicker. Usage Exercise, leisure, surf and still waters. It comes with me wherever I go, allowing for me to keep my passion alive throughout the year.
Note that this a review from a dealer of this board. The…
Note that this a review from a dealer of this board. The Red Paddle Co 10'6? Ride is a great all round stand up paddle board. It also happens to be an inflatable which gives you great benefits. To the purists, an inflatable won't feel right, but to many, the advantages of an inflatable (storage, transportation, bombproof rails and construction) far outweigh any disadvantages (pumping it up and little flex). It's my go to board for everything but big waves. Pros Paddling the 10'6″ is a breeze. It's a long-ish board with good width and has a nice planing area. First impression is that the rounded rail nature of an inflatable tends to give a slightly vague feeling when things get rougher on the water, but also mean it is extremely forgiving and stable. Cons Inflatables can be used in the surf however the 10'6″ Ride is on the lower end of surfability. I've ridden it in wave faces up to 5ft and it performs well. You need to get way back on the EVA deck and it prefers to go down the line. It'll turn well, but watch for the nose catching and pearling. It's length and flatter rocker line, while great for cruising, work against this paddle board in the surf. That said, I often ride small waves with it when my other board (8'5″ x 29″) is too much work. Usage General cruising on the ocean, lagoon and river. Small waves.
This is a great all round…
This is a great all round board from your first ride when your learning to small surf. It's great if you want to explore the bays around your hotel when you take it on holiday too. The fact that is comes from a company who's staff all ride the boards they produce and sell means they don't like second best. I have paddled this board on white water too and even after getting it wrong and hitting major rocks, it didn't show a single mark on it. There is a debate that inflatable boards are slower than solid boards to ride and the speed difference is true but if you are a beginner or occasional paddler then you will not need that difference. Pros Ride,stability,longevity,load capacity, build quality, easily stored, easy to transport. Cons Not so quick to turn in the surf. Usage Exercise,surf, touring,white water,fitness training.