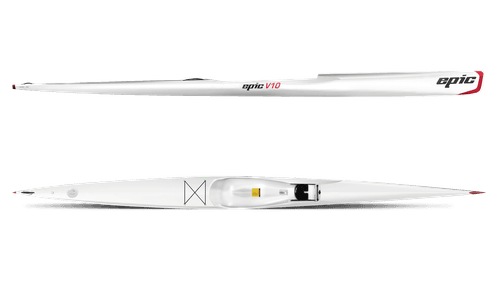 Epic V10 Sport Surfski Options
Epic V10 Sport Surfski Description
The V10 Sport offers terrific flat water speed and exceptional rough water performance, similar to the V10, but with more stability. It is the best all-around surf ski for intermediate to advanced paddlers in a variety of conditions! Intermediate level paddlers will quickly appreciate the higher speeds on flat water, while advanced paddlers will enjoy the enhanced balance, speed and handling characteristics in larger conditions. The V10 Sport fits a wide variety of sizes, accommodating paddlers from 5'0" to 6'7". The footbrace is fully adjustable with self-adjusting pedals.
Read and submit reviews for the Epic V10 Sport Surfski.
Epic V10 Sport Surfski Specs and Features
Structure: Rigid / Hard Shell
Cockpit Type: Sit on Top / Open Cockpit
Seating Configuration: Solo
Ideal Paddler Size: Average Adult, Larger Adult
Skill Level: Intermediate, Advanced
Ideal Paddler Size: Average Adult, Larger Adult
Skill Level: Intermediate, Advanced
Read reviews for the Epic V10 Sport Surfski by Epic Kayaks Inc. as submitted by your fellow paddlers. All of the reviews are created and written by paddlers like you, so be sure to submit your own review and be part of the community!
Great boat, but not for me. I…
Great boat, but not for me. I wanted to get into surf skis after sea kayaking for many years and found a nice used Sport. The build of the boat is great, it looks great and it's fast. On flat water, I absolutely loved it. Would use in the waterways around Florida for fitness and that part was fun for me. When I would take it into confused seas or deal with lots of boat wake in an inlet, etc, I never got as comfortable as I would have liked. This limited how much I would use it -- and that was probably my issue. More time in the seat would have helped a lot, but I found myself paddling my other boats more. I eventually sold it and haven't missed it once. Not to say it is a bad boat -- that's not the case at all! It just wasn't for me. I may try out a V8 in the future, but I love my V6 for everyday paddling and overnights.
This is my second V10 sport…
This is my second V10 sport as I had the older model too. The newer version does seem to be a bit quicker and glides better than pre 2013 models. I am 57 years old and paddle small lakes in the midwest with a couple outings on the Missouri river. I certainly am not an expert paddler as I took the sport up when in my 50s but I do get out several times a week.
I find the V10S to be a nice combination of speed and stability. The boat has a very short learning curve and you will feel at home in it very quickly. No one should feel intimidated in this boat and I often wonder why Epic even bothers with the V8 and lesser models. I mainly paddle for fun and exercise and when cruising I easily hold a 5 or 5.5 mph speed. I am sure a paddler in better shape would have no trouble doing 7 mph in this boat. I have the performance build and find it to be extremely durable.
Because I feel that I have this boat mastered I am planning on Purchasing a V10 in the GT build because the idea of a 20lb ski really appeals to me. I realize that the Ultra and GT builds are very prone to dings and dents so I will baby that expensive boat. One last praise for the V10S is that I find it to be an extremely comfortable and fun boat to paddle. I love the weedless rudder and quick adjustability of the foot pedal. I should also mention that I use an Epic small mid-wing paddle and find it to be outstanding. I used to have their hybrid paddle and liked it too but the full carbon really looks and works great.
The only downside to the Epic V10 Sport is that living here in the midwest I am limited somewhat by the colder weather months.
Maybe a WSB EFT or Sleek is in order.
I love my Epic V10S. For the…
I love my Epic V10S. For the past five years I have competed in a number of adventure triathlons in my Wilderness System Tempest. While she did the job I was constantly chasing the leaders so this spring I purchased a V10s surfski.
Initially, I was uneasy in the boat. The boat was long (20ft) and narrow (19 in) compared to what I was used to paddling. It felt unstable and tippy compare to my Tempest. However, the more I paddled the V10s the more confident I became. Soon it felt as stable as my Tempest.
The V10s is a sit on top and very easy to get in and out off. The foot pedal rudder system is easy to adjust and turns on a dime. Which is a big plus when you are paddling a 20ft kayak. It is extremely light and easy to load and unload. I have the performance model which is a mix of fiberglass, carbon fiber and kevlar. It handles well in choppy water. And did I mention the V10s is extremely fast! I love the speed in open water paddles and for races. Minimum effort is needed to reach top cruising speeds.
Following the mantra "If you want to paddle faster, then paddle everyday." I was out in the water everyday my V10s. My upgrade to the V10s paid off in dividends this race season. Two first place finishes due impart to the my V10s. I would highly recommend this surfski to anyone who loves going fast in the water.
I have owned both the V10…
I have owned both the V10 Sport in performance layup, as well as the V8 in performance layup. The V10 Sport is more efficient than the V8 above 4.5 mph. Below 4.5 mph, the V8 is more efficient. This is due to the larger wetter surface area of the V10 Sport, yet longer waterline of the V10 Sport. Both surfskis are ergonomic and comfortable. I have never had my legs, feet, or toes fall asleep in either.
In terms of stability; on flat water or waves up to six inches high, they are about the same. But in waves any higher, the V10 Sport will require your attention, and you will not feel as relaxed as you will be in the V8. Being that I almost always kayak alone, and in waves from one to three feet high, I tend to prefer the more relaxed feel and greater stability of the V8. Ultimately, the V10 Sport is faster, but it is at the cost of less stability.
It really depends on your paddling priorities, your ability, the conditions you paddle in, your skills, and your personal preferences. Either way, Epic makes very well designed and constructed products.
I have owned my V10 Sport for…
I have owned my V10 Sport for about seven years now. I got one of the very first (newly designed) boats off the Chinese production line, that were shipped to Hawaii.
As reported by other reviewers, the secondary stability is unmatched. As to the width of the cockpit, that's repairable. I bought a glue on type outrigger canoe seat pad, cut it in half and glued one half to each side of the upper part of the cockpit.... a perfect fit and it improved my stability ability tremendously.
I recently purchased the kick up rudder option because I paddle around the reefs out here, and after breaking of my third rudder (and holing the hull in the process) I decided to change to the kick up rudder. Be advised, the incredible stability of the stock V10S goes away with this option. I thought I was back on my old TwoGood. My first outing with the kick up rudder almost did me in - I went out onto the ocean off Kailua, on a choppy windy day and about 3/4 mile off shore lost my balance when turning back for shore. The rear mounted kick up rudder made it so I couldn't stay upright, during the remount. It completely changed the personality of my Epic. Luckily, a Cobra Tandem happened by, and with the two paddlers holding my boat steady, I was able to remount and stay upright.
I'm going to try reinstalling the stock rudder, and for fun..... I'll link it to the kick up rudder. With two rudders linked, the stability and turning efficiency should be awesome. Bottom line. I highly recommend the Epic V10 Sport.
I'm 59 years old and 180 lbs.…
I'm 59 years old and 180 lbs. I was very hesitant buying the Sport as all of my previous kayak's have been at least 22 inches wide. I have been paddling the Epic 18X which I still truly enjoy, so choosing an Epic came naturally when buying the V-10.
The 1st time that I got on it I was very concerned about the stability. Not only was I pleasantly surprised with the initial stability, the secondary stability was even better. It gets to speed easily, and glides very well. Its such a fun kayak that I cannot wait for my next outing! I bought it in the ultra lay-up and it weighs 26 1/2 lbs on my very accurate scales.
I would highly recommend this product! The only complaint I have is that I wish it had a day hatch...
For me this boat was a fairly…
For me this boat was a fairly easy transition from my other boat, an Ocean Kayak "Sprinter". The V10S Ultra easily cruises at 6.5-7.0 mph and if your fitness level is good enough, I'm sure it would do much better. The boat is stable and very easy to remount. I highly recommend this boat for anyone who is weekend surf-skier like myself or just getting into the sport.
I am a male, late 50's, 185…
I am a male, late 50's, 185 pounds, average athletic ability. The Epic V10 Sport, performance model with factory installed drop down rudder has been awesome. I paddle in the Tennessee River, 2-3 mph current, large boat waves from tubing, people on skies and barges. The V10 Sport has been the awesome. I have paddled the WS Tarpon, Necky Elaho plastic, Looksha II, Epic 18X performance kayaks. I have tried Mako6, Think Legend, Think Evo (before paddling the 18X). Having stepped up the ladder of stability I could maybe enjoy the other skis better now and I will post it if I get a chance to paddle them. Brian Defouw and the people at Outdoor Inc in Memphis were awesome (as was the local BBQ) and the service I received from Epic Kayaks, Inc in Charleston was refreshing. Vince Bechet helped me get my kickup rudder installed and advised me on the best way to do that. Waylon Willis did a great job on the install and Beverly Hill was very helpful with the paperwork for my repair of my Epic rudder system... a great experience and an amazing paddling experience... as close as I have ever come to riding a magic carpet (music please :o)...)
I've owned a V10S for 4…
I've owned a V10S for 4 years. I love this surf ski. I'm balance challenged, so I had a learning curve that lasted about a year. I've seen other more athletic guys get in and paddle without problems right away. I still swim every once in a while when I challenge myself in big conditions.
In our surf ski group, several paddlers who have V12s still paddle their V10Sports in big conditions. It's a great kayak.
I wanted to try a surfski in…
I wanted to try a surfski in 2007 after kayaking for a year and a half with my Nordkapp. After extensive research, I chose the Epic V10-Sport with the blue stripe on the side. I knew that I had to capsize a lot in my learning curve but how long? Fortunately I read an article by David Mocke, one of the top surfski paddler in the world, that 5-8 hours of paddling time is all that it takes. So I paddled at the Berkeley Aquatic Park which has a waist deep water. I also recorded my paddling time each session. And on about the 7th hour of total paddling time, I was ready for the Oakland Estuaries.
Paddling the V10-S was addicting. The re-mount was doable unlike with my kayak which is very difficult and time consuming. I ended up just using the surfski every Saturday. Poor Nordkapp.
The only complaint I heard from others with the V10-Sport is the wide cockpit. I tried all kinds of side padding and nothing seem to work the way I like it. But then there is the NRS hip pads (available in most kayak stores) that were in my parts bin that I tried. That one worked!
As a whole, the V10-Sport design and function is excellent. The cockpit layout is better than most and very comfortable. I wish I had the horse power to take full advantage of the V10-Sport capabilities. Definitely an enjoyable experience for me.
I have a fiberglass V10…
I have a fiberglass V10 Sport. Adding the Epic foam seat pads helped a lot in making it more stable while learning because the cockpit, unlike most surf skis, is designed for people with very wide hips.
I tested out the V10 Sport…
I tested out the V10 Sport for only about forty-five minutes, in calm conditions. I was looking for a boat that would allow me to use leg drive. I found that with at least some leg drive and the accompanied greater rotation, I could attain more speed. Not that speed is everything, unless you make your living racing kayaks!! I like most, don't!
My sea kayak is very restrictive in terms of allowing leg drive. Not all sea kayaks are restrictive for this, but many are due to the thigh braces and fit, which don't get me wrong has advantages for rolling and control in rough water, etc.. I thought I would give the new Epic 18X sea kayak and V10 Sport surfski a try, since both allow for leg drive. I found the 18X to be about the same in terms of speed and efficiency as my current sea kayak. The V10 Sport was faster and more efficient than my sea kayak. The V10 Sport was very comfortable in terms of seating arrangement. I could get a great close paddle catch and leg drive. The stability was less than my sea kayak which is 17'7"x 22." However the stability was much better than anything I've been in with similar speed. For me, the V10 Sport may be the best kayak I've been in!!!
I am 5'-10" & 200lbs and have…
I am 5'-10" & 200lbs and have been paddling sea kayaks, for over 13 years. I love my Epic V-10 Sport, Competition layup at 33lbs. Felt at ease paddling it from the first 15 minutes. Layup & finish is out- standing. Very comfortable seat. Been doing mostly flat water paddling in 5-12 mph winds and light chop. After 2 hours of acclimation, I was able to paddle at a sustained 8.0 mph/gps, with no wind, over a 500m course. Still working on my remount to be able to take it into rougher waters. It paddles like a dream and only the "stop watch", truly denotes it's speed, as it barely disturbs the water. One of my all time best buys.
The V10 Sport offers much of…
The V10 Sport offers much of the speed of the V10 with added stability.
First off I have only been paddling now for about 4 months so please consider this a newbie's review. Prior to the sport I paddled a Ocean Kayak Sprinter. It was my goal to transition from the Sprinter to a ski. When I felt I had outgrown the Sprinter I bought the V10 Sport. I have the fiberglass version and it is a pleasure to lift. I cannot imagine how light the other layups are.
The V10 Sport was not easy too learn. Even though the Sprinter was narrow I think I picked up some poor paddling technique with it. My first few outings on the Sport were difficult. I was falling constantly and felt uncomfortable. Eventually I got used to the boat and am much more comfortable with it. The boat is fast and light. It glides well. This thing slices through head on waves like a hot knife through butter.
Great boat! As my forward stroke continues to improve so does the performance of this fine craft.