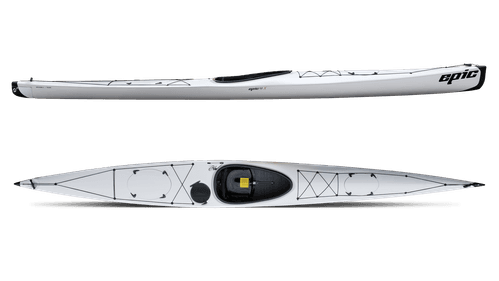 Epic 18X Options
Epic 18X Description
The Epic 18X family is designed for intermediate to advanced touring paddlers seeking a distinct edge in a high-performance kayak. Paddlers find that the sleek, efficient shape and long waterline enable them to cover long distances with exceptional ease and speed, and deliver excellent performance in rough water conditions. In addition to all the features that come standard on an Epic, the 18X family includes the advanced Epic Track Master™ steering system, an adjustable seat, large storage capacity, and front deck cutaways for a closer, more efficient stroke. Whether out for an hour, a day, or an extended expedition, paddlers will discover the 18X family offers the ultimate paddling experience.
Epic 18X Specs and Features
Structure: Rigid / Hard Shell
Cockpit Type: Sit Inside
Seating Configuration: Solo
Ideal Paddler Size: Average Adult, Larger Adult
Skill Level: Beginner, Intermediate
Ideal Paddler Size: Average Adult, Larger Adult
Skill Level: Beginner, Intermediate
Additional Attributes
Fully adjustable footbrace
Two different layups
Deck Rigging
Read reviews for the Epic 18X by Epic Kayaks Inc. as submitted by your fellow paddlers. All of the reviews are created and written by paddlers like you, so be sure to submit your own review and be part of the community!
Im an Australian paddler…
Im an Australian paddler having just picked up my 18x sport as my fitness boat my other boat being an d Australian designed /built Mirage 580 . The Mirage has a fine pedigree wrt to long ocean passages including Antarctica and Andrew McAuley's ill fated solo trans tasman sea crossing. I concur with every thing noted by Paddler -submission (20/20/04) with particular interest in the construction related issues -right now im trying to ascertain a minor leak in the day hatch compartment which I had initially put down to a bulkhead seal issue -after testing im not so sure -it could be the day hatch cover or coaming seal . I have to run more leak tests .That aside I love the speed of boat and the fact it wants to keep accelerating where as my expedition boat lacks this feeling despite being a 19.5 ft boat. Yes the boat is sensitive and I concur it requires speed for stability however it just makes me want to get on the water and paddle hard to coax maximum speed out of myself and the boat -yep it makes me smile. Just need to sort that leak and yes the boat demands looking after if it is to last
I have had an 18x sport for…
I have had an 18x sport for about four years. I am a big water expedition paddler and recreational day fitness paddler on Haida Gwaii. While I have had some construction issues (had to return my first one) I absolutely love the boat for fitness paddling and tripping. I have used the boat on multi-day expeditions but found that the boat wears quickly as it has a very light layout. When heavily loaded going into large seas and surf it tends to go through waves rather than over them but the real advantage of this kayak is in following seas. I have done 90km days in big following seas where the boat seems to almost have no top end limit to its speed. I can get inbetween swells and surf the same trough (while windmilling my paddle for bracing) for kilometres. Very fun and unlike any kayak I've ever owned. No kayak has ever made me smile more. I have a Solstice GT exped. layout for my expeditions but I have to admit my 18x is so fast and fun to paddle I use it for everything else. I am 6 foot and 225 pounds and fit in this boat just fine and paddle with a mid wing paddle. The boat needs to move to have stability so it is quite tippy when it is not moving in anything but calm seas; it is NOT for beginners. Only real complaints are that my hatches (especially my day hatch) leak in rougher seas and my rudder can be hard to move at higher speeds (hydrodynamics?). This boat also does not like sand or gravel in the cockpit at all so I spend a bit of time vacuuming my boat every couple of trips to keep the wear.
I had been looking for a sea…
I had been looking for a sea kayak for paddling on Lake Michigan, and bought an Epic 18X Ultra in 2016. I have kayaked in it twice a week for about 9 months each year since. Below are my reviews. 1. The boat is light weighted (39 lbs), so it's very easy for me to load it onto my car roof rack and unload it by myself (I'm 58 years old, 5' 9", 145 lbs, and not a muscular person). Another huge benefit of having a light sea kayak is it's easier to learn rolling. I started using a Greenland paddle and learning the chest sculling. I failed for the first two tries, and succeeded on my third try, without any help or coach. I have been able to do it consistently afterwards. A heavier kayak would have made my roll self-teaching much more difficult. 2. It's beautiful. Very often, when I go kayaking and meet other kayakers on the water, I receive compliments on it's beautiful looking. It's also one of the reasons why I bought this boat. The whole boat design makes me comparing it with a submarine. Just beautiful and military-style sporty. 3. I like the thigh brace design. It's natural and comfortable. You can either spread your legs a little bit to engage the brace, or leave your legs in the center and relax, depending the situation or your preference. Besides, this brace design is very safe. It doesn't have anything sticking out, so you will never unintentionally hit it and get hurt. 4. The hull design is excellent for kayaking on wavy water. It's round shape makes it less affected by waves and, therefore, less likely tipping over. 5. The long length (18'), narrow width (22") and light weight make it very fast, easier to paddle long time. I can paddle easily and still go fast. 6. I also like the built-in rudder design. When locked and not being used, it's completely part of the hull without generating any obstructions, which also makes it less likely to be damaged. And it's easier for kayak transportation. 7. The low-profile stern makes the ladder self-rescue very easy. You can climb onto the boat from the stern without much effort. 8. One change I'd like to see is having better bungees on the fore deck for a spare paddle, especially a Greenland one. On the whole, I love this boat!
The Epic 18X is a fast,…
The Epic 18X is a fast, light, well designed boat. For the weight of the boat it is durable. The integrated rudder is a great idea and works well.
Fast touring kayak, almost (but not quite) perfect.
I bought a brand new Epic 18x about 6 months ago and to date I've done two 100k races and the MR340 in it, so with training miles I've paddled this boat about about 600 miles in the last 6 months. Everything except the races was on flatwater.
The boat has held up well and overall I'm quite happy with it, but it's not perfect.
First the bad stuff;
Fit and finish wasn't what I expected in a $3,500 boat. The Epic boats are built in China and it shows. There's paint overspray under the rudder area, and there was white powdery residue (maybe mold release?) on all the hatch latches when I picked it up. Also, when retracted, the smart-track is actually a couple of degrees off center because the hole that the rudder lug retracts into isn't centered. This isn't an issue with the rudder down, just annoying that they didn't get the hole in the right spot.
The biggest issue was that a couple of days after delivery I had it up on the car top rack and happened to look up at just the right angle to see a hole a little smaller than a dime in the underneath side of the cockpit coaming where it had been sanded through during manufacture. Epic offered to deal with it under warranty, but their fix was just going to be filling the hole with epoxy. Since I was 200 miles from the dealer where I bought it I just did it myself and moved on.
Last week I noticed a couple of chips out of the gel coat at the lip of the day hatch. You would never notice them with the hatch closed, but I can only deduce that at some point when I was reaching back to pull a camelback out of the hatch, I caught it on the edge of the hole and popped up a couple of loose chips. Not structural, just annoying. The boat is still under warranty, so I sent pictures to Epic, but it's just cosmetic so even if they agree that it's not normal wear and tear I'll probably just repair it myself.
Other than the fit/finish issues, my only complaints have to do with rudder and seat adjustments. The rudder pedals are almost impossible to adjust after you're in the boat. It's definitely a case where you would want them to be adjusted before you shove off. Likewise, the seat slides on a track and if you get any sand in there it's really hard to move, so it's better to have it adjusted before you get in the boat as well.
Now the good stuff;
The performance and functionality of this boat is awesome. It has huge hatches that you could cram 3-5 days worth of supplies in if you needed to go that route, and with the hard hatch lids and mechanical latches, there's no fumbling around with neoprene covers or bungee cords to get to your stuff.
The day hatch is easily accessible from the cockpit, and the compartment that it accesses isn't just a hanging bag like most day hatches. It's an area of the hull that's partitioned by 2 bulkheads about a foot apart, so you can put a full day worth of supplies in there and access them without having to get out of the boat.
I'm an endurance paddler, not a fast paddler, but this boat is fast for a touring kayak. On flat water I can sprint at 5.5 mph, and can hold 4 mph for hours without a problem. The boat is 22" wide, so I would expect it to be a little faster than a 24" wide touring kayak, but I wasn't expecting the difference to be so noticeable. Primary stability is okay and secondary stability is quite good.
I'm 5'10" 170lbs and this boat fits my frame perfectly. I'm nowhere near the end of the seat or rudder travel, so I think that you could easily fit somebody up to around 6'4" in there, but you would definitely want to try it on for size if you were a big guy.
It's very comfortable for long distance paddles. I needed a seat pad in my last boat, but the plastic seat in the 18x fits me like it was molded specifically for my bum. Plus, it has a backrest I can recline if I want to stretch and the cockpit is big enough that when I need a quick break I can put my feet flat on the floor with my knees sticking out. On the first day of the 340, I paddled for 18 hours with only about a 15 minute break 1/2 was through and didn't need a chiropractor when I stopped. I kept a similar schedule on day 2. On day 3 I finished after doing 12 hours without getting out of the boat.
You can get this boat in two different layups and I chose the heavier one because it's a little more durable. It's taken some hits from debris in the Missouri river and held up well. Even though it's the heavier of the two layup options, it still only weighs 45 lbs, so I can easily load and unload it from the car top by myself.
Overall, I'm happy with the boat and would buy it again if I had to do it over. It goes fast, carries lots of stuff, and is super comfortable over the long haul. I would have given it 5 stars if the fit and finish had been better.
Great daily driver, but not bullet proof
I got this boat over the winter as the next step in my paddling evolution. Specifically, I wanted something faster than the Seaward Chinook that I raced in some long events last year.
The primary stability isn't as good as a 24" wide boat, but that's to be expected. I'll say that it's as good as any other skinny boat out there if not better and it's secondary stability is great. I have probably 100 miles of training laps in the boat at this point and 2-3 hour paddles are no problem at all. Plus, it only weighs 42 lbs, which is a huge benefit over my touring boat when you're trying to throw it up on the top of a Jeep 3+ times a week.
Last week I did an 60 mile overnight race on the Osage river in Missouri. I was in the boat for about 9 hours without stopping and about 6 hours of that was after dark. I didn't have any problems at all with the boat other than I blew out my core by using a mid-wing paddle rather than my normal small-mid (not the boat's fault)
I haven't tried to roll this boat, but others have said that rolling can lead to issues with maybe breaking the seat track. I can see how this might be an issue because the seat just slides on the one track that runs down the center of the boat. Also, at one point I got some sand in the bottom of the boat and it made it super hard to slide the seat until I took it out and cleaned the grit off the track.
The rudder pedals are more surfski style than gas pedal, which is nice for getting a good push with your legs for a power stroke, but I've found them pretty much impossible to adjust without getting out of the boat. Maybe it's just me.
So now the not so great; I can only give it 3 stars to my review simply because the fit and finish was sub par for a boat that cost this much. I bough it new and when it came it still had mold release (presumably?) caked on the hatch lugs and the rudder area had paint overspray on it from where the black tips had been painted. The biggest issue though was that after my first paddle I looked up at the boat on top of the jeep and the angle was such that I noticed an actual hole about 1/2" long by 1/4" wide in the underneath side of the cockpit coaming where it had been sanded through during manufacture/assembly. I contacted the dealer/factory and the fix was to fill the hole with epoxy, which I did at home rather than make the 3 hour drive back to the dealer.
The dealer was great to work with and it wasn't a big deal per se, but the response from the factory rep had more to do with covering their own backside. i.e. "don't lift it by the coaming until it's fixed" etc. It would have been nice if there had been an apology for selling me a new $3,500 boat with a hole in it, or even maybe a free coffee mug or paddling shirt for my trouble, but that didn't happen.
Overall, it's a fast boat and reasonably comfortable. Right now I'm paddling laps in my local lake about 3 times a week and it's holding up well. I'd buy it again, but I would definitely look it over closer for fit and finish problems before I loaded up. I might also go with the sport version which is about an inch wider, just because I paddle such long distances and that extra inch of stability might be worth the speed hit I would take.
This is just a first…
This is just a first impression after testing one recently for a few minutes. But I was so impressed, I just needed to say something. The rest of the reviews here say it all, except one thing. No one has mentioned the roominess of its cockpit.
I had been very curious about this boat for a long time because of its design, speed, beauty, etc. But I was doubtful it would fit me. I am 6'4" and 225 lbs, with size 13 feet. The boat looks like it's pretty low volume with its low deck height and I thought that would kill my feet.
I was very pleasantly surprised to find out this boat is perfect for big guys! The foot board adjusts so far forward that I couldn't reach it with the seat all the way back. This has never happened to me in any kayak. There was plenty of room for my toes, never touched the underside of the deck. The seat is very easy to adjust back and forth.
It has a very narrow bow and felt super fast, faster than any sea kayak I've tested. The padded knee braces are very comfortable too.
I fell in love with this boat. Now if I can only get a hold of $3,400!!! (or find a used one for a song...).
After paddling the 18X for a…
After paddling the 18X for a second season I am still in love with the boat. I am 5-10, and 180lbs...just above average balance and skills...had paddled many sea kayaks,,,plastic and composite which were wonderful but going to the 18X was smooth as butter.... it has saved me in some tight spots and bad water...only dumped once and it was my fault for having my new paddle not set properly.
I bought a Carbon haul Epic…
I bought a Carbon haul Epic 18X 5 years ago to use for USCA racing. The 18X is in my opinion the fastest kayak in it's class. It is very easy to handle and can handle the occasional bumps on the river. The kayak can haul enough gear on camping trips to stay out for weeks on end when you need to get away for awhile.
I have owned dozens of kayaks over the years and the Epic 18X is by far the best I have had the pleasure to paddle. I highly recommend the Epic.
Amazing boat... going from a…
Amazing boat... going from a regular sea kayak to the 18X was smooth as butter. I fall out of surf skis but can paddle rough water in the 18X. I don't like the foot peddles and wobbly rudder.... or the straps (old system) and the rudder access cover that degrades too fast in sun light. that said... it is still an awesome boat.
I love the way my 18x…
I love the way my 18x handles HOWEVER, I've had to fix the seat twice. The seat came loose (fixed it) and then came off completely from the boat with my rolls. Boat repair expert says the railing construction is poor if you want to roll in this boat!
UPDATE:
Epic was wonderful and paid for half of the repair expenses even though my boat was out of warranty.
Just finished paddling…
Just finished paddling Michigan's Inland Waterway, Lake Huron, Straights of Mackinac, and lake Michigan in my new upgraded 18x performance layup.I love this boat! Fast and smooth.The "track Master Plus" rudder was great on the following waves.The hatch lever locks are wonderful.Workmanship and quality are unsurpassed. It's a 10 of 10!!
I've paddled the 18x once at the Sanibel Island Paddlefest. 8…
I've paddled the 18x once at the Sanibel Island Paddlefest. 8 knot winds and a light chop on the water. I own a Seda Glider (now the 2nd fastest touring kayak) A Necky Chatham which is a greenland style hull great for rough seas. And a Seaward Tyee which is a big expedition kayak. I could trade them all for an 18x and not miss any of them.
The 18x slices thru the chop instead of bobbing over it like my other boats. From 2011 on the 18x has a retractable rudder for beach launches etc. It sits so low in the water it practically disappears below the wind.
I've recommended this boat for a beginners kayak. If you can ride a bicycle you can master this boat. Buy one boat, and keep it for life. The only quibble I would have with the 18x is the way the rudder is deployed and locked down. You have to reach behind you and snare the rope in a keeper. It'd be better if there was a lever near the front of the cockpit you could just flip and get right back to paddling.
I don't race kayaks. The 18x gives me more results for my effort than any other kayak. More incentive to exercise. I'm scheming my way toward owning one.
I am a fit 58 year old and…
I am a fit 58 year old and have been paddling steady for 20 plus years now. (I just recently completed the Colorado River 100 on a Cobra Expedition). Anyway I just recently received my new 18x and its even better than I expected!
The fit and finish is top notch.
The initial stability is much better than I expected, and the ultimate stability is the best I've ever experienced in any Kayak.
Now the best part. The performance exceeds all of the hype that I have read on the forums!
Thanks Greg Barton, and all the people with Epic.
I have paddled my Epic 18X…
I have paddled my Epic 18X for over a year now and it was sweet enough for me to do the unthinkable... I sold my Looksha II to a good friend. It is light and fast and has handled weather/water conditions that would be considered very dangerous... flooding downstream and 24mph winds blowing upriver creating washing machine conditions in the Tennessee River where I paddle. I am 5-10, 185 average 59 year old male paddler... I love my boat.
I bought a used fiberglass…
I bought a used fiberglass Endurance 3 years ago to race in the USCA Sea Kayak class. It has been a great kayak and I have not experienced of the quality problems that others have experienced. I've had no problems with the fiberglass or the rudder system. I actually like the Sealine rudder system on the Endurance better than the new rudder systems on the 18X because it kicks up and seems to have more bite when turning. The endurance is more stable than I expected and handles wind and waves well. I own a Capella RM 166 that I tried to race in the USCA sea kayak class, but quickly learned that you cannot compete with the 18' racing kayaks.
My Epic 18 Endurance is a…
My Epic 18 Endurance is a 2003 fiberglass boat I purchased 2 years ago to start racing in USCA Sea Kayak class. One reviewer described the boat as ugly, but I think it's one of the prettiest sea kayaks out there - I suppose it's all in the eye of the beholder! At any rate, I really have to divide my review of the boat into two parts - quality and performance.
On the performance side of the equation, I don't think you can find a better overall sea kayak. It's fast, efficient, sprightly, tracks well, turns well, and is quite comfortable for long hauls. It's easy to surf wakes and waves, and always feels comfortably stable, exhibiting great secondary stability. It lean turns superbly for such a long boat, and with the rudder you can really whip it around. I like the Sealine rudder system - the boat responds almost instantly to rudder input, and it's easy to adjust and use. Overall, the boat feels like a sports car to me.
As to quality, this boat leaves a lot to be desired. The gentlemen who owned the boat before me was a fanatic about protecting and caring for his boats, and I've always stored my boat indoors and taken good care of it. Nevertheless, the gelcoat has spider cracks all over the place and the seam tape is coming off. I've also had to replace the Sealine rudder pedal system in the cockpit area - the original pedal adjustment housing was plastic, and cracked. The new housing is aluminum, and appears to be very durable. The hull is soft, and I have some indentations in the hull from where the boat rides on the saddles on my rack. I believe mine is somewhat heavier than listed as well. On the plus side, my hatches are easy to use and seal pretty well. One stays completely dry, while the other will leak a little.
In spite of the quality irritants, I really like the boat. I bought a QCC 700XL last year, intending to replace the Epic 18 Endurance with 700XL, a much higher-quality, made in the USA boat. As it turned out, I sold the QCC and kept the Epic. The QCC was beautifully made and very solid, but it had a "big boat" feel compared to the sprightly feel of the Epic, plus it was slower (GPS confirmed numerous times over the same course) and less comfortable (part of that was the after market back band, but I didn't like the seat as well either). Looking at the two boats side by side they looked pretty similar, but a close examination shows the Epic possesses a sharper entry on the bow and exit at the stern, along with some other subtle differences that add up in the water.
I've since moved into a Thunderbolt for racing and rarely paddle the Epic anymore, except in winter, but I've loaned it out to a friend's son to get him started into USCA marathon racing, and he loves it as well.
A great boat, with a few caveats.
I have had my Epic 18 since…
I have had my Epic 18 since 2006. I got it as a demo at the end of the season, and while I would have preferred carbon fiber, the price was right on the glass version and it only weighs 47 lbs anyway. Now I am glad I have ght glass boat because I don't have any of the QC problems people have written about with their carbon boats. Despite the fact that the boat is stored outdoors until ice-over, the gelcoat is fine. The seat is suspended from the coaming and does not have much underneath it. but there re no cracks etc. The backband was uncomfortable, but I solved that problem by re-installing it upside down and putting a better strap on it.
The bungee cords on the back deck are useless for a paddle float rescue, however, and need to be replaced by solid lines if you are going to use that technique. That said, the boat rolls easily and if I trashed out of the boat, my first self rescue would be a re-entry and roll followed, if needed by a paddle float re-entry and roll. There is plenty of storage for longer trips, and while I can get about a sponge full of water into the hatches, this amount is not dangerous. Critical gear that cannot get wet should be in drybags no matter how much you trust your hatches anyway.
I only use the rudder when the wind is on the beam or further aft. Any other time, the extra drag is not worth it. That is also why I wouldn't install a longer rudder. On a steep following sea, it will wander a bit until the rudder bites, but that's what your paddle is for.
My question is about the speed this boat is famous for. I also paddle a Mariner II and a Betsie Bay Recluse. On a measured course with the same paddler (me) and the same paddle, the Epic is not much faster, if at all than these others. Maybe that's because I am 63 years old and can't push any of these boats that fast. I can do about 7.5 knots over my 2 mile course, and all 3 boats are within seconds of each other.
I've had my Endurance for 3…
I've had my Endurance for 3 years. I've replaced or repaired extensively the smartrack steering system, the cancer in the hull, the deck webbing, the rudder pin, the seat, the knee pad rubber, the combing around the seat lip on the boat, the leaking rear hatch, the crack in the join between top and bottom moulds, the taped over missing piece of the deck under the seat lip. My paddle buddies laugh when they see me coming. They're anticipating another "what went wrong this time" story. My local repair shop laughs too, they see the $$$ I've spent trying to keep a few years old boat on the water. I've never taken it in surf. We're thinking of skuttling it as a dive wreck.
There's no excuse for crap like this in 2009. I took it back after 3 months because the seat had worn through the hull. The Sydney distributors at that time told me it was my fault. Sorry for sitting in the boat. I've watched Freyer Haufmeister struggle with her, specially prepared Endurance too:
http://qajaqunderground.com/2009/07/08/day-171-tuesday-07072009/
So, what is it about making a kayak that's so difficult. And how come she's testing new fittings paddling around Australia? I thought that would happen in the LAB.
When I ask around people always talk about the factory burning down, the Chinese factory problem and stuff. Hey guys, that's not our problem... If people deliver a product and don't stand by it, that's not what Sea kayaking is about, is it? I like the design but the company owners ought to be held accountable for this abysmal quality.
While the 18X resembles the…
While the 18X resembles the Endurance I replaced, it is clearly a different boat. The first thing I noticed was the weight. In going from a skinned carbon fiber to the Performance foam core, it picks up a few pounds. It also seems more rigid and the build quality is much better. The Ultra layup would reduce the weight, but the additional cost and potential problems weren't worth it to me.
The integral rudder is designed to increase speed. The trade off is it doesn't have the bite of the flip-down edition. I haven't found that to be a major drawback. But, there's always a protruding blade below the waterline, so you do have to be aware of that in shallow water or plopping it down on a hard surface. It has the gas pedal control, but I might modify that to the kickstick tiller.
Hatch openings are generous. There is a molded in cutout for a day hatch behind the cockpit, but I wouldn't see many taking advantage of that.
The cockpit is set up so you can paddle in either the "normal" or knees-together position. Position adjustments are easy, which is good because it is sensitive to trim. Deck redesign allows slightly better access to the water.
From a racing friend's test drive vs. his Endurance and my own experimentation, I calculate it at about four to five percent faster. That's enough reason for racers to upgrade.
The beam tapers down at the waterline so yes, it is on the tippy side, more so than the Endurance. If stability is a priority, this isn't the boat for you. If speed is your need, this is your steed.
After last year's demo of…
After last year's demo of the Epix 18x, I broke down and bought an 18x in March. I have thoroughly enjoyed the boat. This past spring I paddled it quite a bit for fitness paddling and raced it twice. It is more stable than a sprint boat, but I think it is as fast as my K-1 trainer (SRS Laser). All the qualities I discussed from my first review still stand.
This weekend I had the opportunity to take it out on a 4 day, 3 night overnight kayak/camping trip on the Suwannee River. It was absolutely awesome. It holds a lot of gear and I had plenty of room for the trip. Driving to Fargo, GA, we encountered torrential rain for the entire 5 hour drive and it rained most of the night as well. I expected the hatches to leak, but to my surprise there was only a few drops in the kayak.
I found the kayak to be very rugged and I had no qualms about sliding it onto sandy beaches or bumping into the occasional underwater tree stump. I also punished the integrated, understern, fixed rudder quite a bit by dragging it onshore, but it held up fine.
My only complaint is that the bulkheads leaked a little. I got water in the cockpit getting in and out of the boat. When I dragged the boat onshore, the water in the cockpit would collect along the stern bulkhead and somehow it would leak through to the stern compartment. It wasn't a horrible amount and it's something I can live with.
Overall, this boat fits my needs and lives up to my expectations. I wanted a boat I could fitness paddle and race as well as a boat I could do overnight camping trips and the 18X fits the bill.
This is about 5% faster than…
This is about 5% faster than the Epic Endurance 18 (IMO). It is clearly the fastest mass market sea kayak out there. It seems as fast as a couple of K1 trainers that I've tried - which is amazing for something that makes USCA rules. For flatwater, I just don't see any other kayak beating this one - given a paddler within weight limits for the design. Epic tells me that 210-220 lbs is the weight limit for the 18x, the Sport goes a bit higher.
Speed is this boat's design goal, and Epic has obviously accomplished that. What they've also delivered is a very comfortable seat and cockpit. This is the most comfortable decked boat I've ever paddled. My legs and feet have not gone to sleep in this boat in 2 months of 4-6 workouts a week.
The stability is adequate, and the rudder ventilates a lot in rough water. For flat conditions, it is fine. Construction quality is very good, with very good fit and finish. The front hatch is tight, while the rear one does leak a little. Also, the hatches are not matched to the deck's color very well. Pedal adjustment is a bit tough, but can be done.
Overall, for a fast training sea kayak, this would be my top choice again. For an off season trainer, this would be a sensible boat. The stability and safety of bulkheads for cold weather training is a big benefit. The cargo capacity should be adequate for an overnighter, but this is not an expedition boat.
After a couple months, I'd buy this boat again. The guys at Epic are great to work with and respond to questions, and have done a lot to advance the sport. I think their boats have really raised the bar for what is expected in the speed department from hulls. The manufacturing is pretty good on this boat. Mine is the standard FG composite layup.
I consider myself an all around boater. I paddle whitewater, flatwater…
I consider myself an all around boater. I paddle whitewater, flatwater rivers, lakes and coastal waters, ICF sprint races and fitness paddling. I'm female, 5'6", 150 pounds. Since I live in Atlanta, I usually paddle mostly lakes in my sea kayak. I started off as a WW boater so I appreciate a responsive long boat, but I've recently gotten into fitness paddling and racing. I am mainly looking for a kayak to race and do overnight kayak camping trips so it's hard to find a boat that fits both of those requirements.
I had the opportunity to demo the new 18x. It wasn't the 18x ultra, but one of the performance 18xs. It weighs 41 pounds and I could see how this lightweight boat would appeal to women. I liked the fact that it weighs only 41 pounds and the construction seemed solid. Many racing sea kayaks seem rather fragile and I wouldn't dare load it up with gear and do an overnight trip. I also recently demoed the epic endurance carbon layup (predecessor to the 18x), and I thought it too fragile to handle lots of gear.
The 18x is very fast and very responsive. I like the fact that you can paddle the boat racers style (knees together) or traditional style (knees under thigh braces). I also loved the pedal style rudder system. I also loved the solid foot bulkhead. It made it very easy to pedal your feet while paddling (racer style). Even when I'm not racing or a doing a work out paddle, my hip flexors get very tired and sore when I paddle long distances using the thigh braces.
I paddled the boat on a flatwater, deep river and there was quite a bit of wind and chop. The boat handled great! It is tippy, but compared to a sprint boat it is stable. Although, I didn't roll the boat, I think that it would be very easy to roll.
I also liked the integrated rudder. You just get in the boat and go...no having to put down the rudder or worry about the rudder system. The only disadvantage to the integrated rudder is that you must be careful with it. The rudder sticks out a bit so you must be careful about what you paddle over. A rock or log could possible snag it...unlike a traditional rudder that would simply bump over an underwater obstruction. Since the rudder is integrated and fixed, you can't pull it up if you see something ahead that might snag it. I do think that this is a small disadvantage and the other great, thoughtful construction of the boat really outweighs that one disadvantage. The hatches seemed sturdy and there seemed to be plenty of storage room for a weekend trip.
I really liked this boat and I could see many hours of paddling it. Now, I just gotta come up with the money to buy one!
Addendum. I still love the boat, but a word to all…
Addendum.
I still love the boat, but a word to all owners of kayaks with plastic seats as my Epic has: Your seat may be suspended from the coaming with nothing but little foam pads underneath to support the seat. The little pads under my seat went to foam heaven. Ultimately the seat began to fracture. Luckily, the coaming didn't crack.
I fixed the seat first by spraying foam insulation underneath and then fiberglassing the cracks in the seat. I should have sprayed foam months ago.
I could have fixed a detached coaming, but I'd rather fix the seat.
FAST but ugly, turns GREAT.…
FAST but ugly, turns GREAT. Great boat, just hate the looks AND it has NO personality. Still a 10 'cause it's so fast yet turns so well. Wow...
I paddled a 18x about 5…
I paddled a 18x about 5 times and was impressed with the speed and comfort of the boat. I felt like it was more unstable than the endurance 18 but I didn`t have a real problem with it. The big cockpit was very nice allowing you to paddle with your knees up and get proper rotation. I`m not sure about the new honeycomb layup I think the boat is very fragile also the rudders cables are not cables but a cord seems strange. The boat is new out this year I think its to early to tell how well they will hold up.
I have had my Epic Carbon for…
I have had my Epic Carbon for 2 years and have more than pleased.I have spent alot of time in this boat both fitness paddling and racing Every race I went to someone always wanted to check it out! It is a very stable boat to be as fast as it is. Yes the new 18x is a bit faster but the workmanship is not as good since they moved to China. I think this is a first class boat and when I`m in it I feel I have a chance to win and also will be able to handle any conditions.
I have owned my Epic 18 for 1…
I have owned my Epic 18 for 1 yr and have put in several hundred miles, fitness paddling, technique paddling and racing. I bought it because I needed (wanted) a boat that I could EASILY cartop. My 18 came in near its advertised weight. In carbon/kevlar it weighs 37 lb. Most other boats exceed 45 lb. You might consider cartopping a 45-50 lb boat a luxury compared to some of those 60 pounders, but try lifting 50 lb after a race or hard workout.
I liked the finish of the boat, black with red on the bow and stern. Perimeter lines felt a bit thin, but adequate. I found the add'l bungee cords aft of the rear hatch very convenient. I couldn't grasp the small diameter bungee cords wearing neoprene gloves-I added a knotted loop of cord to each bungee to correct that. For carrying the boat, I like the suitcase style grips far foar more than grab loops/plastic handles on other boats.
I found the cockpit an excellent fit and the padding adequate. My size 11.5 feet fit with Teva sandals & kayaking booties, but not with the bigger Keen Newport sandals. The footpedal system works, though it did break. Cascade Designs responded promptly and replaced the unit. I have since improved my technique a bit and stress the braces less. I have had to re-glue the knee pads on both sides. Rumors of Epic moving production to China may improve quality. The seatback adjustment system seems excessive with plastic ratchets, maybe useful or just Rube Goldberg. The stainless bolts have moderate rust. Water leaked in at the cleat holding the rudder up/down line. Rubber ring washers fixed that. Periodically, the nylock nuts & bolts holding the seat/backrest unscrew themselves. I had to restitch the webbing hardware for the hatches.
I found the 18 to have exceptional primary and secondary stability but that might come from my having used it for so long as well as having paddled a Seda Impulse for two years. The Impulse has a narrower and rounder hull. The 18 turns well on edge, but you have to sweep the paddle blade from the bow out and back to the stern. The lack of much keel mandates a rudder for tracking. I have had the 18 surfing windwaves and swell up to 1.5 feet--the boat generally does well but will broach with following seas when the rudder clears the water.
The Boat rolls well empty. I have never loaded the boat with more than 10 lb of gear. A low cockpit at the rear enables layback rolls. Some water found its way into the rear compartment after rolling--it leaks either from the hatch cover, the bolts/nuts holding the decklines/bungees or the bulkhead. Both bulkheads have very small ventilating tubes.
As for speed, I haven't paddled a faster boat. A very accomplished paddler friend of mine prefers it to his Seda Glider. My paddling has improved, but I still haven't taken a gps aboard.
Overall, the boat wins my vote for best boat for lightness, speed, handling, stability, fit, footbrace/rudder system. the boat loses a point for quality control.
Bought one used September 05.…
Bought one used September 05. I use it as a work-out boat and plan to use it for endurance racing. For what I've seen so far, it can handle 3 feet waves/surf very well. Good initial stability and responds well to lean for turning. Tracks decently in calm conditions but I believe it has been designed to be used with a rudder in all but calm conditions. This is certainly my experience with it. As most boats, it weathercocks but the rudder corrects that easily. I give it a 9 because the fit and trim is not excellent. I own also a Boreal Ellesmere and there is no comparison using the Boreal as the benchmark for quality. Bungees are loose, hatches are not 100% leak proof, stock backrest was poor, thigh brace padding is ungluing. I did the upgrade to the new backrest. Much better. The Sealine Smartrudder is not robust and I replaced it with a Feathercraft rudder. Retrofit was easy. There may be increased drag however. Overall very pleased with the boat for its intended use. Despite quality issues, I consider it good value given the price for a combo carb/kevlar boat. I recommend it.
Been out in my new carbon 18…
Been out in my new carbon 18 and absolutely love it. I'm a novice. So you ask, what the hell is a novice doing with this boat? I'm over 55, but paddled when I was a kid, have raced all manner of sailboats my entire life and have an appreciation of well designed and executed watercraft. One fundamental premise that has always guided my selection of boats has been that a boat has to look right. This black beauty is drop dead sexy. At least it is after I removed all those hideous Epic stickers.
I'm learning the boat and found it to be quite forgiving. Glides through the water effortlessly and provides some great workouts. Rudder system works well but I can see why some suggest larger blade.
I recently purchased a carbon…
I recently purchased a carbon Epic 18 and wanted to pass along my early impressions. I am an intermediate paddler, 44 years old, 155 lbs, 5'5", and am coming from a 14 foot rotomolded boat. I wanted to get a boat that I would not grow out of, had good speed, and handled Lake Michigan's waves well. I tried a bunch of kayaks and this fit my needs and my body best. I immediately felt comfortable in the boat. I don't think I am capable of getting anything close to the speed this boat is capable of, but it is really fast. My first real outing was for 2 hours in 1-3 foot waves. I felt comfortable after a half hour or so. I also took it out in some larger breaking waves yesterday. While I did not stay out long, it felt controllable the whole time even when I ended up broadside to the waves (my fault!).
One thing that did surprise me is how easy this 18 foot boat is to steer with my hips. I imagine it has something to do with the rounded bottom and light weight. I really love the rudder pedals. The foot braces are solid and the rudder pedal is actuated with your toes. I found this easy barefoot and with booties. It would be tough if you use rigid soled shows, though. It also seems that they must have listened to folks on this forum as they now use a firm, narrow back band that seems to work well although it takes awhile to get it adjusted properly. The only thing I don't like so far is the black color. On a big lake the boat is nearly invisible. It looks fantastic, but I am in the process of adding some 3M reflective tape. It seems like a shame to to it, but getting hit by a boat seems worse!
This boat excels at flats or…
This boat excels at flats or downweather (and upweather). It accelerates quickly, maintains speeds over 6mph for workouts. The hull surfs wonderfully, and offers excellent stability. This boat should be easily handled by a reasonably skilled paddler. The one handling problem is in crosswinds on flat water - pretty heavy weathercocking in > 15 knot beam winds. Also, the footpegs and rudder pedals are a bit tough to use, the cockpit should be a bit longer to allow more leg motion during paddling stroke. (I'm 6'3" 225lbs). The rudder system is why I knocked this review down to 9.
Construction is fine, with a tight front hatch, reasonable rear hatch. The rest of the boat is nicely built and put together.
Overall, a top performer with excellent speeds, stability, reasonable comfort, and durability. A sea kayak (USCA definition of sea kayak) that just can't be beat by anything in its class.
I have owned a carbon-fiber…
I have owned a carbon-fiber Endurance 18 for about 6 months and I have found it to be a joy to paddle. It is very fast, stable and handles rough water better than any other boat that I have owned, including my Current Designs Squall. I am amazed at how easy it is to turn, especially when compared to the somewhat shorter Squall. The black hull, with red markings at the bow and stern, is very attractive and frequently generates compliments from other paddlers. At 39 pounds the Endurance is easy to carry around and cartop. The only modifications that I have made to it are a Yakpad for the plastic bucket seat and a wider and longer rudder blade (SmartTrack's "Tandem Blade") to improve tracking in following seas. I recommend this boat to anyone who has a "need for speed" on the water.
I have owned an early 02…
I have owned an early 02 model for 2 seasons now. Prior boat was a Seda Glider. My other boat is a 1990 CD Solstice SS. Quality is weak. Particularly the cockpit combing which has cracked twice on this boat. The boat moves as well as the Glider and is much more comfortable in confused chop. It surfs downwind better than any others I've paddled - including the QCC 700 which is similar but NOT THE SAME. Epic has the edge in the design area but QCC has it in the Quality control. I will say that I've managed to fracture both peddle height adjusting boards and both of the original Smart Track rudder systems. This particular hull has won the Blackburn with G reg Barton paddling it and then passed on to another racer and then to me and I race it. I suspect we are all tough on the boats.
The service from the people at EPIC and Cascade Design (Smart Track mfgr) has been EXCELLENT - Thank you GB. I want one of the new black boats but don't want to buy it from our local dealer who has no use for racers. It's the one boat you can use as a daily paddler and as a weekend racer that gives you a decent shot in the touring sea kayak class - EFT's and Nelo Razor "cheater" boats not withstanding.
I paddled an Epic full carbon…
I paddled an Epic full carbon (no gelcoat) boat today. First thing is I was very comfy in it and I have big thighs. No extra room but I was comfy. Second thing: it is fast.. third thing I found it quite stable. Note: I only paddled in on flat water in about 15 knot gusts) I did play on the edge quite a bit, and found it easy to work there.
Carved turns surprisingly well but the rudder was a big help in the wind. Once turning had started the boat wanted to keep turning even when brought back to an even keel. This boat was easier to turn for me than the CD caribou but did not stop turning as crisply, or track as well. If I get this boat I will get a rudder and the trim tab adjustment and use it exclusively. I also need to raise the pedal height but that is down to me not Epic. I wonder if I could get the trim tab and leave the toe pilots out ( I know it is not standard design but... I will paddle this boat soon in conditions, and if I decide I need a fast sit in boat it's likely to be purchased.
Seat back is quite sad but what do you expect. It is way too tall and way to flimsy. I doubt that seat backs are a big concern of Greg or Oscar. The boat rolled OK but did not pop up like the romany explorer does (few boats do.) Weathercocking was noticable but not outrageous. The reason I would get a rudder is because of the boats tendancy to keep turning. I was very pleased with the lack of drag fron the sealline rudder.
Overall, I was quite pleased, and very pleasantly surprised at the boats ability to carve I weigh 225 have snort legs and have been working at improving my paddling skills for about 4 years three of them year round.
Well, I have owned my Epic 18…
Well, I have owned my Epic 18 for @ 1 month. I paddle a lot. It's amazing that I find the time to actually work, bring home the bacon and stay in good enough graces with my wife. She actually says "go paddle". Am I lucky or what!? On my second sprint in my Epic, I paddled to 9.3 m.p.h.(garmin etrex legend, G.P.S.). That's pretty good! I think I may have another .5 m.p.h. in me, we'll see. Greg Barton's partner, Oscar, said he's paddled the Epic to over 11 m.p.h.!( I'm not worthy). That's fast! I have owned five boats to date. Before I bought this boat I talked with the gang from Epic, six of their bruisers anyway, all of which I thought were very knowledgeable and a delight to get to know and work with. Their interest in my satisfaction was astounding. These guys really actually care about you and me, the paddler, and it shows. Further, you know both Oscar and Greg have done pretty well racing boats. The fact that these two guys would actually help and get involved the way they do is humbling to me... and I dug it. Anyway, I also own a 19.4 ft. kevlar Necky Looksha 3( a very fast boat). The fastest I am able to paddle my skinny tippy Necky is 8.5 m.p.h. I've owned the Necky for almost one year. I have sprinted the Necky a lot. My Necky is 20.5 inches wide and is stable enough until you find yourself in 2 to 3 foot confused, wind driven, tight, steep chop. Then you'll decide it's time to practice your bracing skills. Not so with the Epic. It's battleship stable. I'm not making this up. Two weeks ago I was at St. Joe's Peninsula, west coast of Florida. The wind was blowing to over 30 m.p.h.( I have a wind speed indicator). The waves in the bay were big. The waves were not rolling swells but four foot white capping river chop. In the trough you couldn't see over the next on coming wave! That's the biggest/roughest conditions I've been in. My ride out was relatively dry. Bracing was something I thought about. In the Florida Bay, while paddling my Necky, last spring in lesser conditions I did more than think about bracing. (I wore strawberries so bad on my knees that my paddling buddy teased me about it for the whole kayak camping trip. He told all in the kayak club, we both belong to, about my paddling skills or lack thereof.) Anyway, my Epic was confidence inspiring. My only real thought paddling back to shore was to try not to get there too fast. The boat is a wind wave surfing machine. I had time to sit there in this fast steep chop and wait for the occasional bigger sets to come in. So, my "new" Epic is up for sale on the Paddling.Net web site and I've ordered another new Epic in carbon. I am in the construction business. I take quality and" fit and finish" to a new appreciation. Things other people would never ever see, I see, and it drives me crazy if things are not right. ( Well my wife has several words for this trait of mine but I can't say them in this public forum.) My Epic's combing is too fragile and if I use it to push off of I hear a very upsetting cracking noise. Maybe there is a weight limit on push offs and my 210 pounds exceeds that limit? I believe there should be additional material placed in the combing. The gel coat work I'm sure was done at night, and to save money the lights were left off. Both my hatches and bulkheads leak. But I, the quality freak, ordered another Epic. You know sometimes ugly women aren't ugly and once you get to know them they some how end up being not only your favorite but also the most beautiful of women. (Sorry if I have insulted any women reading this. I'm just trying to make a point. Please forgive me.) Well anyway that's what happened to me and my boat. Back to the Epic, the seat makes my feet go to sleep and the back band is not comfortable, ouch! The good, no, great news is that Epic has now hired a first rate quality control manager, Mr. Greg Matthews. Greg Barton said their goal at Epic is to build a high quality boat second to none. Now they're talking! If Epic did/does that, even the british boat owners(rudderless) would buy Epics, imagine that, quite a thought. Anyway, if you're curious about the Epic go buy the June, 2004 Sea Kayaker magazine. The magizine's reviewer wrote an article on the Epic 18 and you'd swear, but don't, that they're on the Epic payroll. The best batch of Epic 18's, to date, are currently being built! My name is on their list to buy a new 39 pound carbon Smarttrack ruddered Epic 18 (I would probably keep my current Epic except I'm getting old and the Hull Raisers/racks on my Ford Truck are over seven feet tall. Every pound counts, except for those associated with my waist-line). Ending, I can't wait for my new boat to come in. If by chance you see me on the water, stop me and ask to paddle my Epic. I'll say yes, you'll paddle the boat, you'll sell your boat, you'll buy an Epic and then, you too will look back over your shoulder and wonder why your normally very fast paddling buddies are now going so dang slow. Good Paddling. Enjoy the sport and enjoy your life....it's the only one you have! Franklin Dickinson - FSKA.org member
This boat is fast on flat…
This boat is fast on flat water, surfs well, and is quite stable. This is a very fast sea kayak. For moving fast on sheltered water, this is a definite short list boat. When a clubmate heard the times I've turned in with this boat - well.. He wants to change the club rules to essentially put it into the racing class with ICF and Westside boats.
Hatches are well secured, and have not leaked noticeably in 2-3 ft seas.
I'm 230lb, 6'3", and find the cockpit to be a bit snug, but comfortable enough. The boat is stable enough to adjust the foot pedals in chop sitting on 1" thick padding added to the seat.
I looked at this boat - and…
I looked at this boat - and looked away. It was cheap, is very obviously fast, and looks great ... but ... It needs a lots of attention to quality - the gel coat had bubbles and many other imperfections, and teh buklheads simply didn't look sealed at all. Compared to boats at simliar prices made in Australia and New Zealand, it looked like a backyard job. Hatch design wouldn't keep water out - nice and flush, but it's easy to see even a small chop finding its way in, let alone rolling. I passed, went home and ordered a Mirage 530 in glass and kevlar.
I have been paddling an…
I have been paddling an endurance Touring 18' and it was everything I expected, however both bulkheads had to be replaced with miniseal bulkheads that will hold the seal. A high end boat should have bulkheads that are glassed in. I have notified Greg Barton.
I've paddled the CD Caribou,…
I've paddled the CD Caribou, Necky Looksha II, and Ndk Romany, along with other kayaks through the years. I have been looking for a fast kayak (with rudder) that is fun to surf and race occasionally. I was lucky enough to get one of Epic's new boats this summer. It is fast, maneuverable, and surfs wind waves like a demon.
Paddling into the wind the bow cuts through the wave. When the nose comes down, it slices very nicely through the forward wave, which aids in steering. Paddling with the wind. The knife bow aids in steering and the flat mid section hull planes very nicely. The rudder system steers beautifully. On some waves the kayak had a tendency to broach when the rudder was out of the water. Paddling 3/4 to the wind. The large bow has a slight disadvantage here, but weather cocking was easily corrected with the rudder.
Initial stability and secondary stability are better than the looksha 2. I am surprised that a boat this fast could feel this stable. Weight is an issue, as my boat definitely weighed in at more than 41 lbs. My Looksha was actually lighter.
Quality of construction I am told is being improved. The hatches leaked and needed work. I can't give the Endurance a 10, because of the hatches, but performance is where this kayak outshines the others I've paddled. Best paddling to all. A great boat for those looking for boat with a rudder and a fast touring model.