Best Touring Paddle Boards of 2022
Touring paddle boards, or SUP Touring, is a growing discipline within the broader range of all SUP boards and activities. Touring paddleboards are designed for exploring, adventuring, and long-distance tripping on a paddle board.
If you are looking to paddleboard more than a few hours then a touring paddleboard is going to be something you want to consider. This is especially true if you are looking to travel a significant distance or haul a substantial amount of gear.
With the right gear, proper training and safety equipment you can paddle a long distance on a lake, river or the ocean.

Typical Characteristics of a Touring Paddle Board
Depending on the type of excursion, water type, and duration you plan on paddling, you might be fine on any SUP. But as you progress, extend, and experience more challenging conditions, you'll want a SUP that's designed specifically for touring. The typical characteristics of a touring paddle board will be:
Longer length board - Touring boards typically are 11' and longer
Narrower width - designed to improve the speed and efficiency of the board
Hull shape - In general, touring boards will have a displacement hull that allows the board to cut through the water with its pointed nose. This is in contract to a planing hull, which is wider and more arched, is designed to ride and float the waves.
Gear storage, tie downs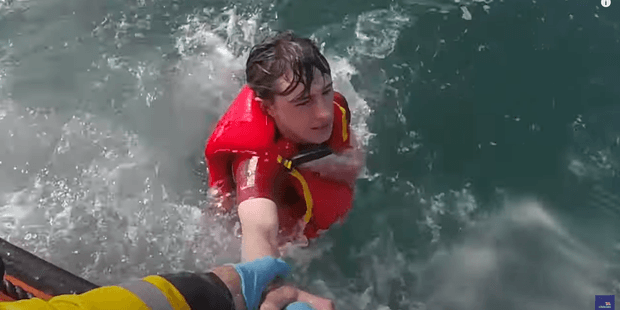 When a 17-year-old paddleboarder was swept out to sea, his survival depended on his cell phone and the voice on the other end of the line.
Best Touring Paddle Boards of 2022
Factors to Consider When Buying a Touring Paddle Board
Within touring paddle boards, you'll encounter a number of decisions that will help narrow down the right board for you.

What water types do you plan on SUP touring?
Different water types present different challenges, so you may want a different hull type, length, or even material for your SUP.
Do you plan to do overnight touring?
If so, be sure you look at gear storage on your SUP. Tie-downs and lashing points are really helpful.
How far will you be transporting your SUP?
If you're within driving distance, you can take anything. But if you're jumping on an airplane or train, you may need to opt for an inflatable touring board.
Read these touring paddle board reviews - you'll get a sense for what type of paddling each board is being used for by your fellow paddlers.
Try it before you buy it. Research is key, but nothing beats getting on water with a board. Talk to friends, borrow a board, and contact your local retailer for a demo.
Remember: the best touring SUP for you is going to be different than the next paddler. And that's okay. You have to factor in everything from your experience, planned water types, durations, budget, and preferences. So use this list as a starting point. Get some ideas, read some reviews, look through the entire touring paddle board gear guide, maybe browse the message boards, talk to your local paddlesports retailer or paddling groups, and get out and try it before you buy it! And, of course, when you're done, be sure to help the next paddler in their search by submitting a review!