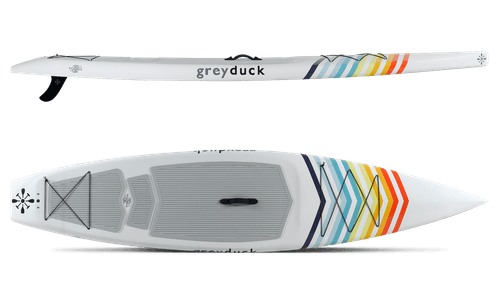 11'6" Journey Options
11'6" Journey Description
The 11'6" Journey is our smallest and lightest touring board. Built for paddlers who want to cover some distance while out on the water, this board has been fine tuned for great glide and increased speed with each paddle stroke. If you're looking for a board that is lightweight, efficient, and fun, you'll find your match in the Journey.
11'6" Journey Specs and Features
Structure: Rigid / Hard Shell
Seating Configuration: Solo
Ideal Paddler Size: Average Adult
Skill Level: Intermediate
Ideal Paddler Size: Average Adult
Skill Level: Intermediate
Additional Attributes
EPS foam core with vacuum bagged bamboo + epoxy construction
10" center fin
GORE no maintenance vent
Neoprene Grab Handle for easy carrying
Six point tie down system on nose and four point tied down on tail for carrying accessories
Max paddler weight: Beginner - 185 lbs, Intermediate - 215 lbs, Expert - 250 lbs.
Grey Duck
11'6" Journey Reviews
Read reviews for the 11'6" Journey by Grey Duck as submitted by your fellow paddlers. All of the reviews are created and written by paddlers like you, so be sure to submit your own review and be part of the community!
I have been using the Journey…
I have been using the Journey by Grey Duck SUP for the past 2 summers and it is easily my favorite board I've been on. The tracking is straight as can be and the speed & ease of paddling is noticeably different when paddling with others who do not have this board. I have the wood version, which is beautiful, but I also love the painted version... it was a hard decision to make between the designs.
Let's talk about the Journey.…
Let's talk about the Journey. Both the board and my unique experience to pick up this board. Grey Duck is local to Minnesota and designed by a Minnesota local. Rob knows his stuff. The company is producing what I would describe as modernized classic designs. Some with a Scandinavian flare, others with Grey Duck's unique style. The Journey is no exception. At 11'6 this touring board is a dream to ride on. We ended up picking up two of them so me and my better half could paddle together. This was my first real board after learning on a big box retailers hunk of rotomolded plastic. This board tracks well, is durable and relatively stable for beginners. I can tell that we will enjoy this board even more as we become more comfortable in rougher Minnesota waters. Board aside, I contacted Rob directly on his website and asked for all the help, since I was new to the sport and looking to make a good investment. There are simply so many boards to choose from nowadays and I really wanted a personalized experience for spending a good chunk of change. Rob invited us out to his store, gave us a mini tour of his shop, and took all the time we needed to make a comfortable decision. The experience was everything we could have asked for. The biggest bonus at the end of the day was that this board continues to feel like a worthy investment. After learning to keep my paddle more vertical, I can say that the tracking is leaps and bounds better than my older borrowed board. 5/5 stars, look no further, I've never experienced customer service like Rob provided.
I had an older board that…
I had an older board that was too heavy for me to carry by myself, so it really limited my activity in the water. But my husband purchased a Greyduck Journey board for me in early July. It is so light I can carry it anywhere by myself. The Greyduck Journey completely changed my experience on the water. The Journey is so much lighter and easier to maneuver that I'm able to enjoy extended periods of time on the water. I am extremely happy with the board.
I have had my Journey for…
I have had my Journey for two years and cannot wait to get back on it this spring! Highlights: Gorgeous. Well-balanced, smooth and fast ride. Light and easy to handle, both on the water and off -- I can easily transport it on top of my car to the lake of my choosing and carry it as far as needed to the beach. Two years in and still looks and handles like brand new.
I love this board! I had an…
I love this board! I had an all around style board for a few years but eventually wanted to upgrade to something that was a better fit for me. The Journey has been a great board, so much so that I purchased a second one last year. It's perfect for day trips and has a front and back tie down for carrying additional equipment. It's also lightweight enough for me to carry and load on my car. I'm only 5' 2" so being able to maneuver the board on and off land was a must. I'd recommend this board for smaller framed paddlers with at least a little experience with paddling, and for those looking for a board that favors speed and efficiency.