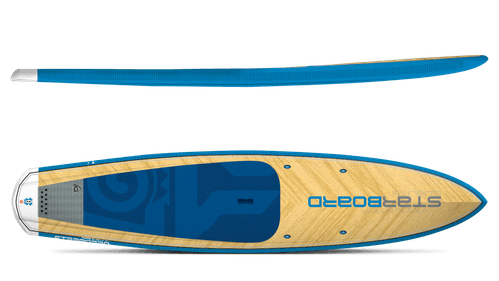 11'2"x29" Freeride Options
This Product Has Been Discontinued
11'2"x29" Freeride Description
Great speed, maneuverability, and easy transport in an all round cruising design for riders up to 90 kg. Boxy rails, deep center channel and flat side planes provide ultimate stability. Boxy rails, deep center channel and 32″ width provide ultimate stability. Ultra wide diamond tail and low nose rocker for controlled and smooth glide. Great for inland flat-water cruising and progressing into ocean chop. Available in Pine Tek, Starlite and Starshot Technologies. Bottom Shape: "Tri-concave with center channel" Starboard uses inverted EVA deck pads to avoid waste, thus every second board will have a reverse color combination from what is featured.
11'2"x29" Freeride Specs and Features
Structure: Rigid / Hard Shell
Seating Configuration: Solo
Ideal Paddler Size: Smaller Adult/Child, Average Adult
Skill Level: Beginner, Intermediate
Ideal Paddler Size: Smaller Adult/Child, Average Adult
Skill Level: Beginner, Intermediate
Starboard SUP
11'2"x29" Freeride Reviews
Read reviews for the 11'2"x29" Freeride by Starboard SUP as submitted by your fellow paddlers. All of the reviews are created and written by paddlers like you, so be sure to submit your own review and be part of the community!
Awesome board, it's my first…
Awesome board, it's my first board & I get a ton of comments when I'm on the water. All good of course. Fast board on flat water & handles great in ruff stuff. Pros Everything great all round board Cons No tie downs Usage Touring mostly on the Ocean, great exersize & some small surf.
I road a the Freeride 12'2 x…
I road a the Freeride 12'2 x 30, I wanted a board that wasn't a typical 12'6 race class yet fast and stable enough to keep up to them while using for fitness and touring...this is the board. Pros Stable in flat and chop. Glides well. Cons It's rather heavy and I wish there was more vibrant color choice in the composite and AST. Usage Fitness, tour
hi my name is Robbie g and I…
hi my name is Robbie g and I live in orl fl and have had the opportunity to be able to live my life around surfing since a young boy with my father off cocoa beach! Surfing and the lifestyle and vibes I get from growing up on the water have formed me into the man I am today and I will continue to so until my last breath I could hold duck diving under a swell rolling in! I am entering this contest for pretty much one reason only and that's for my fiancé. I work doing flooring for a living and although I got lucky enough to find a used 11'6 radar sup for a pretty decent price for myself I'm trying to find a nice sup for my woman. I recently got her into the sport to try to take her mind off the hard times she's been going thru with her mother passing away few months ago and I'm trying to save my every last dollar I can spare to by her own board for her so we can enjoi being on the water together but works been slow and bills have been taking a toll on the both of us . She's taking to the sport and is getting the hang of keeping her balance pretty quick but not so much when paddling and catching a wave on the coast or just cruising alone with out me with her on the water. I would really love to be able to win a sup for our family to share together and her daughters be next in line to learn the passion and love I've accumulated myself over the years but times are hard now a days and the education and schooling comes first. Thanku for the opportunity to take the time to share my story and maybe I'll hear from someone soon but if not happy shredding and much love for helping keep the sport moving in a positive direction. Thankyou again and take care. Pros I love the time on the water alone and with the family as well as just being able to pass on my passion to my loved ones!! Cons i couldn't really think of any cons about the boards and the sport accept I wish I had more money to be able to afford boards for everyone:/ Usage surfing exercise and relaxation and meditation !
I am fairly new to this…
I am fairly new to this sport. Was given my board as a gift to play around at the cottage Pros Nice and light easy to learn Cons none Usage Exercise around at the cottage
My Thoughts.I have the 2014…
My Thoughts. I have the 2014 model in Electric Blue. The 15' models have newer color scheme and are offered in three other constructions.. Go to Starboard website below for more details.. Full EVA deck pad with diamond grove in standing area and smooth crocadile on rear of deck with the star touch up on the nose. Plenty grippy under the feet. The soft insert anatomic lift handle makes for easy transportation. The fin is Starboard's race 23 fin in red Honeycomb construction. Its a great touring board , glides great in the glassy conditions. Effortless while moving on the water. Not so nose piercing but a gentle slap of water on the nose V. The boards was amazingly stable at the 30'' wide version. A slight side to side movement when you apply the rail getting more rail on the water for tracking.. The bottom has a continuos concave from the front middle through the tail. The nose has some rocker with a chamfered double concave for water deflection which would be great for downwinders and getting over swells and water wash..Was easy to get thru boat wakes and the short choppy prop wash..The wide high tail would catch any wind swell giving plenty of push. The bottom has sharp edges into the slightly rolled boxy thick rails. This keeps you high and dry on the deck. Which is kew in the cooler /cold water climates keeping feet dry..Its a great platform to fish off of and plenty wide to support your gear and tackle. Having the durable tough construction prevents against bumps,bruises and soft dings and the outer rail paint deflects the always paddle hits ..My only draw back would be inserts on the deck to strap gear down . There is a windsurf insert on my Electric Blue model for those who want to explore that option. In the surf there was plenty float with the nose lift and "V" shape which made it easy to plow thru the small knee high waves. Setting up for the waves was easy too. A very sable board to do power kick turns, (heal side and toe side) Recovering from those turns setting up was simple. Getting paddling momentum to glide into the wave was easy to maneuver as you get lifted up moving across the wave. Getting the foot placement and where to be took a few waves but once I figured it out the board as able to track across the face. Being on the tail was key but once gliding and when the rail was set, you can move about. The kicked up nose and V made sure you didn't purl. The boxy rails didn't really hold the wave or pocket but for gliding on the small waves its just fine. . I covered 40 -50 yard sections on the small tiny waves. Boat wakes have potential now.. Overall I like the board.. I have the Electric Blue construction .I'm sure the Brushed Carbon would be lighter and a bit easier and the wood would give it that classic look.., but for my use its a great board. Thumbs up for sure..I like the fact its only 12'-2'' so its not in the 12-6 race class and can be raced in the all-round/ recreation race categories. Pros See Summary Cons Not really anything bad to say about the board. Carbon would be lighter but the Electric Blue seems bullet proof Usage Touring and getting out to to distance paddles. I explore the marshes and creek and it a perfect board to do so..
Love this board. I'm a…
Love this board. I'm a heavier guy and this board is super stable as well as fast. Pros Stability and speed. Cons Usage Family touring, exercise and racing
I have a discontinued model-…
I have a discontinued model- 14'8" Coast Runner. LOVE love love it. stable board, no swimming in inlets no matter how bad for me!! seriously fast on downwind open ocean runs...it finds bumps to ride even when I don't. LOVE this board. can actually stick more gear on it than on my OC1!!! Pros the rocker, the stability, the fun-factor, the fact I can stick BOTH my kids on it with me and they can even lie down and catch a snooze on it. the complete comfort of being on the ocean on it. Cons wish it had a handle or grip hole or something. but that's okay. I love this board and actually can't say enough good about it. too bad they discontinued this model--oh...I don't use the rudder...shaft too short to actually work it, plus, heck, I've gotten used to paddling on one side when being broadsided by wind! Usage I race it, though it is not really the best board for upwind flat water conditions. the fact it is so fun on the down wind ocean more than makes up for the slog on the flat.