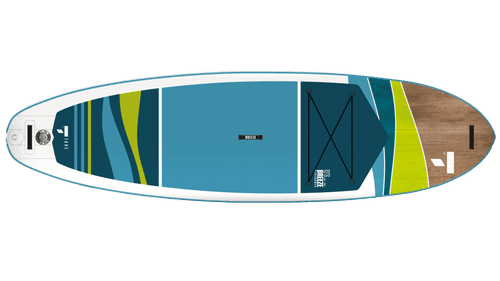 10'6" Breeze Performer Description
The 10'6 Performer AIR complete package is the ultimate all-water board for both flat-water cruising with family and friends as well as surfing ocean waves. The 10'6 works great for novice riders up to 200lbs/90kg. This COMPLETE PACKAGE includes rigid inflatable board, adjustable paddle, safety ankle leash, backpack, high-pressure pump with gauge, repair kit, deck bungee for gear storage, carry handles at center, nose and tail, tie down o-rings at nose and tail, "yoga-mat" style traction pad for comfort and grip.
Our unique SUP AIR construction technology features a dual layer stringer and side rails for rigidity combined with rugged drop-stitch panels to reduce weight without sacrificing durability.
BIC Sport is now TAHE! New Brand, Same Great Company and Products – Learn More
10'6" Breeze Performer Specs and Features
Structure: Inflatable
Seating Configuration: Solo
Ideal Paddler Size: Average Adult
Skill Level: Beginner, Intermediate
Ideal Paddler Size: Average Adult
Skill Level: Beginner, Intermediate
Additional Attributes
Versatile for all-around use and surfing
10" removable dolphin center fin
Carry handles at nose, tail and center
Deck bungee storage area
4.75" thickness for a thinner rail profile
2X permanent side-fins
Soft EVA embossed traction pad
Where to Buy the 10'6" Breeze Performer
Learn More
TAHE
10'6" Breeze Performer Reviews
Read reviews for the 10'6" Breeze Performer by TAHE as submitted by your fellow paddlers. All of the reviews are created and written by paddlers like you, so be sure to submit your own review and be part of the community!
I absolutely love this…
I absolutely love this board. I was afraid that it wouldn't be as good as a solid board, but was pleasantly surprised. It is not quite as agile or fast as a solid board, but it is very stable and doesn't lose much agility when compared to a solid board. What it gains is convenience. I can throw the bag in the trunk and go anywhere with the board. It is easy to air up and use and it is lighter. On a windy day, I thought it was actually easier to deal with when getting the board in and out because it was lighter. It does catch the wind a little bit because of the thickness of the board, but it was a small price to pay.
I had the opportunity to use…
I had the opportunity to use this board while camping on the lake. I wasn't sure about it being inflatable but found this board to be sturdy and easy to use. I am a beginner so the ease of use was nice. It was light to carry and the handles made transport effortless. I used the bungee cord storage to hold my water camera which made it easy to reach and use. Overall I would consider buying this board when looking to purchase
I am very impressed by the…
I am very impressed by the way Bic stands behind their products 100%. There was a flaw with my board and so they sent me a new one. My wife and I like the product very much as it we can share the board and both enjoy it. We travel on a sailboat and so the inflatable is perfect for us as we can store it away and take it on airplanes when we want to take it home. Pros Inflatable with its own backpack. Cons You have to be careful with it as you do all inflatables. Usage Touring, exercise and I want to try it in the surf as I am a surfer.
It is an inflatable board…
It is an inflatable board that can be inflated by hand or more quickly by 12V SUP pump, which is my personal choice. It comes with a backpack-type carrying case and a patch kit. Pros I like that it is light to carry; also how the top molding grips my feet nicely. Surprisingly hard and sturdy for an inflatable. It stores easily in the back of my car when not inflated and on my roof rack when it is. Great for city dwellers like myself who have little storage space at home. Cons I think a good one is expensive, too expensive. And after using a friends' fiberglass board, it doesn't handle or manuever as well. Usage I use it it for both exercise and touring.
Pros: StableCons: PriceUsage:…
Pros: Stable Cons: Price Usage: supping allaround Pros Pros: Stable Cons Cons: Price Usage Usage: supping allaround
Overall I liked the Air 10'6.…
Overall I liked the Air 10'6. It was very stable on the water even for a relatively larger paddler like myself. It tracks fairly well too but did not have any problems turning at all. My only minor complaint was that I felt like it showed scuff marks more than other SUPs I've seen. Pros Stable. Cons Shows marks more than I'd like. Usage Lakes Light river paddling
Awesome board. Prefect for a…
Awesome board. Prefect for a beginner like me. Pros Cons Usage On the lake for exercise.
Easy to transport. Fun to…
Easy to transport. Fun to ride. All around good piece of gear. Pros Transport. Stability. Convenience. Storage Cons Price Usage Exercise
Really fun in the white water…
Really fun in the white water i have ran this board in several down rivers and sup crosses supper stable and stiff. Pros its supper stable and stiff good white water board Cons supper sweat board just wish the made a 9'6 w 34" Usage mostly river play and sup cross