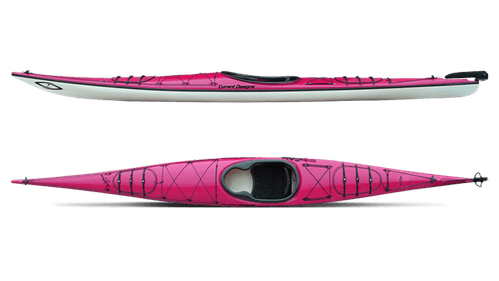 Solstice GTS Options
Solstice GTS Description
The Solstice GTS is for the paddler who wants a North American style kayak in a highly efficient package. This sleek hull design cuts through the water like a warm knife through butter. Plenty of foot room and the easy entry keyhole cockpit allows small to average sized paddlers to slip in comfortably while still staying true to it's sporty fit. The Solstice GTS has excellent acceleration, is highly efficient, and can hold plenty of gear in it's ample storage hatches. Great for water big and small, and trips long and short anywhere on the planet.
Read and submit reviews for the Solstice GTS.
Solstice GTS Specs and Features
Structure: Rigid / Hard Shell
Cockpit Type: Sit Inside
Seating Configuration: Solo
Ideal Paddler Size: Smaller Adult/Child, Average Adult
Skill Level: Intermediate, Advanced
Ideal Paddler Size: Smaller Adult/Child, Average Adult
Skill Level: Intermediate, Advanced
Additional Attributes
Composite Seam
Current Designs Rudder
Sea-lect Designs Foot Brace
Composite Colors
Read reviews for the Solstice GTS by Current Designs Kayaks as submitted by your fellow paddlers. All of the reviews are created and written by paddlers like you, so be sure to submit your own review and be part of the community!
we have had our current…
we have had our current design kayaks for twenty years and still love them. They still look great, no fading of color and handle like a dream. We also have two neckties and precept
roto molded which are great for those tougher water access entries










I purchased my first kayak in…
I purchased my first kayak in 1977, a composite whitewater model, and since then, I have owned more than 15 boats of various makes and materials. The one I plan to stay with is my Current Designs Solstice GTS Kevlar. I picked it up on Craigslist, and was a little nervous when I saw it was the Soltice model with the smallest cockpit. I am 6' / 210 pounds, and the literature said it was designed for a "small to medium" paddler. But the price was fantastic, so I bought it, and was not disappointed. Most of my kayaking has been in whitewater, so I am used to being "squeezed" into a boat. I actually prefer the feel of close-contact to having lots of free movement around my hips. Anyway, the kayak handles beautifully, tracks like an arrow, yet allows for quick maneuvers with a simple lean. The rudder system is very functional, but it took me a little while to get used to the Sea-lect foot brace. The boat employs what is referred to as the North American design, which I prefer, especially in large waves. The hatch covers are bomb-proof, and lie flat on the deck. I routinely get compliments on the style and smooth lines of the kayak from other paddlers. When I purchased the boat, one of the selling points was the Kevlar. I am 70 years old, and had visions of flipping this light-weight kayak on my shoulder with one hand. However, it is heavier than I had expected (17.5 feet long, and a nice solid layup don't make for a featherweight boat), but I can still hoist it on my car without assistance. All-in-all. I am happy I purchased the Solstice GTS, and don't expect to be selling it any time soon.
I'm really happy with it; it…
I'm really happy with it; it has enough room to carry everything I need for a self supported long weekend trip and is fast through the water and stable in waves. Great hatch cover design keeps everything dry. I have yet to try it with a sail, that's on my shopping and to-do lists.
I have had this kayak for…
I have had this kayak for more than 10 years and use it for paddling around Long Island, NY. In all that time it has been completely trouble free. The performance is great - it tracks nicely so that I almost never use the rudder. Because of its length it has a good turn of speed without much effort. The only maintenance I have done is cleaning after use and lubricating the steering cables. And an added bonus is head-turning good looks.
Good kayak that cuts through…
Good kayak that cuts through the water well and tracks very straight. It will turn well if put on edge.
This is my 4th kayak, and…
This is my 4th kayak, and definitely my favorite. I was a bit leary of the 22" hull, because my last kayak felt so unstable that I sold it at a huge loss. But this Equinox is superb. It fits like a glove and handles beautifully, allowing me to regain my confidence.
I am 64 years old and have some serious arthritis, so I didn't want to buy a 17'6" kayak and suffer loading it alone. The Equinox is easy to load, and light enough that I can carry it for short distances. The length is perfect for me since I am usually just day tripping but want better quality than a roto boat. All of the detailing is good quality and I like having a rudder for the times I paddle on large open bays with strong prevailing cross wind. Outside of being pricey, I can't say anything bad about this boat.
My 2012 Solstice GTS…
My 2012 Solstice GTS Kevlar/fiberglass layup is my 4th kayak and my favorite. It is light at 48 lbs. I am 6'2" and weigh 180.
The cockpit is tight on entry and exit but just right while on the water. I find it very responsive and turns well with the rudder down and tracks well with the rudder up on calm water. I bought it because the lake that I live on gets windy producing whitecaps often and my shorter plastic kayaks were not doing well in rough water. I use them in the river where I often slide over rocks in shallow water not wanting to be concerned about damaging my expensive Kevlar Solstice.
The Solstice is fast and easy to paddle and quickly became my favorite when paddling alone. When paddling with friends I take my Jackson Journey 14 so that I do not run off and leave them behind complaining all day.
I rated it a 9 because the seat back could be more comfortable on long trips. I adjusted it constantly for the first few months and find that the lowest position works best for me but my back starts complaining about the two hour mark. The fit and finish is excellent, a work of art. The compartments stay dry. I have not experienced any leaks, even in high waves my gear stays dry.
I have had my 2012 Solstice…
I have had my 2012 Solstice GTS (small fit) kevlar/glass layup for 6 months. It rounds out my quiver of 3 boats and is my longest and only glass boat. This boat was a stretch for me in skills, allowing me the room to rise to the next level as a paddler.
I am a woman of 5'6" and a 175#. With a short torso and long legs it can be a real challenge to find a boat that truly fits me. My previous touring boat, a Necky Eliza, was just too short in the cockpit for my legs and I had to replace it. I paddle once or more a week, windy choppy water of the Potomac, Patuxent, and the Chesapeake Bay. My husband and I travel specifically for kayaking, this year Cobscook Bay and Eastport in Maine, as well as Hatteras Island. I also like to take "exercise runs" on a nearby reservoir known for its calm water.
The good:
the fit and finish on this boat are second to none. After 6 months constant paddling I can find not one flaw, not one bad thing to be said for the way the boat was made, finished, or the way it fits my body. It is stable, tracks straight, does not get pushed around by the wind, nor turn when getting hit by chop fore or aft. The boat is stiff, doesn't flex under chop like a plastic boat can. It is the speediest boat I have ever paddled. It truly does cut through the water with so little resistance I find myself slowly speeding up with out thought. Should I want to speed up the boat responds, allowing me to catch up with little effort.
The bad:
this boat requires use of the rudder to turn with any speed. This is something to keep in mind. I believe it is due to a combination of the extremely soft chine, V shape, and the overall length of the boat. When I edge this boat, it only barely begins a turn. With just edging and sweeping alone it would take a handful or more strokes to complete a 180 turn, and room as well. The rudder makes this all so much easier. I almost never paddle without dropping the rudder in the water.
Over all, I prefer this boat over my others, if I plan to paddle any distance, or am out with a fast paddling crowd. I also prefer it when we are out in big water, where wind, chop, and currents come into play big time. Overall, the nicest boat I have ever owned. It is beautiful, well made, and stock fits me like a glove. It really is a case of me getting what I paid for. And that's a nice feeling. Worth every penny.
(I almost never rate anything a 10, but almost gave in here)
I paddle my CD Solstice GTS…
I paddle my CD Solstice GTS for exercise on flatwater rivers and lakes. I have lots of boats, but this is the one that makes it out on the limited evenings and weekends; it simply is the fastest and most fun to paddle.
Despite the narrower hull, this is a very stable boat. Tracks well, but I nearly always use the rudder to improve on speed. From my GPS runs this boat is 0.2 to 0.3 miles per hour faster than my Wilderness Systems Cape Horn Pro. I paddled this for a while with a Werner Ikelos paddle- liked it, but switched to an Epic wing and now I LOVE it!
This is a 2010 boat of the…
This is a 2010 boat of the new design. It is 17' 7" Kevlar with rudder. Weighs in at 48#. I have had it for 6 months and paddle on lakes and rivers in Iowa. I use it for recreation and do three or four kayak-bike-run tri's a year. The boat is quite stable (more so than my 15'; 23" Eddyline XT). The cockpit is medium allowing easy entry and exit. I chose this boat after paddling several in this class because it is comfortable and fast. Turning at low speed is okay, but at speed you really need to use the rudder. The fit and finish are exceptional.
I've owned a 2010 Solstice…
I've owned a 2010 Solstice GTS for three months now, and have been kayaking for 3+ years, salt and fresh H20. Mostly large lakes. I sprung for the kevlar and it was worth the money. No more back muscle tweaks.
Playing in the surf is a lot of fun with this boat, although turning it quickly (without the rudder) in between on-coming waves is a little unnerving. Which has motivated me to aggressively practice edging and stroke techniques. I knew this was going to be my trade off. So that has worked out in a positive way. What keeps this kayak from being a 10 is the leaky hatches. The seem on the rubber seal (on both hatches) are not aligned.
As far as over all performance and comfort, I'm pretty happy with this boat. I was talking to another kayaker and shared, at the end of the day, when I'm tired from playing or cruising and I'm heading back to the launch,with several miles to go, hands down I would much rather be paddling my GTS than a boat more suitable to surf. This kayak is a sweet, smooth, fast performer that takes little effort to cover long distances. Would I recommend this kayak to a best friend? Yes. Happy Kayaking
I purchased my Solstice GTS…
I purchased my Solstice GTS spring of 2008, and got to say it is magnificent.
Handling is user friendly, as everyone say it tracks straight, as for turning for the length of it, it turn pretty well, I don't use it as a true sea kayak, mainly lakes, slow flowing rivers and the shores of CT. I attempted several rolls over the holiday's, completing one, stability is perfect; it is tippier than my old boat but that's what I wanted. As a first boat, I would question it, but taking a safety/roll course it is a good boat to have. I can't wait for Spring to arrive.
Without question, the best…
Without question, the best kayak I have ever paddled. Have one in kevlar for many years and never found anything as comfortable or seaworthy. In any type of sea, there is nothing better.
This review is based on 13…
This review is based on 13 years of ownership, during which time I have bought and sold about a half dozen other boats. The GTS remains my favorite for the following reasons:
Although very straight tracking it does not need a rudder at all. It is easily managed in winds to 25 kts and ocean chop. Very comfortable in these conditions for traveling A to B. It is not designed for surf or tidal rapids play, though I have paddled it in in tidal rapids and it goes through without a fuss.
It does not leecock or weathercock in side winds.
The bow is an excellent combination of not too fine and not too full. It does not pearl, except a small amount down very steep waves and does not rise up and pound down heading into waves.
The rudder does work well to provide an extra bit of effort saving in windy conditions but is not really needed.
I owned a Solstice GTS in…
I owned a Solstice GTS in fiberglass for about a year and a half, here is the good and the bad.
I'm 6'tall and weigh 195 lbs, size 10 1/2 feet. I had this boat out in a range of weather 0-25 kts of wind and mirror smooth to 3 ft waves with the occasional surf exit and entry.
The boat fit me well, it was snug, but that's good. The cockpit was a tight entry and snug on the hips with a little padding. The construction was top notch, the glassing was clean without nicks or rough spots in and out, the rigging was good and nothing felt cheap, beautiful boat to look at.
the good---- The boat tracks well, point it in a direction and it will go. the rudder is easy to deploy, and the foot pedals work well with the setup. There is a TON of space in the front and back hatches for equipment. It is very stable this is good and bad, the primary and secondary stability both felt solid to me.
The bad--- This boat is very hard to turn. The length and the shape of the stern are working against you, This boat design needs a rudder, period. I had trouble turning the boat even with as sweep stroke and it leaned to the coaming. I could make it maneuver without a rudder but it's a wrestling match.
I had trouble with it leecocking in 10-15 kt wind, it may be the combination of my weight, height, and the boat..... I also had trouble with CD's new pedal clip system, they replaced the squeeze adjustment with a paddle-tension adjustment. The paddles would flip up and release tension during a roll, blowing out the pedal (and my roll...). My boat had a very leaky front hatch, after a rough day the front bow would be full of water. I think this may have contributed to my lee cocking problems. Still, no fun.
The boat will Pearl in surf easily, there is more buoyancy in the large back compartment compared to the front, so you need to lean waaaay back on a wave.
OK overall, the boat is fine if you need a stable craft to go straight, and your rudder never breaks. Trade out the tension paddle foot braces, and check your hatches. I should say this is only my experience and opinion. Many, many people love this boat, it depends on preferences, needs, skills, etc. For me it just wasn't a good boat. I gave it a seven for the little annoyances and a design that more or less requires a rudder for proper operation. I would suggest a lengthy test paddle before purchase.
The Solstice GTS is hands…
The Solstice GTS is hands down the best kayak I've paddled. It fits me perfectly, and is exceptionally stable. For long distances, the strong tracking is a major plus.
As a follow-up to my first…
As a follow-up to my first review, Ive had my (kevlar) Solstice GTS for a year now and all I can add is that on every outing, I still get the same thrill I did the first time I paddled this dream boat! This is truly a marvelous boat both in design and craftsmanship. Whether I'm in the bay, inshore, lakes or everglades, the fantastic speed, tracking, glide and primary/secondary stability of this beautifully crafted boat continues to be exhilarating. I've no regrets whatsoever, I'm truly glad I made this Current Designs boat my long-term choice!
Exceptionally fast kayak kept…
Exceptionally fast kayak kept me ahead of all but the QCC's and Epics. I couldn't knee turn the damn thing when going all out, so I sold it. NOT good in surf, won't pull you out of the rough stuff. Good and stable in most wavy conditions, if you want FAST, buy it. If you want turning ability, get a home on a bigger lake...
I have had the Solstice GTS…
I have had the Solstice GTS in kevlar for two seasons now and have nothing negative to say about the boat. I've used it in Baja and the San Diego area, offshore and in flat water. As everyone points out, it tracks very well and has excellent stability, particularly when moving. When I was deciding what to get, I did time trials with a number of the competitors with the same waterline length using GPS out and back runs and was astonished to discover the Solstice had nearly a half knot edge over the others with paddling effort as closely controlled as I could manage...really. And it is very quiet through the water, not surprisingly. The boat rolls easily using the standard technique. It handles 1-2 foot surf well, but will pearl if you don't concentrate, especially if the wave faces are steep. Although the entry is fine and forward buoyancy looks marginal for handling travel with the waves, on a plane the hull shape generates surprising lift to help keep the bow up. In bigger waves, coming back to the beach, I've had good luck dragging a small canvas bucket from the aft grab loop attach point to keep the boat straight. Workmanship was defect-free, the hatches don't leak, the rudder setup is just what you need. For those studs who don't much use the rudder, I say fine, be that way. I use it whenever I want some maneuverability, which the boat lacks, or in quartering winds. I'm 5'7" and 155 pounds and the boat fits well. I only wonder how long the paranoia about scratching it will last. By the way, this site had the most useful reviews for me when I was in the market. I don't expect to be looking again for a long time.
I tried a list of comparable…
I tried a list of comparable touring yaks (by Current Design, Necky and Prijon just to name a few) that I narrowed my choices to over 6 months of research and test-drives at local kayak shops and the Solstice GTS became an instant winner once I took it for a test ride. My final decision was based on personal preference and my own trial experiences more than any recommendation. I believe everyone should try before they buy – especially if you're looking at investing in any high-end boat
My first trial experience with the GTS (standard volume) was in the Florida Keys in 15 to 20+ winds; what a great handling boat! Despite the wind and conditions the GTS tracked like an arrow with great dead-ahead speed wherever it was pointed (does not weather-cock). A quick turn requires edging combined with sweep strokes w/o the rudder. Primary stability is great for its 22" beam; secondary stability was excellent - very comforting on edge. The hatches stayed dry and amazingly so did I; with its beautifully unique peaked deck design the boat shed water and deflected spray extremely well. I ultimately found the GTS to be the speed champ and the best tracking boat of its group.
With regard to construction and workmanship, Current Designs' Solstice GTS is second to none in my book – it's a beautifully designed and crafted boat – it really is an eye-catcher. Current Designs' quality control appears outstanding – the Kevlar GTS I ultimately purchased was flawless! For reference purposes I'm 5'-8" and weigh 160 lbs., the standard volume version of the GTS was a perfect fit for me – I found the cockpit to be comfortably snug yet easy to get in and out of. The padded thigh braces are awesome and the pedals and rudder is a cinch to adjust and operate. Volume/storage space for extended trips appears more than ample! I also personally really like the cam lever strap design to hold down the molded fiberglass hatch covers – keeps compartments bone-dry!
The Solstice GTS is my first tour boat, as my experience and love for kayaking grew over the past year (I quickly outgrew my rec-boat) I wanted to graduate to and invest in a top-notch boat that I would not outgrow for sometime; a touring kayak that would suit my all-around needs in South Florida (and elsewhere) from day to multi-day trips in lakes and inlets, shores and bays.
I've had my GTS now for a few weeks and it has definitely fit my wish for a dream kayak – paddles like a dream!
This is a well made kayak…
This is a well made kayak with the fiberglass layup. It is fast and tracks very well in all conditions. I don't use the rudder and am considering removing it. There is a marked tendancy to pearl due to the low volume bow when surfing steep waves but holds a line well when surfing across the face of large surf. Rolls easily with a "c to c" type roll but difficult to do layback rolls due to the relatively high back. Excellent primary stability and moderate secondary stability. Turns ok when put on edge. Good touring kayak that I've used for up to 2 week long trips on the west coast of Vancouver Island. I'm 5'10" 155 lbs. and this boat fits me like a glove without any extra padding. I really like the thigh braces. I think that this is a good kayak for the novice to intermediate skill level. Experienced kayakers will find it a bit stiff in handling.
GTS-HV Fiberglass Some background- I have been paddling a SOT for about a…
GTS-HV Fiberglass
Some background- I have been paddling a SOT for about a year including a paddle to Alcatraz Island on San Francisco Bay to escort swimmers back to Crissy Field (why would anyone jump off a good ferry boat to swim in that cold water?). So I am not a novice but consider myself a beginner with a sit inside boat. I am 5'11" 190 lbs, and fit the GTS just great. Good contact with the boat, I have to play with the backrest a bit to get it just right. Hatches bone dry after some waves washing over the bow (have to learn to roll for the real test there).
Very nice initial stability, for a beginner like myself, very comfortable in other words. It would be fine for photography or bird watching or having lunch. Secondary stability seems to be even better with a good bit of lean and knee lift in order to get the boat over on its side. Comfortable on its side I have the feeling I could paddle it that way without capsize. If you are looking for a boat that leans just by thinking about it, this boat ain't it!
Seat is comfortable, like I said I have to play with the backrest to get it in a comfortable position for myself. Foot peddles firm with the rudder up, just a small bit of looseness. In some gnarly boat wakes (some boats move a lot of water!) the boat felt, as one reviewer mentioned, glued to the water, the wake moving under the boat while I paddled which was enough brace to get through it.
Speed is satisfying- I know there are slower and faster boats but the engine has alot to do with this. Anyway, it is efficient and has nice glide.
Turning requires lean for a fast turn, combined with sweep strokes. A minor course correction is accomplished with just a lean and normal paddling. This boat goes straight and will continue straight until you want to turn. I have been in yaks that will turn on a dime but require more attention to going straight and are more effected by the wind than the GTS. It's a compromise for sure, but one I like in this case.
The only thing I would change is the cockpit size - bigger would be better- but like I said I fit fine and if it was bigger I would need to outfit it to get more support. In this case a little bigger would be nice to get in butt first when needed.
Overall I like the compromises this boat represents. It is comfortable for me and my paddling at this point. I would do it all over again and buy a GTS-HV if faced with the same buying decision.
Mine is a fiberglass Solstice…
Mine is a fiberglass Solstice GTX. Having guided many a kayak trip, from Lake Powell to the Sea of Cortez in Mexico, my first choice of my seven different kayaks is my Current Design. I base this choice on a trip on the Sea of Cortez when an unexpected storm hit us with 8-10 foot swells with a following sea. Of the 8 kayaks, 3 were Current Design Solstice. Before the day was over we had led most of the trip with little or no problems compared to our fellow kayakers. I feel the design gave the three of us an advantage in a situation that went from bad to worse. At 6' and 260 lbs plus camping gear the stability was unreal. With the rudder we were able to handle the following sea like the sea lions we had been paddling with just prior to the storm. In closing I can only say I'm glad I was paddling my Current Design as opposed to any of the other 6 boats that I presently own.
The GTS is faster and more…
The GTS is faster and more efficient. Corrective steering due to wind and waves is rarely needed; unlike my Sea Lion. I find it even more stable in big steep waves too! Refer to my review of my Sea Lion on this site.
This past April I tested…
This past April I tested various boats at paddlefest in Inlet NY and disappointedly rolled in the cold waters in a "storm". Well, pride hurt, and after practicing and obtaining proper paddling skills, from Sam at Lake George Kayak and then practicing for several weeks... I bought my dream boat, the Solstice GTS HV. I researched all brands and tested all on Lake George. I was totally surprised and blown over by this wonderful craft (I was intent on buying and Eddyline brand since I had previously tried my friends boat of that make). Primary stability is very comfortable and turns like a charm on edge with marvelous secondary stability. I have been enjoying nice long rides and there is plenty of room for storage. I really fell in love, however, with its naturally built in superior tracking and speed not to mention its graceful lines. I have yet found a need to use the rudder even in a severe cross wind as I experienced one day on Blue Mountain Lake. The design also keeps me dry even when I took 3 foot waves head on. It fits me perfectly. I am 5'10" 165 lbs so I have found it interesting to read the various sizes of the other people that have written. I believe that the Caribou S (that I also paddled) is another worthy craft but does not have the speed probably because it is much too spacious which takes away speed. I have not found a problem yet with my boat, other than I produced a kayak widow and I feel that all else is second to touring in my boat.
This boat is a beauty among…
This boat is a beauty among beauties. It holds its tracking extremely well, and is a rocket in the water with it 22" width it can really cruise across the water. It handles great in rough conditions. The high deck angle provides an amazingly dry ride with great storage capacity for a week long trip. This is a great boat. I recommend it to anyone. I am 6'1" 190lbs and it is a comfortable cozy cockpit and a great size.
We recently took possesion of…
We recently took possesion of a new version GTS HV, the primary paddler is my wife 5'4" and it fits her perfectly, she loves it. Having paddled many of the older Solstice versions the new rudder, even though plastic, is a huge improvement, much easier to get up and down, less expensive to replace and lighter weight. It is just as, if not more, effective than the older design aluminum rudder. The new rear hatch is beautiful though a little smaller than the previous version. Construction on our boat is flawless, no factory defects nothing had to be fixed or improved on upon arrival at the dealer. I would say that C.D. quality control is very good.
I'm 6'3" 215 pounds and find this size comfortable for short day trips but I would consider my size at the very upper limit for this boat.
I would rate it 10 out of 10…
I would rate it 10 out of 10 but nothing is perfect even this boat. I have owned the boat for a year easily the best one for me, I am 6' 195lbs and this is the HV model which gives me 3/4" more hull depth and fits the larger paddler but still gives you the speed you crave. Great stability and tracking I doubt there is a better kayak out there. Wife has a kevlar GTS (130lbs 5'8"), mine is fibreglas we are both very happy with these craft. Workmanship, quality and style are all topnotch.
I'm 5'10 and weight 136 lbs.…
I'm 5'10 and weight 136 lbs. This is a excellent paddling boat. It tracks well turns well with good technique and lean. Does not weather cock that i've ever noticed. Has OK storage space for a few days trip. It's both initially and secondarily very stable and takes moderate seas well. I think it's great for long strait paddles. It's not a good boat for playing because of its lack of manuverability. The rudder is great for turning but isn't needed for tracking at all. And, it's fast as well. My wife keeps up with me in my extreme very easily while touring. This hatch system always seals well. If you like tracking over turning this is the boat to own.
I have been kayaking for…
I have been kayaking for nearly two full seasons now (May thru October here in northern Michigan). I live on one of the larger inland Lakes in Michigan (Burt Lake) which is about 35 miles in circumference, and I paddle nearly every day for at least a few miles. I also like to paddle on both Lake Superior and Lake Michigan. I am always looking for large waves and swells to make the kayaking more exciting and interesting. I am six feet tall and weigh 180 pounds.
I bought my Solstice GTS after paddling a plastic 16' Old Towne Millennium for the better part of two seasons. I have nothing but praise for the Millennium, but I felt I was ready to move up to a glass boat. Naturally, I tried as many different kayaks as possible, and I feel very happy with my choice.
What attracted me first to the Current Designs Solstice was the workmanship and the beautiful lines of the boat. I really liked the flush front hatch covers. I initially tried the Solstice GT (24" beam), but I was pleasantly surprised to find that I fit more comfortably into the narrower GTS (22" beam). I was even more surprised to find how stable the GTS felt in the water, both initial and secondary stability. In fact the GTS seems to have a very low center of gravity, almost giving one the impression of having a weighted ballast to keep you steady. The bottom of the boat seems glued to the water, really wanting to keep you upright.
The GTS tracks better than any boat I have ever paddled. On windy days, I have been out with people in different kayaks who have complained about weather-cocking, yet this is virtually not a problem with the GTS, even with the rudder up. In fact I do most of my paddling with the rudder up, since the stern of the GTS somewhat resembles a permanent skeg! This of course leads to the one major drawback of the GTS...quick, sharp turns require more edging than most boats.
The front deck of the GTS has a very unique tent-shaped design which not only looks attractive, but is also very effective at shedding water and keeping you dry. After paddling with friends in 3 to 4 foot waves on Lake Michigan, they were amazed at how much dryer I was than they were.
At this point it is hard for me to imagine ever wanting a different kayak than the Solstice GTS, but who knows...something better may come along some day.
I've had my fiberglass GTS…
I've had my fiberglass GTS for about two years and really love it. It tracks likes it's on rails in all conditions. The only time I use the rudder is during very choppy seas with a wind off the quarter. Otherwise the rudder is unnecessary. However, turning can be a real chore. Small or gentle turns are easily accomplished with a little lean. However hard turns take a lot of work. Overall it is one great boat!
I've had my GTS for 2 years.…
I've had my GTS for 2 years. It is one awesome boat for triping, lots of room for gear and tracks great. I rearly use the ruder. Because I'm 5'2" and about 115#, I found it really stable and easy to edge. I can stand upright in it and still edge it on a 80 degree angle. It keeps up well with the fellas I paddle with, but it takes a lot of muscel to pull it around.
Perfect for ocean paddling,…
Perfect for ocean paddling, ideal for BC waters. Fast, fits slim 5-10 to six footers like a glove. Avoid it if you paddle in roiling (North Sea type) water where you need quick turns. This is the ultimate touring kayak.
This is my third sea kayak…
This is my third sea kayak and it is without any doubt the best boat I have ever paddled. I knew I would love it the minute I got into the cockpit. For the feeling of unity between paddler and boat, you can't beat this kayak!
This is my first kayak I have…
This is my first kayak I have bought and as a beginner, I feel it is quite stable in winds and waves... it is extremely comfortable on long paddles, and of course it is a sleek-looking boat!! I would highly recommend it to anyone and especially someone who is just starting up. I bought it in June of this year and actually the one thing I was worried was that I wouldn't be able to lift it up on my car racks by myself but it only weighs about 54lbs and if you get it balanced it is quite light!! ( but occasionally when I've had a tired day at work, I'll ask someone to help... especially if he's good-looking!!!!) So overall, the GTS ( High Volume) in my opinion, RULES THE WATERS!!!
I've had this boat for about…
I've had this boat for about 3 months now and find it to be a great tracker in all conditions. It is very comfortable and very fast. However, rapid turning is difficult and requires deep edgeing.
The Solstice GTS is a…
The Solstice GTS is a terrific rough water travelling kayak, if you like stiff tracking. It is a great downweather boat for going in a straight line. Comfortable, very stable for its beam, and surfs wind waves beautifully. It is also unaffected by wind. Easy to hold direction even in strong beam winds. You don't have to paddle on one side. However, if you want to change direction, for example, turn 180 to help a friend, you have some work cut out for you.
I've been paddling my GTS for…
I've been paddling my GTS for three years now.It is one of the best performing sea kayaks around. It is comfortable and responsive in all conditions. Great for racing or touring or just cruising.
I've had my boat for about 3…
I've had my boat for about 3 months. This boat is so smooth threw even the roughest conditions. I love to just roll the hips and watch it turn where ever I want it to go. It has to be the cleanest, smoothest, fastest boat I've ever had the pleasure of owning. Well worth the couple extra bucks!