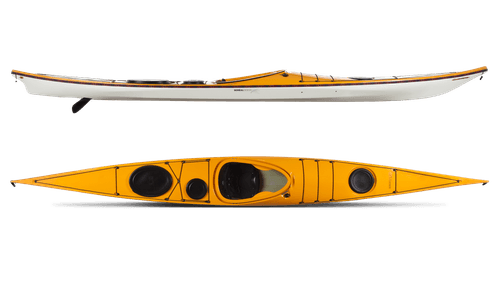 Ellesmere Options
Ellesmere Description
With an outline mirroring the silhouette of traditional Greenland kayaks, the Ellesmere combines the advantages of the reverse hard chine with a semi-arched hull, giving it great speed and maneuverability. Designed for the experienced paddler, standard equipment includes a skeg, sturdy anodized aluminum footrest, a back band seat, thigh braces, recessed settings, and deck lines. The kayak also features a practical paddle rest in front of the cockpit.
Read and submit reviews for the Ellesmere.
Ellesmere Specs and Features
Structure: Rigid / Hard Shell
Cockpit Type: Sit Inside
Seating Configuration: Solo
Ideal Paddler Size: Smaller Adult/Child, Average Adult
Skill Level: Intermediate, Advanced
Ideal Paddler Size: Smaller Adult/Child, Average Adult
Skill Level: Intermediate, Advanced
Additional Attributes
Optional day hatch is available.
Read reviews for the Ellesmere by Boreal Design as submitted by your fellow paddlers. All of the reviews are created and written by paddlers like you, so be sure to submit your own review and be part of the community!
I am a fairly experienced…
I am a fairly experienced sea kayaker. I've been sea kayaking for 14 years, and am an ACA Level 4 Open Water Coastal Kayaking Instructor. While I do really enjoy instructing, at heart I'm a sea kayaker who enjoys the ocean waters - swells, waves, and surf. And there's nothing I love more than getting together with a group of skilled sea kayakers. I own a small collection of well-respected sea kayaks, and I enjoy paddling different sea kayaks for the different nuances that each one offers.
The Boreal Design Ellesmere entered my world after I already had a pretty good collection of sea kayaks. The main thing that first attracted me was the rounded/arched hull between hard chines. The kayak that I own that shared that characteristic is the Nigel Foster Legend. What I learned from that design in the Legend is that it makes for a pretty fast kayak, while still maintaining maneuverability. Yes, all kayaks advertise this, and we all know that it's generally a compromise between stability/maneuverability/speed. And many can't get comfortable with the Legend's primary stability, but it does have quite solid secondary stability. But that rounded arch between hard chines is one of those designs that pushes the speed/maneuverability boundaries in both directions, and leaves you surprised. A unique feature the Ellesmere advertises is a "reverse hard chine". Now I'm not sure what effects that does or doesn't have, but I can tell you that it really is an impressive-performing hull, and I cannot be a naysayer regarding this. I think it proves itself to be a good thing. The first thing I found was that the primary stability is comfortable, and the secondary stability is comfortable as well. A beginner may feel a little twitchy at first, but an intermediate or advanced paddler should be perfectly comfortable right off. The second thing that I found is that it feels fairly low-volume compared to something like the Legend. The third thing was that it tracks well in the wind, and feels settled in and not too effected by wind. The next thing I found was that it really does have a good turn of speed for a 17' kayak. It's not a racing kayak, but it's not pushing up a bow wake prior to a fast cadence like more play-oriented kayaks. Next, I found that it is crazy-maneuverable for a kayak that tracks so easily and is that quick. A lot of times strong-tracking kayaks need just a little more skill and patience to spin around, but the Ellesmere truly rewards good technique, and is quite simply surprisingly maneuverable. The other big area where you will definitely notice a kayak's volume, besides strong wind, is in broken waves. Whether it's in a surf zone, where you can get pushed long distances towards shore, or in open water with whitecaps, where the broken tops can give you a good push, lower volume contributes to being pushed around less. This behaves like a lower volume kayak in such conditions. Another really cool thing that I discovered, and this may be helped by the reverse hard chine pattern, is that when whitecaps or crumbling waves hit the side of the kayak, the kayak will want to lean a bit into the wave, which is just what you want to counteract the force normally pushing you over the other direction- but will automatically happen without thinking about it. I find that a very cool and useful little nuance. Now this isn't a kayak where you can sit in the steepest part of a 4-5' break zone and expect a hugely-rockered, voluminous bow to keep itself above water. But those kind of bows come at a wave-slapping sluggish price at all other times on the water. The Ellesmere has plenty of speed to catch waves early, and already be riding along when the wave gets steep. So it's quite fun and easily manageable in moderate surf. It's open water characteristics are quite impressive, and as above, it's just very impressive how well it maneuvers. The Ellesmere is definitely a stand-out winning all-around sea kayak design in my book.
I'm including videos [links…
I'm including videos [links below], not of the crazy exciting nature that a non-sea-kayaker would get a kick out of watching, but trying to be of an informative nature. I see lots of review videos that show the pretty deck of the kayak, and I always wish they would focus more on the hull shape. I then tried to show how easily it's maneuvered on flat water. And in the other video, I'm taking you along, as though you're sitting on the back deck behind me, to show a little fun in some beach surf on a couple different days.
www.youtube.com/watch?v=z7ARookAFdE
www.youtube.com/watch?v=JdJ8cFc5PCQ
The Ellesmere is 17' long, 22" wide. As you can see from the tennis balls in the video, it has a good amount of rocker evenly distributed along the length of the hull. I don't know how noticeable it is, but the Ellesmere and Capella were the only 2 hulls in that group that a tennis ball could fit under the normal keel line underneath the kayak. The rest, the tennis ball had to sit against the end of the raking portion of the stern curving up to the deck. I figured anyone could go home, sit their kayak on a flat surface, level it, and see what room there was under their own kayak using a standard sized tennis ball, compare to these pictures, and get something of an idea of the rocker profile. Odd approach perhaps, but it's something I always want to get a glimpse of when looking at kayaks, it's really hard to get a feel for in photographs, and I hoped this might help.
It is a solid build. This kayak is 15 years old, kevlar, and going up and down the kayak pressing on it, I found no soft spots. It is very stiff. None of the 3 KajakSport hatch covers have leaked at all. This may be my most solidly built kayak. I didn't weigh it, but lifting it and all the others, the published specs are probably pretty good. It felt lighter than the fiberglass Legend and Greenlander, as you would expect. The Greenlander is noticeably a bit less stiff. The Legend was a little less stiff on the side sections from the deck to the chine. The rounded arched bottom of the Legend is very solid and stiff in line with the Ellesmere. You can see from the inside that both have more layers built up along the bottom. On the Legend, it's the entire bottom between the chines. On the Ellesmere, it's a very wide strip running the length of the keel line. Both the Greenlander and the Caribou have a little more give in the flat sections of the bottom, which I think in part points to the arched configuration being more solid in general than a flat section. In part, I suspect the Legend and Ellesmere add additional layers of composite cloth to the bottom to beef it up.
I'm 6'0", 190 lbs., size 11 shoes, 33" waist, 32" inseam. This one has an ocean cockpit. I found the sweet spot for me is to sit so one side sits centered over the day hatch. From there I can bring my feet in, and scoot my way into the kayak without having to squeeze my way in at all. It is somehow a secure feeling in the boat with the ocean cockpit, but the Ellesmere is sold with the popular keyhole cockpit as well. There is plenty of room for my feet, and the footpegs have a ways to go to get to the furthest back adjustment. There's a little space beside each hip for me. I'd probably go another 1/2 inch wider for perfection for me, but that's a very subjective matter. I like room to rotate. The next guy might like a snugger fit vs. more room.
The deck has just enough room for me for comfortable movement. It's fairly low, the lowest of those presented in the video. A nice minimized fit without extra volume for someone my size.
It was the rounded between the chines, or arched between the chines, hull that attracted me to this kayak. This was based upon my experience with my Nigel Foster Legend. It's fast and maneuverable, and I've always felt that it's the rounded vs. more V'd with flat sections that helps this along. We all know that overall round is fastest, but also lacks stability. So trying to keep things rounded as possible for efficiency, between hard chines for solid secondary stability, is my take on this type design.
I love it. This thing feels playful and maneuverable, and doesn't feel sluggish under my 190 lbs. One of the things I found with the Valley Gemini SP is that its max recommended weight is 190 lbs., and with gear and all, it felt like I overweighed it, and negated a lot of its playfulness. The ever-popular Romany always feels somewhat sluggish when I'm needing to get going. The Ellesmere allows me to get more out of that extra effort. I was instantly at ease with the stability profile. Most feel very uneasy in the Legend, and I'm comfortable in the Legend. But the Ellesmere doesn't feel so loose in the primary stability without primary stability being overdone, and has solid secondary stability. There is no nervousness for me out in waves regarding the stability.
15 knots is the most wind I've been out in so far with the Ellesmere, and she tracked fine for me without the skeg, and remained maneuverable in all directions. She has a light tendency to weathercock into the wind, as any kayak should. And there's a built in skeg to take care of any directional control issues should a person find it necessary.
Out in the waves, it feels very settled in – it doesn't feel twitchy at all to me. The footage I have is from 2 separate days. You can tell from the green top and the grey top that I'm wearing. The day in the green top, I don't think I pearled at all. The day in the grey top, I managed to dive the bow a few times, but it resurfaced without issue, continuing through the ride. Part of me thinks I would like to put a peak on the front section of the bow, because I think that helps the bow surface quicker after a dive. Part of me knows that adds a little volume and would be an experiment with overall behavior. Overall, I took some fairly steep drops dropping in on a few waves that would have bow-dived and stalled out some of my other kayaks. And part of any surfing is timing, and not dropping in too late so that you drop into a thrashing. The Ellesmere manages the whole process very well, and I'm not worried at all about having her out on bigger days. I will actually be looking to the Ellesmere for this.
Directional control riding in front of a wave is very good. My Capella 169, my go-to sea kayak playboat for years, requires a little more control. The chine profile seems to help direct the Ellesmere in a line out front. It resists broaching better. And yet I can still straighten her out and manage directional control to avoid a broach quite easily.
She proved forgiving in the waves. The low volume feels settled and not bounced around much. An interesting thing regarding the angle of the chine profile shown in the video, as I sat with my back to the broken waves, when a wave would hit me at any quartering angle from behind, the kayak would edge itself in towards the wave. I'm not talking about getting clobberblasted by an intense wall of wave that's just gone critical. I'm referring to broken whitewater washing over. The kayak automatically guided itself to exactly where a person would want it. It leaned inward towards the wave without input on my part. Now that's a forgiving nature. It's the first I've noticed it in a sea kayak, so at the very least, it feels more pronounced in the Ellesmere. Sometimes you can have the wrong reaction when you're not expecting broken water, such as a whitecap, so it's nice to have a kayak that guides you into the proper reaction.
You'll notice when I got back-surfed in the surfing video, all I did was try to anticipate which direction my kayak might broach. It just felt to me like she has a very forgiving nature overall. No quick broach, stern dive and stall, twist and turn. Given the evenly distributed rocker, this kayak might actually surf as well backwards as forward. I have a feeling my stronger direction will always decidedly be surfing forward, so I'll probably never really know the answer to that.
I felt I could paddle out in a hurry when I needed to, I could catch waves in plenty of time to settle in before they went critical and started breaking. It's just a real nice surfing kayak, remaining predictable and easy to control. It's not attempting to be an Aries or Delphin. Just a kayak built to travel through conditions – built to travel efficiently – and still be very playful and fun for park-and-play days.
I personally never looked to the Capella 169 (this is the older version – more rocker, less stable, more squirrelly than the updated versions) for travelling distances. It weathercocks a bit more than others, and a bit less efficiency – although pretty good efficiency among playful sea kayaks, which is probably where it lined up well with me. The Ellesmere is maneuverable, good efficiency, less squirrelly and less weathercocking, seems to have good rocker and profile for waves, settled, predictable, and forgiving in broken waves. I find it to be an exceptionally well built and great performing sea kayak.
In 2006 I owned the Ellesmere…
In 2006 I owned the Ellesmere and because of lack of experience couldn't get comfortable in the boat and sold it. Six years later I tried again:
I've been paddling my Kevlar Ellesmere with clear coat hull for 5 weeks now but I've had it out for 8 trips, some of them in fairly rough water and strong winds. I don't think that you can separate the boats characteristics from the paddler in its cockpit. I'm 170 lbs, at least an intermediate skilled paddler of 7 years experience and a septuagenarian.
The Elle is light 44 lbs. and fast. It is also a most aggressive turning boat in all conditions. Many times in a strong beam sea when we try to correct the boats course we limit the amount of edge due to caution in a rough sea. Not so with the Elle. The hard chines dig in providing a feeling of security. The Elle is an active boat, perhaps too active for some tastes. It is not a relaxing feeling in rough water but fun and playful. The primary is tender and the secondary quite strong. Unless you're heading directly into the wind, the Elle wants a bit of skeg. I use 20% almost all the time and it still turns strongly on edge with 20% down. Following seas are thrilling and while I haven't yet surfed with her I suspect she's quick and unforgiving. Just a little angle off the vertical and you may be in trouble. This is clearly a boat for the skilled paddler or one who wants to build those skills.
Seat and back band are fine and perhaps a matter of personal taste. The cockpit needed to be seriously foamed out for my slim hips and thighs. The Elle looks svelte and dynamic but has actually more volume than an Explorer. Should be a great camping kayak. Full disclosure: I also own a Romany which is my rocks and surf boat. I love the Elle as a second more exciting boat but would be uncomfortable if it was my only boat.
One last thing: The seat is positioned a little too far back which allows the lower back to contact the rear coming during layback rolls. Also the boat needs to be weighted a little in the bow to compensate and provide better performance. Build quality is excellent but a little light for the Maine coast with its rocky put-ins and beaches.
This fiberglass boat is…
This fiberglass boat is extremely pleasing to the eye and the craftsmanship on it is absolutely outstanding. I've never seen a better made boat. The attention to detail really shows: the perfect finish of the exterior and the interior, a very comfortable ergonomic seat, solid foot braces, bone dry hatches, comfortably shaped cockpit, and a conveniently located turn dial for deploying the skeg. The outside seam is perfectly straight and sports an attractive pattern found nowhere else.
The boat handles very well in all weather conditions and is excellent for touring because of its predictability, high speed, and high volume hatches that accommodate a lot of gear. It has good primary and secondary stability, and the unique reversed chine design allows for easy edging. At 51 lbs and 17' long it maintains good balance between weight, length, and speed. The low back deck minimizes weathercocking.
There are a couple of downsides. It doesn't track well without the skeg, which is easily fixed by keeping the skeg slightly dropped. The front hatch is recessed but doesn't have channels to let the water drain. This is not a problem with the rear hatches, because the whole back deck is flush, therefore there is no place for the water to gather.
Overall a great boat that I would highly recommend.
Great boat! Well made and…
Great boat! Well made and great in rough water. All the compartments are totally water tight and the bulkheads are fiberglass sealed. The seat fits me like a glove. Tracking is a challenge at times and requires some concentration but on the other hand this 17' boat turns on a dime. Meets all that I need in a boat at this time and is helping me improve my skills.
I really like my Ellesmere…
I really like my Ellesmere but wonder why I get tons of water in the cockpit-is is the flat deck? there are no leaks anywhere-I've checked. It rolls very well but I have injured my hand on the rope skeg control knob. I may move it further back. Getting a bit long in the tooth I sometimes find the ocean cockpit a bit of a challenge but with the help of yoga classes it's getting easier. A superb boat.
I've had an Ellesmere for two…
I've had an Ellesmere for two years and love the design and craftmanship. The seat is comfortable for an all day paddle, the hatches have always remained dry, and have had no problem with the use of the skeg or foot pedals. I also find the Ellesmere good in rough water. My only complaint is that the kayak doesn't track well, compared with other kayaks I've paddled. I've changed my style of paddling; the length of my paddles and still usually use the skeg more often than I would like. It's a kayak worth having, but will only give it a seven.
My first kayak was a solstice…
My first kayak was a solstice st which was a very nice boat. I was very stable and fast. However I wanted one that I thought could improve my skills. The ellesmere was recomended to me and I have been absolutely satisfied. I can't really add much to what has already been said. Its a fantastic boat. I was never consistent about rolling the solstice but this kayak is a cinch to roll. At times it doesn't track as well as some other kayaks I have paddled but overall, I love it. And the hatches are the driest I have had. The bulkheads have a layer of fiberglass over them and the covers are leakproof. I never have water in the hatches. Great performance and one of the best looking kayaks I have seen.
The Elle hull sports a…
The Elle hull sports a combination of rounded bottom with no definite vee shape and hard chines. What this means in practice is that the primary stability is modest. The boat wants to tilt easily from side to side. This means that tracking is difficult unless some skeg is employed. The fact that the last couple of feet of stern rises up doesn't help matters either. In a beam sea of moderate roughness you're continuously slapping back and forth into the chines. While the secondary is quite good, it's not a comfortable feeling. My boat was Kevlar and quite light at 45 lbs. (no day hatch). The smooth rounded hull shape made for a relatively speedy boat and that same upturned stern made for an impressive easy turner, perhaps the tightest turning 17 I've ever been in. The seat was the most comfortable seat as well and the overall finish and quality superb. I began my kayaking life with soft chined boats and just couldn't get comfortable with the Elle's hard chines and sold the boat after 6 months to someone who had more love for it than I.
I've been out three times…
I've been out three times with my new Elles'. It's a great boat. I picked it up directly from the factory, still in its original wrapper. The finish was flawless. The Kajaksport hatches are leak proof. The new skeg works really well. The knob is not in your way when you paddle. The 5-notches dial is quite useful. The seat could be the most comfortable of all. The thigh brace is perfect for me. The boat fits me like a glove at 5'10", 180.
The boat does feel a bit tippy standing still but it's very easy to get comfortable within minutes. I am able to get in and out seat first and then feet right from the water, no part of the boat touching the beach. So it must be stable enough. The secondary stability is just amazing, the boat is so easy to control with just leans from one side to the other. I find it weathercocks a bit. The skeg does correct this with some drag I suppose. However, the boat still maneuvers well will leans even with the skeg down all the way. I was out on confused seas yesterday. It handles that very well. Not too bouncy. I like the way the bow takes the waves. Not completely out but not completely in as well. Just right, feels secure but not a totally dry ride.
All in all a great boat. I prefer it over the Impex Currituck and QCC 700. I have owned both. I give it a 9 because a boat is always some kind of compromise and its weathercocking is a proof of that.
I purchased an Ellesmere this…
I purchased an Ellesmere this spring after looking at and trying other glass boats for 3 years. What a great boat! The dial-up skeg is a great new addition. The boat surfs wonderfully and holds a line in rough conditions. With the skeg up, it turns on a dime when you stomp on the foot peg. What really sold me was the cockpit and seat. It was the ONLY glass boat I could comfortably fit in. I'm 6'1, 200 but must have wide hips 'cause every glass boat I tried from Current Design models to EddyLine to Wilderness Systems was very tight on the sides of the seat. I can cruise all day in the Ellesmere in comfort. The boat also has beautiful lines and draws a lot of compliments.
After reading some of the…
After reading some of the other reviews I have very little new to add. The Ellesmere is a great boat all around. The reverse hard chine is unique and allows me to hold an edge in some really rough conditions. Two minor negatives-For Greenland style rolling practice, the coaming digs into my back after a half dozen rolls. The boat is too dependent on the skeg in windy conditions. I plan to add a small fiberglass extension to the keel behind the skeg box. In a nutshell-Buy one!!
I've reviewed the boat…
I've reviewed the boat earlier on, and given it a 7: a good review for a good boat.
Unfortunately, my boat was damaged in an accident a couple of seasons ago, and has been in storage since. I've replaced it with an Azul "Sultan" (mistake as Azul is one of the worst companies I've ever dealt with!!!!) Luckily, I never got rid of the boat.
Last week I decided to stick it back together with duct tape and get into a pool for the evening to see what it was like. Glad I did. It still turns on a dime, carves wonderfully, and has the most amazing secondary stability I've ever experienced in a kayak! This is a boat I'd heartily recommend to anyone wishing to be an intermediate level or better paddler.
It rolls easily, and while a bit big for real Greenland skills, it's still easily worked. If you need a great looking kayak that is small enough for day tripping, and can handle tripping as well; you'd be hard pressed to choose a better boat.
An 8, since there's still nothing perfect.
I have had an Ellesmere for 2…
I have had an Ellesmere for 2 seasons and love it. I was attracted to it because it is a fast boat and yet very stable. At 50 I'm not into racing but want the exercise and fun of kayaking. The Elle stays level on top of the waves, leans easy to carve a turn, and she rolls beautifully. I was concerned before I paddled her over long distances that the pommel seat would cause problems with my Sciatica but my legs aren't resting on the front of the seat and I have no complaints about the comfort of the boat. I have read about another buyer's problem with the skeg on this site. I don't usually put it down unless I'm pulling to hard on one side of the boat while paddling. I'm still trying to get the forward stroke completed correctly. When I do use it I'm already out in the water and always pull it up before I near the shore. Michigan is one big sand pile and I just check the skeg before and after paddling to ensure it's clear of debris. I feel absolutely in control whether I'm paddling in a river, inland lake, or Great Lake. It is the perfect boat for me.
I have had my Ellesmere for…
I have had my Ellesmere for about six weeks, and I can honestly say that I may never find a design that I like better. The only reason I didn't rate it a ten is that they could improve the skeg control system (but then I am very picky). I customized mine and it is fine now. I had been paddling a Seaward Endeavour, which is a very good handling boat as well, but the Ellesmere is better in many ways. I can lay completely back on the rear deck with no problem. I have not missed one roll in it yet, and I am not an expert by any means. The boat is fast, great in rought conditions, surfs well, turns beautifully, and is a breeze to roll. The seat and fit of the cockpit is unbelievable. I didn't need to do any additional padding or fit adjustments. The build quality is superb - better even than the Seaward, which surprised me because of all the great things I hear about Seaward quality. I recommend the Ellesmere highly, especially to people who like Greenland style paddling, rolling, and rough conditions.
I should have paddled the…
I should have paddled the Elle before I bought my Currituck. Big mistake, so I am selling my Currituck to another instructor where I work and getting a yellow kevlar Ellesmere. This is a great sea kayak. It is 17 feet long and 22 inches wide. The unusual hull design allows the boat to have the secondary stability of a hard chine boat yet be as efficient as a soft chine boat. And man does this boat lean, I can do a 180 degree turn in it no sweat. In large seas the boat handles fantasticly, and is very fun and easy to surf. It does tend to weathercock a bit in a stiff wind but it is easily solved by dropping the skeg. The shear lines of this kayak are absolutely beautiful, and it is one of the prettiest kayaks I have ever seen. The low back deck is great for lay back braces and rolls, and the raised front deck sheds water nicely.
Great sea kayak! Absolutely…
Great sea kayak! Absolutely beautiful lines and one of the best looking kayaks on the water. The quality of the lay-up is good. Stability is good but I am used to narrow kayaks. Speed is good too. I've never had a kayak that had a bow that behaved so well in the waves. The kayak is a lot of fun to surf. Paddling it in rough conditions and long distances is a pleasure. The ocean cockpit fits my 5', 10" and 165 lbs body great, but it scares a lot of my friends who aren't used to it. The low back deck is great for lay-back moves. The hatches are bone dry. The bungee, toggle and deckline layout is perfect.
The bad thing about this kayak is the skeg system. Launching and landing in 3-6 foot surf is the norm here in So Cal, and in the surf, sand is driven into the skeg box, which causes the skeg to jam frequently. To make matters worse, the hull has a sudden amount of rocker from the skeg box to the stern, which makes the kayak skeg dependent for good tracking and to avoid weather cocking. As a result, I threw the skeg away, cut out the skeg box, and modified the hull with fiberglass and epoxy to get rid of the excessive rocker in the aft few feet and follow the natural keel line. Now the kayak tracks well and doesn't weathercock without the skeg.
The seat was pretty good, but that bulge in the front and center of the seat was more than I cared for , so I threw the seat away and made a custom foam one that is more comfortable for me.
I've had my Ellesmere a few…
I've had my Ellesmere a few months now and like it very much. It seem to do all things well. Not the fastest but fast, not the best tracking but tracks well and so on. The fit and finish on this kayak is very good and with the vacume bagging it is pretty light for glass. If your looking for a stable well made kayak you owe it to yourself to give the Ellesmere a try I think you will find you like it.
I love my Ellesmere! I…
I love my Ellesmere! I researched a lot of boats before I finally chose the Elle. I wanted a 16'-18' boat suitable for a 5'4" 120 lb woman and I wanted a retractable skeg. The Elle has all that and more. She handles great in everything and is oh-so-much-more comfortable than my old Daggar. My old boat gave me a backache, I think because it was designed for a larger person. My 6' boyfriend can paddle the Elle comfortably, too! With the lightweight fibreglass, she's no problem for me to load on top of the car by myself--and I'm not that tough.
I own an Ellesmere. So does…
I own an Ellesmere. So does my wife. We chose the Ellesmeres after paddling what seemed like at least two boats from every manufacturer. We narrowed our choices down to the following: NDK Romany/Explorer, Greenlander Pro, Valley Pintail, Avocet, Dagger Meridian, CD Gulfstream/Slipstream, Impex Diamante. All are great boats and several have individual attributes that I like over the Ellesmere but the Ellesmere edged out the others by having the best combination of boat features (and thus explains the high rating by this reviewer): clever hull design borrowing and building on some of the best British designs, quality weight conscious lay-up devoid of defects, simple easily repairable rope skeg, triple hatch system with one large oval hatch plus day hatch, comfortable seat and back band, competitive price, and last but very important all our camping gear is easily stowed in the Ellesmeres. You cannot appreciate Greenland-style boats unless you get them out in heavy chop and big swells. The Ellesmere performs with the best of them. The reverse chine works like a wedge that digs into waves increasing boat stability as conditions worsen. The waves feel like they are hugging the boat – it's amazing how you just nestle in while others around you are expending energy responding and correcting. Boats that beat the Ellesmere hands down in primary stability felt like bobbing corks under similar rough conditions (which is a fun and desirable feature in a playboat, but we weren't buying these as playboats). When I drop the skeg in following seas, I can relax because the boat gains a marked increase in control against those waves sneaking up from behind. The hard chines are fun and we are forever experimenting, carving, and leaning while working on developing an efficient paddle cadence. Great boat great fun, never boring.
Excellent quality. Recessed…
Excellent quality. Recessed fittings are nice and the skeg works well. I like the reverse hard chine and the greenland style.
I've owned a glass Ellesmere…
I've owned a glass Ellesmere for two years now and think it's a fine boat. It is quite fast, tracks very well, is very good in rough water, and has exceptional final stability. On the down side, it's not as lively as the Valley Pintail for example as the skeg stern foot hampers flat maneuvers. It also has a tendency to broach on larger following seas. Kept in check though, it is a blast to surf, rolls easily and is the most comfortable boat I've ever sat in. A solid 7!
I recently added the…
I recently added the Ellesmere my mostly British group of boats. I demoed this boat at a Symposium and had to have one. This is a truely comfortable boat. I find the combination of ease of edging and rock solid secondary stability the best of any boat I have ever paddled. Very stable in the wind. Little need for the skeg. I like the line actuated skeg, having bent many cables. Great attention to detail and quality. Wonderful company to to business with.
The Ellesmere is my first sea…
The Ellesmere is my first sea kayak, although I rented and tried out many others before I purchased it. This is a wonderful boat! I recently paddled up the east/northeast shore of Lake Superior, and the boat handled the waves, currents, and swells nicely. It turns well, and the retractable skeg gives it tracking stability when needed. Also, the low aspect produces little wind resistance and the relatively flat bottom gives good primary stability while the angled sides lend secondary stability. All around, the Ellesmere is a delight to paddle (and easy to roll).
We took a trip to the coast…
We took a trip to the coast of Maine this summer and stopped in Quebec to pick up my new Ellesmere. Since my boyfriend already had his new Ellesmere that he got at the beginning of the summer, we were able to pack SOOOO MUCH gear. We kayaked in Quebec on the St. Lawrence with the whales. We kayaked with the seals in Maine. We had a fabulous trip, but most importantly, we really enjoyed the stability and maneuverability of our kayaks. The Ellesmere packs up much better than my old Nordkapp. It also has much better initial stability, as well as secondary stability. I really love this boat!
Just returned from tripping…
Just returned from tripping with this boat off the Northeast End of Isle Royale in Lake Superior, where her performance was no less than stellar. I was surprised to see how comfortable my "Elle" -- with her tight oval cockpit -- was even after long periods on the water. For a 22-in. beam, low profile/low volume boat, she was able to carry plenty of gear for a 7-plus day trip, and could have easily carried more. This is a hybrid Inuit-style hard chine/shallow arch bottom boat that can lean turn on a dime ... SOOOO most impressive was how stable she was when we were forced to paddle 7-foot seas to round a key point after being wind bound by worse stuff. The retractable skeg saves the day in such conditions. 9 of 10 as the skeg system sometimes is tough to "cleat" up. I love this boat, however.
This is my first boat and I…
This is my first boat and I love her. We paddle mostly ocean bays and large lakes. After renting and test paddling different boats we had decided to buy 2 plastic boats, mainly due to budget. Then my husband ended up buying a beautiful Current Design Solstice GTS High Volume fiberglass and we realized that I would not be able to keep up with him if I was paddling a plastic boat. After investigation I decided to get the Ellesmere kevlar. She is a little tippy initially but handles like a dream once you get used to the feel. Very stable ride and she turns on a dime. I have a skeg but have only used it once. Great fun boat which I really enjoy paddling ....only mistake we made was not looking for a boat that my husband would be able to keep up with me ....we smoke him all the time :) !