British Columbia is home to some of the most spectacular bodies of water on the planet. This Canadian province borders the Pacific Ocean and contains thousands of islands, large and small, begging to be explored by boat. These many coastal islands, inlets, and narrow passages have been the homes of native tribes for thousands of years, as well as the habitat for countless animal species including eagles, bears, seals, and whales.

British Columbia also has 20,000 lakes within its borders, which makes this Canadian province a paddler's paradise. Whether an experienced paddler on a quest for the perfect multi-day kayak journey, or a family of four looking for a safe but stunning adventure, British Columbia is the destination for you.

There are thousands of locations in British Columbia to explore on a kayak, canoe, or SUP board. From hidden glacial lakes to narrow passages packed with hundreds of whales, the paddling options are endless. But some places are undeniably special, so much so that they attract visitors from around the world. Here is a list of 10 of these locations that help make British Columbia a premier paddling destination.

Top 10 Paddling Destination In British Columbia
1. Haida Gwaii
Haida Gwaii is a truly enchanting and mystical archipelago located off the northern coast of British Columbia, and it is best explored via a paddling adventure. These islands, also known as the Queen Charlotte Islands, are not only one of the best paddling destinations in British Columbia but they are considered a top paddling destination in all of Canada and North America.
On land explore its hiking trails and feast your eyes on centuries-old totem poles and abundant wildlife. On the water keep your eyes peeled for aquatic life including seals and whales, and explore its abundant hidden coves and beaches. This is a great multi-day paddling trip for those looking to completely unplug from society in a remote North Pacific paradise.

2. Tofino (Pacific Rim National Park)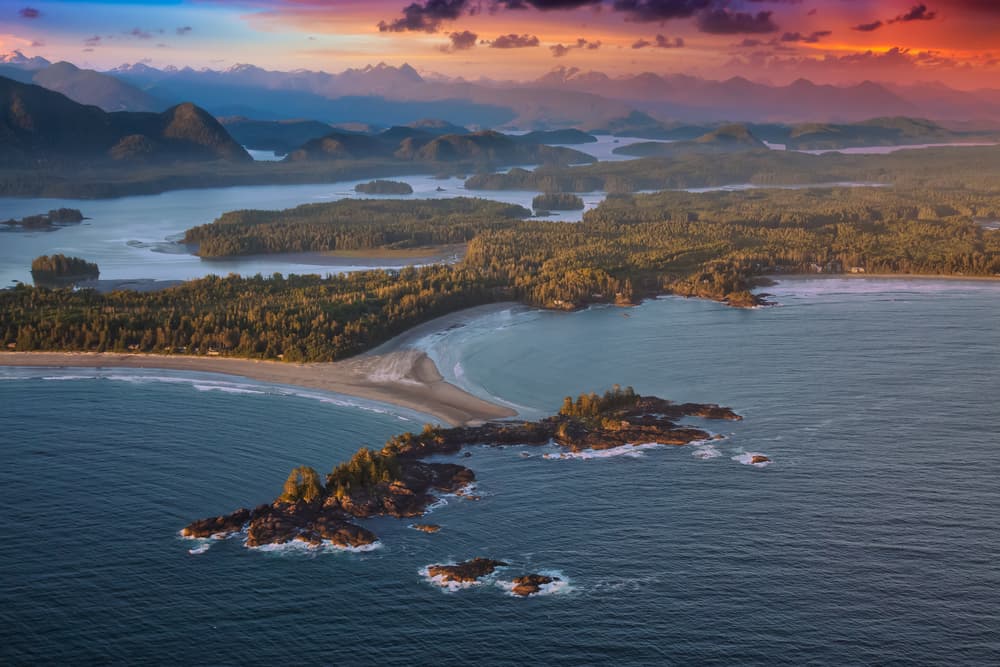 These days Tofino is touted as a top surfing destination in British Columbia, but it is also a fantastic place for kayaking, especially in Pacific Rim National Park and its Broken Group of Islands. Tofino is a wonderland for paddlers, offering all sorts of options and water conditions. The Broken Group is an unreal shattering of more than 100 islands between Loudon and Imperial Eagle Channels. They provide wonderful wildlife viewing opportunities.

The islands themselves, in addition to their beauty, provide shelter that makes for an often-smooth and safe paddler. This makes this region of Pacific Rim National Park ideal for paddlers of skill levels who are on a quest to find natural tranquility. You may also want to consider a guided multi-day trip to Hot Springs Cove in the Clayoquot Sound area.

3. Desolation Sound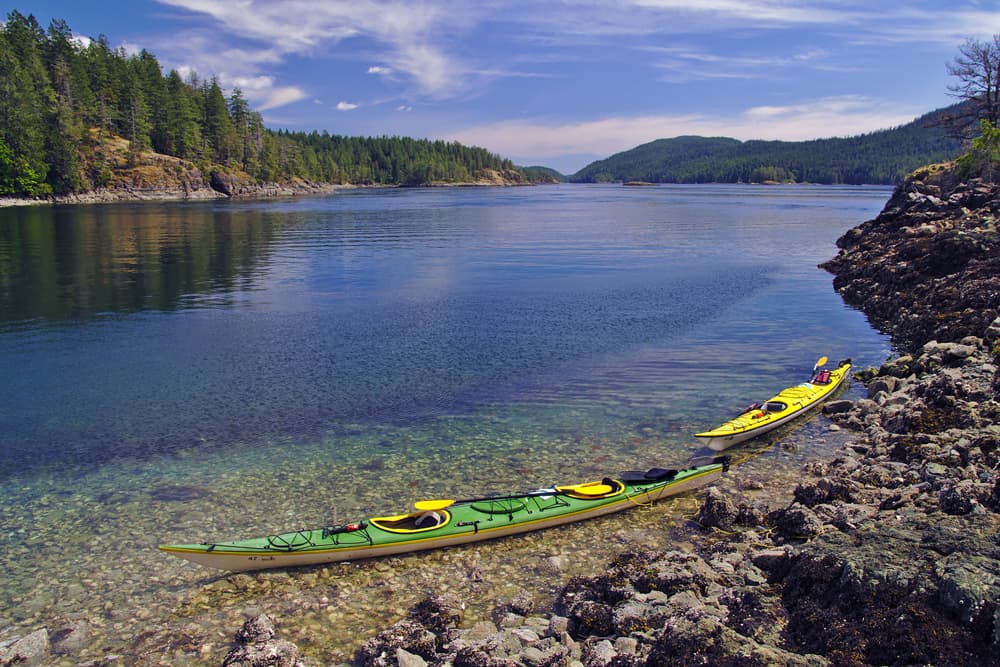 If protected deep water with towering mountains at every turn is more your style, look no further than Desolation Sound. Located on the gorgeous and seemingly-untouched Sunshine Coast, this area is a top destination for boaters and paddlers of all kinds. It is also a popular summer destination for scuba divers, swimmers, and hikers, who enjoy its many coastal trails.
Take in the various islands as you paddle through the sound's waters, exploring its inlets and coves throughout the area in this stunning and well-protected region.

4. God's Pocket Provincial Park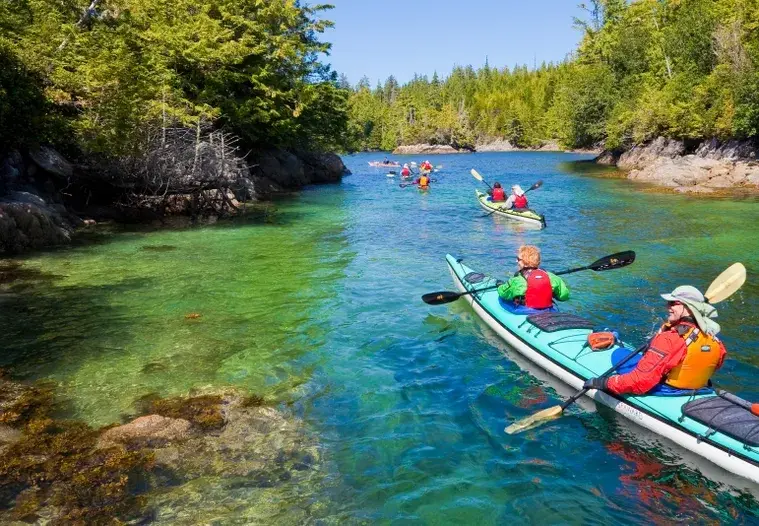 Located just off the Northern tip of Vancouver Island and sandwiched among Hurst Island and Bell island rests God's Pocket Marine Provincial Park. This is a fantastic, off-the-beaten-path destination for those looking for a paradise of cold water diving and pristine kayaking opportunities.
God's Pocket offers stunning beauty throughout its waters, with ample refuge on Hurst Island with coves and beaches. There are also camping opportunities for those looking to enjoy this wilderness with a tent. But for a more luxurious approach to this truly spectacular region of British Columbia, consider an all-inclusive multi-day paddling trips based out of God's Pocket Resort.

5. Copeland Islands
Known locally as the ragged islands, it is a hub between discovery islands and desolation sound. It comprises 4 islands and 14 islets. These land masses help to protect the Thulin Passage. This is the passageway used by those traveling between Desolation Sound and the Discovery Islands.
This makes the Copeland Islands a perfect stopping point or hub for those looking to take an extensive paddling trip throughout this region. These rugged islands are fairly primitive and preserved, but there are some camping opportunities available. These are ideal for those looking to operate completely off the grid as they paddle throughout some of British Columbia's best paddling destinations.

6. The Johnstone Strait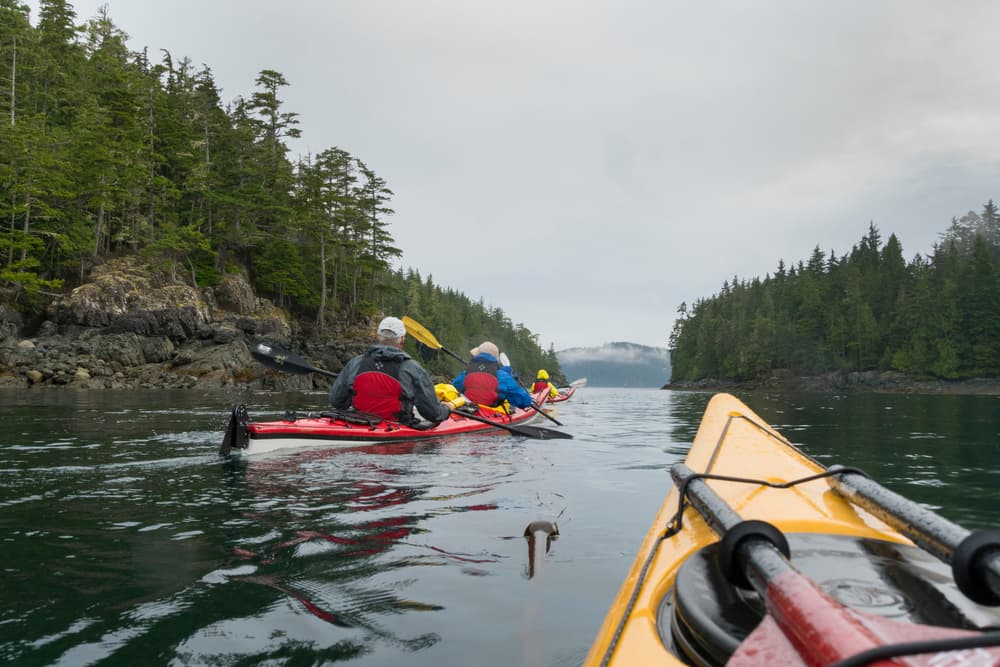 For those who come to British Columbia on a mission to paddle among whales, look no further than the Johnstone Strait, arguably the best destination in North America to mingle among the giants of the sea. The Johnstone Strait, a narrow passage between mainland BC and Vancouver Island, is undoubtedly the best place in the world to paddle among orcas, as it is home to a pod of 200 of these whales, the largest in the world.
There are also humpback whales that frequent these waters seasonally, making the summertime a fantastic time to see all sorts of bucket-list marine mammals. To (safely) maximize your whale encounter opportunities, consider a guided orca kayaking tour through the area.

7. Emerald Lake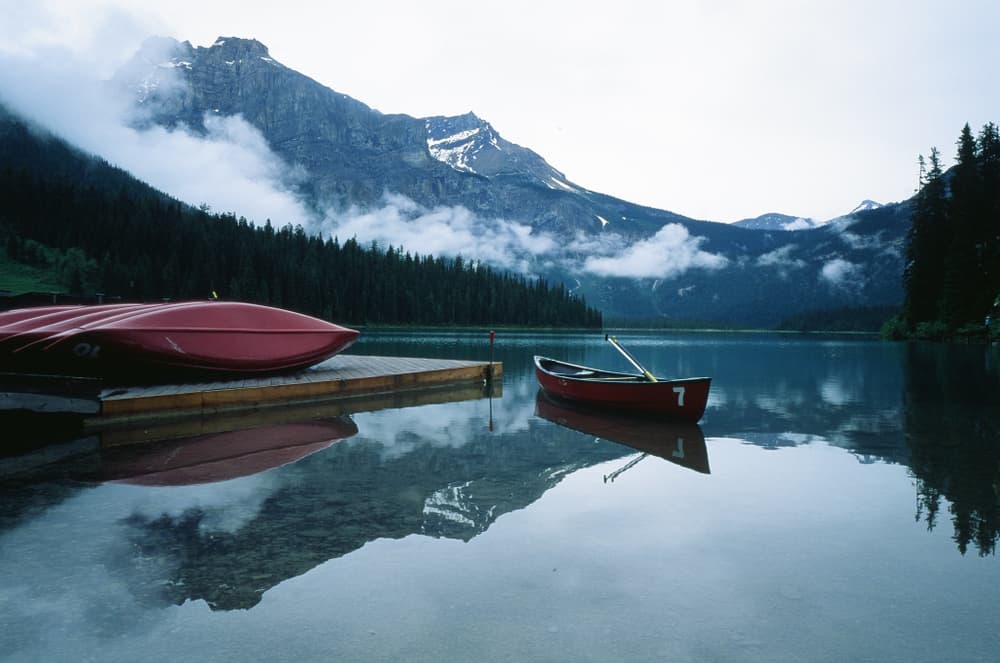 While British Columbia is famous for its Ocean paddling, there are also several freshwater paddling opportunities that should not go unnoticed. One of the most majestic of all these freshwater locations is Emerald Lake. Located in the Canadian Rockies, Emerald Lake is the largest (and most stunning) lake in Yoho National Park.

Kayaking in its tranquil teal waters along with the jagged towering mountains in the background is similar to vistas found in Banff National Park. But you don't need to travel all the way to Alberta to enjoy this beauty. In fact, this lake (unlike many of British Columbia's beautiful lakes) is located just off a main roadway, making for easy access.

8. The Discovery Islands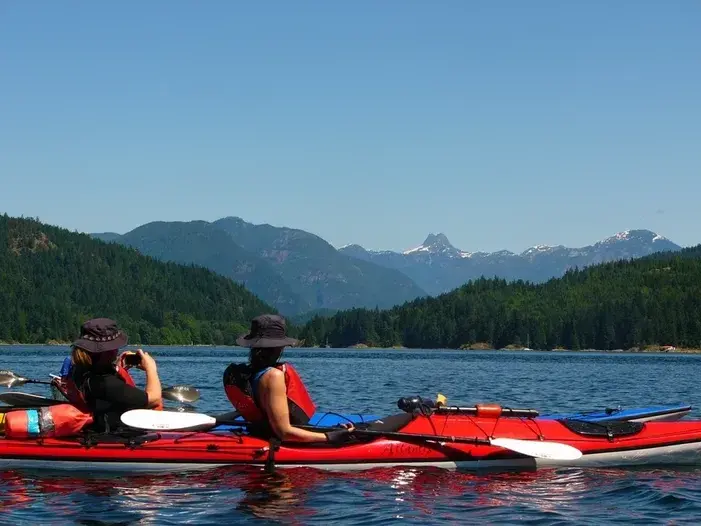 The Discovery Islands, while technically linked to the Johnstone Strait, is a separate paddling destination entirely and contains endless exploration opportunities. These rugged islands are based off the coast of Vancouver Island, not far from mainland British Columbia.
There are great wildlife viewing opportunities, from seals to orcas, as well as ample exploration of the many rugged islands that make up the Discovery Islands. Consider starting your journey on Quandra Islands, the most populated island of this archipelago. It is easily accessible by ferry from Vancouver Island. You may also consider booking a guided and unforgettable kayaking expedition around this island chain, as it can be a bit overwhelming to navigate this region without some prior knowledge.

9. Okanagan Lake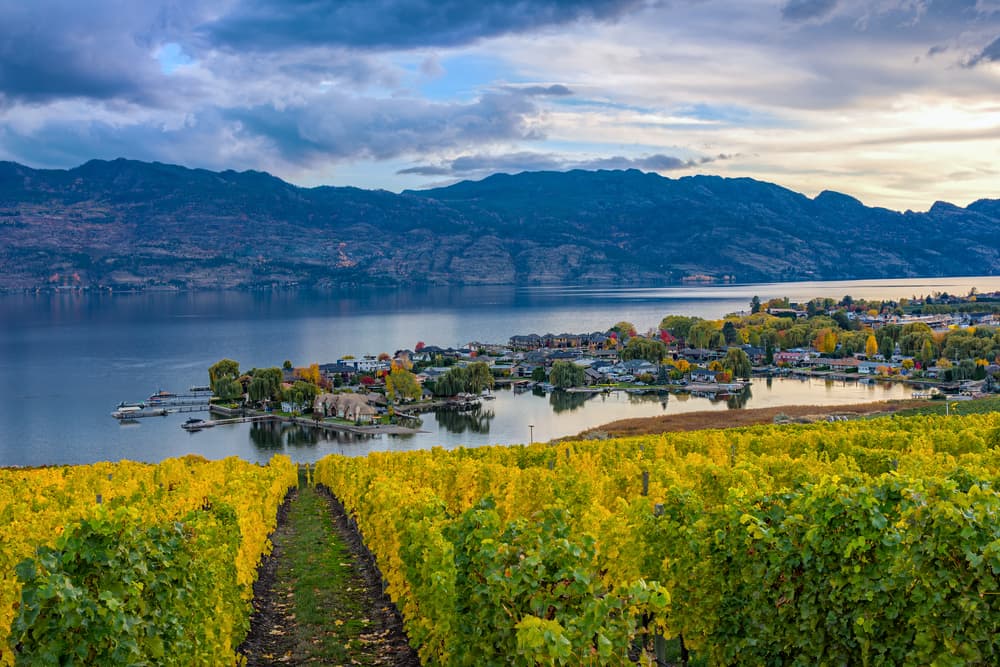 Okanagan Lake, the vast water body and largest in the entire Okanagan Valley, is an ideal water sports destination for adventure junkies and families alike. With a total surface area of 351 square kilometers, Okanagan Lake offers endless exploration for those on a vacation in this region.
Okanagan Lake is home to many recreation facilities, campgrounds, and boat launches (and rentals), making it a great escape for those looking to have an adventure on the water without having to pack for days or worry about less-experienced family members.

10. Victoria Harbor

For those who like to combine a bit of sophistication with their water sports, Victoria Harbor is the ideal British Columbia destination. You can canoe, kayak, or even SUP board in Victoria Harbor, getting great exercise while admiring the lovely quaint city of Victoria from the water.
When you finish exploring, paddle in to enjoy some amazing seafood at one of Victoria's amazing eateries and look out into the Harbor at the waters you just explored. This is an ideal destination for those looking to explore not only the water, but also an adorable coastal city.

Summing Up The Top Places To Paddle In British Columbia
From deserted islands to the north to vast lakes in the south, British Columbia has everything a paddler could desire in a Canadian paddling trip. There are rugged open water excursions as well as ample well-protected areas perfect for beginners and families. It is host to the best place on earth to view pods of orca, as well as thousands of lakes, islands, and coastal villages begging to be explored.