Here we are again: The Holiday season is knocking at the door. If you are looking for simple and inexpensive gifts, these food gift ideas will be sure to please the paddlers in your life without breaking the piggy bank…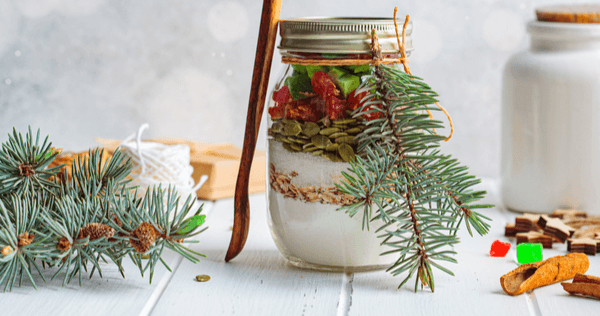 Edible gifts are generally inexpensive and are sure to please because a lot of planning and careful care has been spent preparing something special for a loved one. It could be a jar of homemade cookies, fruit preserves, or a loaf of gourmet bread with a good artisanal cheese. In any case, edible gifts made from scratch are a precious symbol of affection…
When planning to offer edible Christmas presents, you can use two different methods: prepare a few batches of your favorite fudge, peanut brittle, cookies, chocolates: these goodies are meant to be eaten in the next couple of days. Or you can prepare packages of special foods that will keep well: pancake mix, gourmet spices, a selection of special oils and vinegars, various blends of coffees or teas, homemade granola with nuts and dry fruits. The second choice is interesting too because it allows the person who receives your present to bring it along on their next paddling trip (if you live in a moderate to hot climate region...)
Here are a few suggestions that are all easy to prepare and are also affordable.
For the Soup Aficionado
Mix together or layer in a jar:
2 cups of coral lentils
1 cup of dry vegetables (in the bulk section of your grocery store)
4 tablespoons of chopped dried tomatoes
4 tablespoons of dry chicken broth (or vegetable)
4 tablespoons of dried parsley
2 tablespoons of dried chives
Add the following cooking instructions: bring 10 cups of water to a boil, add the content of this package and let simmer for 10 minutes (8 portions). The package can be divided in two.
Deluxe Granola Mix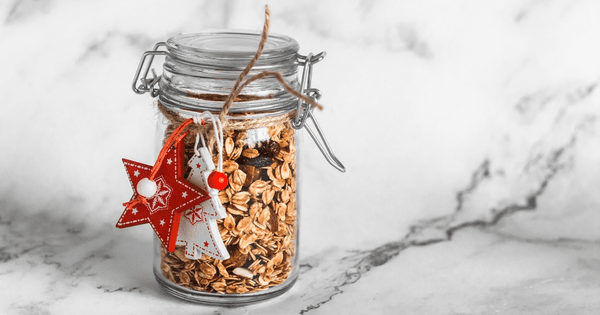 In a large bowl, mix:
6 cups of rolled oats
1 cup wheat germ
2 cups slivered almonds (with skin)
6 tablespoons of brown sugar
1 tablespoon of cinnamon
a pinch of salt
1/2 cup of canola oil
Cook for 30 minutes in a 350°F preheated oven, mixing once. Remove from the oven, add 6 tablespoons of chopped dates rolled in a bit of flour to prevent sticking, 1 cup of currants, 1 cup of dried cranberries, 1/2 cup of pumpkin seeds. Mix well, let cool and place in a decorated airtight container.
Dry Blueberry & Chocolate Chip Pancake Mix
Mix together or layer in a large jar:
4 cups of unbleached flour
4 tablespoons dried egg powder
2 tablespoons sugar
8 tablespoons of dried blackberries
6 tablespoons of chocolate chips
a pinch of salt.
Add a card with the following instructions: To the pancake mixture add 2 cups of milk and 2 tablespoons of vegetable oil and mix well. Pour a bit of the mixture onto a hot griddle or frying pan and cook until the pancakes makes bubbles. Flip over and cook one more minute before serving with maple syrup.
Wrap this gift nicely, adding a small non-breakable bottle of UHT milk and one small bottle of good canola oil. You can complete the wrapping with a small whisk and a nice collapsible bowl.
Easy Apple Chutney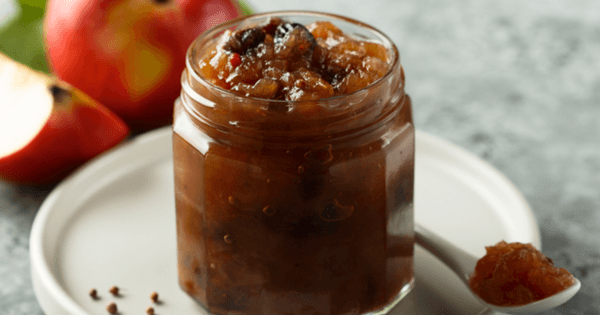 2 cups Granny Smith apples (with the peel)
2 cups McIntosh apples (with the peel)
2 cups fresh Anjou or Bosc pears (with the peel)
2 tablespoons lemon juice
The rind of one orange carefully washed
One large onion thinly chopped
2 cloves
1 cinnamon stick
3 tbsp fresh ginger
3/4 cup granulated sugar
1/2 cup apple cider vinegar
4 tbsp brandy
In a large bowl, place the apples, the pears, the lemon juice and the orange rind and mix well. Let stand 5 minutes at room temperature. Put all ingredients in a large dutch oven. Cook uncovered for 30 minutes. Pour in sterilized jars while steaming hot. You can offer a pot of the chutney with one Camembert or Brie cheese sold in a metal box and some crackers.
Homemade Peanut Brittle
2 cups granulated sugar
2 cups light corn syrup
2 tablespoon of butter
1/2 teaspoon salt
2 teaspoons baking soda
2 cups raw peanuts with the peel (or cashews, almonds or a mix)
In a heavy saucepan mix sugar, corn syrup, butter and salt and bring to a boil over medium heat, stirring constantly, until sugar dissolves. Add the peanuts and keep stirring until a candy thermometer indicates 290°F. Remove from heat and add the baking soda. Mix well. Pour the mixture on a greased cookie sheet. Do not spread too thin. Let cool at room temperature and break into brittles.
Put in a nice airtight container. You can also offer the recipe on a card with a cute ribbon for a future paddling trip…