This Christmas, as always, you're hoping to see big smiles appear on the faces of your loved ones when they unwrap your gift. One way to achieve that could be to prepare it yourself, from start to finish. It may sound daunting, but I can assure you that this takes much less time than a frantic search for the perfect gift. It is also less expensive, much better for the planet, and (most importantly) your friends and family will really feel that their gift comes right from the heart thanks to the thought and effort you have put into the adventure. This kind of gift is especially nice for paddlers because on a kayak or canoe trip, good food is usually something one really craves.
So in the last couple of weeks I have been exploring all sorts of recipes in order to come up with original easy-to-make treats that will keep for at least one month. For other suggestions, revisit another food column I posted some years ago: Homemade Edible Gifts for Paddlers.
When preparing edible gifts for paddlers you have to think of something a bit special, fancy, something that's unusual but still easy to prepare once at camp. Of course, the food must have an exceptionally long shelf life for your recipe to be a success, something that will bring a smile to their faces when they cook and devour your present. Desserts and snacks are definitely a nice way to go. But a special family recipe that is comforting and easily adaptable for a paddling expedition can be great.
Gift Wrapping
The gift wrapping is also important: it should be pretty, ecofriendly and be part of the gift per se. Let's say you prepare an original pancake mix. Why not place the dry mixture in a nice canister, like a sturdy water bottle or a cute reusable container? Add to this a mini whisk and a light mixing bowl and you have a winner! You've made a delicious chocolate-hazelnut spread? Arrange a nice set of unbreakable plates and some special knives, place the spread in an unbreakable peanut butter jar between the plates and wrap it all up with an apron or a few dish towels. You want to make something out of the ordinary and invest more money in your gift project because this is a big present for your parents, who are avid sea kayakers, or for your better half? Then pick a foldable cooler (one that can fit in a hatch), prepare 4 or 5 different recipes and arrange all the goodies you have made in the cooler, with a pretty waterproof tablecloth and some essential utensils. Or go for a cheese plate, unbreakable wine glasses and a collapsible wine bottle that will go nicely with the double baked cheese cookies you have just prepared with much care.

Be creative, cook a little or a lot and have fun! Here are some tried and tested Edible Christmas Gift Recipes!
Christmas Chocolate & Cherry "Sausage"
Ingredients
1 cup dried cherries, chopped
1/2 cup dried figs, chopped in small pieces
8 dried apricots, finely chopped
Juice of 2 oranges
Zest of 2 oranges
1/4 cup unsalted butter
1 cup black chocolate, chopped
1/2 chopped unsalted pistachios
1/4 cup slivered almonds
1 tsp cinnamon
1/4 cup powdered sugar
In a bowl, combine dried fruits with orange juice and orange zest and let stand 30 minutes. Strain and throw away orange juice (or, better yet, drink it).

In the meantime, in another bowl, mix butter and chocolate and melt in the microwave. Add remaining ingredients and mix well. Split preparation in two equal parts and place on 2 separate pieces of plastic wrap. Roll to create 2 sausages of about 8 inches long. Wrap in plastic and press firmly to make sure the chocolate keeps its shape.
Place in the fridge for at least one day. Dust with powdered sugar and wrap in a nice red or green plastic paper. It will keep in the fridge for at least one month and will keep well (several days) in an airtight container placed in the bottom of a kayak (to be in constant contact with water temperature). If you wish, you can offer this chocolate sausage with a cute cutting board and a serrated knife.
The Best Spicy Maple Nuts
Ingredients
2 cups pecans (in halves)
1 cup whole almonds (with skin)
1 cup walnuts (in halves) (or any combination of nuts you like)
1/3 cup maple syrup
3/4 cup maple sugar
1 tsp salt
1 tsp cinnamon
Pinch of all-spice
Pinch of Cayenne pepper
1 egg white
Preheat oven to 300°F. In a large bowl, mix all ingredients, except egg white. Set aside.

In another bowl, mix egg white until frothy. Add nuts and mix well to coat evenly. Cover 2 large cooking sheets with parchment paper. Put half of the nuts on each and spread on the entire surface. Cook for 35 to 40 minutes, stirring occasionally.
Remove from oven and separate big clumps of nuts. Let cool completely before placing the nuts in cute packages, such as tin cans with ribbons.
Spicy-Cheesy Popcorn Mix
This is an easy recipe that will please anyone with a taste for spicy food. (Actually, it is more fragrant than hot!) Easy to carry along, it will make a great popcorn treat around the campfire.
Ingredients
1 cup corn kernels
1/2 cup olive oil
1 tbsp curry powder
2 tbsp dried chervil
1 tsp chopped dried rosemary
1 tsp cumin powder
1 tsp celery salt
1/2 tsp Cayenne pepper
4 tbsp dried parmesan cheese
In a small decorative plastic pouch place the corn kernels. In a small unbreakable bottle, pour the olive oil.

In a small bowl, mix all spices and herbs with parmesan cheese and pour in another plastic pouch with a Holiday theme. Tie everything with a nice bow and place the 3 containers in a box, with a collapsible bowl big enough for a nice popcorn treat (or a pot that's suitable for kayak camping).
Dried Mushroom & Lentil Soup mix
Ingredients
1/3 cup mixed dried mushrooms
2/3 cup little brown lentils
1/3 cup brown rice (long grain)
2 cubes of vegetable broth wrapped in foil (such as Knorr, enough to make 36 oz of broth)
4 tbsp dried onion flakes
1 tsp dried thyme
1 tsp dried marjoram
1 pinch dried pepper
In a bowl, mix all ingredients and transfer into a non-breakable container. Make sure you pick the small brown lentils, which cook quickly. On a card, write the following instructions:

"In a large pot, bring 36 oz of water to a boil. Empty the content of the container in the water, cover, bring to a boil and lower the heat. Let simmer until tender, approximately 25 minutes. Serve with bread."
Tie the instructions to the container with a nice ribbon.
Fragrant Apple Butter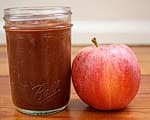 Ingredients
20 medium apples, quartered, seeded, with skin
4 tbsp lemon juice
1 tsp cinnamon
1 tsp ground ginger
1/2 tsp ground clove
4 tbsp maple sugar (or regular brown sugar)
4 tbsp butter
In a large pot, combine apples and lemon juice and bring to a boil over high heat. Cook for 30 minutes over medium-high heat and remove from stovetop. Let cool 10 minutes and pass through a fine sieve.

Put the apple sauce back in the pot with all remaining ingredients, except butter. Bring to a boil, lower heat and simmer, uncovered, for 2 hours, stirring frequently. Once the apple compote has the texture of a butter and a nice caramel hue, remove from heat and add butter. Mix well. Let stand until the apple butter is at room temperature.
Pour apple butter into Mason-type sterilized glass jars, leaving 1/4 inch of space at the top. Add rubber rings and the lid and seal tightly. Place in a bath of boiling water and cook for 20 minutes. Remove from heat, let cool. Dry each jar with a clean table cloth. Decorate each jar with a ribbon and add a sticker to identify the apple butter. The apple will keep at least 3 months, as long as the jar is properly sealed.