Gliding through glass on a crisp, winter morning can be an experience like no other. Whether we're extending our paddling season, or seeking out remote, chilly destinations, cold-weather paddling comes with much higher risks than paddling in warm weather. However, many of these risks can be addressed if we dress accordingly and expand our usual gear to help stay warm out on the water. This short guide will showcase a couple of items and areas to consider when paddling in cold temperatures.
The first essential thing to keep in mind is what we wear, especially when it comes to the water's temperature. We must have the right layers and/or types of layers to allow us to keep warm and function if we take a swim in cold water and avoid cold water shock. We like to think of it as always "dressing for immersion." While it might seem counter intuitive, dressing appropriately in the spring can prove trickier than in colder seasons due to the combination of cold water and warmer air temperatures.
Drysuit
As temperatures start to drop, most paddlers will take one of two routes: wetsuits or drysuits. Wetsuits can help extend our paddling seasons, are affordable, but sometimes can restrict our paddling motion. Drysuits on the other hand can be used in a broader range and lower temperatures since they rely on the use of different types and amounts of layers underneath to keep us warm in different situations. They are, however, more expensive and require more upkeep.
I remember the first cold water class we took when we began coastal paddling, we had the opportunity to layer up accordingly, borrow drysuits from the outfitter and jump in a cleared area amongst floating ice. It was fantastic to experience the feeling and power of cold water firsthand, and it cemented how important it is to dress correctly for immersion.
A good example of a drysuit is the NRS Crux Drysuit:
NRS Crux Drysuit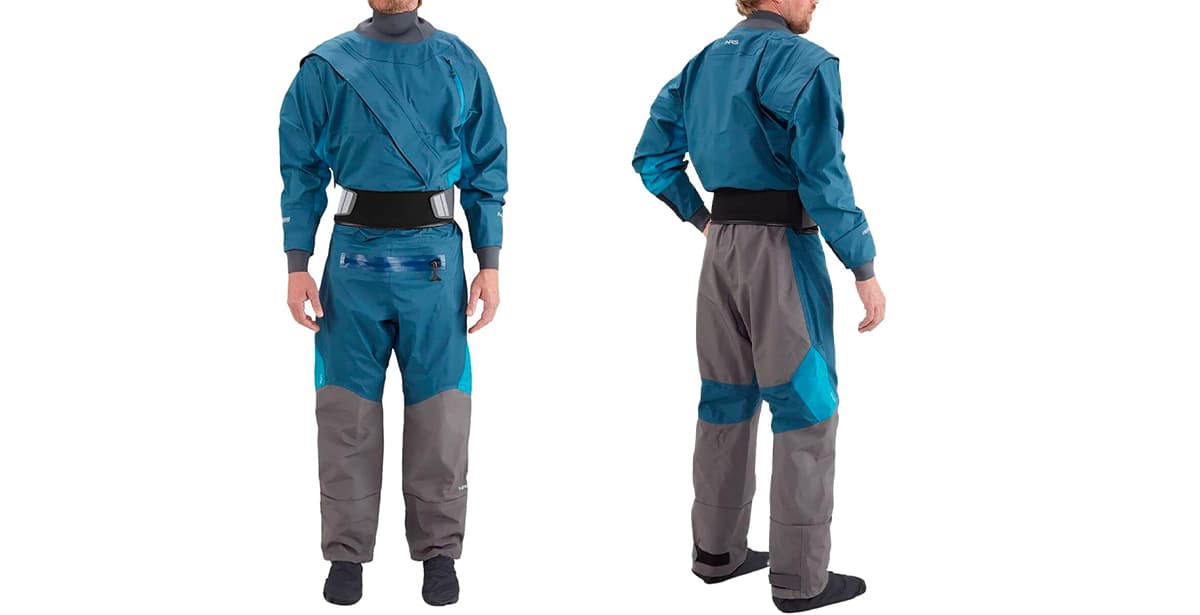 The NRS Crux Drysuit has a 4-layer Eclipse shell, giving it remarkable waterproof, breathable protection, and it's also stretchy enough to ensure freedom of movement while we're skirting eddies and dropping falls. It has a neoprene overskirt, latex neck and wrist gaskets, and a front zipper.
Shop Men's
Shop Women's
Base Layers
If we choose to extend our season with a drysuit, wearing the right layers below is of utmost importance. The drysuit itself is only designed to keep you dry, so layering accordingly will help us stay warm if we take a swim. Synthetic or wool fabrics are ideal, and cotton MUST be avoided. Cotton will absorb water and dry slowly, making it a terrible choice when we want to remain dry, insulated, and warm. Base layers of different thicknesses can be combined in different ways to address changing air and water temperatures. A good example of under-layers is the REI Co-op Lightweight Base Layer Long-Sleeve Crew Top:
REI Co-op Lightweight Base Layer Long-Sleeve Crew Top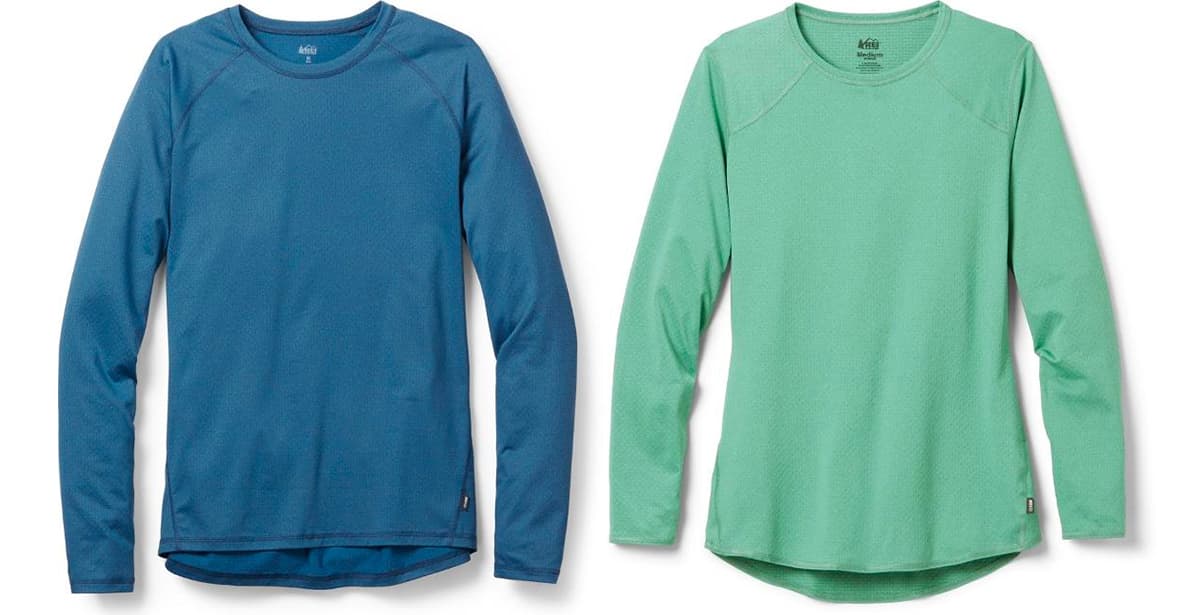 The REI Co-op lightweight long-sleeve base layer crew keeps you warm until you warm up, then wicks sweat to keep you comfortable when you're paddling. Spandex in the blend gives the fabric 4-way stretch, while underarm gussets ensure you can reach and move with ease, and has flatseam construction to feel comfortable against your skin.
Shop Men's
Shop Women's
Wetshoes
Along with keeping our bodies warm, we must keep in mind how the cold can affect our extremities. Many types of drysuits will come with fabric or rubber booties, making it easy to layer warm synthetic socks underneath our footwear. Neoprene boots and booties are available in different thicknesses as well. I've been a fan of NRS booties for years, these are my usual go to's – but you can always find different thicknesses as well as play with layering underneath to keep your feet comfortable and warm.
NRS 3mm Freestyle Wetshoe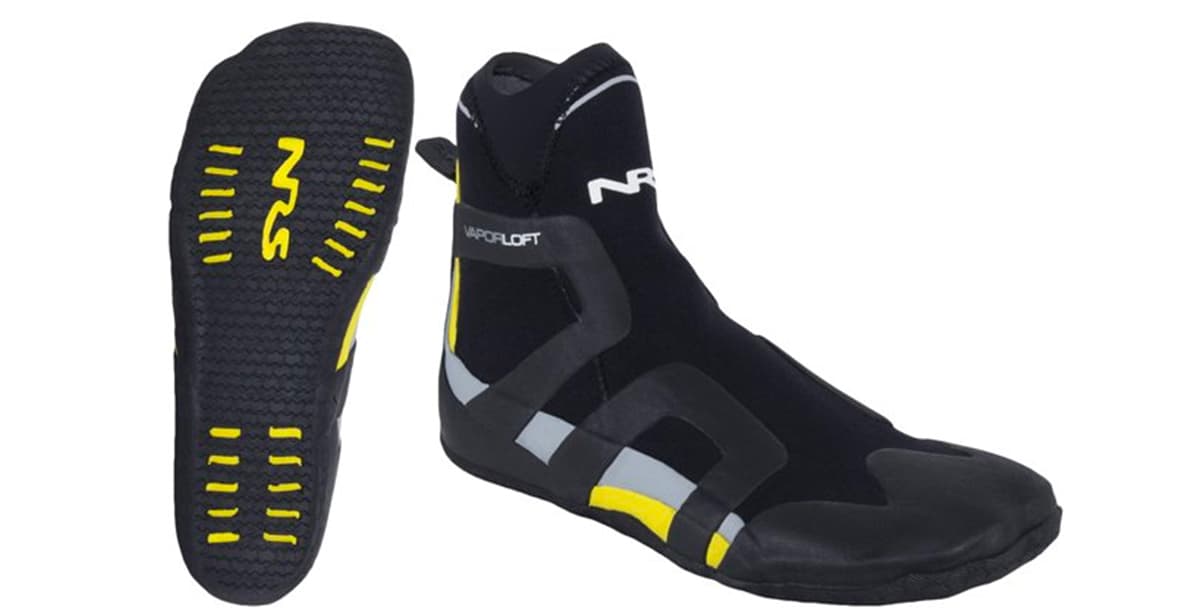 The Freestyle Wetshoes are made of neoprene, with rubber soles. Seams are sealed to keep the cold water out, and the textured rubber sole offers improved lateral stability without added bulk – which can be very helpful in smaller kayaks.
Shop Now
Pogies
For our hands, layering can sometimes prove a bit more difficult. There's always a tradeoff between keeping our fingers warm and having their full use in different situations. I usually mix up thin and thick neoprene gloves depending on conditions, and an item that can always be counted on is a good pair of kayak pogies. Pogies often look like neoprene socks that attach to our paddleshaft and allow us to slip our hands in to remain warm while holding the paddle. One thing to keep in mind is that they do not provide protection if our hands are outside the pogies, like if we take a swim. Many brands make their own versions with different features. Snap Dragon is a good option as they have a large opening and allow to fit our hands even when wearing gloves.
Snap Dragon Hyper Hands Kayak Pogies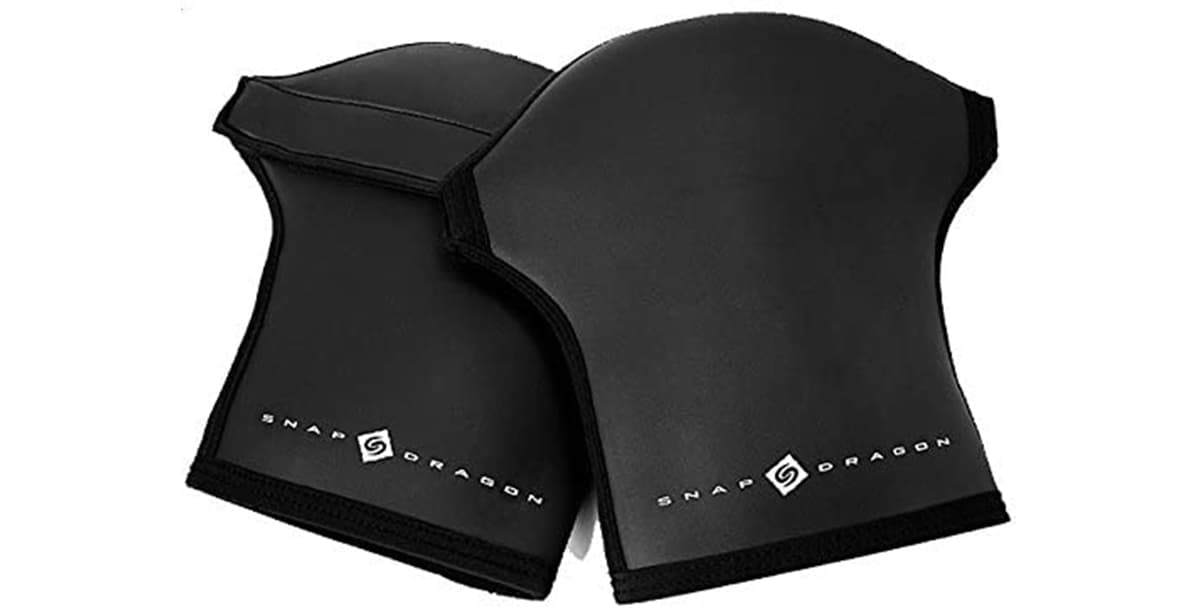 Many paddlers prefer to have direct hand contact with their paddle shaft. Hyper Hands offer that option while protecting hands from the bitter cold. A flatlock seam construction helps to hold the mitts' shape, making entry and exit a snap. Durable HTH watersports velcro secures each pogie to the paddle.
Shop Now
Hood
Just like with our extremities, keeping our head warm is exceptionally important. Remember to avoid cotton and opt for synthetic fabrics in hats and ear protection. Neoprene headwear is also available in different shapes, sizes and thicknesses depending on the conditions and use intended. I personally really enjoy the NRS Storm Hood as it lets me to play in fun conditions even when water temperatures are lower.
NRS Storm Hood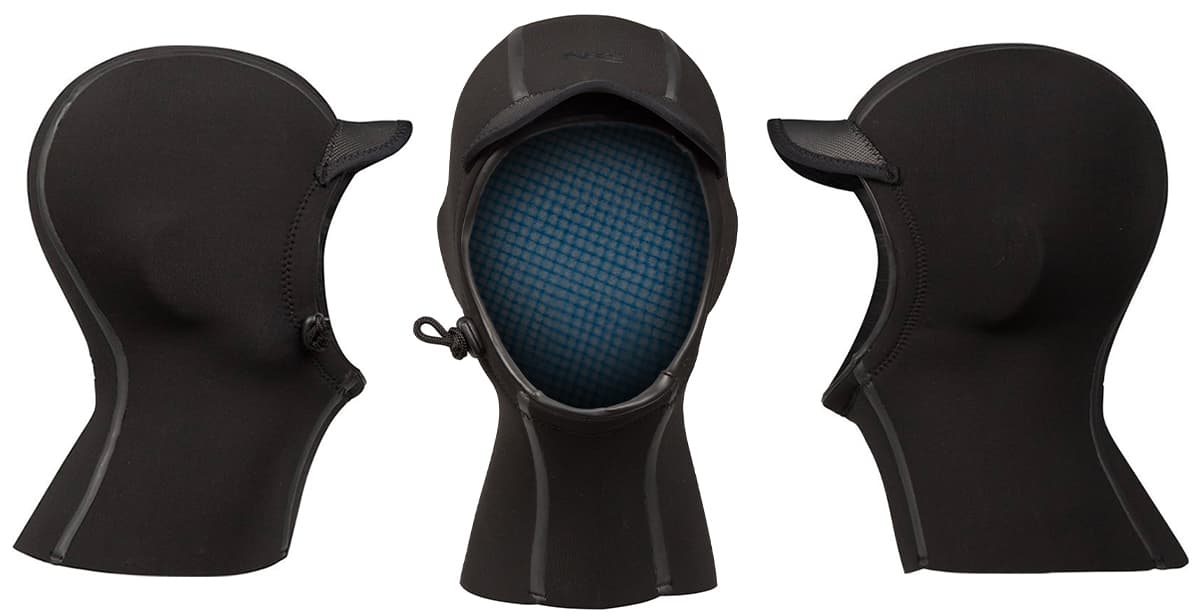 The NRS Storm Hood is lined with a titanium-laminate adhesive which reflects body heat back for added warmth. The quick-drying VaporLoft fleece lining is comfortable and also warm. Liquid sealed seams eliminate flushing and the barrel-lock drawcord creates a watertight fit.
Shop Now
Miscellaneous Gear
Another area to consider is having warm food or liquids available as a source of heat when out on the water. Hot coffee, hot tea, hot chocolate, or even hot soup can help keep our bellies warm. Perfect when we stop for a break, or if someone needs to be warmed up quickly. Having and keeping warm liquids can be incredibly helpful (and uplifting) on cold weather trips. A good thermos that fits in our kayak is a great idea, and the size and type are up to you. I've been using a Thermos bottle for years, and it's been a great way to bring hot tea on cold days.
THERMOS Stainless King Vacuum-Insulated Compact Bottle, 16 Ounce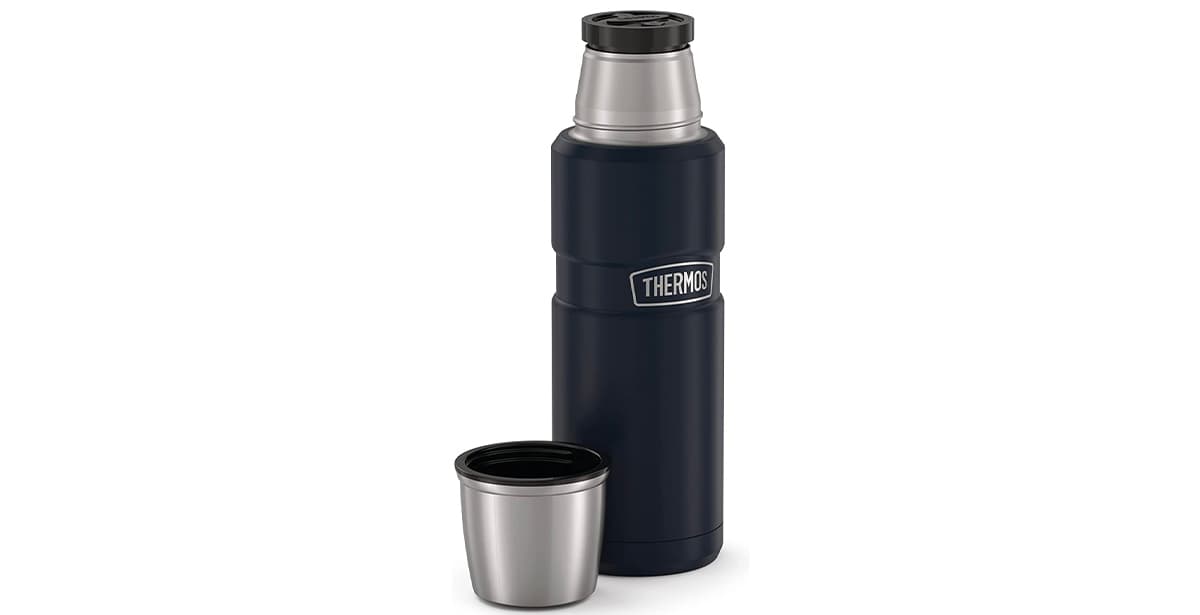 This Thermos keeps liquids hot for 18 hours and cold for 24 hours. It has durable stainless steel interior and exterior. Lid doubles as insulated serving cup; twist and pour function allows you to pour without moving the stopper, 16 ounce capacity.
Shop Now
The last item to mention for this list fits into the safety category but can prove extremely helpful in any chilly situation. A storm cag is essentially a water-resistant jacket combined with a kayak skirt. It is big enough to fit over all our gear (including our PFD), and can attach to the rim of the cockpit to seal us in and help us warm up. Its use is not limited to the kayak, however. A storm cag can be worn at any time when we might be cold, or given to another kayaker that might need the extra insulation.
Kokatat Hydrus Storm Cag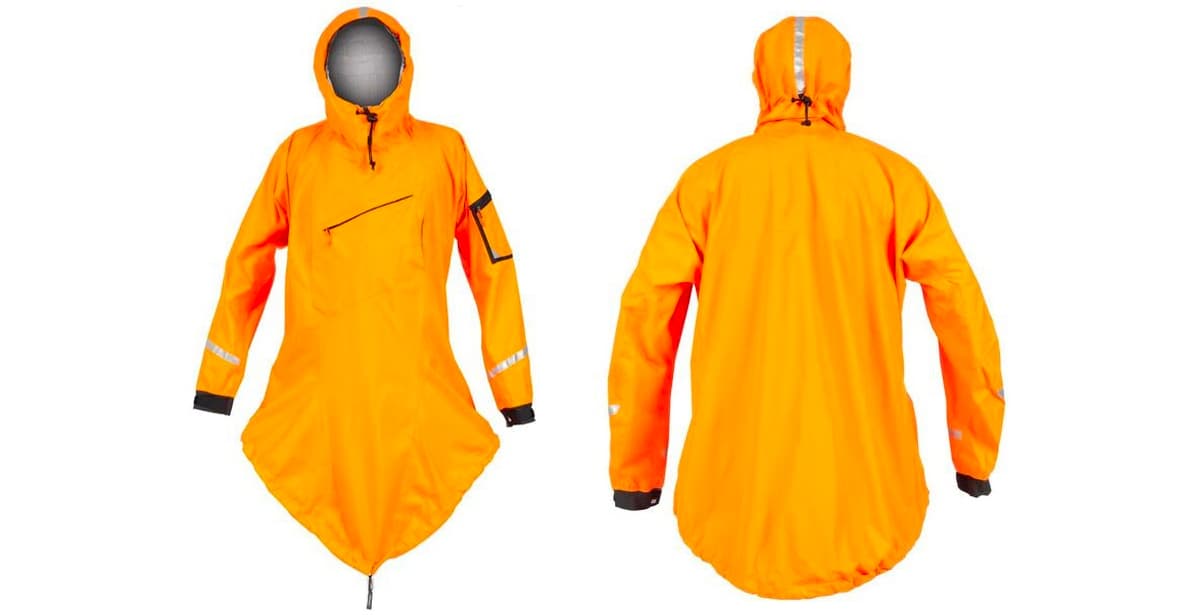 The Kokatat Hydrus Storm Cag is a one-piece combination jacket and spray skirt cover. Designed to be worn over existing clothing and PFD in inclement weather on or off the water. When not in use, the Storm Cag can be rolled into the hood for compact storage and tucked behind a seat back or into a day hatch.
Shop Now
So, whether we're winter paddling or exploring new locations with cold water temperatures, we must always consider the dangers of cold water. Wearing appropriate layers and being prepared to deal with a swim is essential. This list covers some areas and gear to consider, but please do continue learning about cold water paddling and ways to do so safely.
Luke Rovner (Kayak Hipster) is a sea kayak instructor, photographer and filmmaker. Combining his experience as a photo and video professional with a love for kayaking, he started Kayak Hipster with the goal of capturing outdoor adventures and sharing kayaking tips.