Best Portable Kayaks of 2023
Portable kayaks represent some of the greatest innovations in kayak technology. And not just because the creativity behind them will blow your sprayskirt off. Portable kayaks have made kayaking accessible to many of us who, otherwise, simply couldn't store or transport a kayak. By breaking down those barriers and prerequisites to owning a traditional kayak, portable kayaks have allowed the apartment-dwelling, bicycle-riding or compact-car-owning (or even no car at all) paddlers to own, store, and transport a kayak with ease.

Types of Portable Kayaks
Within portable kayaks, you'll notice there are several types to consider-
Inflatable Kayaks - these boats can run the range from very inexpensive to high-end performance craft. They all rely on air chambers to create the structure for the kayak.
Folding Kayaks - these kayaks combine a frame with an outer skin to create kayaks that are high-performance and very portable. Overall, they tend to be the most expensive but also have great performance features. One man, Hannes Lindemann, even paddled solo across the Atlantic and then wrote a book, Alone at Sea.
Modular Kayaks - a relatively new innovation in kayaks, these boats are designed with multiple pieces and often-times the pieces fit within one another for easy transport. Some boats can also be configured to allow for one, two or even a 100-person kayak!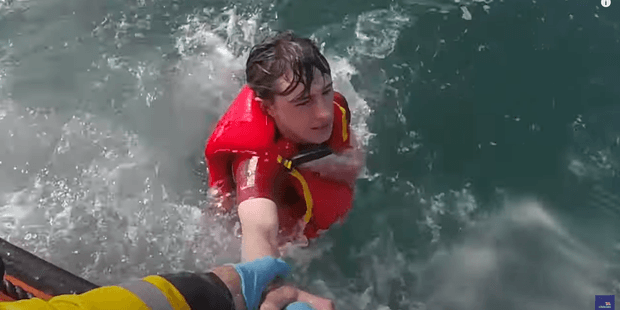 When a 17-year-old paddleboarder was swept out to sea, his survival depended on his cell phone and the voice on the other end of the line.
Factors to Consider When Buying a Portable Kayak
There are tons of things to consider when buying a portable kayak. Before you start shopping based on price and color, you first need to consider:

How, Where and With Whom you plan to paddle with?
Which type of portable kayak? Folding, inflatable, or modular?
Number of Seats - do you plan to paddle solo or is tandem or 3-person ideal? Don't forget that some modular kayaks and inflatables can be converted from solo to tandem.
There is no one size fits all. The best portable kayak for you will be different than the best one for the next paddler.
Read these portable kayak reviews - they are submitted by paddlers like you!
Try it before you buy it. Research is key, but nothing beats getting on water with a boat. Talk to friends, borrow a boat, and contact your local retailer for a demo.
The best portable kayak for you is going to be different than the next paddler. And that's okay. You have to factor in everything from your experience, planned water types, durations, budget, and preferences. So use this list as a starting point. Get some ideas, read some reviews, look through the entire kayak gear guide, maybe browse the message boards, talk to your local paddlesports retailer or paddling groups, and get out and try it before you buy it! And, of course, when you're done, be sure to help the next paddler in their search by submitting a review!
Best Portable Kayaks of 2023