Best Pedal Drive Fishing Kayaks of 2023
Pedal Drive Fishing Kayaks are easily one of the fastest growing categories of watercraft in recent years. The idea of being hands-free while pedaling that kayak as opposed to paddling has been a game-changer. In just a few years, they've gone from a few models by a select number of innovative brands to today where you've got dozens of options from all leading kayak fishing manufacturers. Not only have the number of models increased, but the feature set and performance continues to improve.
And 2022 is no exception - it's a good year to be a kayak angler!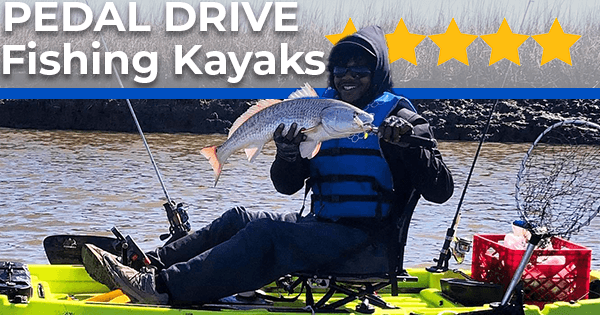 While the modern day pedal drive fishing kayak continues to evolve, the gap between your fishing kayak and your small fishing boat continues to shrink. But as the capabilities, features, drive system, and performance increase, so does the price. You can spend anywhere from $900 to $3,800 on a pedal-drive fishing kayak. So how do you evaluate your options and make a decision? Fortunately, your fellow paddlers and anglers have been pedaling along and sharing their experiences through reviews. By leveraging the reviews and experience that's been shared by thousands of your fellow paddlers, they've helped narrow those dozens upon dozens of options down to the best of the best.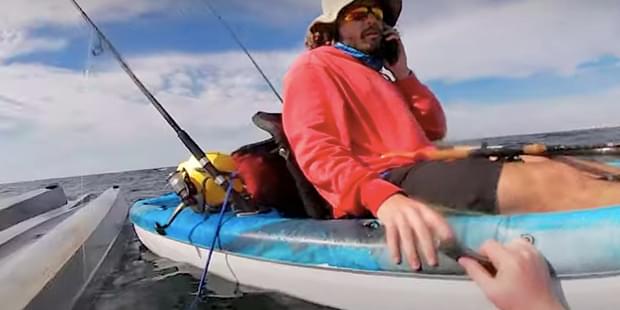 Treading water three miles offshore is no place for a wrong number
Factors to Consider When Buying a Pedal-Drive Fishing Kayak
There are tons of things to consider when buying a pedal-drive fishing kayak. Here are a few important factors to consider:

Stability - how stable is it going to be? Stable enough for all that fishing gear or stable enough for you to stand and fish?
Seating Comfort - regardless of whether or not you can stand in it, the question is, can you sit in for an entire day of fishing? And speaking of seats, do you just need one seat or is this a tandem fishing boat?
Maneuverability and Control - these pedal-drive systems are remarkable and will amaze you at the level of directional control and maneuverability. You can access those tough to reach fishing spots or stay on top of fish like never before.
Feature set and customization - everything from the pedal drive system itself to rod holders, rudder-control, motor-control, gear tracks, etc.
Read these pedal-drive fishing kayak reviews - you'll get a sense for all of the above factors and more. You'll probably even learn a thing or two that you hadn't even thought to consider!
Try it before you buy it. Research is key, but nothing beats getting on water with a boat. Talk to friends, borrow a boat, and contact your local retailer for a demo.
The best pedal-drive fishing kayak for you is going to be different than the next angler. And that's okay. You have to factor in everything from your experience, planned water types, durations, budget, and preferences. So use this list as a starting point. Get some ideas, read some reviews, look through the entire fishing kayak gear guide, maybe browse the message boards, talk to your local paddlesports retailer or paddling groups, and get out and try it before you buy it! And, of course, when you're done, be sure to help the next paddler in their search by submitting a review!
Best Pedal Drive Fishing Kayaks of 2023