Now that I'm back on the water again, I'm a lot more conscious and protective of my back. And to be honest, up until now, I simply threw a seat in my boat and hit the water. But when you consider that whether you paddle to a destination so you can wade, or whether you can't make ten strokes without stopping to cast, you're seated for most of your trip. It only stands to reason that your seat should be comfortable. However, it should also meet the needs of the type of paddling you do.
As I search for that perfect seat for the kayak angler, the options are mind-boggling. Many have extra padding on the bottom, support for your back, rod holders, beverage holders, mind-boggling I say. So, in order to make sense of all of this, let's break it down into some subgroups.

ROD HOLDERS
In the evolution of kayak fishing, the addition of a rod holder transformed a surfboard to a tricked out fishing kayak. So, let's say your boat doesn't have rod holders and you don't care to poke holes in it, all you need to do is get the proper seat. You have some options. You can simply go simple with rod holders and a storage bag.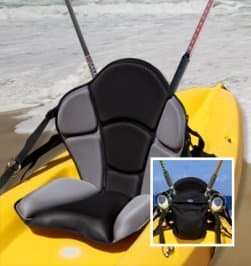 ... or you can go not so simple. Sure you have rod holders. But how about all sorts of gadget pouches as a bonus?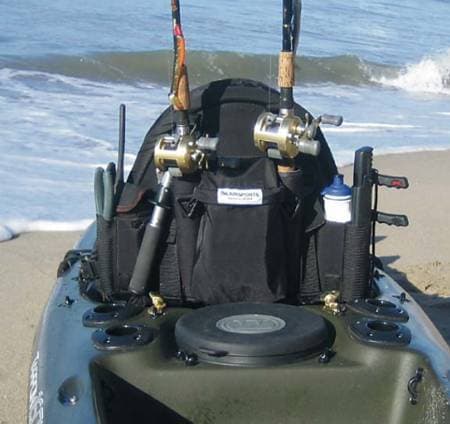 Several years ago I had a seat with rod holders and I didn't like it. Every time I'd get out of the boat, the rods would go wherever gravity deemed proper. Once I got back in the boat, the rods would resume their original position and would often get tangled up with each other in the process. But as I investigate the new seats with rod holders, it would appear manufacturers have addressed those issues. Gotta love evolution.
OTHER FEATURES
If your boat already has rod holders then let's move on to other features, and there are plenty. We'll start with hydration. Lots of seat manufacturers have accommodations for water bottles. But, here's a neat little ditty I stumbled upon. This seat offers a 24 oz detachable bladder with a drinking hose.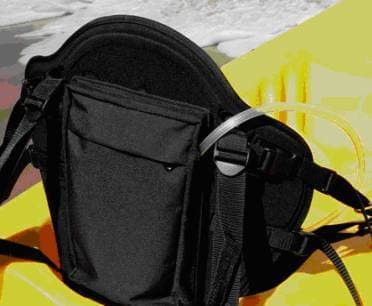 Here's how I'd use one of these. Get one of those reusable ice packs (the blue ones, and you know you have 20 of them), place that in a zip lock bag. Place that and some sort of "sports drink" in the pack. This would be very handy for me, since I normally have the cockpit crammed with all sorts of other things, leaving no room for a water bottle.
OK, how about a seat that is functional even if away from the boat? Check this out. Here you have a quality seat, gel padding, and yes, it holds a pair of water bottles.

But, it has a neat feature that would serve me well. The back pouch is removable and converts to a fanny pack. That would be great for me, since I enjoy getting out of the boat and wading. Here, I could pack a few lures and soft baits and hoof the flats.

COMFORT
Enough of the bells and whistles, let's talk comfort. Most of the seats today offer plenty of back support. And for me, I'm looking for rigid support here. Normally, I'll have my PFD on anyway, so extra padding in that area isn't necessary.
However, the seat area is another story. Here we have several options. If you're happy with the back support provided by your seat then all you need is some additional seat paddling. Here is a simple solution. Done.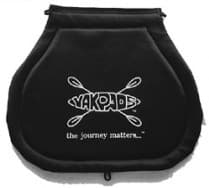 OK, so let's say your goal is to mimic your favorite easy chair. Well, feast your eyes on this.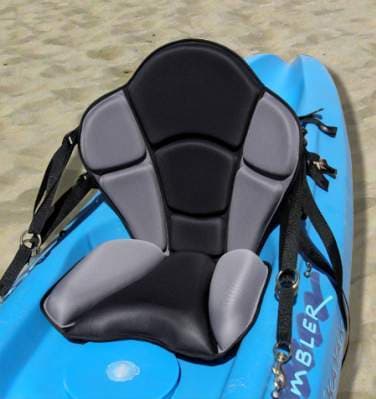 I can only imagine how comfy that seat would be!
So, before I make my final purchase, I'll consult some experts. That would be YOU. So, let's head to the forum and discuss what works for you, and what doesn't.
See you out on the water!
"Many men go fishing all of their lives without knowing that it is not fish they are after" ~ Henry David Thoreau
View Kayak Seats