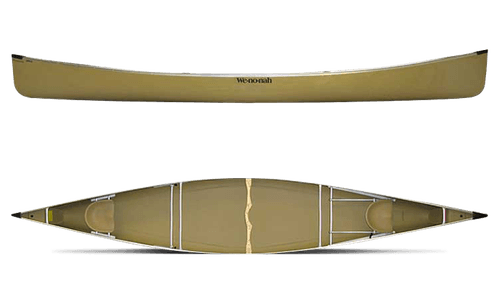 Champlain Options
Champlain Description
A versatile design with enhanced efficiency and seaworthiness. A larger, more stable version of We-No-Nah's versatile Spirit II, the Champlain has the efficiency and capacity to haul heavy loads long distances, but is also pleasant to paddle lightly loaded. The Champlain is one of We-No-Nah's largest tandems. It also has fullness for much of its length, giving it even greater volume than its dimensions suggest. It gets excellent stability from its size, and from its shallow-arched hull, a design that is less sensitive to waves and easier for paddlers to handle. As its name implies, the Champlain is a confident craft to face big swells on vast waters.
Read and submit reviews for the Champlain.
Champlain Specs and Features
Structure: Rigid / Hard Shell
Seating Configuration: Tandem
Ideal Paddler Size: Average Adult
Skill Level: Beginner, Intermediate
Ideal Paddler Size: Average Adult
Skill Level: Beginner, Intermediate
Read reviews for the Champlain by Wenonah Canoe, Inc. as submitted by your fellow paddlers. All of the reviews are created and written by paddlers like you, so be sure to submit your own review and be part of the community!
I rented the Champlain in…
I rented the Champlain in the BWCA a few years ago. My 11 yr old granddaughter and I paddled one fully loaded and my SIL and 9 yr old grandson paddled another one. It is a terrific canoe for camping with a heavy load. I was able to trim it nicely using the packs and the sliding bow seat. My granddaughter and I had a great time laughing at her father and brother trying to race us. He was not very experienced and we easily beat them every time. We fished out of the boat as well and it easily handled the rocking excitement of playing a large northern pike. Beware though! The boat is so long that I could not net a fish for my granddaughter in the bow. I can't imagine a better canoe for inexperienced paddlers or with rammy kids. And light to carry as well.
Portaged and paddled the…
Portaged and paddled the canoe in the BWCA 3 Trips. Excellent big water high capacity boat. Equally impressive is the weight for such a large craft. On three occassions I have solo paddled this boat stern with my young daughters in front and 23 lb english cocker spaniel below my seat. Yes this is a traveling circus :) Including one time my two daughters and a friend sat on the bow and we made a middle seat with canoe packs. The first trip was lake one, two, and three. The second trip was from Kawishiwi to Polly. The third trip was to fourtown. Of course I wouldnt recommend the boat as a
Last September I won in a…
Last September I won in a raffle a Wenonah Champlain kevlar canoe. I've used it twice since and I have to say I am pleasantly surprised. I love the light weight, custom graphics and its stability. Hope to do a day or two camping trip with it this year.
The Champlain I just rented…
The Champlain I just rented from the livery in Montana is, I am certain, the same one I used 6 years ago. 18 feet, green Royalex, tractor seats, and a telling scratch on the starboard side turn of the bilge. Yep, a moment's inattention on my part 6 years ago.
It is a boat that is superlative because it is NOT extreme. Bow and stern high enough to not ship water in the rapids, midships deep enough to load a lot of gear and supplies, a modest rocker to keep turns easy, flat bottom that makes skating over a gravel bar a given, not a challenge, wide and flat to stand up in to see the path through ahead, and 500 pounds of tents and supplies in the mid and bow to counter my 275 pounds in the stern seat. A truly superlative canoe, especially if you single hand.
Durable, usable, friendly, a great boat that gives every ounce of what is truly needed. I wanna try the Seneca someday!
I have the UL Kevlar version.…
I have the UL Kevlar version. This canoe is great for tripping if you have two big people with quite a bit of gear. The canoe handles well in wind and big waves when loaded, but can be a bit of a hand full when empty in those conditions. The canoe is very stable for fishing or if you have kids or a dog.
We purchased it in 2004 for…
We purchased it in 2004 for our family of 4. The kids were 4 and 6 at the time. (Plus a Border Collie.) The dealer suggested the Spirit II and we tried them both. Spirit II felt slightly easier to paddle but we really enjoy the room and stability of our Champlain (in Royalex). Been on the lakes in Austin, TX and other lakes in Texas.
Camping or just paddling. Works well. Kids are older now with their own kayaks now but my wife and I still enjoy our canoe. Funny story from this past weekend, I had the canoe balanced on one rail of the Yakima carrier and the hood of our Volvo to clear our tailgate so we could unload our camping gear. Our daughter pushed the canoe to get a little more room and the canoe slid off the front of the car! Stern first. Ground up the top plate a little. Took it to our local dealer when we got back and they said all was fine. Now that's a tough canoe!
We wound up with an…
We wound up with an Ultra-Lite Champlain after we bought it for a wedding gift. A tree fell on it during a winter storm before we could give it away (it also took out a fence, part of a neighbors roof, and crushed one side of a covered steel canoe rack). We had to buy a second Champlain for the Bride and Groom. The groom was a tall powerful Marine (now a tall powerful cop). His tactics are to beat the water into submission. We knew we needed to get a large canoe that would allow him live out his abusive water routines while he and his new wife still got maximum enjoyment out of the canoe. Owning nearly 20 canoes and kayaks, we had a good idea as to what would work and what wouldn't. Now fast forward a few years…
We had our Champlain repaired by Wenonah and, with a couple of small exceptions; it looks like it just came off the sales floor. We jokingly call it "The Beater Canoe" because after the tree hit it, it looked like a beater. In fact now, it's anything but a beater.
My wife and I finally took "our" Champlain out for a proper spin. It was on a large mountain reservoir, just under 5000 feet in the Sierra's. The trip included the bare necessities and a small dog (see our trip report: California, Union Valley Reservoir). We got a sampling of flat water, choppy water, wind, gusts, mixed currents, bow/quartering/broadside/stern waves (from 0 – 12"), etc. We thought we'd be sorry with such a parachute and no load or spray deck to keep it on task. It handled flawlessly.
This canoe is almost a mind reader. It takes little more than a thought and it responds. Absolutely no surprises and no acute "points of no return". Everything is predictable, manageable, and reliable.
It won't replace either of our Wenonah Itascas. At times it might replace our Spirit II. And it's in a different class than our other crafts. But it won't sit idle when we have friends or family along either. Especially if friends or family require a lot of room and/or a large load… Or if they have some perverse desire to beat the water into submission.
I rate a canoe or kayak by how well it does what it is advertized to do. So I won't rate a whitewater canoe using touring canoe expectations, or visa versa. That wouldn't be fair. A perfect 10, means the canoe (at least in my mind) did everything it was advertized to do, and did it exceptionally well. This canoe easily makes the 10 grade, but if we ever get it out into the big stuff I might have to reevaluate.
Have fun and Keep your paddle blades on the bottom half.
The Champlain is a very…
The Champlain is a very forgiving and safe canoe for inexperienced paddlers. The MNII is not. With such little freeboard the MNII can be a dangerous canoe when the waves are cresting 2 ft. The Champlain on the other hand will still right itself even if the paddlers lose focus in big waves. The MNII slices through the water and tracks incredibly well due to its minimal rocker and thin design, but this makes sharp turns very difficult. The Champlain is slower, wider, and bobs over the waves while getting carried by the wind. It has much more rocker and higher sidewalls.
I have owned a kevlar…
I have owned a kevlar Champlain almost two years now. I have taken it on several trip including the Bowron in BC, the Missouri up in Montana from Ft. Benton to Kipps Landing and on the Takla - Trembler - Stuart lake chain in BC. It's a great tripping canoe that can easily handle several weeks supplies and still have room for luxuries like a table and chairs etc. On the Takla trip, a big lake trip, it showed it's ability to hold a line while battling wind and waves. I didn't have any trouble quartering waves when on exposed crossings. With my wife and I, our two dogs, two weeks supply of food, a table and chairs and all our other camping equipment, it still had enough freeboard to feel safe in rougher water.
We ran a little white water on the trips up to non-technical class II rapids. It is great in standing waves and rough water, but it doesn't have enough rocker, like a Prospector, to tackle any technical river. If I start paddling more technical rivers, I'll probably get myself a 17 ft. Royalex Prospector or something similar.
I had much trepidation buying a kevlar canoe instead of Royalex. I'm pleasantly surprised that the canoe can take quite a bit of abuse and not have much damage. A little epoxy and sanding will fix any scrapes. Being light, I can load the canoe myself on my pickup truck. A kevlar canoe is the only way to go when you don't have to deal with many rock gardens.
An unloaded Champlain in the wind is just another name for a sailboat. It's not a touring canoe unless you go with enough cargo, kids, dogs, etc. to weight it down. Loading makes it an entirely different canoe. I made splash covers for mine and that helps with the wind. Being so large and beamy, it is a very stable canoe, which you have to remind yourself that when switching to another canoe, or you'll be doing some trout scouting when you do something that wouldn't be wise on a less stable canoe. That I learned from personal experience in a very wet way.
A Champlain is big, like the crate they ship a Spirit II in, so if you don't need a big tripping canoe, look somewhere else. However, if you want to take a ten day trip down the Green River in Utah where you have to carry twenty gallons of water, a fire pan, a porta-potty, a variety of food for ten days; the necessities for gracious living like a cooler of beer, a table and chairs, etc., then the Champlain can be just what the doctor ordered.
My wife and I purchased used…
My wife and I purchased used Kevlar lightweight from Ely outfitter and got it this last March after some delays. More deep scratches than anticipated from description. Got it as substitute for our ancient 17' Grumman standard.
Plusses: light weight easier for my wifes compromised back (mine also), fast, easier in waves and maneuverable.
Negs: Does not turn to weather like the Grumman with keel (we get wind here on the Columbia River). Moving the rear seat 6" forward helped some, but its still a chore even with a middle paddler and all paddling on same side (yeah, I know what some may be thinking, but some times this set up is needed...). Am considering adding 16' 1x2 as keel (yep, I know the Indians did not use keels, but there may have been times that they wished they had 'em).
Overall satisfied. I like it better than the old Whitewater II I owned many years ago. Happy paddling!
Champlain 18' Kevlar gelcoat…
Champlain 18' Kevlar gelcoat version. Was in turmoil deciding between the MinII and the Champlain. I'm sure I made the right choice. It handled tight turns in upstream water better than my 16' Oldtown Penobscot and when we were paddling into 2 foot rollers it barely noticed them. It does catch wind lightly loaded, just bring along the family dog for ballast, loads are not a problem. Tracking was good as well as fast and stable for fishing. Did I mention fast?
Took the Champlain for a 14…
Took the Champlain for a 14 day spin through the Quetico last summer. My Minnesota II came along as well. In careful head-to-head comparisons, the Champlain demonstrated slightly superior initial and secondary stability when loaded, greatly superior stability when empty, and significantly better turning responsiveness. The MinnII was slightly faster, though the difference was unnoticeable at loaded cruising speed. The champlain is an extraordinary wilderness tripping craft-- without the sleekness of the MinnII or Bells, perhaps, but with a rock-solid utility beyond compare.
I have had a Champlain for…
I have had a Champlain for the a couple of weeks and absolutely love it. It was purchased to be the family cruiser and it is at that. Plenty of room for 2 adults and two kids plus gear for an overnighter or two. The boat is very stable, tracks well and is fairly manuaverable for an 18' canoe. The ride is dry when wind and waves pick up. Our is in the Tuff Weave layup and seems to fairly durable, though it is a bit on the heavy side, but it is 18' x 36" after all. Craftsmanship is excellent. Overall I am happy with the "minivan" of canoes. Highly recommend if you need a large volume canoe.
Kevlar ultra light version. I…
Kevlar ultra light version. I bought this new spring of 2000, for my trip to the Quetico. On the way in storm came in, it was high winds and waves I thought we would go down with all our gear. But the champlain handled it excellent. It tracks good and very pleased with our speed. The only problems were when one alluminum cross bar and the front seat support both snapped in half, duct tape and branches got us through, but it made for an uneasy trip wondering if the others would go. wenonah did repair the broken pieces through the dealer, saying it was to thin or flawed stock, but I wonder about the others now, as the dealer said he couldn't belive how thin it was compared to the replacement pieces.