Profish Reload Description
There is a new kid on the block & she is fast! Whether you're paddling for pleasure or you've got fish on your mind, paddle the Reload and learn why many are calling it the best paddling sit-on-top on the market.
The Profish Reload is a performance kayak specializing in kayak fishing with its numerous features and additional accessories for managing tackle and gear, improving comfort, and maintaining speed. The design of the Profish Reload bow provides unmatched levels of lift – styled off of the typical New Zealand paddling kayak design – which allows the 14'8" 74 pound kayak to consistently perform well in both tough offshore and inshore conditions.
Read and submit reviews for the Profish Reload.
Profish Reload Specs and Features
Structure: Rigid / Hard Shell
Cockpit Type: Sit on Top / Open Cockpit
Seating Configuration: Solo
Ideal Paddler Size: Smaller Adult/Child, Average Adult, Larger Adult
Skill Level: Beginner, Intermediate, Advanced
Ideal Paddler Size: Smaller Adult/Child, Average Adult, Larger Adult
Skill Level: Beginner, Intermediate, Advanced
Read reviews for the Profish Reload by Viking Kayaks as submitted by your fellow paddlers. All of the reviews are created and written by paddlers like you, so be sure to submit your own review and be part of the community!
I've paddled Reloads for…
I've paddled Reloads for several years now, mostly offshore but also in rivers and salt marshes. The kayak is comfortable for long periods of time, and paddles better than most kayaks. I have packed +/-100lbs of fish in the front and rear of the kayak many times, and typically paddle 12-17 miles on offshore trips. The kayak is well thought out for fishing and handles very well considering its size. To find a better performing boat for my type of fishing you would have to consider expensive fiberglass yaks. Among the many rotomolded fishing kayaks, the Viking Reload is a step above the others.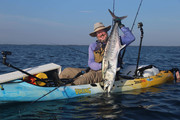 Great boat, but try buying…
Great boat, but try buying factory replacement parts, such as a hatch cover. Should be no problem right. Before you buy, pick out a part and try to get a replacement. Good luck. Susie's and NZ. Dealers won't sell to Texans, Texans don't carry parts as far as I can find. The hatch covers - the small round ones can pop off and get lost easily.
If you try one of these you…
If you try one of these you will want one. Best rough water boat available. This the fastest fishing sit-on top boat available. Surprisingly stable and a great "Paddling" boat. Even better is the warranty. My 8 year old Red;oad developed a crack at both handles. I called, sent pictures and a week later I meet w/ dealer to receive a new 2020 hull. The new hull has improved handles, better rudder system and a better seat. I liked this boat so well, I bought my wife a Profish 400, same style boat, 15 lb. lighter and a foot and a half shorter.'
To get straight to the…
To get straight to the point, the Viking Profish Reload is simply the finest inshore/offshore fishing kayak available. Ask anyone who owns one. There isn't even a close second when you do the math. More importantly, its also an amazingly safe offshore fishing kayak. I don't make either of these statements lightly. I've been paddling for almost four decades and have researched and tried well over a dozen fishing kayaks in different brands and hull designs over the years. Of course no single kayak is going to fit all fishing scenarios. But for what I do, mainly inshore/offshore saltwater, and large freshwater lake fishing, the Reload comes the closest. (I do have a shorter kayak for small trout river fishing).
When I first saw the Reload, my initial impression was that the designers didn't take the traditional profit-driven marketing approach. They didn't hold back certain features for future versions...they just went ahead and delivered the full set of premium features right off the bat, and I respect that greatly. After paddling the Reload for several months and many different locations, it has only reinforced that view. It's simply unmatched, even in yaks twice the price. And no, I'm not paid to say these things. This is a completely honest review, and I paid full retail price for my 2019 Profish Reload.
I won't dive into the nerdy hydrodynamic physics here, but the hull design is pure poetry. It has exceptional glide, speed, stability, very little hull slap. Somehow it does all this while being extremely resistant to windcocking. (I can't imagine the design and field testing time this must have taken to achieve this). I can paddle against strong currents plus 15-20 knot winds and still make headway. That is a huge safety benefit when you're offshore and an unexpected storm pops up. The Reload has an exceptional weight ratio at 68lbs. which is amazingly light, especially for an almost 15' kayak. In fact, it's lighter than most 12' kayaks, which is a real back and shoulder saver. This also makes it far, far safer in rough conditions.
The buoyancy (weight/displacement/hull volume) is a key factor in handling rough waves, and particularly those unseen compound lateral waves that can take you by surprise. A heavy kayak drafts much deeper and doesn't respond as fast to the wave and can catch an edge and flip whereas this boat just rolls right over it. The stability is astounding and almost seems like a bit of voodoo for a boat this long and sleek. It's just a huge relief to not have to constantly worry about stability when you're fishing.
I can't say enough about the layout and quality of the features. The aesthetic design, hatches, seals, seating position, TacklePod, tankwell storage, rod holder placement, rudder design, accessory mounts, and the adaptability of the accessory pods are simply superb. There just isn't any other offshore fishing kayaks that can match this combo of safety and performance plus off-the-shelf fishing ready features.
The TacklePod is revolutionary in my opinion, and hence the 'Reload' name. You simply pull a single pin and lift it out at the end of the day and all your electronics, tackle, etc. comes inside with you to reload for the next day. Now I don't have to keep walking back outside to my kayak when I forget something I want to bring with me the next day and don't have to worry about someone stealing my electronics. I honestly can't imagine NOT using this type of system on a fishing kayak after using this design. It's totally spoiled me. Mounting my electronics on top and lithium battery pack inside the pod was a breeze. I can even fit a telescoping backup paddle inside the pod with ALL my fishing tackle, raingear, drift chute, water bottles/thermos, food, etc. for an extended trip. (This also makes it perfect for when I do wildlife photography from the kayak). It's reasonably watertight and has an enclosed port for your fishfinder transducer that goes all the way through to the open port in the hull. This thing even has a beautiful wood cutting board for cutting bait mounted on top and tie-down bungees that securely holds your soft plastic liquid scent containers and a hand towel...a really useful and aesthetic touch. I get to see all my paddling/fishing friends turn green with envy when I show them this pod system lol.
The optional ChillPod and KidPod flat deck make this like having three kayaks in one. Are you a fly fisherman, have kids, or throw a lot of cast nets? Drop in the flat deck (KidPod) and no worries. I had been using a large cooler in the tankwell for keeping my catch cold but the insulatedChillPod is a far better option. It's custom made for the tankwell area, locks in place, lowers your center of gravity, doesn't catch the wind, and is very easy to access. You can even remove the ChillPod from the tankwell when you get to the reef and use it for a tow-behind diving cooler if you're spearfishing or snorkeling. It just doesn't get any better than that. As I said, this yak is unmatched.
The hatches stay bone dry including the large front hatch. (A very serious safety feature in an offshore kayak). Most paddlers will tell you the ultimate hatch seal test is to flip your kayak in the water, climb on top and lay on the hull and wait for awhile, then flip it back over and look inside. My test is far more demanding...car topping the kayak in a hard rainstorm for hours at full highway speeds. It's the ultimate test of dry hatches IMHO, utilizing far higher water and wind pressures. I've never once seen more than a few drops inside the hull after either test. The placement of the front, back, and seating area hatches are perfect. Zero issues or complaints with them. More than enough dry storage for any outing and I don't have to worry about my expensive professional camera gear getting wet inside the hatch.
For me, the paddling stroke in this kayak is completely uninhibited and fluid. You're not slamming your fingers or knuckles into the gunwales as you do in a wider boat. You don't need a long heavy paddle, and you don't have to adjust your aft stroke to clear the side of the boat. All this equals far less fatigue at the end of the day.
One of the main reasons I bought this boat was the bow design. It's sharply pointed with a decent amount of rocker. It punches through a wave with ease which is a huge plus on a surf launch. It sheds well, and tracks perfectly. It's aerodynamic when car topping or on a trailer. It's also just plain beautiful to look at when you know what you're seeing.
The seating position provides some rise and support under your knees, and your butt is lower to keep your center of gravity nice and low. It's the only kayak I've been able to sit in all day without killing my back, and that's no exaggeration, and I have pretty significant back issues. I've heard some very experienced paddlers say they don't need an added seat with this design, but I use mine because I'm just used to using one. I admit it's totally changed the way I think about seating position for the better.
The rod holder placement and angles are exactly right for how I fish...lots of trolling and jigging. Two upfront holders on the gunwales and four immediately behind the seat, plus Railblaza Starport HD mounts. I didn't have to modify or spend additional money to add more mounts or holders to make it more fishable. Everything is already there ready to go. There is no doubt the person who designed this boat was a serious fisherman. First-class, well thought out engineering all the way around and the fit and finish are superb.
The rudder design is genius. It lifts up if you accidentally go over a shallow log or weeds and yet is still deep enough to carve nice turns. The real beauty of the design is that a haul up system (or rudder removal) is not needed whatsoever, even for cartopping. I've been paddling this yak consistently for months now and I have not had to do a single adjustment. There is a tiny bit of flex creaking sound in the foot pedals but that describes virtually every yak rudder foot pedal out there. (I try to keep my boat as silent and stealthy as possible to keep from spooking fish so I notice things like this but most people probably wouldn't give it a second thought).
If I had to give any con to owning this boat, I'd really have to try to think of one. I guess my only answer would be that it doesn't turn on a dime if you're only using the rudder. But of course, no 14' kayak will. All you have to do is alternate forward and back strokes and you can literally turn on a dime anyway, like any other kayak, so really its a non-issue. The boat does everything I need it to and it looks damn good.
I know quite a bit about boat hull design and I honestly can't think of any major changes I would make to this yak. (Or even the accessories). It gives you everything you need for a successful and safe fishing trip. The chines and lines are exactly what this boat needs to make it a joy to paddle. Even the highly contrasting color schemes are perfect for making sure you don't get run over by offshore party boats and that wreckless jetskier. And oh yeah...it has a 30 year 'back to bow' warranty. I couldn't be happier with my purchase.
I had seen ads for this…
I had seen ads for this kayak that piqued my interest, reviewed all the videos on this kayak I could find, only to discover that the closest dealer was 1500 miles away. Then I happened to visit a shop that I had purchased my first kayak since moving to FL on my way back from a kayak camping trip. (Native Water Sports Jenson Beach, FL) Just so happens they became a new dealer for Viking and was receiving there first shipment and holding an in-water demo on that very day. (Had to stay) Wasn't the best conditions, winds blowing 20 with gusts of 30, the water choppy and confused. They have a great demo spot to launch from on the IRL. My first test of a kayak worth it to jump in the seat and see what happens. I am a large guy and this kayak didn't move. First and secondary stability surprised me, rock solid. I paddled out in the protected area and found the kayak quick and responsive. It comes with a rudder designed into the lines of the profile. (So it doesn't protrude below the draft) In open water or in poor conditions I can see the advantage of having it. In my experience with everyday paddling, you don't need it. This kayak paddles true and for an almost 15ft length, it turns easily. I paddled out to see how it handled in the wind and chop in these conditions. I didn't experience much difference. I didn't find it to be tippy with the wind on the beam or in the trough where I stopped and it did not weathercock. Needless to say, I bought the Profish Reload. I have been paddling it for 6 months. I have paddled over 50 miles of the Suwannee, up and down many miles of the IRL, had it BTB and various springs/rivers and ditches here in Florida. This kayak was designed for fishing with a large displacement capacity, more than enough deck hardware for your gear and more bells and whistles built into the tackle pod and options that any fisherman could ask for. I purchased the optional flat deck pod which opens up the deck area when I am just tooling around. The hull design is sleek and fast for most paddling trips. I have been paddling for a number of years and owned sit-in and sot kayaks. The Profish Reload is now my go-to workhorse.
I'm a short but big guy…
I'm a short but big guy (5'-9", 340 lbs) and started out with solo paddling in the center seat of an OK Malibu Two. That was a great kayak for a heavy guy to start with (great with wiggly kids too) but ultimately, I wanted something longer and more narrow: something faster. Viking had the answer with the Profish Reload. Long and narrow, but the seat is low but then rises under thighs for great support. The low seating makes it very stable with a heavier paddler (lowers center of gravity). I think it is as close as you can get to the ride of a sit inside, yet be a sit on top. You feel at home on the water in this thing. Not to mention it is very comfortable. I have flipped it once and that was at the boat ramp because I caught my leg on the tackle pod as I was getting on... completely avoidable and my fault. I paddle in marshes and along the Chesapeake Bay. Haven't tried it in the ocean yet but have been through some decent swells and wake without any worries. The company is from New Zealand, so you know it handles the really big water well, and I can attest that it is an awesome performer in everything form moderate bay swells to flat salt marshes. The rudder is different from others on the market but works extremely well and I am glad to have the short style that I do not need to worry about hitting bottom or snagging seaweed. The hull design is so efficient that stopping takes getting used to! You stop paddling and the boat just keeps going, even against the tide. The other reasons I picked this over say the Trident 15 is that it is light for a SOT of this size. I car top and don't have a trailer, so being 30lbs lighter was important to me. This is because Viking uses MDPE instead of HDPE which made me nervous about durability until I found out that Viking has a 30 year warranty (many other companies only have a 5 year). Actually, it could just be in my head, but I think I can feel the hull flex a little bit when I hit a wave. Not a bad flex at all, but I think it almost acts as a shock absorber and is actually a good thing. Hard to explain, you have to feel it yourself. I consider it a benefit. Long story short, as long as you are not going down rapids and crashing into rocks. then you will not have any problems. Also important to me, the people at Viking USA were EXTREMELY helpful and obviously believe in their product. Being heavy, I was nervous about stability and did not want to buy unless I could try. There are very few locations that stock these boats so I contacted Viking USA directly. They put me in touch with a pro-staffer who happened to be in Maryland. He drove close to two hours each way to meet me so I could paddle around and try it out (thanks to D. for making the trip). Viking is a small outfit in this country, so they might not have someone near you but it is worth asking if you need a test ride. As an aside, the gentleman who met me was quite tall and the kayak fits him well too. The pedals, even though it has the toe controlled rudder, were very easy to adjust. Now on to the fishing aspect of this fine watercraft. It does not have a lawn chair or a pedal drive, but those are things that I do NOT want in a kayak. I am a paddler first and fisherman second. In fact I did not think much about the fishing, but after going out fishing a few times with it I found it to be excellent and cannot wait for warmer weather so I can go catch me some rockfish! The flush mounted rod holders are numerous and well positioned. I am a huge fan of the flush mount holders on the side near the seat. They angle your rod out front and away from the sides so you can troll and see your rod tip as you paddle without interference, yet close enough you can easily grab your rod when you get a bite (caught my first spotted seatrout this way). The hull quietly cuts through the wake and the tank well is huge. There are even brass threaded inserts on the sides so you can install an anchor trolley without having to drill any holes in your hull. Three of small hatches that have their own scupper and plug so they can drain through the hull, yet closed off to the hull. Several gear tracks came on mine. And the crown jewel of fishing gear... the removable tackle pod! It installs between your legs and has massive amounts of storage, a cutting board and a place to install a fishfinder. A portion of the tackle pod is a cavity like a tube (isolated from the storage portion) that opens up to under the boat for a transducer to be mounted. Here's the best part, the whole thing lifts out meaning you can load and unload the tackle pod with your tackle inside and fishfinder (including the transducer) attached in seconds. It is completely secure when on the water, then pull one pin and you can lift the entire thing out and load it into your car or store it in your basement. Installing it with all of your gear inside and your fishfinder attached is just as easy. Ingenious!!!!! Any cons??? The biggest con is they are hard to find but look online and you will find them. The only other complaint is that the side of the yak rounds over where my leg rests, but the radius is not quite large enough (not rounded enough). It left my legs sore the first few times out. If I were not so meaty, I probably would not have noticed it. Now I am more aware of positioning my legs and it is not a problem. Also I would imagine that if you have circulation or nerve problems and need to reposition your legs while out on a long paddle, it could be difficult with the tacklepod installed. This can easily be solved by switching out the tackle pod for a low deck pod or kids pod instead both of which make the deck nearly flat or just don't install any of the pods if you want (although that would leave a uncovered hole that opens to the water between your feet - think oversized scupper for a transducer to enter the water). I have found that at times the area around my feet can stay wet, but a large scupper plug would solve that. If I were 50 lbs lighter it probably would stay mostly dry. FYI - The scupper valves at ACK fit the scuppers under the seat and work well to keep my rear dry, but are too small for the scuppers in the tank well and by your feet.
In summary: It is extremely well equipped for fishing, but is also a dream to paddle. I would recommend this to you even if you never fish in it. Incredibly stable (even for a fat guy), incredibly comfortable, incredibly efficient hull, great capacity, lightweight, right price, and awesome/extremely helpful people working for the company...SOLD! NO REGRETS AT ALL! I would definitely buy this again in a heart beat. PS - you will be met with looks of envy for being one of the few people to have a Viking in this country, if that matters to you. The company does not have flashy advertising like many of the other companies, but it is only a matter of time before the US kayaking scene catches on and everybody ends up wanting one. PPS- nope, I did not get anything (no money, no freebies, nothing) to write this review. I just love my yak and want to help others feel comfortable with buying it if they think it is what they are looking for. I had a hard time finding the right yak given my weight and if I can help someone else, then great!
Great kayak w/ great…
Great kayak w/ great features. With rudder goes out in rougher conditions than I would feel comfortable w/ any other boat, Cuts through wind and waves.
I have had 8 different…
I have had 8 different Kayaks, this is the best so far. Great fishing kayak that still has very good speed. I have had surgery on both shoulders in the past, so the ability to take 18 lbs. off boat while loading is great! This boat sits low in water, yet stays dry. It is almost as fast as my 25" wide sit in side-14'6" long. I also like the security of putting all my gear and depth finder in the back seat of truck and able to put in boat in 2 minutes. The chill pod, still not sure it is worth the price, not as good as my ice chest, but mine is color matched to my kayak. It looks cool, Dorado color. I put 2-frozen salt water milk jugs in the pod and it keeps it cold for about 6 hours in the Texas sun, daylight to 1 pm. I have been out in 2' seas w/ 25 mph wind and boat does not weathercock at all. For me it came down to a choice between this and the OK Ultra 4.3. The OK has more storage and my experience w/ that brand was great. The fit, speed and standard features on the relo ad beat it out, I have 6 standard rod holders and Rail Blaz slots for everything.
I tried everything out there…
I tried everything out there and for me this was the best combination of speed and stability. I liked the Hobies, but too heavy and expensive. I weigh 220 and have 2 15' narrow sit insides. I tried this in 30 MPH wind, no weathercocking and even w/ low freeboard, dry ride. I got it w/ a rudder and chill pod. Chill pod OK, used w/ frozen milk jugs of salt water. It keeps drinks cold in TX heat for about 6 hours.
I've had 2 Kruger designed…
I've had 2 Kruger designed decked canoes & a 12 ft sit in kayak for years but wanted a sit on top for ease of entry/exit. After trying out Wilderness, Jackson, & a few others at a local demo day I went with the Viking Profish Reload.
I chose it because I was used to the speed of my 17 ft Kruger boats & didn't want to give that up but I'm even more impressed with both its primary & secondary stability. This is the fastest of the sit on tops that I've tried & it's still a solid boat. At only around 65 lbs it's one of the lightest of its class also which is nice for loading / unloading.
The only aspect that I wish was a little more thought out would be the accessories. It does come with a removable gear pod - hence the "reload" name, which is quite substantial. I fit about 5 tackle trays in there as well as pliers, small drybox, etc. It also has 3 little circular hatches (about 5" across x 4" deep) within easy reach but they're really not big enough to put anything in. They do have scupper plugs so theoretically you could keep a few ounces of live bait in them. There's also only 2 rod holders so you'll have to either drill/mount some more or incorporate those into your crate system. It does have some nice notches on the bow to hold rods in place horizontally & a bungee on the gear pod to hold down the rod handles. I initially ordered a chill pod that fits behind the seat & is for keeping ice/drinks/fish cold but after it didn't come in from New Zealand for 4 months I scrapped that idea & went with the standard milk crate which makes more sense for fishing anyway.
I also have the optional ""kid pod"" that goes in place of the gear pod so my 8 yr old can sit semi-comfortably while out for a nice paddle. A neat idea but she's a small 8 yr old & I think she might soon outgrow it.
Overall I'm very pleased with the handling, speed, stability & weight of this boat. I think it outperforms most others in its class. You pay a premium for this but the price I paid was very competitive with other boats that can't live up to this one.
I've got several kayaks that…
I've got several kayaks that I fish from. The Viking Profish Reload is what I've paddled/fished from for the past year and a half.
The Profish Reload is 14' 9" long and 29 1/2" wide. Empty it weighs in at 65#'s. Additional accessories that you may opt for will add to the weight: Tackle Pod 8#'s (empty), Kid Pod 6#'s (empty), Chill Pod 11#'s (empty). Rigged for fishing with the Tackle Pod, fish finder/battery, fishing gear you can easily hit 80-100#'s. The weight capacity of this kayak is 440#'s.
My Viking Profish Reload is rigged with a rudder. I typically will use this kayak for fishing (Tackle Pod, Chill Pod, Fish finder/battery and misc fishing gear). Surf launches/landings for open water along the southern and central California coast.
I'm 5' 6", 170#'s. This review only comes from my perspective (Not a big guy!) Saying that, I had to move and remount the foot pedal track system a few inches towards me for optimal comfort and function.
This is a fast kayak!
It easily punches through the surf, easy to maneuver and has good primary and secondary stability. It tracks well with and without a rudder. The rudder system on this kayak is different from other kayaks. It is wider than most rudders and the bottom of the rudder hovers slightly above the keel line (doesn't grip the water like most rudders). A shock cord/bungee cord system allows limited retraction of the rudder - when going over kelp, etc. Otherwise it remains in a relatively fixed position (cannot be deployed nor retracted manually).
Hull access is limited to a hatch in the front of the kayak. Limited space in the hull - break down a paddle, break down a small kayak cart and misc gear. A rod will not fit in here unless you can break it down. Three small hatches encompass the cockpit. However they do not provide access into the hull. Each of these three small hatches have a stop plug/drain that goes through the hull. The lids of these hatches can be difficult to screw on/off - especially when your hands are wet or fish slimmed. Stays relatively dry (as long as the drain/plug is applied) - would recommend stowing things in a dry bag for added insurance.
The Tackle Pod is a great feature of this kayak. It's portable (can be easily added/removed to/from the kayak). A place to stow tackle, gear, small dry bags and the battery for your fish finder. There is a section that allows you to install the transducer so that it comes into direct contact with the water for more accurate readings.
The tank well is large and spacious. Viking made a cooler/storage pod that fits perfectly into this space. It is their Chill Pod. This is a nice feature that is meant to be used as a cooler/fish storage. I would not stow small items nor items that you need to easily retrieve - slides around too much and difficult to retrieve when dealing with swells, etc). I keep my fish on a game clip while on the water. I'll store my fish in the Chill Pod during landings so I don't lose it in the surf. I'll also keep the fish in the Chill Pod if the seals and/or sharks get a little too curious.
Pros:
Fast kayak that tracks well (with and without a rudder). Has good primary and secondary stability. I really like the Tackle Pod for it's transportability, storage and ease of rigging a fish finder (w/ direct water contact for the transducer). Chill Pod is easy to use and convenient.
Cons:
Limited hull space and access to hull - Unable to stow rods and reels in the hull for surf launches/landings. Limited use of hatches around the cockpit (limited space and function - too small for live well, would be nice if one was a little larger and had hull access), screw on lids are a difficult.