Most Recent Reviews
I've paddled Reloads for several years now, mostly offshore but also in rivers and salt marshes. The kayak is comfortable for long periods of time, and paddles better than most kayaks. I have packed +/-100lbs of fish in the front and rear of the kayak many times, and typically paddle 12-17 miles on offshore trips. The kayak is well thought out for fishing and handles very well considering its size. To find a better performing boat for my type of fishing you would have to consider expensive fiberglass yaks. Among the many rotomolded fishing kayaks, the Viking Reload is a step above the others.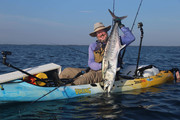 I own two Raptors, and I love them! After extensively paddling several major brands offshore for several years I was introduced to the Santa Cruz sit on top and was immediately impressed.
I paddle 200-250 miles offshore every season along the choppy Texas coast, and I can tell you that this kayak is perfectly suited to offshore paddling and fishing. I'm a big guy at 6'4" and 240lbs, but even with my gear and 60lbs of fish in the bag, the kayak tracks and paddles better than most yaks. When it's time to run back through the surf, I know by experience that the Raptor will keep me stable and upright as I make my way back to the sand. The stated weight capacity had me concerned when I first paddled the Raptor, but I quickly realized that I was near (or sometimes over) that number and the boat still handled well. Some kayak manufacturers overstate their carrying capacity and some understate it. The Santa Cruz Raptor is able to comfortably support every claimed pound and then some, within reason.
The split rear of the kayak is the source of its fantastic stability. The "pontoons" are designed to reach several inches into the water to provide solid tracking, and I have found that it also does something very useful in the wind. When you stop paddling, the kayak turns to drift with its nose pointing downwind. This allows me to drift baits behind the kayak without bothering to adjust the kayak with the paddle. I just paddle upwind of a structure, deploy baits, and drift past as my baits are passed in front of the fish. It works great and I have not found another kayak that allows this attitude while wind drifting (unless you deploy a drift chute).
The center pod that is available allows for plenty of storage between your knees, and the Comfort seat option makes even the longest days on the water comfortable. I have paddled for 18 hours (except for a couple of breaks to heed nature's call) and when I came ashore I wasn't sore at all. After several years of searching I'm so glad that I found the best design yet for paddling and fishing open water! Try one out and see for yourself.