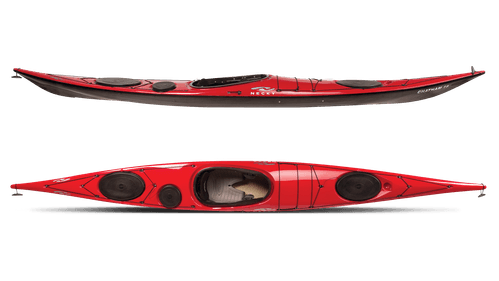 Chatham 16 Composite Options
This Product Has Been Discontinued
Chatham 16 Composite Description
An ideal coastal explorer with great maneuverability and superb rough water performance. Full-chined hull provides great stability and quick response to edging and lean turns. Bow, day, and stern hatches with bulkheads. Composite construction makes it considerably lighter and much stiffer than the poly model.
Chatham 16 Composite Specs and Features
Structure: Rigid / Hard Shell
Cockpit Type: Sit Inside
Seating Configuration: Solo
Ideal Paddler Size: Average Adult
Skill Level: Intermediate, Advanced
Ideal Paddler Size: Average Adult
Skill Level: Intermediate, Advanced
Additional Attributes
Necky touring seat with backband
Bow, day and stern Valley™ hatches with bulkheads
Adjustable Thigh Braces
Deck bungee
Reflective safety perimeter line
Retractable skeg with Necky Kayak's own kink-free Necky Wire™
BOW HATCH: 16" x 9" / 40.6 x 22.9 cm
STERN HATCH: 16" x 9" / 40.6 x 22.9 cm
DAY HATCH: 7.5" / 19 cm
Necky Kayak
Chatham 16 Composite Reviews
Read reviews for the Chatham 16 Composite by Necky Kayak as submitted by your fellow paddlers. All of the reviews are created and written by paddlers like you, so be sure to submit your own review and be part of the community!
I bought a used Necky…
I bought a used Necky Chatham 16 PE to for flatwater paddling on local area lakes. I am a newbie (have had only time in a kayak on two prior occasions). As indicated by other reviewers, it has good initial and secondary stability. On my first trip out in my Chatham, it took about a minute to get used to the tippiness. The boat has excellent tracking even without using the skeg. I was also able to practice turns on edge. I am 5'7" 170# and the boat fits me perfectly. The cockpit is snug but wet exits were not a problem. If there is a downside is the boat is heavy and bulkheads leaked a bit (nothing that a little off-season maintenance can't take care of). Overall I am very pleased with my purchase.
Great all around kayak. Easy…
Great all around kayak. Easy to edge, roll and surf. Very stable. Too bad no longer produced. Good value if you can find one used.
Love my Chatham 16 but had…
Love my Chatham 16 but had some problems that were quickly resolved by the manufacturer. I want to give a special thanks to Mariah Collins a customer service rep at Necky for responding promptly to my emails. Nice to know that Necky is there to support you long after you purchase a kayak from them.
I have a Chatam 16 carbon and…
I have a Chatam 16 carbon and love it. I am 5' 6 and weigh 155 lbs and it's just the right size for me. It tracks well, is easily to get back into via paddle float and cowboy re-entry . Nice tight fit too.
I have had the Necky Chatham…
I have had the Necky Chatham 16 (fiberglass) for about 5 years. A good smooth stable boat, comfortable for my 5-9 185 plus frame. Had a repair accomplished last fall after a storm and tree hit the boat - still handles great!
Bought this boat in Carbon…
Bought this boat in Carbon when it first came out. At that time I owned 3 other kayaks. I had the opportunity to demo both the fiberglass and carbon. There is a difference between the 2 and purchased the carbon.
I am 5'6" and weigh about 170lbs. The boat fits me like a glove. It's profile enables wonderful carving of turns. It's ride is incredibly stable. In some conditions I can feel my other boats flexing on the water. In this boat I feel no flex. It is not the fastest boat in the pack. However, it is a SUPER play boat. That I have thoroughly enjoyed. It's weight at 46 Lbs. also makes loading and unloading too the vehicle much easier.
I have had my Chatham 16 for…
I have had my Chatham 16 for 3 seasons and have not tired of it yet. I began kayaking 15 years ago, starting with an OT Otter (9'6"), moved up to a Castine glass (13') and gave that up when I purchased the Chatham. I still have a plastic Castine (my next favorite boat).
I am 5'2" and this boat fits me well, tracks great, and turns easily when leaned. She's a joy to paddle.
WARNING!! Starting with a short kayak can lead to longer boats! Suggest starting with no less than a 12 footer due to better tracking. I am an avowed kayakaholic. Paddle on.
I paddled the Chatham 16 all…
I paddled the Chatham 16 all summer working as a kayaking guide in Alaska. Of the boats that we had, it was by far my favorite for multiple reasons. I really enjoyed how secure the cockpit felt, and how one could turn it on a dime with the slightest effort. It also performed well in big water, allowing me to paddle with confidence even when the water got choppy. When on land, this smaller boat was easy to move from point A to point B. The hatch covers could be difficult to get to seal, and hatch space is definitely limited, but overall I loved this boat.
I have a fiberglass Chatham…
I have a fiberglass Chatham 16 and love it. rolls like a dream, turns on a dime. This is a play boat so getting wet is what it is all about. If you don't like getting wet, try a different boat.
I have a Chatham 16…
I have a Chatham 16 fiberglass. I love the boat, it may be a little slow but it is a sweet play boat. Slapping off waves, turns on a dime, rolls like a dream. There is a review that says that you get wet and you dont like it. If you dont like it then dont paddle. it is a water sport.
I feel that by now I've had…
I feel that by now I've had enough seat time in my Chatham 16(plastic) to review it.
The Good - as maneuverable as anything in it's class, built tough,and if one is so inclined, you can make your own,more aggressive thigh hooks for even better rolling and control. Speaking of rolling, I managed a hand roll in it on the first try.
The Bad - Hatch rims have a tendency to leak from the factory (screw holes must be re-aligned and rims resealed). This is my 2nd plastic Chatham and second leaker, but since fixed it's dry. The seat I am not crazy about, and I am not the only one - but it's a very personal preference item so just make sure it works for you for as long as you plan to be spending in the boat.
Performance - As expected with a boat in it's class, it's slow on flatwater, plows considerably when empty and more so loaded for a weekend trip.
Maneuvers very well.
Stability curve is something of a personal preference, it has a very strong primary but tipping point also comes a lot sooner than a Romany (which almost has no tipping point to speak of) Unlike the Romany, it seems to be meant for maneuvering without much edging, and edging doesn't really help much, as opposed to the Romany that lives to be put on edge.
Surfing - surfs with the best of the sea kayaks, but that being the key word.
In my opinion, Romany is a nicer,more fun and more playful hull, BUT, Necky makes a way better plastic boat. If it was to be fiberglass, I'd probably pick Romany first. The new coming P&H Delphin may be the best plastic sea playboat yet,but until that is proven, Chatham 16 is probably best money can buy in plastic playboats. Valley Avocet RM close but meant for a somewhat smaller paddler. I am 6'1 and 185 and C16 fits me well.
I picked up a composite C16…
I picked up a composite C16 on a whim (price was right) and paddled it for the first time today. The boat has impressive stability - both primary and secondary. It's kind of like paddling a weeble-wobble.... very stable on edge and rights itself as soon as you drop your knee. It's very responsive to leaned turns and can be spun 180 with a lazy stern/bow sweep combo. I found it easily affected by current and wind, but in a playful and controlled way. It's not particularly prone to weathercocking, though keep in mind this is a very "turny" boat, so it certainly doesn't paddle like a straight keeled 18 footer. It's a blast to surf and is even more predictable than my old Valley Pintail, which until now has been my benchmark playboat in a following sea. The only negative I noticed was the noisy skeg box. Skeg works well, but it gurgles loudly with the skeg up...though you only really notice it on calm water. Fit and finish is excellent, with bone dry hatches and very comfy foam seat. I'm 6'2" 180 - I fit snugly but comfortably, though I have the foot pegs on the last notch and had to ditch the sandals to use the pegs (I may carve out a foam bulkhead block instead). Taller or larger paddlers may have a problem fitting.
Overall, this is a great playboat and though it's not the fastest boat on the water, it'll keep up with most boats once the conditions get rough due to it's very stable and forgiving nature. A blast to paddle....very happy with my purchase so far.
Just bought a carbon Chatham…
Just bought a carbon Chatham 17 and taken it out for it's maiden voyage. Just super! My wet exit and paddle float re-entry was the easiest I've ever done and the boat fits like a glove in the heavy chop. It's black, too-very sexy
I've owned a Chatham 16 ACL…
I've owned a Chatham 16 ACL for 3 years now. I've been paddling for about ten years, am a Level 1 instructor (paddle canada) and an overnight guide with the SKGABC. This boat is perfect for its intended purpose.
Three things I have noticed in this thread that could use comment. The boat "slams" into waves only when unladen, precisely because in these conditions it is working as a playboat. When laden with 100 lbs of gear it slices like a knife. If people would access the hydrodynamic tables on the Chatham 16 at Seakayakermagazine.com they would be amazed at the righting moment for this craft when a 150 lb. paddler with 100 lbs of cargo is considered. It is literally one of the most stable, yet manouverable kayaks produced today. Speed is often a commented topic. The boat is only 16'6". If you want more than 3.5 knots - get a longer boat.
The hatches do leak. The fix (as Necky has obviously learned) is a neatly applied coating of 3M Marine Adhesive to the rim/hull connection. As to boat volume, I pack like a hiker and have no problem packing for 6-7 days, which, if we are honest is all 95% of all of us really need.
I got my first boat in the…
I got my first boat in the summer of 08. It was a used Prijon Barracuda. Looking back on it, it was extremely fast, but whoa did it ever require constant concentration, especially for a relatively newbie like myself. That thing would toss me if I tried to turn by back to look behind me. Wake from passing boats raised my pulse to cardio levels. I did some research and decided that I definitely needed a different boat. I like to explore the coast of the various inlets around where I live near Vancouver, BC. I'm not that concerned with speed.
I decided on a Necky Chatham 16 poly. I got a good deal on a new one and never looked back. I now look forward to large boat wakes, tidal currents, you name it. I would have to consciously try to flip this boat over to ever have it happen. It turns on a dime and responds well to the first paddle stroke. I'm 5'8" and 150lbs and the cockpit fits me like a glove. I especially like the thigh braces. The hatches usually have about 1 cup of water in them after about 4 hours out on moderate seas. It seems to be well made, but admittedly the poly is not as sturdy as on the Prijon.
Overall I couldn't be happier with this boat. It would be great for a beginner or anyone who likes to play in big waves or near the rocks.
I've had a plastic Chatham 16…
I've had a plastic Chatham 16 for about half a season now, and absolutely love it. I'm about 5'5" and 135 lbs, and the cockpit fits beautifully. The seat and thigh braces are all adjustable to fit you just right. Mine has straps and buckles, not ratchets, to adjust the seat back, so there's nothing to rust. This boat handles beautifully in any conditions, whether calm water, bashing into the waves, quartering seas, or surfing. It is hardly affected by wind at all, and I've hardly ever felt a need to drop the skeg to help tracking. It has superior initial and secondary tracking.
As others have noted, it does give you a 'wet ride' for sure, and it does seem to ride up over and then drop down hard over big waves, unlike some other boats that seem to slice through the waves. However, this seems to add to the fun, rather than being a detriment.
Also, and unfortunately, the hatches do seem to leak unnecessarily. It's not like the compartments are flooded after a day in the surf, but they do seem to take on water where I would not have expected it. Also, and as others have noted, it is a relatively low volume boat; so it may not have the storage for touring as other boats may have.
However, this is probably why it's such a great day tripping boat for smaller paddlers like me. I've tested many different boats, plastic and 'glass, and find this boat to be one of the finest I've tested. I'm thrilled to own it and use it. I love how it handles, and how it looks. Highly recommended for a test drive if you're in the market for this kind of boat.
This is my third Necky…
This is my third Necky product. I started with the Spike, then the Dolphin and now the Chatham. Necky makes them simple and well engineered. The SOT were short lived in my Kayak days. It took little time to graduate to the sit inside boat. I tested many other boats.
I would have preferred the Valley Aquanaut, but I found a real good deal on a Chatham as a demo sale and grabbed it. Call me ignorant and perhaps rookie, but after testing some of the Valley products as well as Wilderness Systems and Old Town, I have concluded that the Chatham handles and resembles the Valley's features and craftsmanship as a true western made British style boat. This is my conclusion as a rookie kayaker.
I had the opportunity to test my friends boats from other manufacturers and I could not have gone wrong with the Chatham 16. It's a boat that will allow me to apply to many styles of outings. Highly recommended. In fact, it's hard to go wrong with just about any Necky product. The Chatham 16 is a little tight on the hips. I am not overly heavy but a bit on the out of shape side.
I would have given this boat a 10 had it been a little wider on the cockpit. The Chatham 17 was too big for me. I am 5'9", about 185-190 pounds. My Necky Chatham is the plastic model. I look forward one day upgrading to the glass boats. It's a matter of funds.
I own a plastic Chatham 16.5.…
I own a plastic Chatham 16.5. I fell in love with paddling, bought an old Ocean Kayak SOT and it was time to move up. I bought the boat used on Craigslist, and chose it because it seemed to fit me snugly(6'0,175)and I liked the control I felt. The thigh braces either fit you great or they don't.I would say I'm probably at the top end of fit for this boat. I have owned it for almost a year now, and it has taken me from a beginner to an intermediate. It has been a great craft to grow into skillwise. It is wonderfully maneuverable with the skeg up. I can easily navigate tight sloughs and rock gardens when I am ready. I have been out many times in the south end of the San Francisco bay. Summer afternoons the winds REALLY pick up and the chop can hit 2-3 feet w/ tidal swells coming at you almost continuously!Just keep paddling and the Chatham just rides through, the low deck makes it very resistant to wind issues. I find it easy to keep direction even in strong crosswinds. It also tracks great for a boat with such a lot of rocker. You do sacrifice some speed, however I would not consider this boat slow. Even though the fit is tight, the cockpit is large, so wet exits and re entries are pretty easy. I especially like the small strap right behind the cockpit to slip your paddle blade for paddle float self rescues.I have had to reseal the hatch gaskets, they leaked like sieves! It seems to stay pretty dry now, but the boat takes a LOT of spray in wind and waves. I have read some negative reviews about this, however for me getting hit with spray is half the fun of being out in conditions. So, if you are looking for a high volume touring boat with lots of storage and comfort for long trips, this boat won't work well. But I don't think that's what it was designed for.It is a fun, maneuverable, predictable performer that has been a great boat for me to develop skills in!
I've spent the last two days…
I've spent the last two days demo-ing the C16. Day one was spent off shore in 9' @ 11 sec. swells. In and around the rock gardens I found it to be very maneuverable, and behaved beautifully when being surged through some tight spots. Out in the open it handled just fine in the big seas. It wasn't particularly windy, so I can't attest to it's handling there.
Day two was spent surfing on a sand bar in our bay that creates a fun set of waves with an outgoing tide. It will put a smile on your face when it catches a wave! For a 16' boat, it holds a good line, and I actually had it straighten out from an initial broach to get a good ride.
This would be a day / play boat for me. Too small and too slow for touring.
About the cockpit: On the positive side, I love the size and shape of it. I'm a woman, and "traditionally built.' The narrowness of the space made for a very comfortable hip to knee angle, and I felt great contact and control.
What I did NOT like was all that crazy junk in the cockpit with me. The only thing I would keep is the grey foam seat ... I actually really like that! ...but I had two entrapment issues in the two days I paddled. First my drysuit butt zipper got stuck in the metal hip / seat frame. Then my PFD pocket zipper got stuck in the adjustment slot for the thigh braces while I was loading it. And then there was the bruising from getting in and out of the boat past the sharp corners of the same said metal part. And then there's the very long sharp bolt protruding down from the afore mentioned part and threatening to impale my drysuit. The hatches did leak extensively.
I still want one. It's a fun boat. When I order, I will request that they omit all of the cockpit outfitting, and just send the grey seat part.
I purchased a Chatam 16…
I purchased a Chatam 16 rotomolded, but I also own a Current Design Storm and a Perception Corona. I took the Chatham onto a real lake in the Fingerlake section of N.Y., paddled a total of 16 miles round trip with and against the wind and was disappointed.
This boat surfs beautifully, and you can use your paddle as an outrigger as you glide down the wave face. However, coming back this boat rises and slams with every wave that you paddle through. The feeling is one of hitting the hull with a sledgehammer, with the hull shuddering on every impact. Slam, slam, slam all the way back for 8 miles into the wind. Also with each slam and shudder, a wave of water flies into the air and soakes you from the top of your paddling hat to your sprayskirt. The other boats I own also rise and drop, but without the impact and continual spray this one provides. The day hatch could double as an aquarium. I tried resealing it but to no avail. I just don't use it unless things are drybagged. Nice boat for quiet water, but for tripping or extended paddling where the effects of wind on water come into play,not my choice.
All of the reviews here are…
All of the reviews here are quite accurate. I only wanted to add my two cents as a newbie, this being my first kayak. Please remember that this is a newbie's perspective. Until I purchased my chatham I had spent a grand total of 5 minutes in a kayak.
I have been out in this boat twice. Both times for about two hours in protected waters. I have found the Chatham to be very responsive with adequate initial stability and excellent secondary stability. I find it easy to edge and turn. It tracks well without the skeg and I find my speed increasing quickly in this smooth quiet boat. If you are a newbie and serious about developing yourself ino a competent kayaker, then I would highly recommend this boat.
One last thing. The fit and finish are excellent. It does scratch easily for plastic though.
My necky Chatham tracks very…
My necky Chatham tracks very well without the skeg in stiff winds and choppy seas. Good boat overall.
The shop I work at had a C16…
The shop I work at had a C16 in the demo fleet, and I have taken it out in enough different conditions to convince me to buy one. It's maiden voyage was on a day with good sized surf (6ft @ 11sec), and it lived up to my needs. It better have, 'cuz I sold an Elaho to get this.
First of all, my needs for the boat are specific. I already have an all-purpose boat (good in rough water, great for distance with gear), the C16 is for a day/play purpose; I prefer 16ft boats for surf and rock gardens. The C16 did very well. Stable, but still easy to edge, very good in winds, and unusually nice in the surf zone (good reserve buoyancy in the bow, stern holds its line on a break= low issues with broaching). Despite a few poundings, the compartments stayed bone dry.
I have had the demo boat out in 25kn winds, and it was easy to control, without resorting to the skeg. The adjustable thigh hooks fit me well, the seat not so well (but that is a personal issue, I am taking a molding off the seat of my sprint boat to replace it with), although the Velcro adjust on the seat is nice. The seat frame on the demo was painfully tight, my new boat has the wider frame- still tight on my large American butt, but acceptable.
Deck rigging is very nice, about time another American manufacturer gets up to date on this issue. Not sure if it was intentional, but the perimeter lines were not strung like piano wire (too common on some American boats, they are missing the point), so getting a hand under is easy.
The good wind handling does come at a cost, the boat is somewhat stiff for a 16 footer. Also, the volume/footprint that makes it so nice in the surf makes for quite a bit of wetted surface-the boat is slower to accelerate than, say, a Romany 16 or a Tempest 165. The low windage means very little pack space (again comparing to the mentioned boats).
All in all, a super fun rough water play/day boat that is very forgiving.
(I think an 8 rating is high, I have yet to find a boat I would rate a 10)
I've been padding for 13yrs.…
I've been padding for 13yrs. Teach sea kayaking, fat and not very fit anymore. The ocean is 2hrs away. My regular boat has been a glass Mariner Express.
Positives: The Chatham16 is excellent for handling in high winds, mild weathercocking that skill or skeg can counteract. Similar to my Express in control but without any of the tendency to slide sideways across the surface of the water. This is the boat to have if you're stuck in high winds. Stable. Good combination of maneuverability and tracking. There are more maneuverable kayaks, there are stiffer tracking kayaks.
The cockpit is accomodating to modification but I don't think it's what Necky intended. Toss the blue minicell seat and carve your own. I've been in small surf a few times and like it. The coaming is narrow enough that with the aluminum thigh braces removed I can have adequate bracing for rolling but can paddle knees up when I want in flatter water.
Negatives: Aluminum seat frame is the wrong size to accomodate more paddlers who can fit the displacement of the hull. I've got a 31" inseam and HAD to shove the seat frame all the way to the aft setting so as to not experience cutting pain from the frame. With the new carved seat from 3" minicell, chunks of foam extending forward from the frame it's perfect. The rusting ratchet seat back widgets are worthless, throw them out. The aluminum thigh braces are ok but find the narrow coaming provides adequate control for rolling/bracing in surf. Maybe there's an old fashioned set of braces I can cut to fit. There needs to be a different hatch gasket material, redid the day hatch with 1/16" neoprene and that fixed it. The other hatches are next as they take on at least a pint in half a days worth of surf.
This is a good kayak, fixed mine with under deck bag, doubled deck bungies. Found a soccer ball on the river today, jammed it under the two doubled foredeck bungies and it made a great bass guitar. Good tone. I have a composite Chatham18 on order.
I have been enjoying my…
I have been enjoying my plastic Necky Chatham 16, for 08 months. I have used it primarily in NC barrier island sounds and saltwater marshes (about 30 trips). The Chatham tracks very well in all conditions. Have used it in 2-3 foot inlet swells and winds to 20plus knots. Also in 3-4 knot tidal currents. Agree that the seat and thigh support could be improved. Back support is ok, but the hardware on the adjustable ratch is already rusting heavily. Only other complaint is that the hatch gaskets on two of three compartments allow water (rain and sea ) to weep in around edges. Fixed on leak by removing and resealing gasket. Enjoy option of using the skeg, but rarely need it.
In my opinion, one serious…
In my opinion, one serious problem with the reviews on this site is that they are generally way too positive. Even boats that have serious problems all seem to get ratings of 8 or higher. With that said, the chatham is a great boat for certain things. I have a RM model I purchased primarily to use in rocky environments along the north Cal coast. This boat has very good initial stability and holds well up on edge also. With the skeg up it turns fairly well and the modest weathercocking I have noticed is almost completely negated by deploying the skeg even half way. In fact, I believe it performs better with the skeg only partially rather than fully deployed. On both a rental model and my own boat I have noted a tendency for the skeg to be skewed to the port side when down fully (perhaps because of the stiff control cable). The stock seat was not comfortable so I carved a foam replacement which works much better. A word of praise for Necky here, when I complained about the seat design on another message board I got an email back from one of the chatham designers discussing Necky's planned future seat modifications and offering some helpful suggestions. I have also heard various complaints about how tight the cockpit is. I am 6'1'' and 175# with a size 32 waist and I will admit I had to remove the stock hip pads. Nonetheless, if you like the control that a tight boat gives you (as I do), you will like this cockpit. The thigh braces are a strong point. Many RM boats have useless tiny or nonexistent thigh braces while the stock chatham braces are aggressive hard plastic adjustable jobs. Along with the braces the back band is attached to two adjustable ratchets that are located forward in the cockpit making on the fly adjustments a breeze. It make take initial adjusting to fine tune the fit but when you get it you will be locked into this baby. Despite the fit, wet exits when necessary are easy (probably due to the generous oval cockpit opening). If you have a larger body type, plan to be in the boat for long stretches at a time, or just dont like a tight fit, this boat is not for you. On the other hand, the fit allows very positive control. I have had this boat out in afternoon chop on Lake Tahoe and in very windy rough conditions near Point Reyes on the coast and felt the fit, handling and stability were very good for someone with modest experience like myself. The hatches and bulkheads have thus far (3 months) showed no leakage. The front storage is adequete, the rear is small due to the skeg box, and the day compartment is average. This boat is not particularly fast and coupled with the fit/comfort issues this is not a boat I will plan to use for long stretches on the water. But for banging around in the rocks and chop I think it is a good choice. I haven't yet had it out in large surf so I cant comment on that but in modest waves or following seas it surfs along easiliy and the upsewpt bow shows no tendency to pearl. The foredeck is somewhere in the middle of the pack in terms of height and consequently is a dry ride in mild conditions and wet when it gets rough. The rear deck is quite low and I find easy in various re-entry/rescue situations. My own rolling skills are not consistent or strong enough to pass judgement on the rolling characteristics of the boat. In summary if this is to be your only boat, you prefer a large comfortable cockpit, have a larger body/waist, or want a fast long distance boat the chatham is not for you. If you are looking for stable dependable performance, you like a tight fitting cockpit and the control it affords, and you plan to use this boat in the conditions for which it appears to have been designed, I think the chatham just may fit your bill.
Hey. I demoed the plastic…
Hey. I demoed the plastic chatham and was not impressed. i found it to be sluggish in the water as well as heavy. my regular boat, an older perception shadow which was almost a foot longer was lighter to portage as well as felt more livley. i don't think I will purchase a plastic necky boat because of this.
This yak rocks! I am new to…
This yak rocks! I am new to kayaking but have several friends who are not. My experience was nothing but positive I have tried several other kayaks owned by my friends and was a little nervous because they all felt unstable at some point. Not so with the Chatham ROCK SOLID! My confidence level soared with it under me. After an hour or so I let my friends put it through its paces they were astounded. Comments like "The best Kayak I have ever been in" were the norm. When I stood on top of it (this was a glass model) They could not believe it. Being a novice I can only say the fun factor on this kayak is in a class by itself. This is something you must see for yourself!