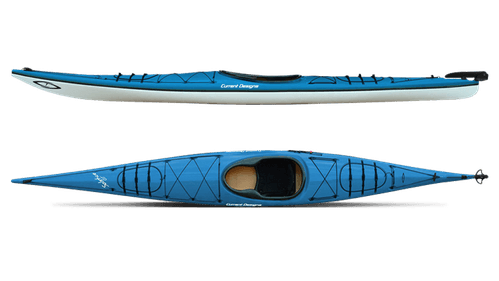 Solstice GT Options
Solstice GT Description
The Solstice family of kayaks has long been the pride of the Current Designs Performance Touring Kayak fleet. The Solstice GT is the flag ship of our touring kayak fleet and the most popular composite kayak ever made. This updated classic delivers a predictable feel while slicing through the water. Like all Solstice's, the GT has outstanding acceleration, glide, and tracking and can cover some serious distance in a hurry. The ample volume storage hatches have enough room for excursions on the biggest waters of the world.
Solstice GT Specs and Features
Structure: Rigid / Hard Shell
Cockpit Type: Sit Inside
Seating Configuration: Solo
Ideal Paddler Size: Average Adult
Skill Level: Intermediate, Advanced
Ideal Paddler Size: Average Adult
Skill Level: Intermediate, Advanced
Additional Attributes
Composite Seam
Current Designs Rudder
Sea-lect Designs Foot Brace
Composite Colors
Wide Base Seat
Read reviews for the Solstice GT by Current Designs Kayaks as submitted by your fellow paddlers. All of the reviews are created and written by paddlers like you, so be sure to submit your own review and be part of the community!
Back in 2008 I submitted a…
Back in 2008 I submitted a glowing review of my Solstice GT with a promise of an update at the end of the summer. It's now 13 years later, I still have the same boat, and I can't imagine a better one to own. It has been paddled with joy on multi-day trips in Jasper National Park, Banff National Park, Glacier National Park, Yellowstone National Park, and countless other lakes in Canada and the U.S. It tracks flawlessly, is incredibly stable even in really rough water, is durable, dependable, and everything I could possibly want in a kayak. And, it still looks as good as it did when I bought it. Perfect!
I have a 1995 GTHV that I…
I have a 1995 GTHV that I have owned since 1996 and I have never tired of paddling this kayak. It is a comfortable, stable kayak that is great for short paddles or multi-week excursions.
Lake Superior and larger…
Lake Superior and larger lakes in Wisconsin and Michigan
My first Solstice GT was a…
My first Solstice GT was a 2005 model and I absolutely loved it. I started out paddling on Lake Superior in the Apostle Islands and it handled everything the big lake threw at me. It handles and tracks well and is very comfortable. It is also a great fitness kayak. I sold this kayak to a friend and purchased a 2010 Nomad GT which I still paddle and love, but immediately missed my Solstice after selling it. I bought a used 2012 Solstice at the end of the 2012 paddling season and a new 2007 Solstice in 2013, that was somehow overlooked in a outfitters wearhouse, while I was looking for a kayak for another friend. Now that friend paddles whichever Solstice she wants and I paddle the other one or my Nomad. There are no losers when someone has the opportunity to paddle any of these kayaks. I feel like a 3 time winner since I am fortunate to have 2 Solstice GT's and the Nomad GT.
Loving this boat! I bought a…
Loving this boat! I bought a Solstice GT (used) a couple of months ago. This is a 2006 boat in fiberglass. I only have a single complaint, and it is something others contemplating purchasing a Solstice GT used might want to pay attention to. I've paddled a couple of others, so I gave this a good look over but did not actually sit in it before purchasing it. Turns out the cockpit is a bit shorter than on the current model. Once in, the fit is great. But my creaky legs don't bend as easily as they used to, so I was a bit disappointed in that respect. That said, I LOVE this boat. Will update the review after I've logged a few more miles in her.
I just hit 60, after canoeing…
I just hit 60, after canoeing and kayaking since the age of 10, I decided to reward myself and push my kayak limit/skills. I have owned many boats throughout the years rec, british and american designs. I decided on a kelvar Solstice GT. I have always been a Current Designs/Wenonah fan. My wife loves the Kestrel series. I own a Spirit 2 canoe and the Gulfstream. The Solstice GT fits me like a glove, 5'10", 190#, shoe 10#. It is fast, light, and tracks extremely well. Craftsmanship is outstanding. I use this boat when I want to go far and fast. The stability is much higher than my Gulfstream, but they are very different boats. The Solstice is a design that has been tested, refined and proven over time, I just love this boat.
I purchased the Kevlar…
I purchased the Kevlar version of the 2013 Solstice GT in May 2013, so I have three years experience with it. I'm 6'4", 245#s and will be 70 in a couple months. I first test paddled a rental Solstice GT on a rough water day in Puget Sound when nobody should have been paddling far from shore (I knew that, but wanted to push the boat to the limit to test it) when a storm suddenly appeared out of nowhere and conditions turned outright dangerous. That experience sold me the boat.
As I ran for any shore in a following sea, I couldn't believe how well the Solstice GT handled truly scary water. Since then, I've paddled it all the way up the Washington coast, through the San Juan and Gulf Islands, around both sides of Vancouver Island, and up the Inside Passage as far as Namu in British Columbia. I've paddled it also for three years on windy Lake Powell in Utah and Arizona, including on the Colorado River below the Glenwood Dam. Every time I paddle it, I'm amazed how forgiving it is, and how happy I am with its overall performance.
Current Designs has been making this same boat for about 30-35 years in Canada and then U.S., and the hull design hasn't changed much since it was first designed. The designer (in Victoria, BC) told me he designed it for the Inside Passage and the rough waters around Vancouver Island. It has soft chines and a round bottom under the cockpit, so beam waves hitting the side simply roll under the boat, without the sideways shove you might expect from a hard chine, shallow-V bottom. The round bottom also contributes to how well it handles in rip currents during tidal exchanges, and in confused water and clapotis waves ricocheting back from rock cliffs.
The GT not "exciting" to paddle on flat water, but turns fast enough and very predictably when you lean the boat. The rudder is adequate, but turns the boat more slowly than you could turn it without the rudder, so I use the rudder more like a skeg to counter crosswinds and to ferry against cross currents during long crossings. I occasionally use a Windpaddle downwind sail, and the rudder is good for that. The rudder is foil shaped (not a flat blade), is minimally sized, doesn't vibrate or make noise, and produces no detectable drag. The rudder cables are out of the way inside the back deck, so they don't interfere with reentry using the back deck. The rudder isn't designed for rapid turns. The rudder pedals are gas pedal style, worked by your toes above solid foot pegs, and easily adjustable from inside the cockpit on the water.
The Solstice GT is a long haul boat, more like a Cadillac than a Ferrari, which is just fine with me. When you paddle it on big water, you know you're paddling a boat designed exactly for that, and your confidence increasingly grows that it will handle emergency conditions and forgive some big mistakes in seamanship.
I have limited mobility in my legs due to arthritis, so my knees don't bend well. I had problems initially getting into and out of the boat, but resolved the problem after circumstances forced me to invent a novel method of entry and exit using Scotch adhesive no-skid pads. (I would be pleased to describe this elsewhere for mobility-impaired paddlers with similar problems.) The boat lends itself easily to my method, so I have no problems with that now. There is plenty of leg room. I once capsized my GT in heavy seas on the open ocean west of Vancouver Island and had no problem reentering it with a paddle float and sling after swimming the boat 1/4 mile to get behind some protective rocks prior to reentry. I rate primary stability as very good and secondary stability as excellent.
The comfort of the seat is very good for long paddling days. I use the optional adjustable seat back. There is an optional seat available for really big, wide people, but the standard seat is fine for ordinarily large paddlers. The seat design allows for storage space in the cockpit on both sides of the seat, as well as under the seat and behind the seat. This storage space is a critical factor for me because the Solstice GT does not have a day hatch. The around-the-seat storage spaces retain their contents during a capsize and wet exit, so you don't lose cockpit gear when inverted. The GT is a symmetrical design, widest at the hip, which accounts for the ample storage space around the seat. Aside from the predictable handling, the cockpit storage space surrounding the seat is the most important selling point for me.
The front and rear storage compartments provide sufficient space for equipment and supplies for a two week trip, so you don't need the "Titan" version of the GT. I test paddled the Titan model and didn't like it. Even at my weight, unloaded, I bobbed around like a cork and thought the high Titan deck very susceptible to wind. Also, the high Titan deck would increase the difficulty of a paddle float reentry after a wet exit. There is plenty of space for a big man in the standard version of the GT, so avoid the Titan unless your storage needs are extreme.
The GT hatch covers are sleek and watertight, but are too small to permit entry of a standard size bear can (bear resistant food container) which is a concern for people paddling through bear country. This is due to an unnecessarily wide flange under each hatch cover. The flange can be easily owner-modified with a sanding drum on a cordless drill, so the problem can be overcome with minimal effort, a moot issue if you don't paddle around coastal bears. I complained to Current Designs about the bear can issue and sent them an account, including photos, of how to fix it, so they're aware of the problem. I can also post how to modify the flange if somebody needs that.
Current Designs advertises that the Solstice GT can keep up with anything in the water. Yes, any boat with a 24" beam. It won't keep up with a Brit boat with a 21" beam, but in general I agree with their speed claim. The GT is surprisingly slippery and efficient, and I have no complaints about speed. You pay something in speed for the seat comfort, cockpit storage and initial stability of a wide beam. There are always trade-offs and CD got the balance exactly right for a long distance paddler.
The fiberglass version is about 10 pounds heavier than the Kevlar version. I would pay the extra money for the Kevlar. The weight difference is significant, especially if you habitually carry safety gear in the cockpit, paddle alone, or have to carry or drag the boat over long beaches at low tide. My Kevlar boat was accidentally dropped 10 feet, rudder first, from a high dock onto the steel deck of an albacore tuna boat last year. The fiberglass cracked upon impact and it cost $750 (U.S.) to repair the fiberglass, however the hull remained watertight, and the boat would have been paddleable afterwards thanks to the Kevlar. If you lift a standard fiberglass boat side-by-side with the Kevlar model, the Kevlar will sell itself, durability aside.
Besides the bear can issue mentioned above, there is nothing I would change in the design of the Solstice GT, which is probably why it hasn't been significantly redesigned in 30 years. I would buy a 2013 or later version however, as 2011 and earlier versions had a high pitched front deck that was supposed to spill water easily, but the high pitch wasn't good for front deck maps, deck bags and other uses. In 2012, CD redesigned the front deck for the better, lower and flatter, and tweaked some aspect of the rear hull also. I'd go for a 2013 or later model to be safe.
I've rolled the Solstice GT a few times, in rolling classes, empty, on flat water in a protected environment, so I can't comment on its rollability in combat conditions. I don't think this boat was designed for avid, habitual rollers. It doesn't have a back deck low enough for easy layback rolling, but the trade-off again is a seat with good lumbar back support and lots of storage in the rear compartment. The hull doesn't have much rocker, so it's a little slow in turns as compared to a Brit boat, but it effortlessly tracks straight, all day long for long distances. The GT is not a play boat for surf kayakers or fast water, but it does extremely well what it was designed for.
I have had my Current Designs…
I have had my Current Designs Solstice GT kayak for a little over a year now, and in the often windy Florida Keys, it is easily my new favorite paddle craft! It is the Kevlar version, and at <50# is light enough for me to carry on one shoulder. Like most efficient kayaks (as opposed to "personal barges"), it can be a bit tricky when entering and exiting, but once you are installed in it, it is incredibly stable and sea worthy! It has closed cell foam knee pads under the cockpit rim, and with the seat back and rudder peddles properly adjusted you just become one with the boat! The seat is much more comfortable than it appears, and has never been a limiting factor in how long I can stay in the kayak. I have done several trips in the 5 -6 hour, and 10 – 12 mile range, and was impressed each time with the fun and comfort of this kayak. I weigh about 160#, and have not yet paddled it with loads in the sealed bow and stern compartments, but even lightly loaded with just day trip gear it tracks quite well, with or without the rudder deployed. The low profile hatches on the bow and stern compartments look sleek, seal well, and add zero adverse windage. Everything about this kayak is well designed, well made, and of the highest quality. The hatches, bungee system, side grab lines, carry handles, seat, cockpit design, and steering gear all indicate a manufacturer with extensive experience and a commitment to producing excellent kayaks!
This is my favorite kayak. It…
This is my favorite kayak. It is stable, responsive, comfortable and a boat of beauty. I have paddled this kayak for 3 years and have a I have found it handle waves , wind and currents extremely well. I only use the rudder about 10 percent of the time since the boat laughs at 3 to 4 foot waves and cross currents.
The kayak easily edges and is easy to lean. There is plenty of room in the hatches. Only negative is that the clips to the hatches corroded. I am sure Current designs will send a new one when asked. The boat is wide and large and allows my mid -60's body to have a little room for comfort. I would recommend this kayak which I have nicknamed the battleship.
I purchased my 2013 Solstice…
I purchased my 2013 Solstice GT in kevlar last March. It is my fourth kayak and by far my favorite. The workmanship, fit, and finish are flawless. This is one beautiful boat and I love to paddle it. I find it very comfortable, moderately fast, and very stable. My friends are always complaining that I run off and leave them. I an 6'2" and weigh 180. I demoed a QCC 700 last week and did not notice anything about it that I liked better than my GT. I paddle three times a week and am a fitness paddler that likes to go fast.
Regarding vital statistics, I…
Regarding vital statistics, I am 6'4" tall, weigh 254 pounds, am 70 years old, and have been kayaking for over 20 years, my experience having encompassed 12 years of weekly kayak surfing off the northern Oregon coast, frequent paddling on several of the local bays, frequent trips on Hood Canal in Puget Sound, and out on the Columbia River not far from the ocean-going cargo ship channels near Astoria Oregon. Today I am the happy owner and paddler of a fiberglass Current Designs Solstice GT kayak, but my sea-kayaking experience hasn't always been this positive as you will soon discover.
For starters, I am the less-than-happy former owner of an NDK Explorer HV, having paddled one for a little over 4 years. Like many other paddlers during the late 2000's, when these kayaks were first introduced on the American market, I was taken in by all of the drummed-up "hype" on the "incredible" rough water handling characteristics of these British-style sea kayaks and - no doubt - their handling attributes CAN be pretty incredible – in the hands of someone in the rough "ballpark" of the kayak designer's intended height, weight, and approximate center-of-gravity targeted range, as-well-as the requisite skill level. And judging from most of the "on line" reviews for the Explorer - which, for the most part, have been HIGHLY FAVORABLE - paddlers typically gave their height and weight measurements at not much over 6 foot and under 200 pounds – WELL out of my range.
Just prior to purchasing my Explorer HV, I briefly test-paddled a "demo" and, at the time, the craft felt EXTREMELY "tippy" and capsize-prone to me, but I was informed by well-meaning sales people that this "twitchiness" – which was "hyped" as simply part of this kayak's rough-water handling profile - is a typical experience for a "newbie" and would pass in time with paddling experience in the kayak. To make a long story short, this incredible "tippiness" stayed with me over the 4+ years I owned the kayak, and I have had it out in some fairly rough conditions – including confused 2 to 4 foot chop combined with ocean-going cargo ship wakes.
Getting back to reviewing my new Current Designs 2013 Solstice GT, after a year of paddling this kayak I am TRULY AMAZED at the EASE with which this craft handles conditions of crazy, confused, 2 to 3 foot chop mixed with wind-driven swell of the same height, and 3 to 4 foot ocean-going cargo-ship wakes – conditions I often encounter while out on the Columbia River near Astoria Oregon. Large broadside waves taken by this kayak seem to roll almost effortlessly beneath its round-bottomed-cross-section hull – a VERY REASSURING FEELING when out in this kind of TURBULENCE! By comparison, when I paddled my former shallow-"v" trapezoidal cross-section Explorer in similar conditions, I would find myself bracing as if my VERY LIFE depended on it! And speedwise, my Solstice is most definitely faster than the Explorer, owing in part to the fact that nearly ALL of my paddle strokes deliver power while underway – especially in heavy chop - whereas paddling the Explorer in similar conditions necessitated so many bracing and rudder strokes - just to avoid capsize - and the need for constant course correction due to the Explorer's increased hull rocker over that of the Solstice! And need I mention that the Solstice's tracking is TRULY EXEMPLARY by comparison, as is its "glide" through the water when not executing paddle strokes - and OH HOW BEAUTIFULLY THIS KAYAK MANEUVERS with just a simple stern-rudder paddle-stroke for course correction! The ONLY time I EVER use my rudder is to perform a skeg-like function during long, open-water crossings or in strong cross-wind/wave/current conditions. For me, the Solstice GT is TRULY a MAGNIFICENTLY-HANDLING kayak and a SHEER JOY to PADDLE!
As regards workmanship and physical design, the overall quality of the fiberglass layup and workmanship seems, to me, to be pretty near flawless, as is the overall design and hatch configuration. And PLEASE leave the hatch layout just the way it is – plenty big enough for loading up camping supplies and, thank heavens, without the silly little "day hatch" which I've never been able to access anyway while out on the water! Regarding the keyhole cockpit design, as I wear size 34" trousers, it's plenty big enough for me to sit down butt first and draw in one leg at a time, and exiting the cockpit after several hours of paddling is similarly doable. The kayak seat, while not the "lap of luxury," is still adequately comfortable for this 70-year-old man's hip bones even after several hours of paddling. I would make no future changes here either. And the rudder-skeg works like a charm for me - can't think of any needed changes here, either.
Current Designs has turned out one fine kayak with the Solstice GT and truly, this will probably be the very last kayak I'll ever own to the end of my kayaking days.
I just kind of fluked into…
I just kind of fluked into kayaking. Bought a rec boat which was not for me but still loved the sport. After a grand total of 3 excursions I did a lot of research and tried about a dozen boats and today I bought a Solstice GT. I've already learned that kayaks are probably a bit like shoes, they have to fit well. For me there may be a better fit than this boat but I have not found it.
Extremely stable even in semi rough conditions. I am confident and comfortable in this boat. Since I now know they are like shoes the Solstice may not be for everyone but for this 6 foot, 225 lbs guy with lots of skeletal injuries this baby is the 1!!!!
Thanks Current Designs, this is one boat that definitely lives up to the write-ups! Love it!!
I found my Solstice GT to be…
I found my Solstice GT to be fast, maneuverable, stable and beautiful to look at. It had great carrying capacity below and above deck. It would handle white caps with stability and grace. The cockpit was more than adequate for my 6'2" frame. The seat is adjustable for whatever you desire.
I don't think there is a "10" out there so I have to give it a "9". Mine was fiberglass. Maybe a kevlar one would be a 10?
I traded in a 1998 Solstice…
I traded in a 1998 Solstice GT for the 2010 version because of the changes in the hatches and the new rudder system. Well, after having worked with this boat for 3 months, I decided to trade it in for a Cetus MV (which is a better boat). While the new design corrected some problems, it created others.
First, the new cockpit design does not work for me. It is too big. With the old design, I could use the same sprayskirt on multiple boats. For the new design, I had to go from a 1.4 seal to a 1.7 seal. Second, the new rudder system is a real trade-off. On one hand, the pegs don't move. On the other hand, I have difficulty in centering the rudder when I retract it. Finally, for some reason, the boat feels big. It has become large, stable, and not as easy to move around.
In short, the boat, for me, became boring to paddle.
For many paddlers, this will be a great boat; for me, it no longer works. As I said previously, it has been sold.
I purchased a 2010 Solstice…
I purchased a 2010 Solstice GT Kevlar sight unseen, having tested a 2009. I had paddled a plastic Storm for many years. Boat has typical feel of the Solstice line, but the shape has changed somewhat over the years, I suspect to make it ever more stable and easier to get in or out, as the population gets bigger and older.
Positives:
Boat goes where you tell it to go!
Kevlar boat is lighter at 47 pounds, I can load it on the car on my own if required.
Bulkheads are a translucent plastic, makes it easier to see what going on in the storage hatch.
New peddle system - peddles don't slide, instead they pivot - meaning your knees are always up against the side of the boat.
New larger keyhole cockpit, makes it VERY easy to get in and out, perfect for me since I have leg I can't bend well.

Negatives:

The new peddle system means there is a cable right next to your foot - so you cannot paddle barefoot. Even with rubber shoes on, I still feel the cable.
Very uncomfortable.
The deck was flattened somewhat from the 2009 model (probably for the keyhole cockpit?) This is not an issue in itself, but they also introduced this new hatch strap cam system (replacing side buckles) for the storage covers. With the deck being flattened, the cam lock can easily come loose. In my opinion its POORLY designed, and can easily come loose in big water, or in a self rescue, or just even when you are on the beach and you throw your life jacket on the boat. So you always have to double check it. I cannot see what the advantage is of this mechanism vs. traditional plastic side buckles. The side buckles on my 10 year old Storm work just fine, and of course are easily replaced. After a few requests, CD sent me an updated cam that has a snap in it as well, clearly an afterthought fix and I wonder how it will work. I can't see how a cam and a snap makes more sense than a buckle.
The boat is very wide now at 24 inches, I suspect people who were happy with the old Solstice GT might want to try the new GTS at 22 inches.
The seat has popped out from its cradle a few times when paddling and leaning way back - not a great seat system.
Also, can't seem to get rid of the solvent smell in the hatches, even after storing the boat with the hatches open. Whenever I close it up to store stuff in there while paddling, whatever I take out a few hours later seems to be permeated with solvent.
For the amount spent, I wish I would have looked around a bit more
I have the Solstice High…
I have the Solstice High Volume in fiberglass and I love it! I am 60 years old, 6-1, 255 pounds, and not at all flexible or agile. Since I'm not athletic, it's a little ungraceful for me to get in and out, but once I'm in the cockpit the boat is fast, stable, and comfortable. I've had this boat for about four and a half years and have put hundreds of miles on it, including numerous seven-day trips. It can carry me plus about 100 pounds of gear in the large front and rear hatches. I don't like having things tied on deck.
It's easy to cruise the High Volume at 4.5 MPH all day long, with a couple of stops to get out and stretch. It tracks straight, but that means it does not turn easily. Since most of my paddling is day cruising on protected bays and bayous this is just what I want my boat to do. Very rarely do I put the rudder down, only using it to stay straight in a cross wind.
The hatches are not 100% watertight and the bungee thing that holds the bow carrying handle broke, but neither of these are a problem. What WAS a problem was the rudder pedals. The Current Designs foot pegs/rudder pedals just did NOT work, so I had them replaced with Wilderness Systems pedals where the whole pedal slides forward and back instead of just steering by pointing your toes. Much better!
Overall, a great boat for this big, arthritic old guy. It's completely stable, fast and comfortable. I tried out dozens of boats before I found this sweetie and I have never regretted buying it. A superb kayak!
I purchased a 2010 Solstice…
I purchased a 2010 Solstice GT in September with what the store told me was a slight indentation in the hull that could be fixed for $50. When I got the boat home, spider cracking appeared on the stern. The boat was shipped back to Current Designs and they fixed the cracking but refused to even acknowledge the indentation which, as it turns out, ended up being more significant and actually in the fiberglass when it was made. Despite repeated attempts to get them to deal with the flaw, they refused to deal with me on it. Despite the fact that the design is beautiful, I would have to say "BUYER BEWARE" and don't depend on their warranty if something isn't right with the boat.
I've had my 2010 Solstice for…
I've had my 2010 Solstice for one summer. I had a Storm prior to it. This boat is just wonderful on the water. It has taken me thru very rough water and kept me dry and moving forward effectively. I never felt unstable. It is not a highly maneuverable boat which suits me best as I tend to travel in long straight runs. I had a great paddling summer thanks to this boat.
I love my Solstice but I…
I love my Solstice but I don't think I'm qualified to give it a rating only because it's the only boat I have ever paddled. It handles waves well and is very comfortable. My only additional comment is that I am able to roll it without any problem. I have the fiberglass model and use a Greenland paddle.
I have owned a 2008 Kevlar GT…
I have owned a 2008 Kevlar GT for about a month now. I am a new kayaker and just moved up from my 12ft Old Town rec boat and wanted something I would never outgrow. I live in Southern California and have only ever kayaked on Open Ocean and in Los Angeles Harbor. I am 35 years old 6ft and 185 lbs.
I will write this for beginners since I am not advanced enough to be critical of small things in regard to handling. I will add that although I am new to kayaking I owned a sailboat for years and often sailed open ocean island trips and served several years in the military doing basic in-the-open-water operations, so I am a bit more comfortable on the boat in Open Ocean than some beginners may feel.
First off as most mentioned this baby is tuff to turn, which is no issue for long trips, but no quick turns here, it is not meant for that. I have been on the ocean with strong winds and it will tend to want to track broadside to the wind, which means upwind turns are almost impossible into heavy wind without rudder, but once you get it pointed upwind it is fine... There is a lot of wind affect due to high freeboard of foredeck, but this same foredeck also keeps you very dry.
This boat is sleek, effortless, super stable and confidence inspiring for a beginner. Within hours of buying it I was 8 miles out on the open ocean just sitting back floating on 2-3 foot swells and no instability issues at all... I did a few more similar such trips in various conditions from fair to what might scare some rec boaters, but this boat handled anything that I could and no scary moments at all.
Within 2 days I had completed about 35 miles of Open Ocean/coastal paddling and decided to paddle the 44 mile round trip to Catalina Island to camp that weekend. It was pretty much effortless in this boat, caught 10-15 knot headwind about 8 miles from the island with 4-5 foot confused swell/wind swell mix with very light white caps and never any worries and almost no spray except on angled broaching wind caps that hit "just right" and only then it was minimal. Due to the wind the trip took over 8, but the trip back in tail wind and following seas only took a bit over 6 hours. The boat handled following seas pretty well and I could surf them pretty well (maybe my heavy surfing background helped me there) Of course on my trip to the island I had the Murphy's law of owning an expensive new boat, all the beach landing on that trip were pebble/rocky. I heard much scrapping each landing, but later checks revealed almost NO damage (very small micro scratches only).
The high foredeck keep you dry and the storage hatches were bone dry & leaked NO water at all and the bow rides waves beautifully. On my trip I had about 20 Lbs of equipment stowed and it did seem to provide a more calm stable ride than when empty, which makes sense, the boat is designed for long tour cargo weights. I cannot roll, so I use wet exit reentry and this boat is great for that. In the conditions I go out in I can easily climb back onto the back deck and crawl back into the cockpit, just like a big paddleboard.
The fit and finish are superb in what I have viewed and seen. The foot pedal bolts are glassed in rather than the "thru hull" screws that some use and the gelcoat/ glass job is perfect and beautiful. The only issue I had with the finish is normal wear on the rear deck where I keep my spare paddle, it has some scuffing from my long trips and light scratches around the scuffs, but that is to be expected.
The cockpit interior glass is smooth in most any spot I could feel and see and all bolts are cut off at the nut so no protruding sharp screws. All deck lines are high quality and bungees are strong.
The bulk heads are glass and in far reaches of the inside storage areas I could see a bit of rough glass, but it is in deep corners and did not seem to snag my gear at all during loading/unloading . Like most good ocean boats the back bulkhead is behind the seat and I could easily bow lift the overturned boat and drain the full cockpit down to a few ounces. The front bulkhead is about 3-4 inches in front of the last section of the footpeg slide, so you get max front storage and less cockpit volume to have to drain out.
I found the seat comfortable, but that can be very objective so that is all I will add on that. The foot pedals are the gas pedal style rather than the sliding type some kayaks have. That is nice because you always have a secure foot brace since you only use your toes to move the rudder, rather than sliding your feet.
The rudder is sturdy and simple to operate, though I did modify one thing. There is a retaining bungee that holds the rudder up for transport. This has a plastic hook that goes over the rudder. I often forgot to remove the restraining bungee before launching and once in a heavy wind situation I needed to deploy my still bungeed-up rudder. I could not reach it with my paddle and jerked on the deployment cord for several minutes before the plastic hook broke allowing the rudder to deploy. Not wanting a repeat of this I put a section of mid- gauge wire on the bungee and shaped it into a hook. The wire will hold the rudder for transport, yet with a jerk on the deployment cord it will bend out of the way allowing the rudder to deploy...
I found very slight flexing right below the H-Joint of deck and hull, but that is probably a low stress area anyway and you can see that has light glassing (to be expected on a "light" boat), but the hull itself is rock stiff, the deck has minimal flex and with a flashlight you can actually see where there are reinforcement patches on fore and aft sections. The area around the cockpit where you shoulder carry are also thickly glassed up.
I shoulder carry the boat and go out a lot since I live down the street from the ocean. I have noticed from all the shoulder transporting that I have caused some of the thigh stick-on cushion foam to come un-stuck, but I put a bit of adhesive on these areas and they are back to normal.
Overall I am very, very happy with my purchase and don't need or want (and can't afford) anything else. I do not regret my purchase at all and just enjoy the high quality build and finish and seeing the beauty of the boat each time I look at it. The stable, confidence inspiring, dry ride of the boat is a major benefit for beginners.
I own the Solstice GTHV in…
I own the Solstice GTHV in Kelvar. It is a 1997 . I am an athletic intermediate paddler, 6'4", 210. I see numerous criticisms regarding the turning ability of the boat. I would say this reflects on the turning ability of the paddler, likely in any craft, more than it says anything about a touring kayak.
Better than my opinion, would be the opinion of a very experienced guide in the mid Vancouver Island area... that I had on a five day trip (Discovery Islands). He said it was his favorite touring kayak. Period. I had the fastest boat with the least paddling of anyone around, and it swallows lots of gear. I do find the cockpit a little tight getting in and out for my long legs. I just picked up the Titan regular, although it seems huge, I do believe it is a better fit for my frame. What do you need touring?: capacity and comfort, why sweat the tighter fit...I think the Titan will work out better for beach landings..I tightened up the wider seat with hip brace pads and other than having to reach farther forward (6 inches) for items under the deck straps, foot room, and knees braces seem better positioned.
I've been canoeing for years…
I've been canoeing for years but just got started with kayaking. I got a great deal from Kidder Kayaking in Brainerd, MN on a demo kevlar Solstice GT. Since I'm just getting started, I don't have all the "expert" experiences to draw from, but I can tell you this boat is a joy to paddle. It's stable, quick, responsive, and exactly what I was hoping it would be. It's smoke over smoke and is a beautiful boat. The only reason I'm giving it a 9 instead of a 10 is that I just feel I need more time in it to rate it at "perfection", though I'm pretty close to doing that now. At the end of the summer I'll post additional comments.
I am not quick to review a…
I am not quick to review a kayak. I've owned my Solstice GT for three summers and will now offer my opinion.
First, I bought this boat after enduring ten days in my Romany Explorer with gear loaded in front of the pegs. At 5'9 and 170 lbs the Explorer was simply too small to carry a bear canister, tarp bag and me in the same cockpit. I gave it to my wife. We are touring kayakers who live and paddle in Southeast Alaska, taking at least three long(er) trips each summer of from 150 to 400 nautical miles.
The Solstice is everything I want in a sea kayak. It has more than enough room for our longer trips – we assume 400 miles will take us 21 days, but it never has taken more than 17. It tracks straight; I'll use the rudder only in a strong following sea. It doesn't weathercock. It rides tolerably dry even in large seas. It sits comfortably during our two sets of five-hour marches; I can still feel my legs and wiggle my toes! And, it is easy to turn. This last point is something I've been pondering since it seems to be the negative point of a number of reviewers.
We paddle the coast-line in head winds or when catching eddies in opposing tides. Our coasts are not straight, nor are they particularly forgiving. There is an abundance of rocks covered in barnacles. The kind that make awful scraping sounds when a paddler is unable to adjust position as the rocks become exposed. If by turn, others are referring to maneuvering the boat around objects, then this boat turns well. I young friend who paddled with us this summer commented that, as I entered a small It is as responsive as the Explorer and my wife's Ellesmere when edged and with the correct stroke. The other definition of turn, could be simply turning the kayak around in a circle. Here too, the Solstice does just fine. I can do a 360 degree turn in a combination of four or five bow and stern sweeps, with the boat on edge and loaded. That is tolerable.
Does it roll? I don't know. My objective is to stay in my kayak and that's worked well for the last 25 years. It is very responsive to a brace in seas that break over my shoulders and a low sculling brace when I want to show off.
This summer we have decided to reduce the number of kayaks in our garage. The Explorer is gone, the ultralight kayak has found a good home with a former Olympian, and my wife bought back the Solstice SS she sold six years ago. It, along with my GT and a Seward Passat are what we will use to paddle our long trips and on weekends.
I purchased the Solstice GTXL…
I purchased the Solstice GTXL this summer after a long search for a boat to fit my size 13 feet (I'm 6'3" and 195 lbs). The GTLX is out of print though CD will make one on order if you want. I had a CD Pachina prior to this and liked the build quality and finish. Among the larger boats, the GTXL is one of the few that offer more height at the foot pegs and still has a reasonably sized cockpit length (The new Titan's cockpit is a lot longer, causing sprayskirt issues and forcing one's deck bag out of reach). So this was a good compromise. It's clearly a big boat, but I find it to be fast enough, relatively easy to turn, and not appreciably more susceptible to weather cocking than the Pachina. I did bolt on aluminum "extenders" to the foot pegs so that I could position my feet higher up and still be on the balls of my feet. This allows a very comfortable foot position. Overall, a very good boat with typical excellent Current Design quality. The only negatives are those associated with any large kayak, hard to work around if you're tall."
I have a kevlar Solstice GT…
I have a kevlar Solstice GT High Volume. The extra deck height makes it easier for me to do a butt-first entry. I'm a T7/8 complete paraplegic, and I bolt an extension onto the factory backrest and then brace it against the inside of the rear coaming. Due to the rigid, high backrest, butt-first entry is the only way I can get in.
The beauty of the Solstice GT HV for me is that it has more primary stability than any touring kayak I have tested. I like to take pictures. Mind you, at 24.25 inches wide, the secondary stability is also very strong, such that a person with a high center of gravity (me) feels quite secure. And the secondary stability kicks in with just a slight lean due to the very shallow V hull shape.
For a boat of this width, my Solstice has a nice, easy cruising speed. A friend and I recently paddled 52 miles in 13.25 hours (total elapsed time). We beached our boats for fifteen minutes every two hours. In other words, about 4.5 mph is an easy paddling speed for the Solstice. 5 mph is very doable if you're breathing a bit, but I couldn't keep it up all day without wearing out. Two hours at 5mph is okay.
The only negative about the Solstice is that of course it won't turn. Add a little wind, and it pretty much takes an Act of Congress to bring it around. The tracking is spectacular though. I ordered my boat without a rudder since I can't use my feet, and in the vast majority of paddling situations, in my opinion, the boat does not need a rudder.
If you edge the boat heavily, it does turn slightly better, but nobody will ever accuse it of being maneuverable if they've paddled something that truly turns well.
I've recently learned an extended-paddle high-bracing sweep that enables me to lean the boat 90 degrees. The stability still feels predictable. Likewise, I can heel the boat over with a low-bracing turn, and it feels good. Of course, it does help that I've epoxied some brackets on the bottom of my rear hatch and I bungee a 20-pound leaden bar in there. The boat is stable without the ballast, but with it, it's rock solid for a person with a high center of gravity. It makes up for my lack of leg weight.
Overall, if you're looking for a more nimble, easily leaned boat, then the Solstice is not for you. But, if you want a very stable, efficient touring kayak, you can't go wrong with the Solstice. And my hatches are cavernous.
The only reason I give the boat a 9 rather than a 10 is that it won't turn.
Solstice GT UPDATE - I…
Solstice GT UPDATE - I entered my original note on the Solstice GT about a year ago after my initial purchase. Although I rated the boat highly at that time I did have one concern. I had read a review of the Solstice in the February 2004 issue of Sea Kayaker. In that review most of the reviewers raved about the boat with one exception - rolling. Two of the reviewers had somewhat negative comments about the solstice seat back being too high for laid back rolls.
Well I am happy to report that after taking a few pool rolling lessons in a WW boat this past winter I am now able to roll not only my WW boat but also my Solstice - VERY EASILY!!! Yes, the back of the combing on the Solstice is a bit high but it does not interfere with rolling at all. I'm 60 years old and overweight, if I can lay back and roll it EASILY, anyone can.
I don't know what planet the Sea Kayaker reviewers were from but their review was off the mark on this issue. Perhaps it is a relative thing, the Gulfstream/Sorroco would be easier to lay back on the deck. Agreed. But these boats aren't any easier to roll in my estimation (I did try the Sorroco). Unless my Kevlar version is much lighter and more buoyant than the boat they tested which might explain their review. In any event, if you haven't already guessed it I LOVE MY SOLSTICE even more today than when I purchased it.
PS - this is a super great boat if you are top heavy (big chest/broad shoulders/etc). Unbelievable stability on edge for high center of gravity people like me.
I recently submitted a review…
I recently submitted a review for a Current Designs fiberglass Solstice GT HV XL kayak. I had found a few problems with it. I didn't feel comfortable in keeping this boat and wanted to return it. However I did mention that I felt strongly enough about the Solstice's attributes, that I would still want to own a new Solstice despite the problems that I discovered with the first one. I went to Rutabaga not knowing what to expect. I went to the store and had the store rep., come out and examine the boat, and they apologized and went out of their way to refit me into another Solstice kayak. I cannot say enough good things about Rutabaga's costumer service. I would highly recommend checking out your next kayak at the Rutabaga paddling shop.
I inspected this new kayak very carefully and found it to be in perfect shape and one to be very proud of. I am looking forward to paddling this kayak in my favorite waters. With this new boat I have to readjust my rating of the kayak. I am familiar with it's handling, and now have a new kayak that I am proud of and I can't help but give the Solstice a "10". :)
I recently purchase a Current…
I recently purchase a Current Designs fiberglass Solstice GT HV XL, while at this years Canoecopia, hosted by Rutabaga out of Madison Wisc. I think the boat is a wonderfully designed kayak, and fell in love with it. I unfortunately discovered a few problems after I purchased it. First, I found that where the rudder cables came out of the hull that the sealant was cracked, and the short cable sheaves were sliding out of the hull and along the cable. I called Rutabaga and they were very helpful in describing how to fix this. It didn't seam like a big problem.
Then when on nice spring day I decided to wash my new kayak and found a small area where the gelcoat was cracked. This was located just under the chine area under the seat. Other than the show room, I hadn't even sat in it yet. Now I am beginning to wonder just what I got myself into. I contacted Rutabaga again with my concern and desire to exchange this boat. To my surprise I received an e-mail from them saying to bring the boat down and that they would take a look at it, and they would try to find a boat to my liking. Which was nice, because I thought I was up the creek with out a paddle. However, I must admit and despite this I still believe that CD has a nice boat design. I still would like to own a Solstice. I'll be taking my kayak down this weekend and afterward will let everyone know how much CD stands behind their warranty.
I finally got to test paddle…
I finally got to test paddle a Solstice GT. I am a big guy, and am looking for a Composite Kayak that I can easily get in and out of, plus will perform with my 270 lb weight. The standard 16" x 31" cockpit opening was snug, but just enough room for me. But I could only test the standard "GT", and the seat side mounting plates pressed hard against my hips. I am told the HV model does have a wider seat. My 270 lb seemed a bit much for this boat, as the dealer thought it sat a bit too low in the water with me in it. He said there was less than 1 inch of hull showing above the water.
Regardless of this, I felt the boat did a super job in the water. I paddled it for about 15 minutes, and it tracked as straight as anyone could ask (without using the rudder), but if I leaned properly, and used sweep strokes, it turned very nicely. If I also use the rudder along with the lean and sweep, it turned tighter than I would have thought.
I then e-mailed the factory, and received a very timely and nice reply. They told me that all 3 current versions of the Solstice have the same hull, so it didn't matter what version I got (Standard, HV, or XL), the hull would sit the same in the water.
BUT.... They sent to me a 2005 Catalog, and for next year they are coming out with a new version of the Solstice named the Solstice "Titan" for bigger guys. It will be the same hull, just deeper to haul more weight. The deck will be the same height as the XL version, but the cockpit opening will be wider and longer, with a bigger seat. It looks very much like by next spring the "perfect big guy boat" will be available to us big guys. I have already told them to send one to my local shop for their Demo Days in the spring! :) It will be a LONG winter waiting for Spring Demo Days!
I have been paddling the…
I have been paddling the Solstice GTHV (glass) for about 8 months. It has been an excellent boat for what I do. It is a fine open water tracker, but a bit of a beast to turn in a wind. Under normal conditions I find it pretty comfortable to maneuver through cypress and do a bit of stump jumping in small tributary bayous. It rolls well enough and has enough primary and secondary stability to allow bird watching, photography and a bit of fishing with no unexpected need for that rolling. Best of all, it is a major junk hauler. I have had it out in heavy weather with cameras, a full sized tripod, camping gear, three dozen decoys and a shotgun. Everything stayed dry and the boat handled fine. I have also used it for week plus trips and found it could swallow all the necessities and quite a few luxuries. I know there are faster boats and more maneiverable boats out there but for my mix of activities, the Solstice GT HV is just about ideal.
Current Designs Solstice GT -…
Current Designs Solstice GT - After several years of longing for a lighter/faster replacement for my poly boat (CD Storm)I elected to go with the Solstice GT in Kevlar. I have evaluated dozens of different glass boats and really liked the Cape Horn, Tempest and especially liked the CD Gulfstream. Did I mention that I'm a pretty big guy at 6' 1"/ 250lbs. Getting in and out, comfort on long rides (> 4 hours)and ease of use putting the boat on the car etc. were my primary considerations. The solstice is a 10 in each catagory. When you add the ability to accelerate and paddle faster than I have ever paddled before with greater ease for longer periods of time it's just frosting on the cake. It is a bit slow turning but that's not a major concern of mine. Probably the best compromise of stability and speed in a high performance boat on the market today. I hope to enjoy it for many years to come. PS - I chose the Solstice over the Gulfstream since I still consider myself to be an intermediate and want the ability to drop the rudder in following seas. The secondary stability of the Solstice leaves the Gulfstream in the dust (at my experience level) giving a great feeling of confidence in bad conditions.
PS/PS If you are big -try the GT before opting for the GT High Volume or even the XT. I'm not sure why it is but the GT handles like a completely different boat, much more satisfying in my opinion.
I have had my GT/HV Kevlar…
I have had my GT/HV Kevlar for four years now and have only one complaint; the seat-back, but that's why outfitting foam is made. I have 2 other kayaks & have paddled many boats, and feel the Solstice to be a good turning boat. Size is relative to everything. At 6'1" & 240 pounds this boat feels nimble to me. I find the boat easy to edge and secondary stability very good. The quality of craftsmanship is impeccable. The only reason I didn't score it a 10 was the seat back. Overall it's a great handling and very seaworthy craft; always my first choice of all my boats!
I have had my Solstice GT for…
I have had my Solstice GT for two seasons and I agree with the majority opinion here- beautifully made, fast for its volume, very stiff tracking, a beast to turn. It can be edged to improve turning, but in a training class this summer with folks in a variety of boats, the wide turning radius compared with others was obvious. Still, for travelling, the comfort, stability, volume, and easy of paddling is the trade-off. I paddled 150 miles on the Hudson- Albany-NYC last summer and was pleased with the comfort, the speed and enjoyed the downwind surfing. I almost never use the rudder. As one who has owned a series of volvo 240 wagons, I see the solstice as the volvo wagon of sea kayaks. I have a 2000 model with the black plastic rear hatch. The newer ones have the flush rear hatch which is cooler. Mine leaked due to a defective gasket, but CD sent me a replacement.
I have a new fiberglass…
I have a new fiberglass Solstice GT. The tracking on this boat is excellent. Fit for me is good at 5'10, 175#. Overall workmanship is very good. I guess the only thing I have any issue with is the rear hatch. I'd prefer it was wider then its current 8.5 inches or so. This makes it a little harder to get larger dry bags into, although, I can pack all my camping equipment, a couple spare changes of clothing, and food for a few days in it.
For an intermediate to advance touring paddler, I would recommend any of the boats in the Solstice series. I wouldn't be afraid to put a rank beginner in a GT either. The boat has a good balance of initial and secondary stability and is easy to master. The Solstice series is a pleasant combination of workmanship and eye appeal.
Yes, outstanding tracking and…
Yes, outstanding tracking and very good stability... a beautiful kevlar boat.
As a quality control aviation…
As a quality control aviation inspector, I would consider the GT. to be extremly well made and worth every penny invested. The sleek lines are pure art.... Well Done!
Have had a Solstice GT HV in…
Have had a Solstice GT HV in fiberglass for a year now and feel qualified to submit an evaluation. Tracking is very good, but the price you pay is a bit of work to turn in a swell or good chop. I usually drop the rudder to help. Remember, all boats are compromises, if you want the excellent tracking, you will sacrifice some maneuverability. Waves seem to roll under and around the hull, instilling confidence in an intermediate paddler. I paddle in Long Island Sound in all types of conditions and the boat seems to instill confidence. The seat is so-so, but the cockpit is adequate for the long haul. To make this a perfect boat in my opinion, would be to offer a skeg option and a day hatch. I would buy another in kevlar.
I would echo all of the…
I would echo all of the comments previously made. This is a well built, highly stable boat that tracks well and handles the beam waves well (or as well as I am willing to let it). Beginning in 2000, several problems with this boat were fixed -- specifically the system for raising and lowering the rudder. Yet, this boat does suffer from certain annoyances. There is no simple tie-down for the rudder to facilitate transportation. This could be done so easily. The rudder pedals have no bungee system so that they do not slip around. I went out today for the first paddle of the year -- yeah! I had to spend time reaching under the deck so that I could push the right pedal back down (it had crept up). The fiberglass, while a work of art, really does scratch too easily.
Yet, this is a great boat. Isn't it strange how my two favorite boats are Current Designs (the Solstice and the Gulfstream)? This speaks volumes about the quality here. A good boat -- consider it seriously.
Solstice GTH...high volume is…
Solstice GTH...high volume is the key for big guys...room for feet and butt! Solstice, like other Current Designs tracks very well, yet I found it to be responsive as well. An option for big paddler is to see about having the cockpit made without thigh braces....longer legged paddlers won't need them, can use the underside of cockpit. With a few modifications, this will be the next "big guys" boat that is also sleek!
2/98 to 01/01. Solstice GTHV.…
2/98 to 01/01. Solstice GTHV. I paddled many touring boats before purchase. My no. 1 criteria was comfort....I found I could sit in this thing for 8 straight and still stand up...I'm 5'10" 210 lbs. 10 for 10 on comfort. Criteria no. 2 was Tracking...even in big wind only a lean necessary. Bungee cord on the rudder...a real pain, but I seldom need the rudder since tracking is soooo good! Carrying toggles need to be placed off the bow so when you're trying to beach this thing by the nose in nasty surf it doesn't twist your arm off! Let it thrash without trashing my arm! Nice dry ride...esp. in the high volume. A great boat!
My Solstice GT is the…
My Solstice GT is the standard model. Construction quality is excellent. Recently in a trip in the Straight of Georgia it handled 1 metre + seas with no difficulty and a surprisingly dry ride. The downwind surfing is great. Tracking is very good, you need the rudder to turn especially when there is a beam wind. Cons: The front hatch could be bigger or a different shape. The bungee rudder control is a pain (CD has a new rudder design out). I modified mine to pull up, pull down.
I have owned the Solstice GT…
I have owned the Solstice GT in Kevlar for two years. The boat tracks great and has good storage. The workmanship is second to none. Two thumbs up.
Had the opportunity to paddle…
Had the opportunity to paddle a Solstice GT on a trip on the west side of Vancouver Island. The craft was extremely stable in 3-4 ft. swells and handled and tracked extremely well in chop during open channel crossings. Overall a very stable kayak for beginners or intermediate paddlers. The only fault I could find was the kayak's narrow bow design for retrieving and packing gear. This problem might be over come with the (HV) models.
I bought a Kevlar GT after…
I bought a Kevlar GT after paddling lots of demos. Outstanding workmanship-you can tell they really care about building a great boat. Tracks straight as an arrow without the rudder even in big waves. At 6' 200lbs I find it very comfortable for 3-6 hour paddles. Overall, you will be proud to own a GT.
Good hull speed, strong…
Good hull speed, strong tracking. To turn requires the rudder if water is flat. Handles surfing in following seas very well, speeds can get faster than you'd believe. Excellent workmanship, fit and finish. Plenty of space for a 6/3" 240 lb male.
I paddled the Solstice GT…
I paddled the Solstice GT quite a few times while shopping for a boat, in various conditions (Baja and The Puget Sound). The boat tracks well and you can pack a lot of stuff in those hatches. However, the Solstice can be a dog when you try and turn it, especially in choppy/windy conditions but I found this to be beneficial when paddling to that distant aiming point on the far shore! The bungee rudder control is annoying and some times I required the help of a paddling partner to engage or disengage the rudder. For me (165lbs 5'10" male) the seat was uncomfortable over long distances and would I probably replace the seat if I ever purchased a Solstice. Not a bad boat, but not great.
Paddled a Fiberglass Solstice…
Paddled a Fiberglass Solstice GT for 8 years as my first kayak. Tracks beautifully, is moderately fast, easy to pack for trips, and a beautiful design and well made. Durable boat, comfortable, and easy and fun to paddle.
Like paddling a work of art.…
Like paddling a work of art. Workmanship is supurb. Very stable and easy to control for an intermediate paddler.