Why Canoe those Canadian Rivers?
Some years ago, a man called to chat with me about a canoe trip in Canada that I was leading for the Science Museum of Minnesota. He said he'd love to go but was put off by the high price. I told him that most of the fee was for float planes that we had chartered. He gasped when I told him the price for ten of us was just under 14,000 dollars!
"Really, Cliff, I can go to the Boundary Waters for next to nothing. Are those Canadian rivers really that much prettier than the BWCA?"
"Yes and no," I replied. "Certainly, some of the falls are more spectacular than what you'll see in the Boundary Waters, but overall, I wouldn't say that Canadian routes are all that much prettier. In fact, some routes can be pretty drab."
"So what's the big attraction?" he asked.
At this, I began a dissertation that lasted for nearly 30 minutes. In a nut-shell, my six points:


1. Remoteness
Being alone and on your own--is perhaps the biggest draw. You seldom see another canoe. Once, I paddled for 31 days in the Arctic and never saw another soul. There is no help available if you mess up so you must rely on practiced skills and good judgment to save the day. There are few second chances so you learn to paddle well, practice conservative judgment and modify your gear to better meet the challenges.
2. The fishing is phenomenal
Not just the huge size, but the action. For example, on one trip to Hudson Bay, we stopped below a waterfalls to fish for brook trout. Our crew of ten caught over 100 near-record brook trout in just 30 minutes. No one, not even me (I'm a terrible fisherman!) cast more than twice to catch a fish. On several occasions, I had two fish on my line at once - the bigger one gulping down the little one! This is common on remote northern rivers. Really!

3. Challenging rapids
If you love the rush of moving water, you'll love northern rivers because canoeable rapids often run for miles not yards. Those who lack whitewater skills should stay away because there aren't many northern routes that don't include some rapids. And unlike rapids in the Boundary Waters, there are no marked or maintained portages. Often, you must choose between rugged miles of bushwacking and carefully canoeable rapids. The good news is that with instruction, anyone can learn basic whitewater skills in a weekend. After that, it's just practice. Yes, good judgment takes time, but once you know the basics you'll advance faster than you think.
4. Camping flexibility
You can camp where you like and stay as long as you wish. After all, no one but you is competing for campsites. Firewood is everywhere and easily gathered. No need to split big logs to make a cheery campfire.
5. The wildlife
The first time you stand among thousands of caribou, go head-to-head with muskox or watch a grizzly high-tail it across the tundra, you'll "know" why you came north! Once a seal came up to my canoe and touched my paddle with his nose. On another occasion, I stroked the back of a swimming caribou with my paddle. What a rush!

6. The social experience
There's more to canoeing a wild northern river than good fishing, wildlife encounters, challenging rapids and remoteness. You meet indigenous people, many of whom still live largely off the land. You will ride on float planes, trains and charter boats, talk to native people who may not speak English. If you're lucky, you may be invited to their home for a caribou or Arctic char dinner. It's all part of the northern experience.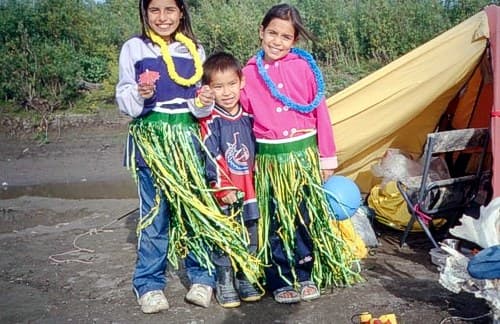 Yes, canoeing northern rivers is expensive, and it gets more pricey every year. And yes, you do need practiced whitewater skills to get safely downstream. You also need a tolerance for bugs and bad weather, plus superior camping skills. But if you love canoeing and camping as much as me, and are willing to learn, a wild northern river should be high on your bucket list.
Cliff Jacobson is a professional canoe guide and outfitter for the Science Museum of Minnesota, a wilderness canoeing consultant, and the author of more than a dozen top-selling books on camping and canoeing.