The thin blue line that winds irregularly across your topo map suggests a wild Canadian river -- no picnic tables, fire grates or intersecting roads. To get there, you'll have to charter a float plane!
Questions? How do I locate an air service? What planes are available and what do they cost? Must I pay cash or can I use a credit card? How many flights will I need to ferry everyone and everything to the river?
Relax -- it's easy to charter a float plane. All you need is a telephone and money!
WHERE TO BEGIN Everyone is on the Internet now: just type "charter float planes" (or specify the state or province) and you'll be deluged with choices. Or, write or call the tourist bureau in the state province of your interest and request a list of charter companies. Might as well get a road map, list of motels and documented canoe routes. Everything's free.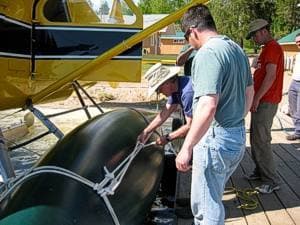 Phone or fax (charter outfits are often slow in answering mail) the air company(s) that service the area in which you plan to canoe. Explain your needs and ask the dispatcher to compute costs -- including "canoe tie-on fees" (about $100/canoe) and taxes.
FLOAT PLANE FACTS
Cessna 185: Pay load* = 800 pounds. Accommodates two passengers and lightweight gear and (maybe!) one canoe on the floats. In some provinces, it's illegal to carry external loads on C-185's, though some pilots do it anyway. In Alaska, it's illegal to carry any canoe on the pontoons. If you're going to Alaska, you'd best discover folding canoes. Get a commitment in writing before you charter a 185!
Dehaviland Beaver: Pay load = 1200 pounds. Confidently carries one canoe (on the floats) two passengers and a month's gear. Can access smaller lakes than most other bush planes.
Single otter: Pay load = 2400 pounds. Easily carries four passengers and excess gear, plus two canoes on the floats. Some pilots will carry only one canoe at a time, which doubles flight costs!
Twin otter: Pay load = 2600 pounds. Six canoeists and three canoes (you must remove the carrying yokes) up to 18-feet long will fit inside the cockpit. The "twin" is the safest and least expensive float plane for a party of six.
*Pay loads decrease considerably with a canoe on board.
COMMIT IN WRITING
Book your flight with a letter of commitment that restates the facts. If you're arranging a July flight in January, ask if the company will hold their quoted price against fare increases. They may do so if you agree to pay in cash or certified check and/or provide a non-refundable deposit. Generally, charter air companies love paddlers because, unlike their bread-and-butter clients, (who usually take at least a month to pay), canoeists pay in full before they board the aircraft!
TIPS
Mileage (costs) is computed "round trip" from the float plane base, so you'll get the best deal if you start and end your trip where the aircraft is located.
Specify the hour you wish to fly. If you don't, you may be backlogged in favor of a more expensive charter. You may be backlogged anyway, but you won't succeed if you don't try.
Ask about "split fares". Another crew may be ending their trip where you are starting. Can you coordinate flights? If so, everyone will save money. Most charter companies are very honest about this.
Help the pilot load your outfit. Be sure that everything for a given canoe team accompanies them on the same airplane. Hand carry your life jacket, maps and camera.
Bring some extra cord: pilots tend to misplace the short ropes which are used for tying the ends of canoes to cleats on the pontoons. Not all pilots tie down the ends. I won't fly with the ones who don't.
You must remove the carrying yokes in order to nest canoes inside one another (twin otter only). Bring tools to remove the yokes.
A present for the flight dispatcher may prompt premier service. Two six-packs of American beer or a fifth of Yankee bourbon is a polite tradition.
Be where you're supposed to be when you're supposed to be. If you're not, you will pay for an extra flight!
If you've never chartered a float plane, you may balk at the high price. Indeed, even a short flight may rival the cost of a round-trip jet to Paris! Nonetheless, when you consider the small pilot /passenger ratio, and the fact that you decide where and when to fly, it's a fair deal.
The average Canadian bush plane is decades old. Better ride one now before they disappear, like the wild rivers we love to canoe.
Cliff Jacobson is a professional canoe guide and outfitter for the Science Museum of Minnesota, a wilderness canoeing consultant, and the author of more than a dozen top-selling books on camping and canoeing. www.cliffcanoe.com