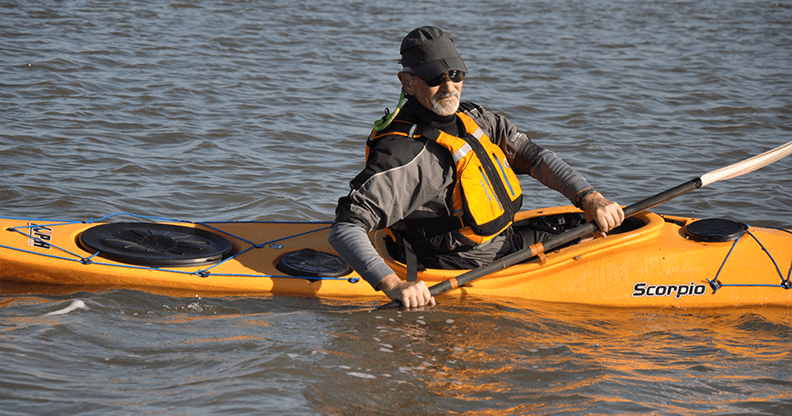 Personal Flotation Devices only work if you wear them.
In challenging weather and water conditions, most people make a good decision to wear their PFD. There are other times when their judgement may not be so clear. Let's examine a scenario that's all too common.
You have a brilliant midsummer's day with air temperatures in the low 80's, water in the high 60's and winds are a steady 10-15 knots offshore. It's such a fantastic day to take a solo paddle that you are working on your tan with your PFD securely stowed on deck within reach.
You decide to cross a bay from point to point and at midpoint you are only 1 mile from the nearest land….seems like a good bet. It's glorious…you are absolutely blissed out. You reach for your camera behind your seat and inadvertently capsize. Okay, you practiced wet exits before, but not had one unexpectedly.
When this occurs your body will react quickly to push that boat off your backside as quickly and far as possible. You surface 10 feet away from your kayak, sans PFD, and watch in surprise as it blows away from you at about 10 miles an hour. Well, no one can swim that fast. Your kayak just blew away from you and away from land…offshore wind.
Can you swim a mile?
Comfort Features in a PFD
A PFD needs to be comfortable to be worn. These are comfort features to look for:

Large arm holes for easy movement. Avoid abrasive seams that can rub you the wrong way.
Adjustable shoulders…we don't all have the same torso length and many PFD's have easy adjustments that take up the slack.
A cutaway section at the back to avoid interference with your seat back.
Softer, thinner flotation foam in the top of the front to fit the way people are shaped…both men and women.
Check out the PFDs Gear Guide and read PFD Reviews >>
Some other functional features to look for:

Easy to reach adjustments
Tow belt attachments
Reinforced stitching in wear areas like shoulders
Attachments for rescue knives and pockets for flares or snacks
Keeping it Functional
You've probably seen people in some amazing looking PFD's….festooned with rescue knife, tow rig, radio, numerous pyrotechnic devices, energy bars, emergency pack, instruction manual…stuff only Rambo could dream of. Bear in mind that while all that great stuff could have emergency uses in big open water situations, it may not float as well (if at all) and it will get in your way when you are trying to crawl out of the water back into your boat during rescues. Don't let your rescue gear kill you.
You should select a PFD that fits you so comfortably that it doesn't get in your way. Try it on before you buy it and adjust for the way you paddle…sit in a boat with it. Can you get it tight enough that it doesn't ride up if you push up on the shoulders with your thumbs? Can you shorten the torso enough that the bottom doesn't get stuck against your seat back? Be sure your vest works well with the skirt that you are used to using also. Can you reach all of the adjustments yourself? You should be able to move your paddle and your torso with no inhibitions caused by the PFD. It should be so comfy that you'll forget you have it on. There are plenty of great PFD choices available right now. Price? Considering what this product is for, why worry about that?
Michael Gray is still alive because of his PFD…twice that he's sure of. He is also owner of Uncommon Adventures, a kayak instruction and tour company based in Michigan.