You can't do good work without the right tools. A paddle that's too long is awkward, while one that is too short is inefficient. You don't determine paddle length by a "nose to toes" or "arm span" measurement. Overall length depends on the height of your canoe seat, whether you to sit or kneel (or do both), and how you prefer to paddle (sit's switch or classic Canadian). It also depends upon the kind of water you paddle (calm lakes, big waves, technical rapids) and the responsiveness of your canoe. It's not rocket science but there are some loose rules: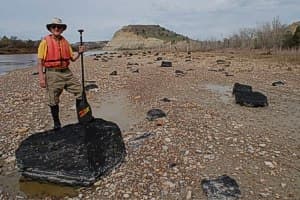 To Size a paddle with your canoe:
Set your canoe in the water and climb aboard.
Measure the distance from your chin (height of top grip) to the water. That's the shaft length.
To this add the length of the blade (20-25 inches, depending on paddle style).
That's the correct paddle length for you. Note that the overall length of the paddle is in part programmed by the blade length.
To determine paddle length without a canoe:
Stack up some books to equal the height of your canoe seat.
Sit down and measure from the floor to your chin. This would be the correct shaft length if your canoe rode on top of the water.
Decrease the measured shaft length by an amount equal to the expected draft of your canoe (usually about three inches for the typical touring boat).

Bent paddles can be an inch or two shorter; whitewater sticks may be somewhat longer.
Add an inch or two to this measurement if you prefer to kneel in your canoe.
Sit-down paddlers should start with the formula measurement.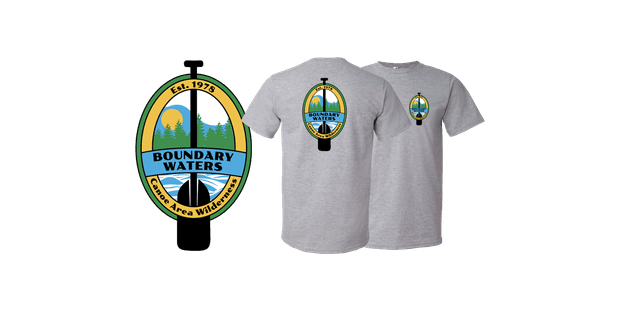 ~Get the BWCAW Tee~
With over 1,090,000 acres of wilderness area, the BWCAW is a paddler's paradise.
SOME THINGS TO THINK ABOUT
A loaded canoe sits lower in the water than an empty canoe, so technically, you should use a shorter paddle. But unless you own a shed full of different length paddles - and can magically switch them with changing loads - best size your paddle with the lightest load you plan to carry - which means go slightly longer rather than short.
The formula emphasizes straight-ahead efficiency, as when switching sides (no steering strokes) to maintain the course. But you sacrifice "reach" with a short paddle, so you lose power and stability in the turns and braces. Unless you are racing/fast cruising, the formula measurement generally results in a paddle that is too short for all-round use.
You'll want a longer paddle than recommended if you commonly steer your canoe (J, pitch, solo-C) rather than switch sides to stay on track. Why? Because greater reach provides more "blade time in the water" and thus, easier, more efficient steering.
You may also prefer a longer paddle if you commonly run big waves. Crest on a high roller and a short stick may not reach the water!
A bent-shaft paddle should be about two inches shorter overall than your straight paddle.
Consider "canoe response" when you pick a paddle.
For example, a highly-rockered canoe that pivots on a penny is easily turned with a short paddle. But a straight-keeled canoe will turn better if you use a longer paddle that has more reach (and in-water time).
When you take all the above into consideration, maybe it IS rocket science!
My preference:
The formula says that I should use a 54 inch straight paddle (52 inch bent) in my high volume Dagger Venture-17 canoe. But I prefer a 56-inch straight and a 54-inch bent.
Formula length for my Kevlar Bell Yellowstone Solo, is 52 and 50 inches. I prefer 57 and 54. Why the big difference? Because longer paddles provide greater power and control and more effortless steering (solo-C stroke). And when I'm running the YS in a rocky rapid where quick turns mean missing rocks, a longer paddle saves the day.
Cliff Jacobson is a professional canoe guide and outfitter for the Science Museum of Minnesota, a wilderness canoeing consultant, and the author of more than a dozen top-selling books on camping and canoeing. Visit his website at: www.cliffcanoe.com