It doesn't take a rocket scientist to figure out that strapping a 14 to 18 foot canoe to the roof of your car can be a real recipe for disaster.
Upside Down

To start with, your canoe should always be transported upside down and you really need to have a good set of solid racks. And this generally doesn't mean that you can rely on the factory installed ones that come with your vehicle. The best systems come from manufacturers like Thule that have racks to fit virtually any vehicle. They even make specific pieces for transporting a canoe.
Foam Pads

A more economical option is to use foam pad racks. These foam pads attach to your gunnels and sit directly on the roof of your car. The down side to foam racks is they won't protect your vehicle nearly as well as a good set of racks will. And it makes it harder for a single person to load a canoe.
Solo Loading

Loading a canoe with two people is a breeze, assuming that you can already do a tandem lift. But loading a canoe on your own is a different story. Standing between a canoe and your vehicle, perform a solo canoe lift from near the bow seat to lift the bow in the air while keeping the stern on the ground. You'll then swing the bow over your vehicle and place it on the rear rack bar in a stable position. You'll then lift the stern and push the canoe onto the vehicle until it's centered on both the front and rear rack.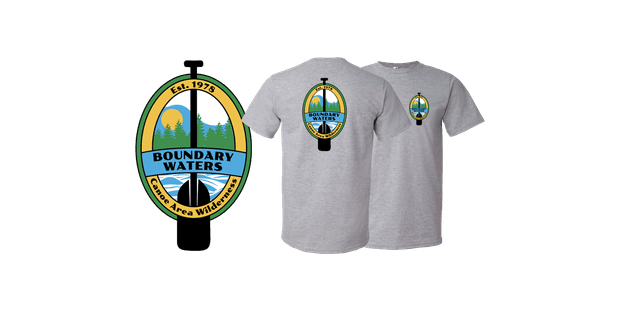 ~Get the BWCAW Tee~
With over 1,090,000 acres of wilderness area, the BWCAW is a paddler's paradise.
Tie-Down

To tie the canoe to the vehicle you'll want to use four 12-foot straps with cam buckels. Two of the straps will go across the hull of the canoe and secure the canoe to the roof rack. The two remaining straps will secure the two ends of the canoe to the frame or to the bumpers of the vehicle.
If you're using foam pad racks, the two center straps will hold the canoe to the roof of your vehicle by passing right through the interior of your car with the doors open.