Canoeing & Kayaking Near Chicago
Paddling Locations Near Chicago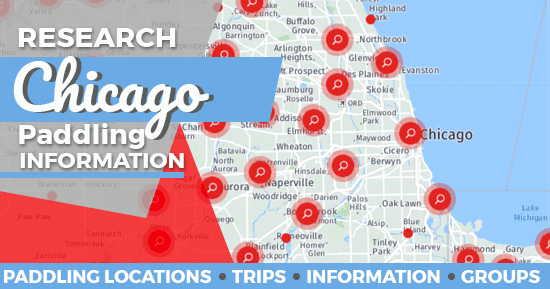 All of our chicago paddling locations are from paddlers like you. Search thousands of put-in and take-out locations on our locations map!
Guide to Kayaking Near Chicago
Looking to canoe, kayak, or paddle the Windy City? Look no further. Read from your fellow kayakers who've shared their favorite paddling locations, tips, and tricks along Chicago nearby destinations such as:
Lake Michigan
Chicago River
Skokie Lagoons
Chicago Harbor
Des Plaines River
Read on for guides to planning your own paddling trip to Chicago, seeking out an outfitted trip, connecting with other Chicago paddlers, and many other resources!

Plan a Paddling Trip to Chicago
Over the years, many of our paddlers have paddled near Chicago and were so generous to share their paddling experiences with us in a community trip report. Read a few examples of Chicago community trip reports or view all Chicago community trips below:
Have you paddled near Chicago? Post Your Trip and share with the community!
Articles About Chicago Paddling
The Great Lakes: A Little Slice of the Sea
Deep in the heart of North America, surrounded by forest and field, there is an ocean. A vast inland sea containing nearly a quarter of the world's fresh water — enough to flood the lower 48 states to a depth of almost ten feet — the Great Lakes contain upwards of 35,000 islands, and their 10,000 miles of shore rival that of the US ocean coastlines.
Connect With Paddlers Near Chicago
Looking to connect with other paddlers near Chicago? Below are a number of resources to help get you started:
Other Resources
The Chicago Area has many great spots to Canoe & kayak with great views of the Windy City!