Paddling is an activity enjoyed throughout the world. It remains the best way to see some of the world's most beautiful locations, both near and far. Best of all, paddling can be a very budget-friendly activity, unlike other water activities like SCUBA diving and sailing. In fact, with the right planning, you can visit some of the most incredible paddling locations on the planet on a pretty tight budget.
The key to an affordable trip to a paddling paradise is knowing where and when to go to guarantee an incredible trip at a favorable price point. Sure, some affordable and fantastic paddling locations are likely within driving distance of your home. But for a truly mind-blowing vacation, you might want to consider visiting a faraway land you may have never considered visiting.
If you are looking for a perfect budget-friendly paddling destination, consider countries in Southeast Asia, including Vietnam's Ha Long Bay and the islands in Southern Thailand. If a trip to Europe is what you desire, consider Slovenia, Portugal, or Montenegro. If you want to visit a tropical island but have a limited budget, consider a road trip to Key Largo, Florida.
1. Ha Long Bay, Vietnam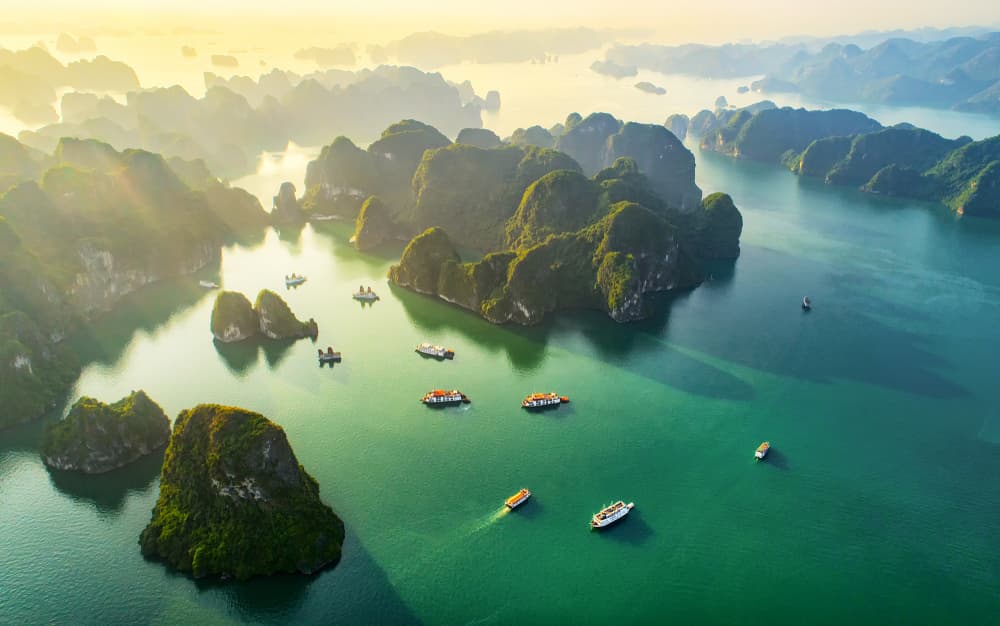 Vietnam is a beautiful country with some truly magical bodies of water in the world for paddling. All this water is surrounded by other-worldly landscapes. There is no place more exemplary of this than Ha Long Bay. Located just two and a half hours from the country's lively capital city, Hanoi, Ha Long is a Bay so beautiful that photo of it often looks fake, or somehow enhanced.
This bay is a UNESCO World Heritage site, and one look at it and there is no question why it is so fiercely protected. Endless limestone cliffed islands rise out of the still emerald waters, creating an aquatic playground for paddling lovers. You can find secret beaches, caves, and natural arches you can paddle under. You can stay in the town of Ha Long, one of its islands, or even on a houseboat if you want 24/7 access to this wonderland.
When To Visit: The best time for a budget-minded paddler to visit Ha Long Bay, Vietnam is either early Spring (March and April) or in the Fall (September and October). This is when the weather is dry, pleasant, and warm.
Why This Is A Great Budget-Friendly Paddling Destination: While the flights can sometimes be long and pricey, if you are diligent, you can find reasonably priced flights. Vietnam remains one of the cheapest and most beautiful places in Southeast Asia to visit. You can find comfortable and conveniently located accommodations for less than $30, and luxury hotels for not much more than this.
2. Southern Thailand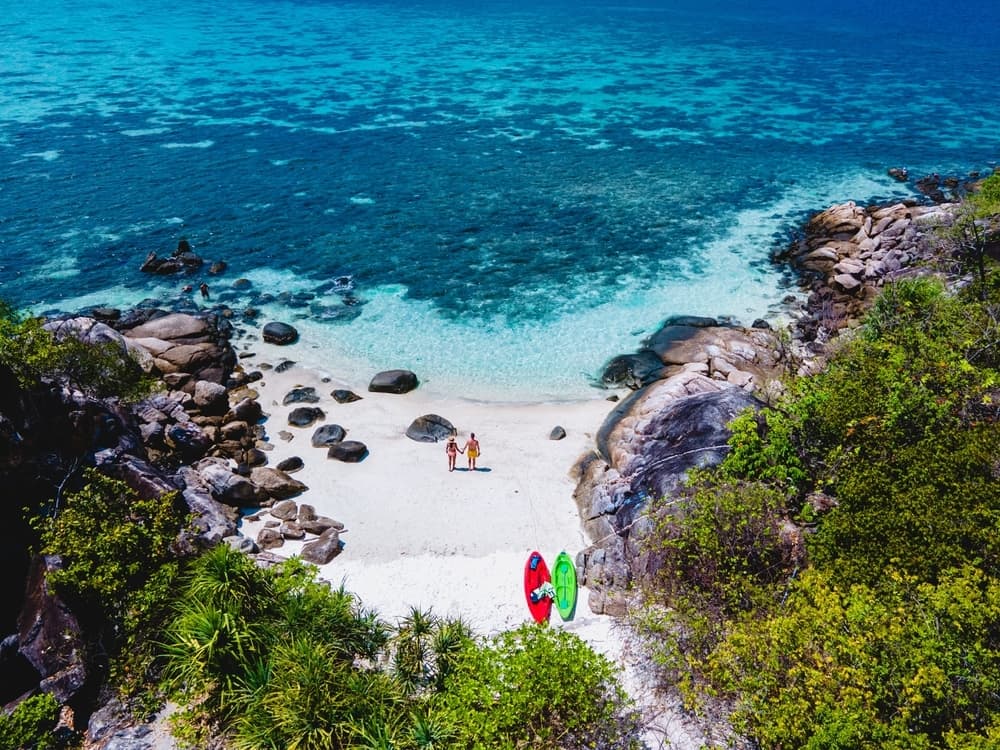 Southern Thailand is a wildly popular budget-friendly travel destination. Its picturesque beaches have been featured in many iconic Hollywood films, including "The Beach" and in the "James Bond" movie franchise. There is so much to do and explore in this region, but paddling remains one of the best ways to enjoy a trip to Southern Thailand.
There are endless islands with affordable oceanfront resorts and budget-friendly hotels, but you can also stay in larger towns with more action. These paddling and activity hubs include Phuket, Krabi, and Koh Samui. You can easily rent kayaks at many stunning beaches, and you can also take some great guided island-hopping tours, and trips into mangrove forests. Some highlights include the mangroves and stunning cliff islands of Krabi, Phan Nga Bay, and James Bond Island.
When To Visit: While people visit Thailand throughout the year, the best weather is known to occur between November and mid-April. This is when there is less rain and slightly lower temperatures.
Why This Is A Great Budget-Friendly Paddling Destination: Accommodations are very affordable in Thailand. Flights are usually the only major expense, but if you track flight prices you can save hundreds of dollars by buying at the right time and in advance. Hotels can be found in top paddling areas for less than $30 per night, making Thailand a very affordable tropical paddling destination.
3. Soča and Kortinica Rivers, Slovenia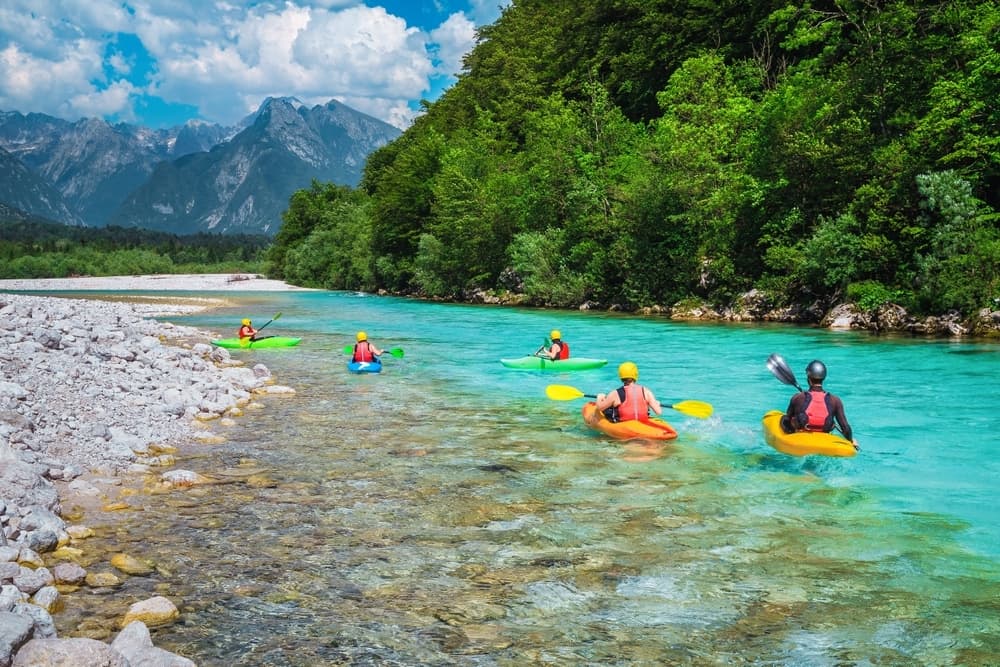 Slovenia might not top most people's list of places to visit in Europe, but if you are a paddling lover it should be. The Soča and Kortinica Rivers in Slovenia offer some of the bluest and most intriguing paddling opportunities in all of Europe. Best of all, accommodations and incidentals in Slovenia can be half the price of other European destinations.
The Soča Valley is perhaps the most beautiful body of water in this country. It is known for its mind-blowing clear water that flows along densely wooded forests, canyons, waterfalls, and challenging white water rapids. Its emerald waters are what make this river one of the most beautiful and Europe, and its varying conditions make it one of the most rivers to paddle.
There are other fantastic rivers in this country to paddle as well, including the 10-mile-long Kortinica River, and Kolpa River. In addition to kayak and white water adventures, there are trout in these clean rivers that attract anglers and paddlers who also love fishing.
When To Visit: The best time to visit Slovenia is from early May through late October. These months have the best weather for paddling. Spring offers stunning flowers, while Fall offers some great foliage, with summer having the warmest weather for paddling and swimming.
Why This Is A Great Budget-Friendly Paddling Destination: Slovenia is more affordable than other European regions with impressive regions like France and Switzerland. It has reasonably priced accommodations, especially if you book in advance and visit during the spring or fall months.
4. Costa Rica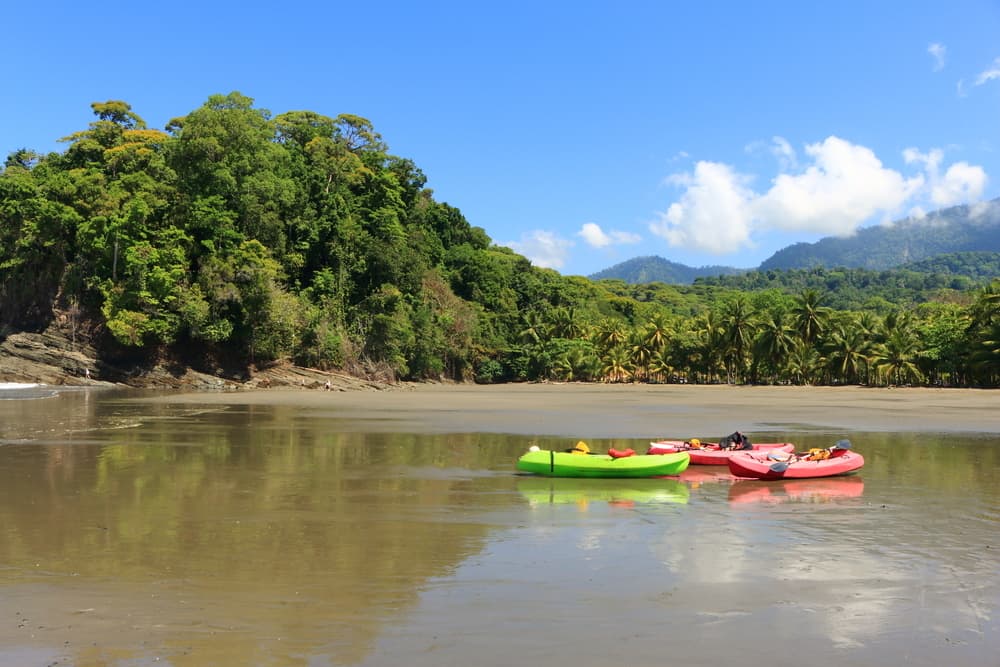 Central America has some incredible lush jungles, wild rivers, and picturesque coves. Costa Rica is arguably the best example of this paddling paradise, and it is also a very tourist-friendly country. Costa Rica has a wild Pacific Coast and a more placid Gulf Coast, ideal for various forms of paddling. There are also several freshwater areas, including Tortuguero National Park, Rio Frio, and other wetlands you can explore by kayak and canoe.
Costa Rica is filled with outdoor adventure and is a fantastic place for eco-tourism. It is a bit pricier than some of its other Central American neighbors, but it is still very affordable.
When To Visit: Costa Rica is beautiful throughout the year but is hotter in the summer. Hurricane season here is between June and the end of October when strong weather and high humidity are common.
Why This Is A Great Budget-Friendly Paddling Destination: Costa Rica is a jungle paradise, and it has many budget-friendly accommodations. There are also several direct flights to Costa Rica, which makes it one of the few affordable tropical destinations you can visit without spending too much on airfare.
5. Bay of Kotor, Montenegro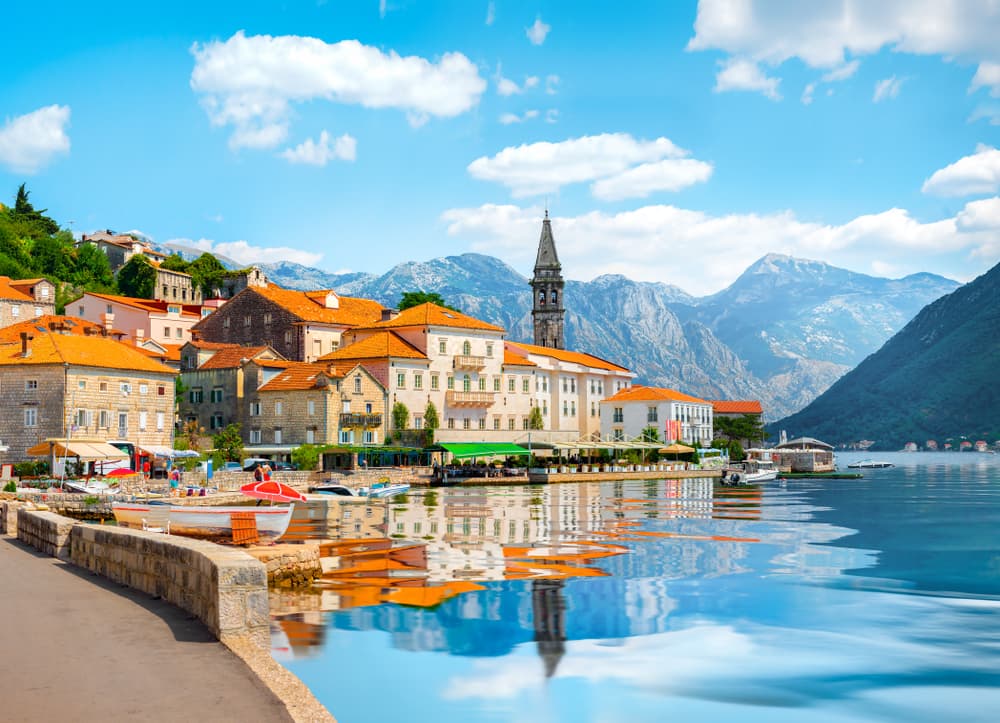 In the last few years, Croatia has quickly become a very popular European destination, and in turn, prices there have risen and many of its top destinations are saturated with tourists throughout the summer. But just south of Croatia sits the equally enchanting country of Montenegro.
The jewel of this country is The Bay of Kotor. Here, several of the most picturesque villages in the country are nestled along its shores and crawl up into the limestone cliffs that line this bay. There is the beautiful and well-preserved walled city of Kotor, the charming town of Perast, and the newer luxury town of Tivat.
Regardless of where you stay, any of these towns allow you access to the crystal-clear waters of this bay. Kayak rentals are easy to find. You can take an affordable organized kayak trip to the Blue Lagoon or one of the several islands that sit within this bay. All of this at a fraction of the price of a trip to neighboring Croatia, if you plan it right.
When To Visit: The best time to visit Montenegro is May through early June, or the month of September, when businesses are open but crowds are minimal. Prices are also usually a bit lower. Montenegro experiences all four seasons, so it is best to avoid the colder months when many businesses are closed and the temperatures drop.
Why This Is A Great Budget-Friendly Paddling Destination: It is a beautiful country with some great bodies of water, including the Bay of Kotor and the Adriatic Sea. But it does not currently have the international appeal of Croatia, Italy, or The Greek Islands. In turn, prices here are more affordable.

6. Portugal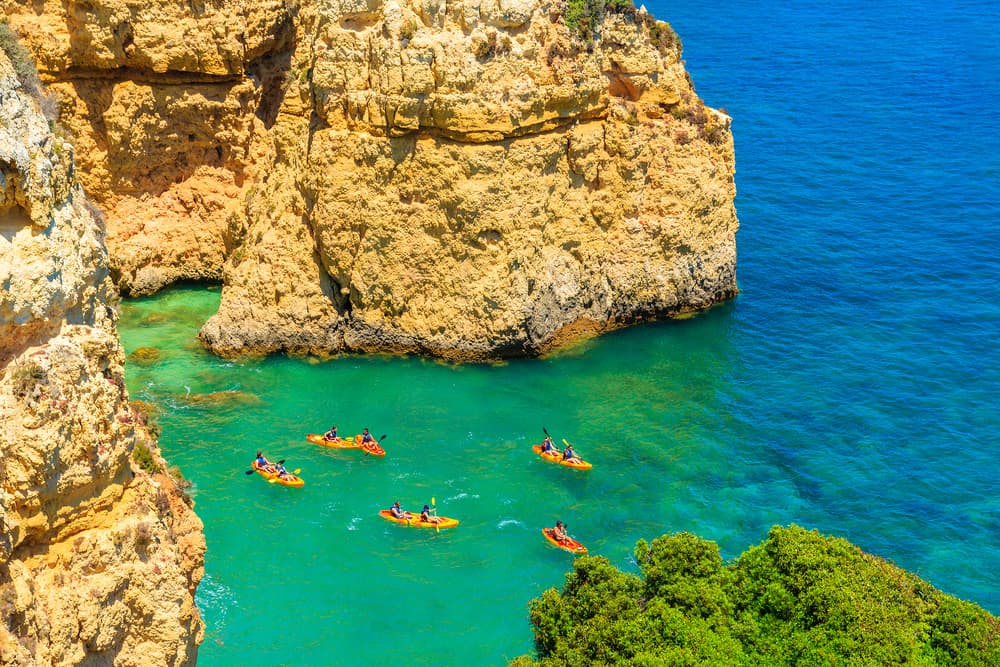 Portugal remains one of the most affordable Western Europe countries to visit. Its capital city Lisbon offers incredible food and culture, and the northern hub of Porto is a hip and captivatingly beautiful city. In the South, there are some of the most beautiful beaches in Europe, and all over this country, there are incredible places to paddle.
The paddling opportunities are so varied here. You can paddle along the Douro River along the famous Port facilities and the imposing city of Porto. Or you can explore the stunning tropical-looking grottos in the southern Lagos region. Regardless of what type of paddling adventure you are looking for, you can probably find it in Portugal.
When To Visit: For budget-friendly prices, it is best to visit Portugal during the shoulder seasons, between late April and the end of May, and early September and late October. These months see pleasant weather and fewer crowds.
Why This Is A Great Budget-Friendly Paddling Destination: Portugal is a fantastic affordable paddling destination, especially for those looking to visit Western Europe. It is close to Spain and France, but it is much easier to find affordable accommodations in Portugal. There are also some very stunning bodies of water here.
7. Key Largo, Florida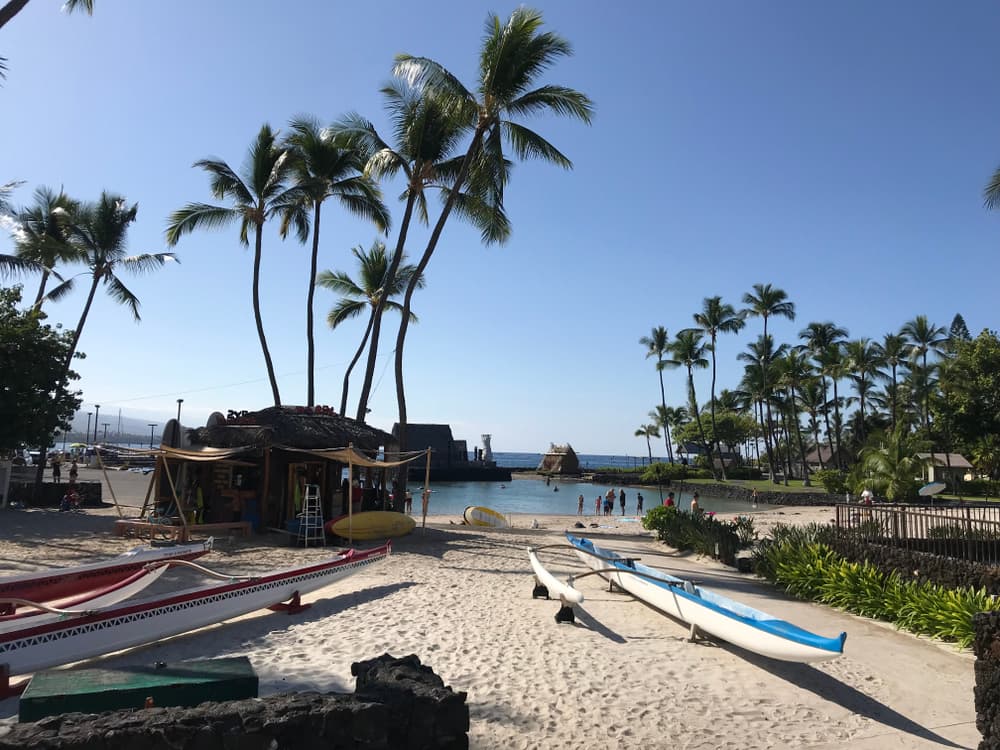 If you are looking for a slice of paradise on a budget, and don't mind a road trip, then Key Largo is an ideal budget-friendly paddling destination for anyone in North America. Key Largo is the largest of the Florida Keyes, and there is so much to do and see here. Paddling here is bucket-list-worthy, as there are some incredible mangrove mazes, as well as some of the most impressive coral reefs in the entire United States at John Pennekamp Coral Reef State Park.
The Florida Keyes are budget-friendly because you don't need to take a plane to get here, and if you plan it right, you can find reasonably-priced accommodations. There are tons of campgrounds here, and if you book early you can get a great deal. There are also affordable places to stay in nearby Homestead Florida or south of Miami.
When To Visit: Key Largo is a popular year-round destination, but it is best in the Fall through Spring. Hurricane season here is between June and the end of October, and high temperatures and thunderstorms are common in these months. Fall and winter months have reliably more pleasant weather, but accommodations book up quickly - especially budget-friendly campgrounds.
Why This Is A Great Budget-Friendly Paddling Destination: It has the beauty of the Caribbean, but you don't need to purchase a plane ticket to get here. You can pack your camping gear and kayak equipment, which will save you on rentals.
8. Cartagena, Colombia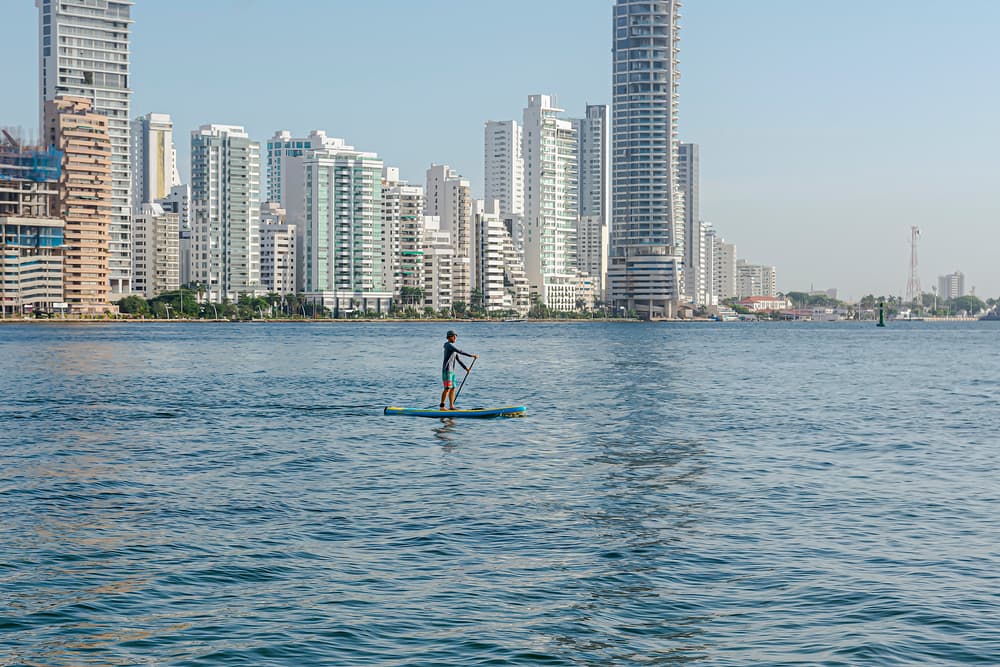 Colombia has grown significantly in popularity as an international travel destination. The country has become notably safer than it was previously, and with so much beauty at an affordable price, many have chosen to flock to its vibrant cities. Cartagena is perhaps the pinnacle of these cities, as it has old-world Spanish charm with lots of vibrant Colombian culture and adventure. It is also surrounded by various bodies of water, making Cartagena an ideal budget-friendly paddling destination in South America.
There are various beaches that are great for SUP boarding, as well as nearby islands and rivers you can explore on a kayak by renting one or taking a guided tour. This is a great way to see some less-touristy parts of this lively Colombian city.
When To Visit: The best time to visit Cartagena is between December and April, when temperatures are warm but there is less precipitation. The rainy season lasts from May through November.
Why This Is A Great Budget-Friendly Paddling Destination: Cartagena is a great city beach destination, and accommodations here cost a fraction of what they do in the United States. Kayak rentals and tours are also significantly cheaper here.