Paddling is an adventure no matter where you set out from. It's the desire to know what's around the next bend or hidden deep within a canyon that keeps us paddling onward into the unknown. Much of the pleasure that paddling offers involves that thrill of the unexpected. Still, it sure helps when you pick a good spot, and there sure are some great ones. In fact, you will be hard pressed to find a kayak, canoe or SUP lover who doesn't have a running tally of iconic locations around the globe that he or she is dying to experience.
While each person is bound to make his or her own unique bucket list that caters to the person's intrigue, there are some places that should be on everyone's list. From the arctic circle to Antarctica, and the wondrous world of the Amazon to the blissful white sand of Pacific tropical archipelagos, here is our list of the ultimate paddling destinations around the world for those in pursuit of the most rewarding adventures that a paddle can take them.
Top 13 Dream Destinations for Paddlers
Napali Coast, Kauai, HI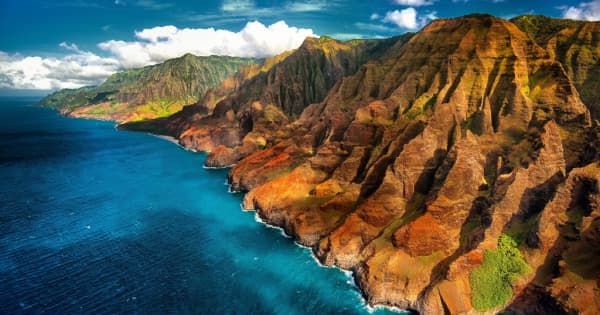 The Nepali Coast National Park on Kauai's North Shore is one of the world's most beautiful stretches of coastline, albeit a physically demanding one. Its lush cliff's and cascading waterfalls have been featured in some of Hollywood's most iconic movie scenes from "Jurassic Park" to "The Pirates Of The Caribbean" franchise. This 17 mile kayak excursion ends in an overnight camp at the secluded and breathtaking Kalalau beach. Kayaking is the preferred way to get to this stunning camping locale, as it sure beats lugging your gear on the rugged muddy Kalalau Trail. Just be sure to have a reliable dry bag for your phone and camera so you can capture all its beauty.
It is perhaps the most beautiful area in all the Hawaiian islands, but because there are no roads along the dramatic ridge line, it still remains mostly quiet, other than an occasional helicopter tour flying above. This paddle is best in the summer when waters are flat and days are less rain. Kayaking is impossible in the later fall through spring as waves grow giant and far too dangerous to paddle.
See more paddling trips in Hawaii >>
Halong Bay, Vietnam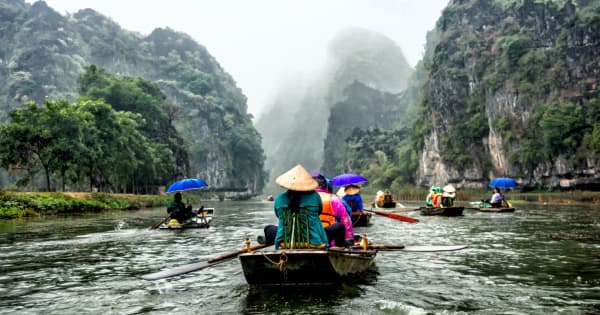 Paddling in Halong Bay can make you feel as though you have left the planet Earth and entered some sort of fairytale dimension. Halong Bay is Located in the Gulf of Tonkin, in Northeast Vietnam, and with its protected calm emerald green waters and 1,600 islands that stand tall like prehistoric statues among endless inlets and hidden caves, Halong Bay is a true paddling paradise.
Paddle out early and watch as the fog lifts to reveal the surreal and imposing island formations that tower out of the water throughout this bay. Swim, snorkel explore the bay before paddling ashore and engulfing yourself in the rich culture (and cuisine) in this picturesque Vietnamese land.

Amazon River, South America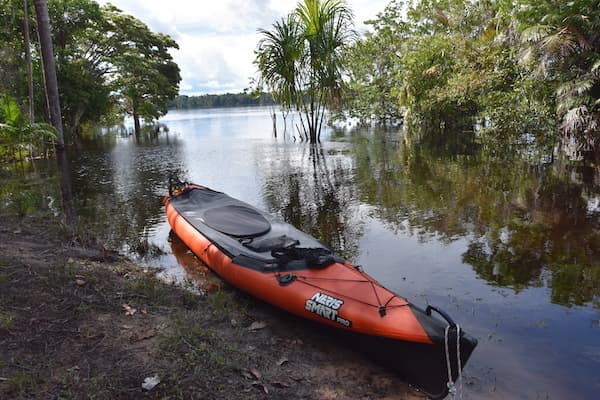 You can't have a paddling bucket list and leave out Earth's most grand and important river - the Amazon. The Amazon river stretches its fingers through a total of 8 South American countries, and helps feed the largest rainforest in the world. So choosing where to embark on your journey is a real create-your-own adventure. Brazil and Ecuador being the most popular places for tours, but no matter which country you go with, you will be rewarded with once in a lifetime adventure.
Paddling a section of the Amazon is an adventure paddler's dream. From the rare and endangered species that make the river basin home to the relatively untouched tribal villages that have lived off the land for centuries, an Amazon River tour by paddle is a truly eye opening and sacred excursion.


Abel Tasman National Park, New Zealand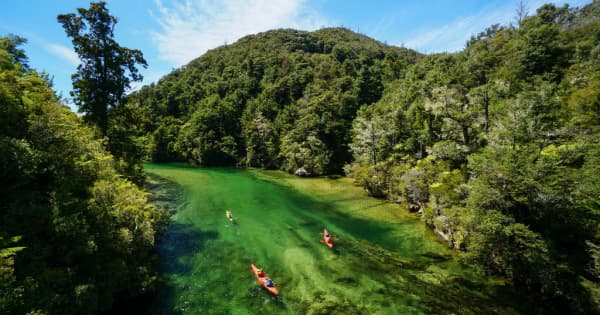 New Zealand is renowned for its pristine and wild nature. From its tropical islands and Maori culture to its raging waterfalls and intimidating and majestic fjords, it's no wonder why adventure and nature junkies flock here. While there are many reasons for an avid paddler to make the long flight to New Zealand (including Milford Sound and Bay of Islands), no place is higher on the New Zealand paddling bucket list than Abel Tasman National Park.
From its lush native Forests to the golden sand beaches that welcome you in after a long day of paddling on the vibrant turquoise water, Abel Tasman is a dream come true for sea kayak enthusiasts. The best part is you can adjust your adventures to your liking. You can go on a variety of day trips with the family, or take a more secluded multi-day camping paddle around this lush and untouched gem.

Chilean Patagonia, Chile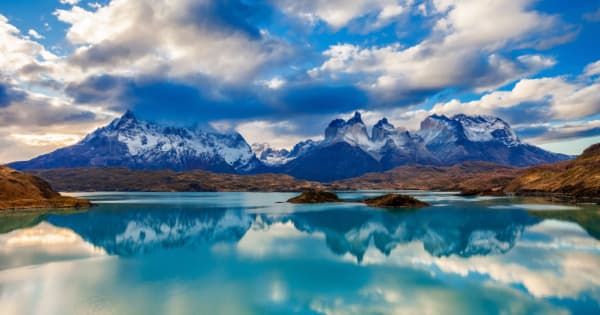 If you daydream of adventure and keep a bucket list, then Patagonia is surely near the top of your list. Patagonia is a genuine playground for the adventure buff. There are incredible opportunities for hiking, glacier trekking and mountain climbing, but paddling its lakes and rivers is one of the best ways to capture the grandeur of this untouched wilderness.

While both Argentinian and Chilean Patagonia both offer incredible paddling, Chilean Patagonia wins out thanks to its Lagos region and the ever-popular Torres Del Paine National Park. Add kayaking to your backpack camping adventure at Torres Del Paine to get the most out of Patagonia's most sought after destination. Patagonia weather can be notoriously unpredictable and windy, so pack accordingly.
Blue River and The Fjords Of Greenland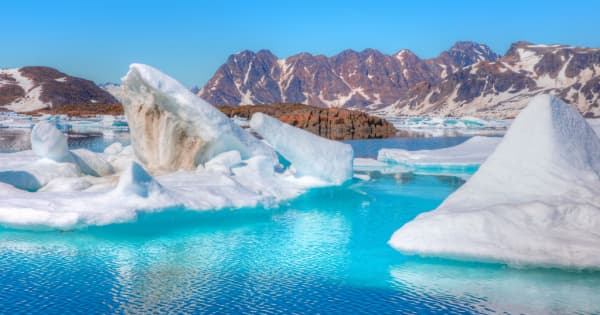 Kayaking was invented by the Inuit Tribe in North America's Arctic, and a paddling trip in Greenland will help you understand why it thrived in the Arctic North. Greenland is a lesser-traveled but often-photographed paddling destination. Its Blue River is a gorgeous sapphire river that bends in a serpentine motion through a contrasting white glacier. There is no other paddling experience that offers such arctic beauty in the world.
Once you finish the turns and bends of the Blue River, paddle around one of Greenland's many gorgeous fjords. Greenland is a giant expanse of ice land and water bodies, but is sparsely populated, and offers an isolated and enchanting experience all within the reaches of North America.
The Maldives Archipelago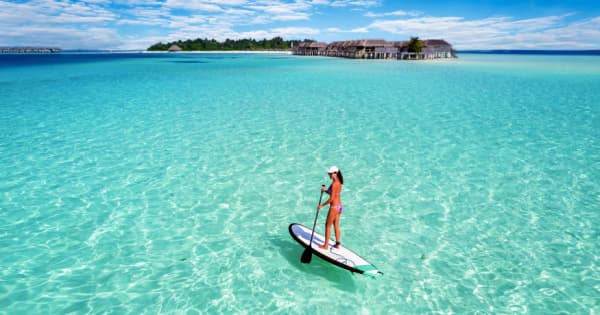 Not all paddling bucket list items need to be long arduous adventures into the unforgiving wild. Sometimes the best paddling is in a serene paradise, where your only worry is deciding which frozen cocktail you will order at the swamp bar later on. Enter the Maldives archipelago, a tranquil island nation in the Indian Ocean.
The Maldives might not have wild rivers and mountainous fjords, but it doesn't need them. It has some of the most stunning beaches in the world, and endless protected waters to SUP board, kayak or canoe in. When you get too warm you can jump into the perfectly refreshing waters and see the exotic underwater life living beneath the surface. Maldives is perhaps the ultimate relaxation (or honeymoon) destination for those who love to paddle.
Okavango Delta, Botswana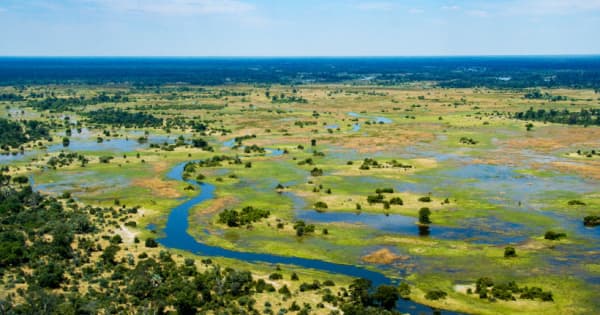 Do you like your paddling adventures with a side of safari? You're in luck! Botswana's Okavango delta is one of the best places in Africa to go on Safari. And best of all - you can even safari it in a boat. There are a variety of group paddling excursions that take you deep into the heart of the Okavango delta in a kayak or canoe with the help (and safety) of a guide.
Paddling the Okavango gives you a rare opportunity to have an up close look at what it's like for animals in this Delta region that is rich in wildlife. From day paddles to overnight adventures, follow your guide as you survey your surroundings to spot elephants, hippos and even lions in your boat.
Antarctica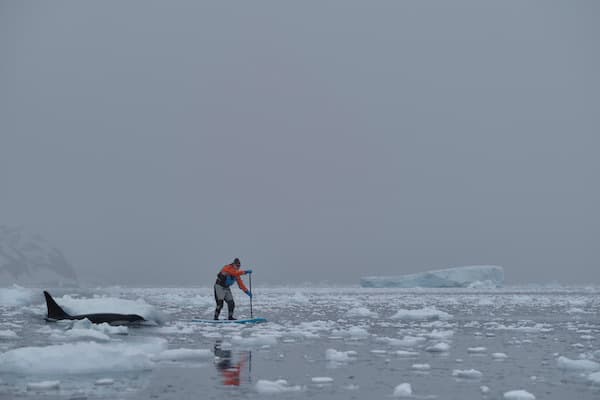 If you are an avid traveler who has checked dozens of countries off your bucket list, you may have realized there is one country (also a continent), that you don't just visit by accident, and is instead an adventure just to get to. That place? Antarctica. Sure, Antarctica is certainly the most difficult continent to reach, and arguably the most expensive, but no bucket list is complete without a trip to Antarctica.
Just setting foot and viewing Antarctica can feel like an accomplishment, but to make the most of this trek to the deep southern continent, you really need to paddle to Antarctic waters. Taking a guided kayak tour around hidden glacial bends as penguins and seals zoom by just underneath you is an experience you will cherish forever.
Geirangerfjorden Norway Fjords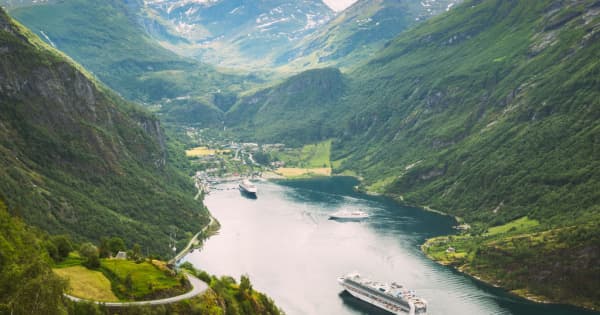 A UNESCO World Heritage site, and often regarded as the most beautiful fjords in the world, the Geirangerfjorden fjords are a sight to behold, and best seen by paddling your own boat. Paddling on your own is a great way to experience how small you feel in relation to the towering beauty of Norway's most iconic vistas. It certainly beats the often-busy tour boats.
You may also consider joining in on a guided kayak adventure, where the guide can teach you all about the fjords as you paddle up close into some harder to reach areas. Regardless of how you approach this paddle adventure, it is one that absolutely belongs on your bucket list.
Galapagos Islands, Ecuador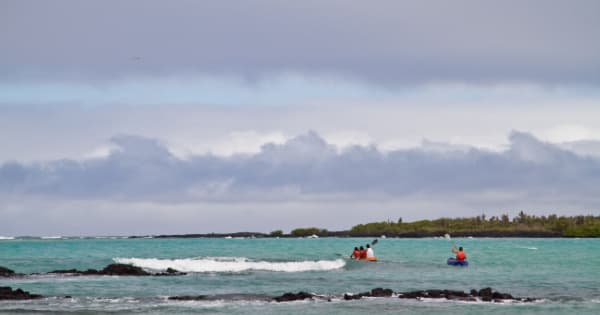 Another place that should make its way towards the top of every nature lover's bucket list is the Galapagos Islands. The Giant Tortoises, Darwin's Finches and the lands and creatures that inspired the essential finding in "The Origin Of Species'' are just a couple of the many reasons to visit this archipelago 600 miles off the coast of Mainland Ecuador. This island chain has many wildlife viewing opportunities, but to truly get the most of your Galapagos bucket list trip, you need to paddle out.
Traveling on a compact kayak will allow you a more intimate look at the coves and hidden nooks along the Galapagos' jagged coastline, which motor boats can't access. Don't forget to bring along your snorkel and fins to swim among the sea turtles and all sorts of other unique sea creatures found in this natural sanctuary.
The Soča And Kirtinica Rivers, Slovenia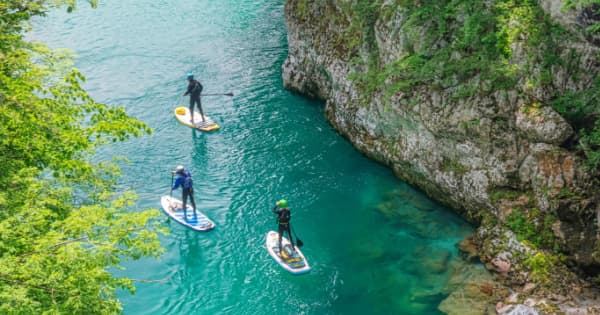 Slovenia might not be a country on everyone's radar, let alone bucket list, but it should be. In addition to its rich history, lovely nature and hiking trails, a trip to Slovenia is worth it even if all you do is paddle down the Soča River. Its waters are such a clean and clear emerald they almost don't look real.
Additionally, this river, and the equally stunning Kirtinca River, have all sorts of paddling opportunities. From tranquil waters ideal for beginner paddlers and kayaking anglers all the way to challenging white water rapids that only the most skilled should brave, this Slovenian gem is truly a paddlers paradise.
Sea Of Cortez, Mexico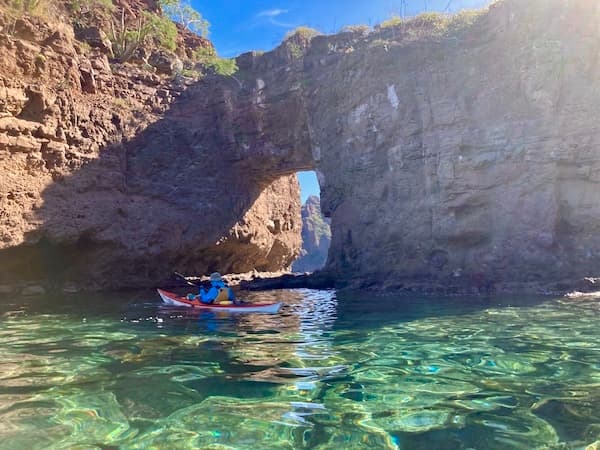 The Sea Of Cortez is an unbeatable place for an extended and relaxing paddling vacation. The lands that encompass the sea are vast and diverse, with desert cliffs, storybook secluded golden sand beaches and dramatic cliffs. There are also tiny islands sprinkled along the way that beg to be explored and inlets only kayaks can reach.
There is also a plethora of wildlife. From manta rays to sea lions, the Sea of Cortez has it all. Even the world's largest mammal, the blue whale, makes this protected sea a temporary home in the winter. You can take an organized kayak adventure that involves camping, glamping or even luxury accommodations to make this paddling adventure one for the books.
Tom Gaffey is a travel writer and author who first discovered his love of paddling at his grandparent's lake house in Massachusetts, where he could be found canoeing endlessly. As an adult he fell in love with SUP boarding while living on Oahu's North Shore. He also loves exploring in a kayak around some of his favorite places in the world, like Puerto Rico, Montenegro and the hidden shores of Oaxaca.