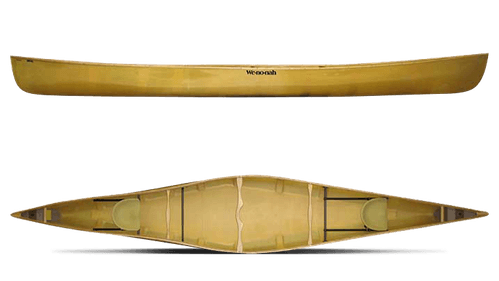 Itasca Options
Itasca Description
The Itasca is a tandem performance touring canoe that's built to carry expedition gear through wind and waves. This long, seaworthy hull tracks superbly, carries loads and glides far. It's the right boat for extreme exploring, coastal touring and week long adventures. The wide midsection of the Itsaca's 19-foot hull allows for big loads, yet makes paddling easy because the sides curve in at the gunwales to allow an easy reach to the water. The standard wood gunwales add strength and beauty to this unique design.
Read and submit reviews for the Itasca.
Itasca Specs and Features
Structure: Rigid / Hard Shell
Seating Configuration: Solo, Tandem
Ideal Paddler Size: Average Adult
Skill Level: Intermediate, Advanced
Ideal Paddler Size: Average Adult
Skill Level: Intermediate, Advanced
Read reviews for the Itasca by Wenonah Canoe, Inc. as submitted by your fellow paddlers. All of the reviews are created and written by paddlers like you, so be sure to submit your own review and be part of the community!
This is our family tripping…
This is our family tripping canoe, giving us confidence in big water that with other canoes we didn't feel; the higher bow rides over waves with ease, and the tumble design seems to keep more water out when paddling waves. Still a decently fast canoe in calmer water as well. Capable of large loads; estimate 700+ lbs is typical for us with 2 adults, 1 child, 2 medium- large dogs, and 2-3 large Duluth packs. And no, we don't feel clumsy or overloaded with this; there's still plenty of freeboard as well.
We (both almost 60 now) have…
We (both almost 60 now) have had our ultra-light Itasca for quite a few years now (can't remember how long it's been) & I've loved it right from the start. My wife, dog & I have used it for 2-week trips & for day-paddling on everything from smallish rivers to large lakes. Haven't used it moose hunting yet but imagine it would be totally suitable. It's plenty fast & still turns easily (reminds me of a "prospector").
Good all-around canoe in my opinion. No, make that a great all-around canoe. The first thing I did after buying it was plug the screw holes in the outwales with exotic wood. All the wood gets varnished about every second year.
What a fantastic canoe! Don't know why Wenonah pigeon-holes it all by itself as an "expedition canoe". Thank-you Gene Jensen for this beauty
Thought it was about time to…
Thought it was about time to write a review on our Itasca. You know, before the 08 season gets into play. We've had it for almost 3 years. We have 16 or 17 canoes & kayaks. We've paddled many more. We like wilderness expedition, but rarely get the opportunity. We've paddled most western states, & some areas in Canada.
Together my wife & I weigh over 400 lbs, & I stand over 6 feet. My wife, a few inches less. Our kids were raised in the bow of our Moore Venom Racer (nursing while I paddled). We've done our minimalist camping, but enjoy good meals & simple frills, so we don't always pack light. Also, I'm an amateur outdoor photographer, with equipment weighing nearly 100 lbs. on photo ops.
We shopped a long time for our next "Perfect" canoe. It had to have leg room, be big enough for ocean, carry weeks of supplies, track well, and glide like a bird. Eventually we narrowed our search down to 4 different canoes and settled on the Kevlar Flex-Core w/ Gel Coat Itasca. Shortly after, I injured my arm. I was unable to paddle for over a year. I still can't paddle a double blade, or match the racing strokes I used to love, but as a result, the maiden voyage of the Itasca was more than just a test of my passion…it defined our new canoe.
In high winds, and from the bow, my wife paddled a 9 mi. round trip in one day, & kept up with most of the rest in our group. After I was able to paddle again, we were victims of an intentional swamping prank. We rode quartering waves over 5 ft. from crest to trough & never went over. We did take on a small amount of water & the bow free-fell to the bottom with a slap, but we were still able to assist a flipped kayak suffering the same prank immediately after.
Insight & tips. This is a remarkable canoe. It instantly became our favorite. We ordered it with the Kevlar skid pads. Unlike after market installations, these are installed in the mold prior to laminating. There is NO additional drag. We got sliding/contoured seats, & a rear foot brace. After reading about wind problems, I was going to make a canoe cover. Not possible with my injury, so I called Wenonah. They told me: "Load extra ballast." An old trick we've used to trim out canoes for decades. But this required a lot of ballast & was soon abandoned. Our solution was a couple of $35.00 car top bags from Pep Boys. Empty or loaded, these shed the wind like a raincoat to rain, & give us a great & secure way to load the vessel. Speed is unholy for a touring canoe. It will never compete against a true racer, but for a tandem touring canoe it's heaven.
Maneuvering was supposed to be a problem. After 20+ years in a marathon racer, it was no big deal. We use many of the same strokes the racer needs, & we can turn it on a dime in an instant. And the glide…it has a Gene Jensen glide. Need I say more. To launch, I just shove off & jump in. Initial stability is shamefully similar to a…er…uh…recreational…uh…floatie thing, but the secondary is so good you almost can't find its limits. Get a light color, it hides the scratches better. Would be nice if Wenonah would offer pre-finished gunwale options for an additional price. It took me weeks to finish ours left handed.
The price was high, but worth it. Are there other great canoes out there? No doubt. So the down side would be this: I'll probably never have a desire to find out. Feel free to e-mail me if you have any questions. Vern Matthews, keep your bottom wet!
P.S: I rate a canoe or kayak by how well they meet up to their advertised expectations. I won't rate one based on improper applications (e.g. whitewater use on a recreational canoe, unless it functions well even when not used as intended). So a 10 does an incredible job doing exactly what it was designed to do. If I could, I'd rate this one an 11. I never thought flatwater touring could go to this level!
I've had my Ultra Light…
I've had my Ultra Light Kevlar Itasca now for 3 years and I have no reason to complain about its performance, sea worthiness, initial and secondary stableness, and capacity. I have fished from her in lakes, rivers, tidal bodies of water (estuaries), and even the Chesapeake Bay. Now the next level of canoeing that I want to put my Itasca through is sailing! The sailing rig that I have discovered is from Sailboats To Go and I believe with the design of the Itasca and the sailing attachments (doesn't require hardware modifications nor drilling etc..) the Sailing Itasca will be a sight to behold and a thrill to experience! When I'm up and running I'll post here with comments and related subjects.
Itasca, kevelar flex-core in…
Itasca, kevelar flex-core in white, is the most beautifully formed canoe I've paddled -- it's work of art. On the Mississippi River in December a strong south wind and 60 degrees was prducing incipient white caps and occasional sets of monsters as some of the barges went by. 460 lbs in the boat still made it susceptible to being caught by the strong wind. The Itasca took a rather doomsday looking set of waves that sidelinged a double outboard 6+ foot beam, 20+ foot long work boat with three well life jackets guys in it; the waves made it look like it was going under. Through this same unbelievable set of waves (a set of rock dikes was funneling the wind on the low river), the Itasca pasted perfectly dry. "What a wild ride" my 23 year old son observed as the Itasca slpped down from the occasional wave that put the bow in the air. That a canoe could go through this stuff, was astounding to me. After the work boat relaunched from the sand bar, they stopped to see if we were doing OK; we replied that we were OK, but I thought that I was more worried about them in their aluminum barge-like jon boat. Will never go out on the River on a day like that again as our planned 5 hour run took 9, but it didn't bother the Itasca. Once the River turned away from the wind directiont and the daylight disappeared, the Mighty Miss was placid as the Great White Itasca, conqueror of the Father of Waters, cruised the last hour undaunted, unknelled, and alone through the heart of the darkness into our home port of the Cape. An extraordinary boat for epic floats is the Itasca.
My suggestion would be to get slider seats front and rear. Love that seaworthiness.
Love on first try Our first few tandem canoes were of the ordinary…
Love on first try
Our first few tandem canoes were of the ordinary type: fibreglass, heavy, flat bottom with little rocker and not a hint of a tumblehome (what's that anyway?). We where satisfied. Everybody was using that stuff. So it couldn't be that bad. And because all our friends and fellow paddlers where using the same kind of canoe, mostly made by the same company, we couldn't do any comparison. That changed as our local canoe dealer got a hold on a new dealership. An American company, we hadn't heard of before in Europe:
We-no-nah. Someone joked: We-Know-Nothing… Not true as later found out! I flipped through their catalogue and especially one canoe caught my attention: ITASCA!
I wanted to try that canoe! But of course, it was the most expensive one We-No-Nah made at that time. And of course, our friend and canoe dealer couldn't afford to stock one. So he phoned around. Found one, three hours away at another dealership. Unfortunately, they wouldn't allow us a test ride. Not on the phone, though…
A week later my wife and I visited that dealer. We got our test paddle after all…. I was amazed! The gunnels are pulled inwards at both seats. They are parallel to the keel line at the stern with lots of tumblehome. That accounts for highly effective power strokes without much correction: You tend to do your forward strokes parallel to the gunnels- that of course puts you off course with most canoes…
Not that much tumblehome in the bow (but still more than most canoes), due to the flare Gene gave her there. That accounts for dry runs through high waves. She is 'ocean' going-although I like to see at least one shoreline close by when I'm paddling…
At 19 feet length, Itasca can't be a turning wonder. But empty, with paddlers only, she turns surprisingly easy and fast. Laden, it's another story…. But fast she is-a Gene Jensen design with really sharp entry lines.
We later ordered our first Itasca. The cheapest and heaviest version-71 lbs. Today, my wife and me own our third Itasca. The lightest one they build. 45 lbs-I don't like long portages but her weight certainly helps. So far, she has taken on any load we placed into her wide belly.
Three weeks worth of provisions, two kids, a 100lbs dog, me and my wife - all at the same time. I love her (both of them, this time…).
If you meet us on the water, feel free to ask for a test ride. But be prepared for love on first try…..
I've had my kevlar…
I've had my kevlar ultra-light Itasca for about a year now, and am very pleased with it. It has front & rear sliding seats with all wood trim. I have taken it on camping trips with a week's worth of gear and 2 paddlers over 200 pounds each on a large lake with wind driven waves. It performs flawlessly. I occasionally use a 30 pound thrust electric trolling motor with no problems. I have taken it out on day paddles with my family of 5 (2 adults, 3 children, 1 dog) but haven't family camped with it yet. I'll update this post when I have. I find the boat to have good speed and turns nicely providing it's trimmed properly. The sliding seat option facilitates this vastly.
We had originally test paddled a Minnesota II at a local dealer who recommended the boat to us based on our needs. I had purchased it after paddling it on calm water unloaded with 2 paddlers. We were assured it would be good for our family of 5 + gear. It was a grave error and I contacted We-no-nah who recommended the Itasca. They took the Minnesota back and we bought the Itasca. I can't say enough about We-no-nah's customer service. Finding a manufacturer that stands behind its product is an important buying consideration. If you're looking for a craft capable of large loads, with good speed and predictable manners, then the Itasca is for you.
Some people say that you…
Some people say that you don't need this large a boat unless you are hunting moose. Personally, I take comfort in seeing the 6 inches + of freeboard I have we're fully loaded on a choppy lake. It rides the waves well from all angles and has great glide. My kevlar ultralight was a rental boat for a season so it has aluminum gunnels and built in skid plates (both ends).
We have the Tuf-Weave version…
We have the Tuf-Weave version of the Itasca as our second canoe that we use for camping trips to the backcountry areas of Yellowstone and Grand Teton National Parks. As both of these Parks have huge deep water lakes and high altitude winds resulting in the potential for very large, cold waves we find the seaworthiness of this canoe very reassuring. It also holds all of our normal camping gear for two without sacrificing performance. I have now used it for two summers and can attest that it does handle the very large waves splendidly, and seems just as manuerable as the 16' canoe we had gotten used to before. At 37" wide it just barely fits on the after market canoe rack system on our Durango -- but it does, so life is good. We are coming to enjoy this canoe very much and appreciate the ease of paddling due to its unique gunwale shape that draw in close to the paddler, and its ability to glide smoothly through the water. The wooden gunwales look sharp and go well with our wooden beavertail paddles. All in all the only downside to this canoe is having a large enough garage or outbuilding to store it in.
We own a kevlar ultra light…
We own a kevlar ultra light Itasca. We load this canoe up with two adults two children (12 and 8) one small dog and a weeks worth of camping gear. We have tripped in the BWCA in all kinds of weather and taken some of the longest, hillyist portages up there. The more we use this boat the more we like it and the more confidence and security we have in it. It has actually become fun to head out on to the lake when conditions get rough. It steers easily in big waves and doesn't have any interest in broaching when you run at angles to the waves. It has the "Gene Jensen glide' and can be hut paddled or J-stroked just fine. The only trouble I have with it is fishing from it solo but then thats not what it is made for! To sum it up I would say this boat hauls the gear and hauls tail!
My wife and I wanted a…
My wife and I wanted a cartopper which would handle a two foot chop and a trol motor. I haul the Itasca on a 1990 VW Golf hich leaves four feet of overhang with a great big red flag. It does everything we wanted. I fish small trout ponds and big lakes in southern New Hampshire, as well as Saco Bay in Maine. The canoe performs very well with an electric trolling motor, but extra weight is needed in a high wind. We are novice paddlers and it is so easy to paddle that that we do not know if our paddles are the correct length or not. We have had calm days this summer on Saco Bay Maine and we travelled several miles out toward the open ocean and enjoyed the company of our friends lounging in a beach chair in this canoe. We can actually accommodate two adults with beach chairs in this canoe and paddle comfortably around Saco Bay. Hats off to Mr. Jensen who both designed and recommended this caddy of canoes for a recently retired 61 year old couple. This winter this Carribean beauty goes to Appalachicola Bay for 90 days of Florida rest and relaxation as we bask in our first year of retirement.
I've bought a kevlar foam…
I've bought a kevlar foam core ultra light design with sliding bucket seats - looks a bit technical in the first moment, but: this canoe is very light, stiff, stable, fast and comfortable to sit in and paddle. The only drawback is the price and that the Itasca doesn't like heavy winds on open waters when empty (just because of its size: You can't beat physics...just put gear or some friends in, and tracking will be very good, when the wind picks up and waves rise - the Itasca loves waves).
In detail: The foam core makes this canoe really stiff, and the moderate arched bottom together with the sleek lines and the length make it fast. When unloaded and trimmed well (sliding seats for paddlers with different weights), it feels like a cruiser and really glides. Initial stability is good, but secondary stability is fantastic. Paddling ergonomy is very good because of lots of tumblehome at the seats, so paddlers can move their paddle very close to them. When searching for an extra big and stable, but fast and light canoe, the Itasca is one of the most serious choices out there. Most Paddlers here rate their canoes high between 8 and 10, so objectivity might not be given, when paddlers write about their own, with hard earned money buyed canoe. But be sure - the Itasca gets 10 of 10 for the purposes it's made.
Rented a stripped down BWCAW…
Rented a stripped down BWCAW version recently. It's a supertanker without a doubt. Had two adults and a teenager in it, plus the food and gear packs. Stability and tracking are unbelievable and it gets better the more it's loaded. Obviously not the most maneuverable canoe on the market, takes some effort to make a tight turn. It kind of reminded me of the ol' family van.
Excellent for long trips with…
Excellent for long trips with lots of gear. It is truly unbelievable what can fit in the Itasca. We have had a Kevkar Itasca now for three years and have taken many 3-4 day trips down the Wisconsin and Mississippi Rivers. We have been in 2' chops on the Mississippi River with gear and it handled it with little problem. We have also had all four members of our family in it on day trips.
This boat is a charm. I just…
This boat is a charm. I just took mine on it's first trip. We had to cross part of a large lake in wind with 2-3 foot waves and the boat was great. The initial stability is good, but the secondary stability is fantastic. I was able to take all of my comfort camping gear and two dogs and I still could have put more into the boat. At 19 feet it is not a speed demon, and it is slow to respond to turns for the first few seconds, but once the bow begins to move one way or another, it carries through the turn just fine. It does take a little more paddling skill to master this boat, but not a whole lot. I bought the composite with a semi-rigid hull. It is a pretty spendy investment, but after experiencing the big waves and hard wind, I am glad that I bought it. Any other boat would have flipped. It is a big boat for big waters and long trips. There is no other like it on the market.