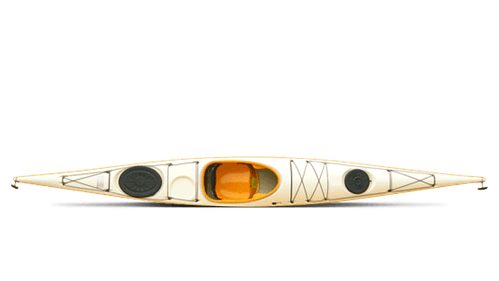 Ikkuma 17 Options
Ikkuma 17 Description
Inspired by the Inuit word for fire, the Ikkuma 17 is a modified Greenland style design that will ignite new energy into your touring adventures! The Ikkuma 17 carries an aggressive chine and moderate rocker that deliver comfortable handling in chop and currents. The deck includes flush fittings, bow and stern Kajak Sport rubber hatches, and Immersion Research LoungeBand seat back. Traditional toggle handles at either end allow for easy lifting, while generous deck bungees allow for secure storage of gear and paddles
With its rod style skeg deployment system and high aspect ratio foiled carbon skeg blade, the Ikkuma 17 delivers a unique blend of control, agility, and speed.
Read and submit reviews for the Ikkuma 17.
Ikkuma 17 Specs and Features
Structure: Rigid / Hard Shell
Cockpit Type: Sit Inside
Seating Configuration: Solo
Ideal Paddler Size: Average Adult, Larger Adult
Skill Level: Intermediate, Advanced
Ideal Paddler Size: Average Adult, Larger Adult
Skill Level: Intermediate, Advanced
Read reviews for the Ikkuma 17 by Seda Paddlesports as submitted by your fellow paddlers. All of the reviews are created and written by paddlers like you, so be sure to submit your own review and be part of the community!
What an awesome boat! I've…
What an awesome boat! I've taken it on lakes, rivers and the open sea, and it handles wind, currents, and waves wonderfully, especially with the skeg down! I have beached it on gravel, run aground in rivers, loaded it with 75 pounds of water for long (150 miles) trips, and it really has performed well. The hard chines are super stable -- I've never capsized in 13 years -- and it's so light I can throw it on my car all by myself. Storage capacity is just barely enough for a week's worth of camping kayaking, but that includes all that water. The seat is super comfortable, and I'm a big guy with a bad back. It looks great too.
A few quibbles: the large hatch cover can be a pain to fully get on -- it needs to be stretched and pushed quite a bit. After 13 years of hard use I am starting to see some hairline cracking on the top and in the plastic seat (which is molded in so can't be replaced as a part). Not sure if that is typical for a boat this age. The skeg can jam once in a while -- you have to pack the back hatch a bit carefully to avoid the cable. That's about it - love the lightness, stability and cargo carrying ability of this boat.
I recently purchased an…
I recently purchased an Ikkuma 17 in the Kevlar layup. Like every paddler, I was look for that "it will do it all" boat. The Ikkuma probably comes as close as anything I've paddled. Its a reasonably fast boat and quickly accelerates from a stop. The hard chines make for solid secondary stability that feels very comfortable on edge. It has a playful feel to it and turns with ease yet tracks beautifully without any tendency to weathercock regardless of wind direction. The deck layout is very practical and the quality of construction is excellent. Its a great "all a rounder."
I purchased one when they…
I purchased one when they first became available in Seattle in 2008. I was lured by the design which I thought was excellent. It is a hard-chined, greenland-style boat that offers excellent initial and secondary stability. I could 'park' the boat on edge and pull off low-brace turns with ease. Rolling was easy enough, but not effortless. Tracking and turning were excellent. Speed was marginal... neither fast nor slow. The overall boat was comfortable, and well thought out. Special touches such as the carbon fiber skeg put the boat in a higher category of quality.... or so I thought.
The fiberglass layup that I received from the factory felt much lighter and thinner than the boat I had demo-ed. On the water, the flat front hull would pound on the waves and it felt like the boat was going to come apart at any minute. There seemed to be something lacking in the quality of the construction... the frame layup was simply too thin. If you are ordering the boat from the factory, I would recommend a heavier lay-up if you plan to do more advanced paddling in rough conditions.
Within three months of use, the cockpit coaming completely blew out. The dealer honored the warranty and had it fixed, but the fit was never quite right after that (the leg bracing is integrated into the coaming). Frustrated, I sold the boat and spent a little extra money in an NDK Romany. I am much happier with my Romany.
Seda's boats are built in Mexico. That is not to say that is a bad thing, but the quality (or perhaps the consistency) was not there.
I am 6' tall, 184 lbs and…
I am 6' tall, 184 lbs and 12.5 size boots. I have 3 years of experience but consider my self a beginner. I had the opportunity of renting an Ikuma 17 at Aqua Adventures in San Diego.
This is a beautiful kayak. Hatches are dry and easy to open. Well done, beautiful design. Nice blend of Greenland and British kayak. Good initial and secondary stability. I never adjusted the back rest but it would have been better to do so.
I didn't roll it but it is very maneuverable yet it also tracks well without wind. It didn't do that well with the head wind in the main channel of Mission Bay. I liked the feel of it and the acceleration. I could compare it with the Explorer I rented a while earlier. It is very light for 17' and easy to get it out of the water alone.
The only draw back was that my feet did not fit. I know that kayaking is a small people sport but with a 17 feet boat I was expecting that my 12.5 feet will be OK. The shop owner suggested I could try different booties to improve my ability in this and other boats. I was wearing wet shoes more proper of sit on tops.
Very nice boat I hope I can make it fit.
We have recently purchased…
We have recently purchased another Ikkuma 17 and so I think it's time for a review.
Background/Experience: 2 years sea kayaking
This is a wonderful kayak. Hatches are dry and easy to open. Deck rigging is well done, deck lines are in all the important spots and bungee lines front and back help attaching 'quick grab' gear. The design of this kayak seems to be a nice blend of Greenland (chines are 'semi hard') and British kayak with confidence boosting initial stability and functional secondary stability for when the waves kick up on the ocean.
The way the kayak feels on the water with its blend of stability it reminds me of NDK Explorer. The difference is that it is much lighter than the NDK boats. Single person can easily carry the kayak to the water. The lightness also means that I would not take it to the 'rock garden' with my skill set because the chances are that it would get banged up badly. But if you don't plan on roughing it up in surf and rock gardens it will perform great for you in good or bad ocean weather.
The kayak seems to be able to accommodate wide gamut of paddler sizes from 140 lbs to 200+ but if you are a wirey body type you might need to add some padding on the hips. The amount of freeboard seems to be high. For the lighter paddler the boat would do better in high winds when loaded with gear. The hatches are generous and will take a lot of gear for extended touring trips.
I haven't rolled it. I don't know how to roll yet. Hopefully by next year I will. The existing chines on this kayak make it very easy to lean and turn the kayak. For the 17 feet it is very maneuverable yet it also tracks well and goes fast. The skeg is awesome.
It is a nice blend of features. Lightweight Kayak, Good tracking, Fast and Maneuverable.
A very unique boat. For me,…
A very unique boat. For me, it is love at first try. I also tried several other boats, including Necky Chathem from 16-19, before and after this one. There is really no comparison. One-word: body hugging. I don't know what the designers did for this boat but they certainly did it just right (for me at least): it is fast AND maneuverable--if you pull up the skeg, it feels like skating on ice when you turn.
Didn't have a chance to try rolling but I was told by the renter the 15 feet model is fun to roll in. I am a mid-level kayaker, 5'9", 175lb, medium size.
The only problem: priced out of my range and there is no used one I can find anywhere. But if I get a fat paycheck one day, I will hang this boat in my garage. Sweeeet.
I've tried a lot of boats,…
I've tried a lot of boats, and I found the Ikkuma to be hands down my favorite, it had a unique amazing mix of good initial stability, extreme maneuverability, and outstanding tracking with skeg down. It was as good or better than all the others I tried in each of these categories.
The Ikkuma is the most maneuverable boat I've paddled, even more maneuverable than the Pachena which is 3 feet shorter. In light winds and relatively flat water it tracks well with skeg up, with any rough conditions I've seen so far (including 3-4 ft swell, confused choppy water, and strong quartering winds), the skeg down gets the boat to track better than anything I've tried. The skeg is a Kevlar foil shape, not just a wedge, and it seems to have very little drag yet gives great tracking.
The boat has excellent acceleration and is quite fast, it's only 21-22 inches wide. However, it feels more stable than you would think, significantly more stable than any of the other narrow boats I tried.
Comfort: excellent. The seat fit me great, the backband is extremely supportive and highly adjustable. My inseam is 35" and I have size 12 shoes, this is about the max to fit. Seda was quite friendly and willing to customize and was happy to mount the foot rails a bit farther forward for me. I would not recommend the boat for anyone much taller than me, although I am relatively slender so you could be a bit wider and still fit comfortably.
Fit and finish: Excellent throughout. Overall fiberglass and paint is beautiful, hatches fit well, deck lines and fittings top notch. I ordered in Kevlar and ho day hatch, spec was 42 lbs. and that's what it came in at.
Reviewer background: 50 years old, 6'3" tall, 195 lbs., active in many sports, kayaking actively for 5 years. I was looking to go from novice-intermediate to more advanced, looking for a boat that increases my skills in adverse conditions and was reasonably tame for touring (few days camping).
Paddling conditions: San Francisco bay and occasional Sierra lakes, ocean swell to 4 feet, often choppy confused seas, large ship wakes, strong winds, although often flat and low winds in sloughs.
Prior to this boat I've paddled a lot in an Eddyline Merlin XT and my wife's Current Designs Pachena DX as well as a Pygmy Osprey (20 ft double). In the last year I investigated a zillion boats on the internet and I tried out a lot of boats from local shops, after trying a lot (CD Solstice, Seda Swift, and others) I focused on Greenland style boats that should handle rougher sea conditions including Current Designs Gulfstream, P&H Quest, Eddyline Fathom, and Necky (forgot the model). Closest boat to the Ikkuma was the CD Gulfstream, but the Ikkuma was a bit more agile, tracked better with the skeg, felt a bit more stable. And for me, the Ikkuma was much more comfortable, the Gulfstream (all of the CD boats I tried) seat pan pinched my hip bones painfully. I would have had to cut some if the fiberglass away.