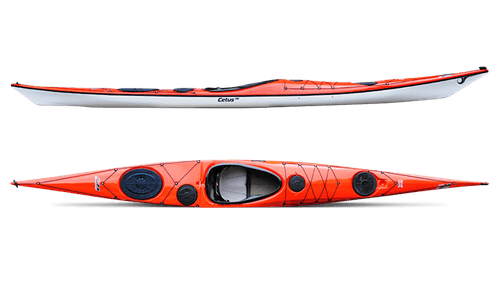 Cetus 178 MV Options
Read and submit reviews for the Cetus 178 MV.
Cetus 178 MV Specs and Features
Structure: Rigid / Hard Shell
Cockpit Type: Sit Inside
Seating Configuration: Solo
Ideal Paddler Size: Average Adult
Skill Level: Intermediate, Advanced
Ideal Paddler Size: Average Adult
Skill Level: Intermediate, Advanced
Read reviews for the Cetus 178 MV by P&H Sea Kayaks as submitted by your fellow paddlers. All of the reviews are created and written by paddlers like you, so be sure to submit your own review and be part of the community!
I' m a recreational kayaker,…
I' m a recreational kayaker, age 62. After years of running, my knees are done, so 2 years ago I started to kayak. For half a year I tried different boats, but was almost immediately convinced when I tried the Cetus. The seat is marvelous. Getting in and out is easy, even with my bad knees. I'm kayaking a Cetus MV for 1,5 year now. My average speed in the Cetus is 7,5 kmh on the canal. On the Northsea, my speed depends too much on the currents and the wind to mention an average speed. I'm extremely happy with my Cetus. I feel very safe in it. It is very stable, and rather easy to turn. Downwind at 4-5 Beaufort, I tend to capsize, but that's due to my poor technique. I'm changing to a Greenland paddle now and hope that will help to stay stable under those conditions. It's a solid boat, perfectly manufactured. The only minus is the weight. With 27 kg, it's quite heavy.
I've put thousands of…
I've put thousands of kilometers on this boat, both in expedition environments as well as day tripping, instructing, and in dynamic waters. Can not suggest this boat highly enough as a tripping kayak. It is beautifully light. Hatches stay on well even during beatdowns in surf. The day hatch tends to sweat a fair deal, so be careful what you store in this hatch. Have redone the hole in the bulkhead to accommodate for this. The pocket-hatch in front of the cockpit is great, stores a VHF radio very easily. Would highly recommend this boat.
The Cetus is maybe the best…
The Cetus is maybe the best overall kayak on the market. It's large enough to pack for extended overnight trips, yet still plenty playful in the rock gardens. It surfs well, especially on large swell. The Cetus is extremely stable in rough water due to the excellent hull design, which is slightly wider just aft of the seat. It's. Very easy to roll! You can't go wrong in a Cetus.
I have had the Cetus about 3…
I have had the Cetus about 3+ months now, and can confidently say it is a pure joy to paddle. At almost 18', it turns easily with a very comfortable edge, and has improved my skills, especially my edging, significantly. Even being a narrow boat, its feels stable, not tippy, and amazingly responsive. Ive noticed the skeg does a great job of combating weathercocking. I upgraded from my Eddyline Journey (and Samba for my wife), and have seen about a 1+ mph improvement, and are just as stable. I am 5'6", about 155 lbs. My wife paddles a Cetus LV, she is 5'1", 150 lbs. I have added some closed cell foam custom thigh braces, and a little foam on the outside knees, and added Harmony hip pads. I do think the factory seat is superb. I took the thin pad off that came from the factory, and added the small 1/2 pad from skwoosh. I also foamed out the bulkhead with closed cell foam, and removed the foot pegs. This setup is very comfortable, yet Im very tight and fit in the boat perfectly. Outfitting with foam is probably the least anyone should do to get the best fit in any boat. The new all rubber hatchecovers stay 100% dry, even while doing rolling practice. As with any boat, I'd advise to store the boat on its side, since even fiberglass can deform and hold a dent if stored in heat and left on a cart, or even on flat ground to a lesser degree (never store in the sun without a cover). There's lots of reviews on the internet with more details of the Cetus, and I agree 110% with them all that the Swedish design is hard to beat. I do 8-12 miles now without tiring out much, and at 61 years young, I need all the help I can get. It's great as a day cruizer, on lakes, oceans, and class 1 rivers, which have all been a joy. I can see that this boat can handle the surf, and can hold a ton of gear if camping. The only negative is that with a fiberglass layup, one has to be careful to stay off the rocks, poly being alot more bomb proof. But a poly boat comes with the added weight and possible less rigidity as a fiberglass boat. I can tell this boat will hold its value, and would make a great second hand boat as well, even after it gets older.
This is a quick review from a…
This is a quick review from a one day rental. So take it with a grain of salt.
I rented a Cetus MV from MEC last August for an overnight trip near Vancouver, BC, for a friend of mines who had never kayaked before. When I pushed and hold the kayak in the water at the put in after slightly loading it, I knew right away my friend was going to have a hard time. This boat was behaving very tippy. My friend ended up capsizing and swimming twice as we made a traverse in moderate 1' chop.
I tried the kayak once at camp and confirmed its tippyness. I rolled it quite easily but did notice a very low primary stability. Again, the kayak was only loaded very slightly, no much ballast. I didn't try to load the boat and repeat the test. Both my friend and I are in the 200 lbs range (90 kg) and athletic types.
All previous reviewers have prized this boat primary stability. They were probably paddling a loaded boat. If you ever plan to paddle this boat only slightly loaded, you may want to prepare yourself for a rather tippy ride if conditions are not flat, which is ok if you are an advanced beginner/intermediate paddler.
I can not judge other important aspects on such a small outing and short time, especially because I did not really paddle the boat other than when briefly checking its stability, so my rating is irrelevant.
I've had a Cetus MV for about…
I've had a Cetus MV for about 9 months. It's a fantastic boat. Well put together and tough. It's lighter than its smaller brother the scorpio (which is a very good thing - the scorpio is painfully heavy) and it feels considerably faster (although I haven't tested this). This boat has been out in heavy ocean rolling swell, steep wind blown chop and messy clapotis. It feels at home in the worst conditions, secondary stability is great and primary is rock solid as well.
The Cetus is not a boat that excels in everything - it's better than the Scorpio in a big following sea but still falls behind Explorers and Tideraces noticeably. It comes into its own though going into the waves or across them, it's just a joy to paddle. Lots of space in the mv as well for camping gear. The boat in this review is the standard diolen construction. Not a fan of the plastic footrests, they're not ideal.
After three years and 75…
After three years and 75 paddles it is time to throw my two cents in.
First item, boat quality. Start with three small gel coat flaws, add a poor skeg operating control and I'm thinking "uh oh". The slotted seat back is a pain. Then in a surfing clinic on the Oregon coast the front hatch rim fails. It turns out the rim has only been glued for a third of its circumference.
Now it is service. For the gel coat flaws I'm on my own. The P&H people send me replacement parts for the skeg operator after a little coaxing. All the shop where I bought the boat can offer me on the hatch rim repair is their hourly rate plus parts. Again P&H, after additional coaxing, sends a new rim and allows me to have it repaired at a shop near my home in Idaho; they will pay the very low charge. I pay the shop and submit the receipt; no response. The area rep is no help and doesn't return voice messages. I finally get ahold of the chief in Maryland whose had the hand written check on his desk for a week or so and now mails it. My bad, I need to replace the rear hatch cover. The shop is good enough to separate a new cover from the rim package but you need a can opener to get it off and a heat gun to get it on.
Now the good stuff. Every thing that has been said by others is true by me. It is super comfortable, has confidence inspiring stability, keep up speed, have fun handling, stores two weeks of gear and is basically a one boat wonder. I paddle the Cetus with a greenland stick. Put this one on your demo list.
My Specs: I am 5'7", 200 lbs…
My Specs: I am 5'7", 200 lbs dropping to 171 lbs during the season. Primarily a day tripper. Paddle with a Greenland paddle
The CetusMV, when I first got it, felt less stable than the boats I was used to. I know.... some of the reviewers keep calling it "dumb" stable. I wasn't used to the smaller cockpit, as the Capella 166 RM had a much bigger one and at least I felt the Capella was more stable. Over time, I got more and more familiar with the CetusMV. It's a fantastic boat.. very fast, tons of cargo space, and very agile. It's probably one of the best all-around boats. I've taken the boat out into 4-6ft swells and the boat handled very well.
I will add that the boat rolls very easily. I wouldn't say it auto-rolls, but it definitely is on the easier side. For me, it facilitates all the layback rolls and the forward finishing ones, as well. Note that the day hatch and the pocket hatch make for a great combination... it's easy to keep all your stuff on hand and easily accessible.
Two things I would complain about this boat:
The foam knee pads will un-glue themselves over time. Be prepared to glue them back... within a month of owning the boat.
The seat backband design could be improved.. mine doesn't hold very well, though I do a lot of layback rolls.
Let me start by stating that…
Let me start by stating that my review will not be as thorough as the ones before me. I picked this kayak up on a trade-in -- I traded a 2010 Current Design Solstice for a 2011 P&H Cetus MV. A great trade.
This boat is a paradox in that it is very, very stable. I have heard one reviewer describe the Cetus line as being "dumb" stable -- so stable that you might think that it is not agile. Well, here is the paradox. While it is stable, it is also very agile. It leans very well with the result that you get great curved turns. It responds effortlessly to hip flicks. This is a fun boat that seems to be at ease in almost any weather condition.
Of all my boats, this is the one in which I have the highest level of confidence. Well built, stable, agile, fun -- that is why it rates as high as it does.
First off, I am biased…
First off, I am biased towards P&H, Venture and Impex kayaks which is why I use them in my instructional fleet and carry them in my Showroom. A further factor here is I found myself in the standard size Cetus more and more for teaching, guiding and just for the heck of it paddling. To celebrate my business' fifth year anniversary in Hyde Park, NY and for working typically 70+ hours per week I ordered a Cetus MV when it barely existed as a prototype last September (2009). It has finally come in and I've had it on the water for about four days now and can report a bit on it's performance thus far.
My Specs: I am 6', 182lbs, size 11 shoe, 33" inseam and 32 waist. I paddle with a very high angle style and usually use a Mitchell Black Magic 215cm or a Werner Cyprus 215cm paddle and sometimes a 36" single blade Mitchell Touring Special as my back up.
Mfg. Information
Length 17'9" (Accuracy Checked); Max. Width 21.5" (behind the cockpit); Max Deck Height 13"; Volume 87.7gal.; Cockpit 31.5"x16" Inside Opening (Accuracy Checked); Weight 55lbs Fiberglass (Accuracy Checked); Weight 47.5lbs Carbon Kevlar Ultralight w/Carbon Kevlar Deck (Accuracy Checked); Skeg bungee spring released P&H foil blade; Price: $3600 Fiberglass / $5220 Full Carbon Kevlar Hull/Deck w/Keel Strip
Model Tested = Carbon Kevlar Hull/Deck with Keel Strip.
Day 1 Paddle
My first experience with this kayak was not the typical day on the water. The kayak got put right to work in assisting Karen Knight (who paddles a Cetus LV) teaching in a number of kayaking scenarios. (Quantitative test paddling would have to wait for a few days.) My first reaction sitting in the cockpit of this Cetus MV was that it felt like a tailored fit. What I mean by that is that my toes have room but the deck doesn't feel overly high, there is solid contact with the thigh braces but without having to raise my knees to create the contact, my rear feels automatically centered in the kayak. This superb fit kept asserting itself throughout the time on the water teaching where a quite moment would allow me to reflect something to the effect of "Oh Yeah! This fits NICE!" Other words like crisp, quick, sporty, efficient, reactive and smooth were also adjectives that kept bubbling up.
Some other touches that I noticed are that the seat band is now attached instead of being free floating in the slot at the back of the seat pan, the skeg bungee has been reduced in it's power to work with gravity which makes the up-haul much easier and a small length of thin cord has been attached to dangle from the lower edge of the skeg blade as a manual tug line in case the skeg housing gets jammed with debris.
During the class with Karen Knight the conditions on the Hudson River Were quite calm with a flooding current of about 2mph. During rescue scenarios I did get the chance to scull/balance brace and roll. All of these maneuvers seemed easy and effortless to execute but any judgments on roll-ability of a kayak is something I'm not going to weigh in on. Speed and manuverability on this first day was as I've come to expect from the standard size Cetus but with a bit less volume around me it seemed to take less effort in heeling the kayak into skidding turns as it was easier to hold at a higher angle with less effort.
Day 2 Paddle
Conditions = 6pm till 8:30pm, 12"-18" chop, 3mph ebbing tidal current, 14mph sustained winds from NW gusting to 25mph, diminished to 4" chop with 7mph sustained winds from NW. On the water working again but this time with a couple that wanted to do a short kayak tour of the area. Starting off a placid calm evening paddle this wasn't and prepared the participants as best as possible prior to heading out. For me this meant a lot of maneuvering in wind and chop around the two other kayaks to keep everyone in the desired heading and provide coaching, encouragement and advice as we went. This made for a rather effective test bed for a number of attributes of the Cetus MV. I seemed to be able to accelerate and flit from person to person with wind, waves and current coming from a variety of directions. I kept feeling for weather cocking as the conditions would certainly lend themselves to it but none occurred in any direction I faced or traveled. Waves coming from abeam didn't seem to be large enough to disturb me beyond the kayak's primary stability range.
Considering this performance now, I wanted there to be bigger waves and swells to see if the Cetus MV would be as confidence inspiring as it was in this size wave and wind conditions.
Day 3 Paddle
Flat calm conditions allowed me to do a little testing using an inclinometer on the iPhone App.-Thoedolite and an Oregon 400c GPS unit to determine speed and distance on the Hudson River abeam of any current.
Measured Mile Performance = 5.7mph avg. speed
Maximum Sprint Speed = 7.5mph
Right Side Max. Heel Angle = 72 degrees before tipping
Left Side Max Heel Angle = 68 degrees before tipping (I'm definitely right handed)
Stationary Heeled Skidding w/ Forward Sweep, Turn Diameter = 14' either direction
Coming in after sprinting around in the mooring field I did manage to catch on a couple of small swells left over from a boat wake. The Cetus MV quickly picked up on these and scooted right along with only half hearted forward strokes from me to keep on the face of them. Hmmmm, when's the next steady north wind and flooding tide here that I can play hookey to go surfing? Could be fun!
Synopsis:
Needless to say I'm thoroughly pleased with the way the Cetus MV has come together in fit and performance. As with the others of the Cetus lineup it is an expedition kayak that with just a touch of technique can be used as a maneuverable day/play boat now with a sizing range to fit the 5 foot 100lb in the LV size, to 6'5" 250lb paddler in the regular Cetus and then there's me quite happily paddling with my new MV in the middle.
I picked up my Cetus MV in…
I picked up my Cetus MV in Charleston, SC at the East Coast Canoe and Kayak Festival. As it was being unwrapped all I could think of was Christmas in April! The quality of the boat is impeccable.
My Specs: I am 5'10", 170lbs, size 10 shoe, 31.5" inseam and 32 waist. I have been paddling for 3 years and consider myself an advanced beginner.
Mfg. Information:
Length 17'7"; Max. Width 21.5" (Swede form behind the cockpit); Max Deck Height 13" (at front of coaming); Volume 87.7 gal.; Cockpit 31.5"x16.25" Inside Opening; Weight 54.7lbs; Material Carbon Kevlar; Skeg spring released Foil P&H blade.
Outfitting and Ergonomics
The kayak comes with the classic P&H seat/backband. The backband is adjustable by way of strap secured with locking D-Rings and the base of the band sits in a slot in the seat (no more pinches!) The seat comes with a removable pad. It is comfortable, but I removed it for that little bit more hip and torso rotation. The coaming is a classic keyhole design with excellent thigh contact. Foot pegs are the standard P&H equipment on control rods that can be adjusted from the seated position. They are comfortable with a large area for the ball of the foot, and they stay where you set them. The boat comes with 4 hatches: a round front hatch, a rear oval hatch, the standard day hatch offset to the right and lastly a deck pod for whatever you want right at hand. I stow a VHF radio, some snack bars and a camera with room to spare.
My first paddle was at the festival and only my second paddle of the year. As I shook off the rust of a winter in New York, my first impression was this boat just glides so nicely. I wasn't beating any surf skis but I was moving at a nice pace for me. After warming up, I started trying some turns. First was a bow rudder, edge to the right, initiate with a sweep and plant the blade. By the time I stopped edging I had completed about 100º turn. The stern released with a 30º to 40º edge and made a neat gurgling sound as it skidded across the water. Same effect with bow rudder to the other side! I tried some carving turns, the results were not just good carved turns, they were the best I have ever done. This boat loves to be edged, and it rewards you with solid secondary stability and the responsiveness of a much shorter boat. My second paddle of the day was in a class at the festival. I was already feeling right at home in the MV.
Initial stability is great, maybe slightly less than its big brother the Cetus. Secondary stability ranks as the best I have ever experienced, probably because the boat fits me so well! The class started with edged turns, both carving and skidding, to see what each individuals boat did best and why. Well, the MV loves to skid, place it on edge and off it turns. It must be the Swede form (wider aft of the cockpit) that allows the stern to be released so easily from the water. Next an experiment with tracking. We picked a point to aim at, closed our eyes and take 5 stroke on each side. When I opened my eyes I was just slightly left of my target (stronger on the right side) and at least 30 yards beyond the next nearest boat; did I say fast earlier? We then started some blade awareness exercises, usually this is where I go for a swim, not today though. Every thing I tried was made easier by the MV. It is definitely a confidence inspiring boat!
Back home on the Hudson River I paddled south from Hyde Park. There was a 15 to 20 mph wind from the WSW with a flooding tide of 2 mph. I notice a slight amount of weather cocking which is easily controlled with a slight edge. Heading back north, now with a quartering wind from behind again have slight weather cocking, which again was easily handled with some edge. I also tried the skeg. It worked flawlessly with very easy adjustment. My wifes Cetus LV has a bit of a stiffer skeg slider, but this is an earlier version. P&H seems to have made the right adjustments to a great idea, a kink free spring loaded skeg!
Summary:
While I still only have a hand full of paddles in the MV. I have nothing but accolades for the job P&H has done in adding the newest member of the Cetus family, the MV. The Cetus MV is a fast confidence inspiring boat that will be at home on expedition or as the coaches boat of choice. Anyone looking for the do everything boat that is not a compromise doing everything should look no further than the P&H Cetus MV.