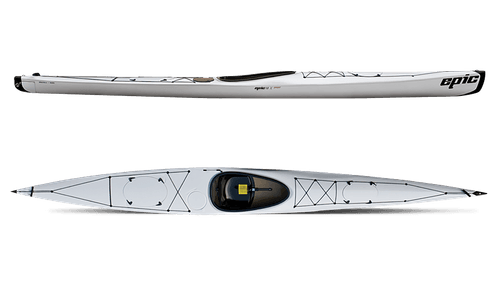 Epic 18X Sport Options
Epic 18X Sport Description
The Epic 18X Sport is designed, like the 18X, for intermediate to advanced touring paddlers seeking a distinct edge in a high-performance kayak. Paddlers find the increased stability and sleek, efficient shape of the 18X allow them to cover long distances with exceptional ease and speed, and that it performs great in rough water conditions. In addition to all the features that come standard on an Epic, the 18X Sport includes the advanced Epic Track Master™ steering system, an adjustable seat, large storage capacity, and front deck cutaways for a closer, more efficient stroke. While the 18X and 18X Sport beam widths are equivalent, the waterline width of the 18X Sport is approximately ¾" wider than the 18X.
Epic 18X Sport Specs and Features
Structure: Rigid / Hard Shell
Cockpit Type: Sit Inside
Seating Configuration: Solo
Ideal Paddler Size: Average Adult
Skill Level: Intermediate
Ideal Paddler Size: Average Adult
Skill Level: Intermediate
Read reviews for the Epic 18X Sport by Epic Kayaks Inc. as submitted by your fellow paddlers. All of the reviews are created and written by paddlers like you, so be sure to submit your own review and be part of the community!
I have an Epic 18X Sport in…
I have an Epic 18X Sport in performance layup, bought in 2019 and have 1300 miles on it. I am 6'2", 180lbs, size 11.5 shoes, and retired. The boat has the integrated rudder. I am glad I bought the boat.

The boat replaces a fast 14' 32 lb kayak that I purchased in the 70's. Biggest problem I had was trying to test one out, as nobody near here stocks them and I was not about to drop that much money on something that I might not fit into. I contacted the closest dealer and they put me in touch with a local owner who kindly let me try his. No worries on the fit, except that my water shoes that have a big toe bumpers will not fit under the deck. Converse Allstar 11 1/2s fit just fine. The kayak was shipped from the Carolinas to my house in a big box; the semi driver was very curious as to what the heck was in it.
The boat is faster than I am capable of paddling. I average 4.5 mph on a 20 mile river run, 5.5 on flat, and I can hit 7.5 for a minute or two. At no point have I seen the bow rise up on the bow wave unlike my previous boat.
Fit and finish is good. I have not been in heavy waves or rolled but the hatches have been tight. There are grommeted air holes at the tops of the three bulkheads which could cause leakage if you roll. My only complaint is the seat; it was definitely not molded for a butt shaped like mine, and the back center edge hit my spine. Painfully. I replaced it with a custom foam seat from Redfish, otherwise 5 stars.
The rudder... I am not your normal customer for this type of boat. Most of my paddling is 20 mile day trips on a river with occasional threading through downed trees and where nobody paddles a sea kayak. I can turn tighter with the rudder up than down so I flip it up as needed. I also raise it to bomb thru local rapids. The pedals feel somewhat spongy; getting back to straight can take multiple attempts. I do appreciate the rudder on open water with side wind.
Misc... I really like the day hatch and it's third compartment. The storage space was more than enough for a 4-day camping expedition at The Massasauga; 10 days should be doable. The high foredeck makes for a dryer ride in waves and reduces weathercocking. The cockpit edge is rounded and padded enough to be somewhat comfortable for carrying on your shoulder. 42 lbs is not as light as my previous boat; I wouldn't want to lift anything heavier onto my car rack after long paddle. The cockpit in my old kayak is small and I had to slide my legs in before sitting. The 18X cockpit is big enough that I can plant my butt and then straighten my legs. I had no idea how much easier this would make entering and exiting.
Not sure I like the white. It shows dirt and the yellow pollen-stained scumline does not completely clean off. Might be good for hot weather but I do most of my paddling in cold and ice. I would prefer a more high-vis color.
So far the wear and tear has been normal. Black paint has worn off the bow and stern so I protected them with Gorilla Tape, and the deck bungees are starting to stretch loose.
I have recently picked up my…
I have recently picked up my first Epic 18X sport (as my fitness boat) and first impressions are overall, very favourable . The only point of concern is a minor leak in the day hatch compartment which I initially put down to the hatch cover seal .After testing this does not seem to be the source. Ive now tested the bulkhead seal and again the integrity appears sound after filling the cockpit with four litres of water overnight and slightly inclining the bow. There has been no leakage detected -the mystery deepens. I will now test the cockpit coaming seal to see if this is the source -if anyone has any feedback or suggestions that would be appreciated. Otherwise its back to my Epic agent . Leaking aside the boat is a dream to paddle inspiring a desire to seek max speed from paddler and boat alike - it makes me smile. Acceleration is noticable over a longer time span than my 19.5 Ft expedition boat -its light and it wants to go fast! Smart track rudder is a must, particularly in breezy conditions - with its high volume bow and relatively high stance make can be hard work to track cleanly . Lightly built but beautifully laid up Im really liking the getting to know the 18x Sport .
This is for a 2006 Epic 18x…
This is for a 2006 Epic 18x Sport. I'm 6' and 170 lbs and I love the 18x Sport. I've done 40 mile non-stop paddles and nothing bothered me. I've also used it on Squam Lake in NH for camping and it swallows up gear - and becomes much more stable. I was concerned about pulling it up on shore, but when it's 39 lbs, it's just as easy to pick it up and out of the water. The arrangement of the adjustable seat and foot brace/peddles is perfect and I've had no issues once I got the adjustment down. The day storage is well thought our with the hinged cover and one closure. The others are well thought out too with the four closures each and the gasketing on all of them is water tight - Even when rolling. The gel coat is thin on the bottom which can lead to the occasional scrap down to the under layer. I've used some West Marine white filler and this has kept the boat looking good. In chop and ocean swells she bobs like a cork if unloaded. It just takes some getting used to with bracing, etc., but one needs to stay vigilant to keep waves out of the cockpit or worse. Overall I love this boat and intend on keeping her (Tippy).
After spending 3 years of…
After spending 3 years of researching and testing, I bought the Epic 18x Sport. I tried the Stellar 18R, Zegul Searocket and others, but none performed as well as the Epic. I have loved the speed, but the storage volume, exceptionally well designed day hatch and great rudder have made this my favourite boat. I now have over 6 years in it and never get tired of the sporty feel. The secondary stability has saved my bacon twice! I would buy another in a minute!
This boat is pretty much…
This boat is pretty much what I was looking for. I am 65, 185 pounds, and 6'2". I bought two kayaks in the mid '70s, my favorite being a fiberglass 33 pound 14 foot Clearwater Whitewater, for which I paid $750. It is a narrow boat with a skeg-like stern and no rocker, great for flat water and with a lot of cargo space. Over the decades I've put thousands of miles on it including week long expedition trips. The longstanding problem with this boat was that I was forever climbing my own bow wave. After 45 years when my heel wore it's way thru the hull I knew it was time for a new one, and I needed something with better hull speed; the Epic certainly fits the bill.
The good: the boat is fast! My max speed was 7.4 mph but no way I could do that for more than two minutes. It is slightly tippier than my previous, more flat-bottomed and slightly wider Clearwater, but I was comfortable with it after the first five minutes. The rudder is very useful when windsocking would otherwise force me to paddle harder on one side. The rudder design is nice in a number of ways, including that it doesn't catch weeds. It has a dryer ride in waves due to the raised bow. The hatches are very secure and I absolutely love having a day hatch! I can get in the boat by sitting first and then straightening my legs, something I couldn't do on the Clearwater with it's shorter cockpit; makes a big difference. It is 42 pounds, not bad considering the size, bulkheads, hatches and rudder that my 33-pounder lacked. And despite some things that I've read, the build quality on my boat seems top notch.
The bad: Trying to get a test ride. I contacted a surf ski dealer and he put me in touch with someone nearby who was kind enough to let me try his. The seat: ouch! The back would not stay tilted and the bottom edge hit my tailbone. This was painful after an hour or two in the water no matter what modifications I tried with foam padding and gorilla tape. I gave up and ordered a foam seat from Redfish Kayaks, hugely comfortable and probably weighs less than the carbon/glass original. This is my first experience with a rudder and I'm not sure how this compares with other manufacturers'. It seems spongy; I can't tell how far (if at all) it moves or whether I have managed to center it. And for some reason I mustn't store it by hanging it from the carry handles.
The poorly executed seat costs a star on the ratings; Epic would be better off supplying Redfish seats out of the factory. But I'm glad I bought the boat; I haven't paddled the Clearwater since.
I bought this boat in 2016…
I bought this boat in 2016 and have logged many days, a few overnight trips, and a couple races on it. I love it, but it's very much the red-headed stepchild of a surfski company that decided to foray into the sea kayak market. With this boat, it's important to understand that it was built with a specific purpose: for advanced paddlers looking to do long-distance expeditions as fast as possible. The design reflects that; it's stripped down, minimalist, and everything possible to cut weight was done. The hatches are simple, the bulkheads thin (so thin they can be prone to cracking), and the rigging is minimal. It's a very boring boat to look at. At its heart, this boat is a wide surfski wearing an elaborate disguise. It has no secondary stability or edging, almost no rocker, and is almost impossible to turn without the rudder. Traditional sea kayakers will hate this boat, as you paddle it in a completely different style: turn with the rudder, use braces for stability, and paddle with your knees together. The lack of secondary stability means it's quite tippy in choppy waters if you're not used to it, compared to a normal sea kayak. However, the quirks above all lead to one thing: speed. This is probably the fastest sea kayak on the market. The cutaways and foot board mean you can drive a huge amount of power into your stroke, and the boat is so light and rigid that it just launches up to speed. It occupies a strange speed range: it's much faster than other kayaks (I've received mean looks and snide comments from other racers in the sea kayak category when I finish literal miles ahead). But, it's still slower than almost all surfskis (I've also watched the entire fleet in a surfski race disappear over the horizon). So with all the above, who should buy this boat? Traditional kayakers will scoff at it. It's too slow to race with the surfskis and too fast to race with the kayaks (unless you want an easy way to win). This boat is excellent for a narrow subset of speed tourers. So if you're a surfski racer who wants a boat to take on overnight trips, or a sea kayaker that wants to get around as fast as you can, this is the boat for you.
...fast.
I bought a 2017 black tail/nose version about 2 months ago, and have used it 16 times, for a total of about 125 km on tidal inlet waters. This kayak was added as a workout machine to complement my Necky Manitou 14 (reviewed) which is now my "beach basher".
Me: 61, good health, active, etc. ~190lb, 5' 10".
I'm using a Werner Ikelos (reviewed) paddle, which in combination with the Epic, really produces a good turn of speed. Typical cruise for a 5-10 km workout is 9 kph, with bursts over 10.5 kph on short distances. Numbers provided by Garmin.
This kayak moves.
The Epic is taking a while to adapt to, as small positional changes seem to make a big difference in overall performance and comfort. It is narrow, and does feel tippy, and does threaten to broach in close choppy waters, so the ability to use a paddle to balance is a must.
This is not a beginners kayak. It makes no attempt to attend to your comforts. You will need to adapt to it to unlock its potential.
Seating further forward seems to help reduce the wind steer, however, the optimal seating position for paddling efficiency is knees up, not tucked under the cockpit sides. Your knees will then limit how far forward the seat can be placed. The footrest should provide heel support, leaving the toes to operate the rudder.
I don't have much experience with kayak rudders, and don't mind paddling without one. On the Epic, though, the wind steer can be very persistent, making rudder use almost mandatory in those conditions. I've found that just lowering the rudder seems to be enough to make straight line paddling easier. The lowered rudder does give the water more leverage, so it can exaggerate the tippy feeling when a wave rolls by underneath..
The kayak is very light, and relatively easy to handle on shore. The storage lids have stayed dry so far, though those levers can be tough on the fingers at times.
The construction and fittings all have a quality feel to them, and the kayak really turns heads with its sleek looks.
I've been able to pass a few well-paddled outrigger canoes who weren't too thrilled about it,
It is very fast, and it rewards proper technique and adequate power.
Having moved from a Manitou Sport, to a Manitou 14, to the Epic 18X Sport puts me into a difficult situation: This is it: there are no other kayaks to continue to move up to (other than the surf skis)...
I wanted a fast, high…
I wanted a fast, high performance kayak for fitness paddling and one that would track well. This is what I got in the Epic 18X Sport! Have not been disappointed, especially when paired with an Epic paddle! AWESOME!
I own an 18x Sport Ultra…
I own an 18x Sport Ultra (kevlar) of the generation before the current models that have the retractable Track Master rudder.
I am a mid-60s intermediate paddler, 6'0" who struggles to stay under 180 lbs but who stays in decent aerobic shape. More than 90% of my paddling is for fitness and takes place on a small reservoir on smooth water. The most challenging conditions I have faced since I bought the boat in August of 2008 have been 2-foot wind waves on larger lakes with a longer fetch than my local reservoir, though once there were waves that high on the local lake because of 40 mph gusting winds that kicked up a fuss despite the small fetch. I have not done any camping in the boat. I've been paddling since 2004, with a Venture/P&H Easky 15 and then an Eddyline Nighthawk as my previous two boats. I also currently own a Current Designs Scirocco.
My boat is light, easy to carry, about the 36 pounds advertised by Epic. It is pretty fast--considering its aging engine. When I'm in shape and conditions are mostly calm I can sustain 5.5 or 5.4 average speeds (GPS measured) over an hour and a half of fitness paddling. The GPS tells me that I can sprint to 7.1 mph. That's with Epic's mid-wing paddle. By way of comparison, the same paddle and effort and conditions in my plastic Scirocco gets me about a 5.1 mph average. I've paddled one race of 11-12 miles on northern California's American Estero and led the other novice paddlers (a dozen or so) by 20 minutes or more at the finish--official time 2 hours, 10 minutes. Even the Intermediate and Expert paddlers, on surf skis or outrigger canoes, (and on whom I had 10 and 20 minute starting advantages) did not catch me until about 2/3 of the race distance was covered.
The rudder on my boat hinges the trailing portion of the hull and includes a molded-in tab that extends below the normal line of the bottom of the boat in give a better bite. The tab is a compromise that Epic scrapped for the newer retractable rudder. My rudder makes the boat track very well in most conditions, but is not really all that good for strong directional control in following wind and waves. The carbon-fiber bar and pedal control system at my feet is durable and effective for both knees-together full-body-rotation paddling and for knees-apart-and-locked-in paddling. The latter mode allows control by edging to which this 18-foot boat responds quite well. Even if a rudder line broke, a moderately skilled paddler could readily control the boat just by edging provided the rudder did not get locked over on one side or the other--not as maneuverable as my Scirocco, but way more maneuverable than other 18-ft boats I've tried, e.g. the CD Solstice.
The two major failures of my boat's design are the seat and the rear hatch. With the seat I had problems like those described by Celeste De Bease below. I do rolling practice each summer in the nearby college pool, and the single track holding the seat to the hull broke because the seat constantly rocked from side to side and eventually pried the track apart. Also like Celeste I had a very good response from Epic, whose representatives paid for the repair even though I was the boat's third owner and it was well beyond warranty. It did take a long time to get the new parts delivered to the local dealer and for the dealer and their repair technician and me to all get together. The work was completed in December, and I didn't start roll practice again until the next June. The new track held well enough, but the seat itself tore at the point of its front attachment to the track. I expect Epic would have worked with me again in a satisfactory manner, but I chose instead simply to take out the seat and go with a homemade system of Thermarest camp mat and closed-cell foam that has made for a comfortable and lighter seat that lowers the center of gravity maybe half an inch. I do surrender adjustability, but I'm not a paddler sophisticated enough to notice the difference. The rear hatch looks and acts like it was not designed for its seat. In a 20-minute rolling drill at the pool, it lets in a half gallon or more of water that I must sponge out each time before carrying the boat back to my car. For this problem also, it appears, Epic has designed a solution in its current generation of the 18x and 16x.
Overall, my Epic 18x Sport Ultra is still my 'pride and joy' and gets used nearly every week. I find myself wishing I could upgrade to Epic's newer version of this boat, but I've spent my big bucks on water toys. I'm happy I did.