Variant 3/2MM Men's Chest-Zip Fullsuit Options
Variant 3/2MM Men's Chest-Zip Fullsuit Description
Get 20% Off with code: Paddle20
Long lasting warmth, unrestricted movement, and superior comfort. The Variant is exactly that. X-Dry high-pile plush lining, minimal seam design, and an updated fit will check all your boxes for a wetsuit. Black will always be the new black, and the minimal, tonal branding on the Variant men's wetsuit means you're only surfing for yourself. Defy the standard.
Our Expert's Review
Testing the Body Glove Variant 3/2MM wetsuit as a spring kayaking outfit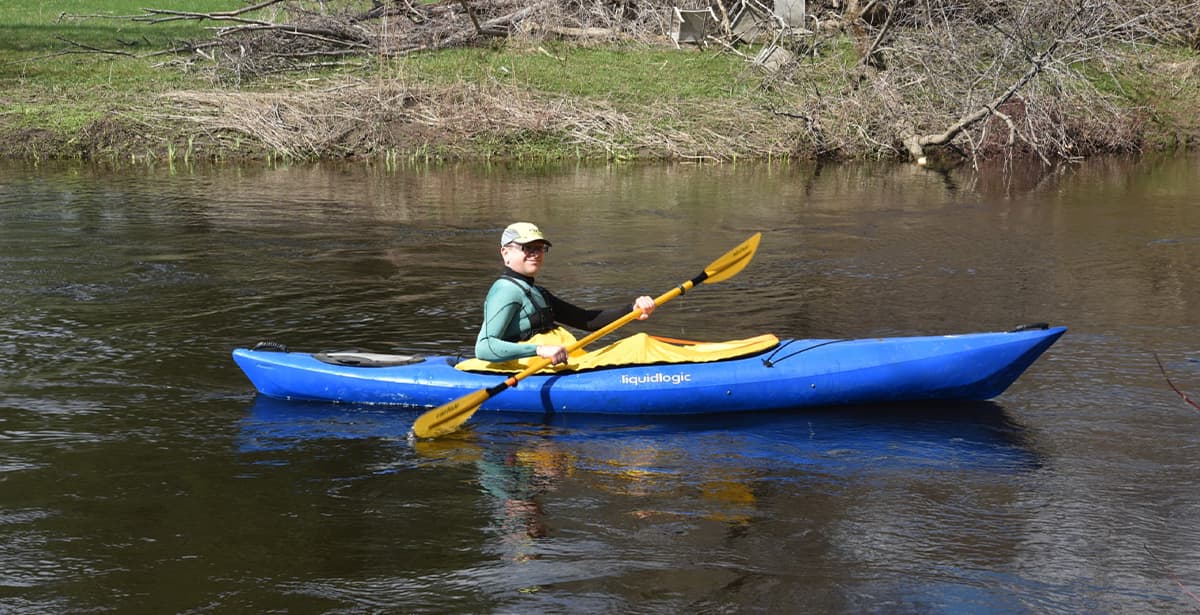 Disclaimer: We asked Body Glove to send us this wetsuit for testing. We were not compensated for our review and Body Glove did not have any input into our conclusions.
Spring paddling is always a compromise. You know the water will be cold, but the sun—when it's out—is getting warm, and the air temperature can be anywhere from freezing to boiling. You have to make a dreadful calculus when deciding what to wear kayaking, and figure out where on the hypothermia-to-heat stroke continuum you want to land.
Those were the exact conditions when I put in to test the Body Glove Variant 3/2 fullsuit. It was about 55°F out and with mixed clouds and sun, and an intermittent stiff breeze depending on where I was on the river. I knew it was going to be hard to find a kayaking outfit that was a happy medium between sweltering and protecting myself if I went into the water. As I had a couple of wetsuits on the shelf to test, I elected to go with the 3/2MM over a 4/3 option.
Fit and finish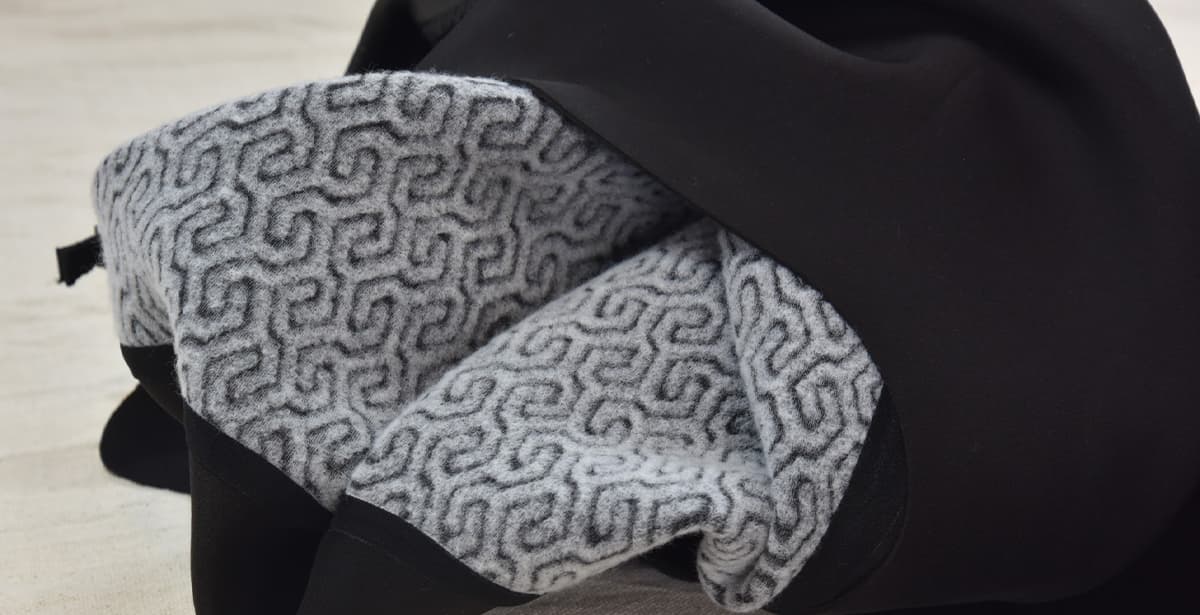 After only ever using secondhand Farmer Johns and back zip wetsuits, my first experience with a chest zip was an, um, experience. There is a wonderful X-Dry high-pile polypropylene fleece lining through the torso and legs which feels great and warm, and really helps when putting it on. All the interior seams are taped with soft Evoflex, and I didn't find any defects, loose threads, or poor stitching.
There are 13 size options, and at 5'8"-ish and 160 pounds, I'm in a straight up Medium. I'm always on the fence about what to wear under a wetsuit, so I just wore some performance underwear and an old shortsleeve NRS paddling top, mostly because I couldn't find my Henderson HotSkin. I ended up regretting that choice, more on it later. I freely admit I'm on the wiry side, and would not have wanted to be any bulkier either getting in or wearing it. If you haven't contorted into a chest zip wetsuit before and have shoulder issues, like a lot of paddlers do, you might want a different style.
On the water
The Variant is designed for surfers, which has a lot of overlap with paddling, especially in comfort and upper body flexibility. Underarm and groin areas are seamless, and if you lie it flat, the arms stick out about 15° down from horizontal. That happens to be pretty much where I hold a paddle. I definitely noticed it being tight around my biceps, but not in a bad way. Think compression sleeve. There's good non-slip elbow and knee reinforcement, too.
What was bad was how my top bunched up in my right armpit, which was definitely because of the tightness. In warmer weather, the fleece lining means there isn't a reason to wear anything other than compression shorts under it. I'll either go without a top next time, or if it's cooler, find my long-sleeve lycra top with thumb holes to keep the sleeves down. The high neck seal also got into my whiskers, which I admit is only a problem for half of our species. Next time I'll shave. Neither of these are the wetsuit's fault.
When paddling hard upstream, I was very comfortable while it was overcast, or the wind was blowing. When the sun came out and the wind died, the temperature rose into the mid-60s and I started sweating, but not unbearably so. At my turnaround, I pulled out and went for a swim, just to see what would happen. Water penetrated the suit very slowly but I did feel the chill, and got a nice boost to my buoyancy.
After poking around a beaver dam, I had cooled off and headed back down. I found that my personal temperature range rose about 10 degrees now that I was wet—until I warmed up again, I was chilly when the wind was blowing. A fleece top or windbreaker as part of my kayaking outfit would have solved that.
I also appreciated some pretty tight ankle openings, which did a great job of keeping out mud during a half-dozen launches and landings for photography in knee-deep muck. If you have thicker limbs, either size up or be prepared for a struggle when the time comes to strip down. Not that you won't have one anyway.
Recommendations
This was just right for an early spring day, on a moderate to vigorous inshore paddle, with 45-60°F air temperature and 40-60°F water temperature. If I were on bigger or more dangerous water at the same temperature, outside those conditions, or even in steady rain, I wouldn't consider this enough by itself.
Because it's on the thinner side, the Variant 3/2 has great range of motion and is easy to wear all day (how you handle bathroom breaks is between you and the water). It's light and dries fast, which would make it a great choice for multi-day trips. Plus, a compression sack will get it down to about football size. Sizing might be a little more complicated: Body Glove is known to run tight in the upper body, so again, if you're packing a couple of pythons (or tree trunks), you will definitely want to size up, but there are a lot of options for that. Don't plan on wearing anything thicker than lycra underneath this wetsuit.
What you choose to wear kayaking, and how you use a wetsuit, depends on your risk tolerance (and your budget). In an ideal world we'd all have a rack with three or four options, plus a drysuit. But when a drysuit alone can easily be $1,000, we have to make choices. If you want a wetsuit to extend your flatwater paddling season by a month on each end, and you're willing to stay home during some sketchier weather, you'll be very happy with the Variant.
Additional Attributes
Magnaflex exterior material
X-Dry interior; flash-dry lining, Evoflex interior taping
Glued and blind stitch construction
Separating #8 zippered chest entry
Shoulder cinch cord and lock
Seamless underarm paneling
Front and back integrated drain system
Second generation Nano Tritec knee panels
Symmetric, articulated leg paneling
3/2mm | Made for cool water: 56-65°F / 13-18°C
Body Glove
Variant 3/2MM Men's Chest-Zip Fullsuit Reviews
Read reviews for the Variant 3/2MM Men's Chest-Zip Fullsuit by Body Glove as submitted by your fellow paddlers. All of the reviews are created and written by paddlers like you, so be sure to submit your own review and be part of the community!
Well, take my bias into…
Well, take my bias into account, as I reviewed this wetsuit, but I've also been a paddling member for 19 years. It's really comfortable and flexible, and about as thin a fullsuit as you'll find. I wouldn't hesitate to wear it all day in cooler temperatures, especially if I was going to get wet. You could get this and the thicker one for the cost of a drysuit, and have a lot more flexibility if you wanted to paddleboard or something.
Variant 3/2MM Men's Chest-Zip Fullsuit