Red Cell 4/3MM Men's Chest-Zip Hooded Fullsuit Description
Get 20% Off with code: Paddle20
Unparalleled warmth, unrivalled performance! The heat-generating infra-red being conserved by the Red Cell Wetsuit lining of your suit has you feeling as comfortable and warm as you were sitting in your climate-controlled car. The winter daylight hours are short, but your session shouldn't be. Stay warmer, surf longer with the 5/4/3mm Hooded Red Cell Chest-Zip Fullsuit.
Our Expert's Review
A Hands-On First Look at Your Last Stop Before a Dry Suit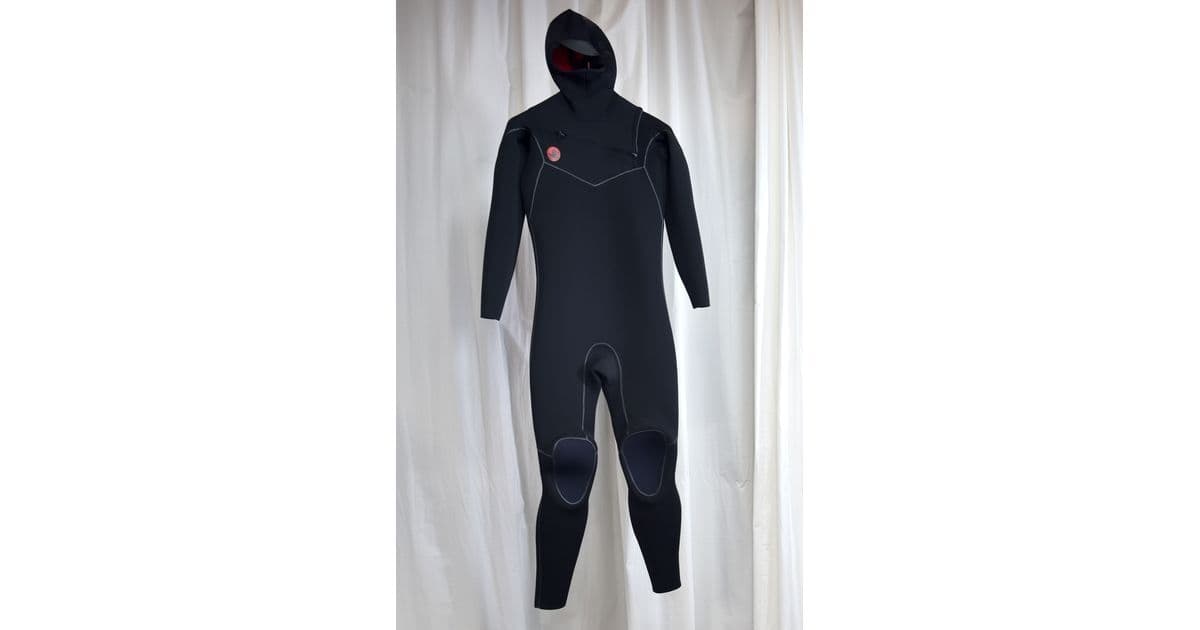 This spring, we asked Body Glove to send us a couple of their most suitable wetsuits for paddling. We had a great time on cold water with the Variant 3/2 wetsuit a few months back, but the thicker 4/3MM Red Cell full suit came too late in the season. We'll be giving it a good workout in the fall, but this is not what to wear kayaking in hot weather.
But we didn't want this wetsuit for kayaking to sit around until fall without taking a look at it, and many of you live in the Northwest (or far Northeast), or are planning a summer trip to cool water. And it's not too soon to start thinking about fall.
Fit, Finish and Construction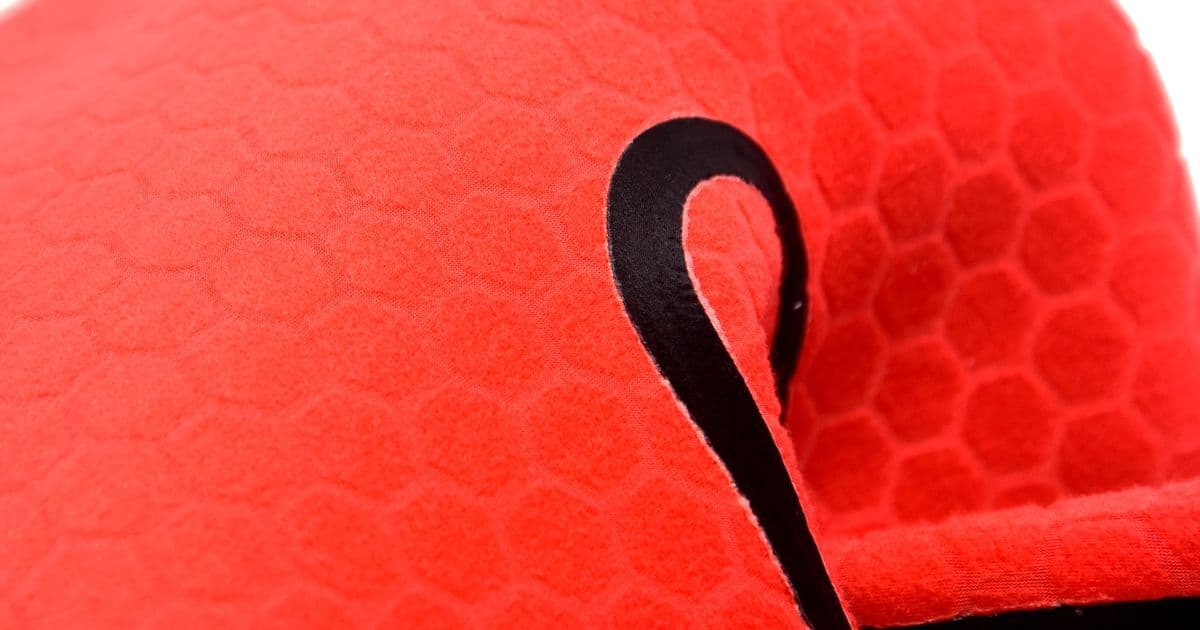 The Red Cell 4/3 is even tighter and better sealed than the already tight Variant. You don't put it on and take it off casually. Because we love you, we climbed into a bathtub of cold water to test penetration. Mostly, we bobbed like a cork on the surface, and it took a long time for water to start to make its way in at all. We don't know what Body Glove calls the drysuit-like gasketing under the front zip, but there's a lot more of it to navigate through in the Red Cell than the Variant.
Everything but the arms is lined in the namesake Red Cell thermal insulation, including the hood. It's like snuggling into a microfleece blanket, and really helps getting it on and off.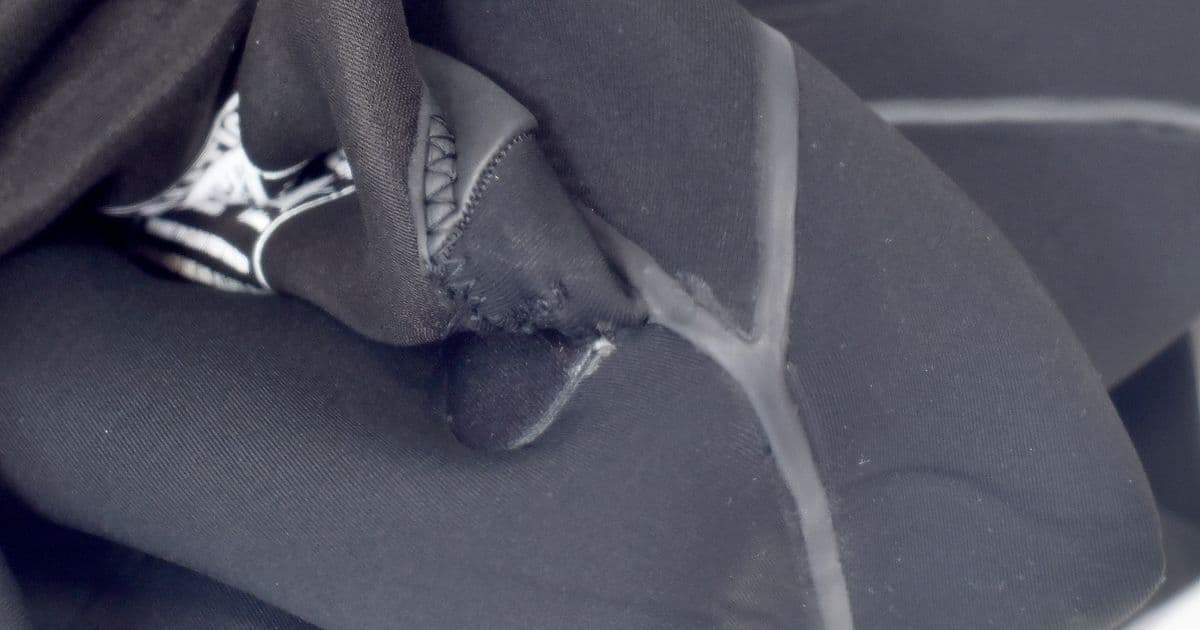 We looked hard for defects and didn't find any. There's good reinforcement in high-stress areas, like the corner of the hood attachment, where you stretch the suit hard, getting it on and off. If there's anywhere it's going to fail, it's there, so we'll be watching that spot in the fall.
There's a seamless crotch, anatomically contoured legs, and thick "Nano-tritec" knee panels, which are designed for surfers, but which we appreciate just as much. Articulation all around is very good for a wetsuit this thick. The opening in the hood for your face is small, so it's a lot more comfortable to keep it on than take it off. There's even a stiff little brim, which is going to be great in the cold, wet conditions it's intended for.
Wetsuits vs. Drysuits for Paddling
Wetsuits are always going to be less convenient than a drysuit. They're a hassle to put on and take off, you can't unzip to cool down, and if you're wearing one multiple days, you're going to be putting on a damp and probably smelly wetsuit in the morning because let's face it, you're not taking it off to pee.
The tradeoff is that a wetsuit is a standalone garment. It's your insulation and extra floatation in one. You have better mobility and a layer of padding that is really valuable in rough situations (like over river rocks). They're easy to repair if damaged with a cheap can of neoprene cement, and you keep almost all your insulation if there's a tear, which is not the case with a drysuit. If you go into the water, you'll be warmer in a drysuit with enough clothing underneath—as long as no water gets in.
Recommendations
This is about as thick a wetsuit as we'd want for paddling. In a playboat, it would probably be too much, where a dry top/skirt combination would be better. If that's not an option, like a sit-on-top, paddleboard, canoe, or a loaded expedition kayak, it's a much more affordable option than a drysuit. Even a premium wetsuit like the Body Glove Red Cell 4/3 is a half or a third the cost of a drysuit. If you're expecting to be in cold water a lot—surfing, portaging, running rapids, or exposed to spray—we'd choose the wetsuit.



Additional Attributes
Smooth-skin face ring seal
Face ring draw cord and lock
Smooth-skin left shoulder trim
Left shoulder cinch cord and lock
Closed-end #10 zippered chest entry
Front and back integrated drain system
Evo-dry exterior material
Micro-bead exterior seam seal
Red cell infrared interior insulation
Evoflex interior taping
Seamless underarm paneling
Second generation Nano-tritec knee panels
Symmetric, fully articulated leg paneling
Raw-edge wrist and ankles
Minimal seam design
4/3mm | Made for cold water: 46-53°F / 8-12°C
Body Glove
Red Cell 4/3MM Men's Chest-Zip Hooded Fullsuit Reviews
Read reviews for the Red Cell 4/3MM Men's Chest-Zip Hooded Fullsuit by Body Glove as submitted by your fellow paddlers. All of the reviews are created and written by paddlers like you, so be sure to submit your own review and be part of the community!
Red Cell 4/3MM Men's Chest-Zip Hooded Fullsuit