For most paddling lovers, a dream home would involve a backyard looking over a beautiful body of water with a nice private dock for launching a kayak, canoe, or SUP board. Unfortunately, this is not a feasible reality for most people, paddling lovers or not.
In fact, many water sports enthusiasts live in more urban environments, where jobs are plentiful and modern conveniences are everywhere. This might seem less than ideal, especially for those who want to spend every day on the open water, firmly gripping a paddle. But if you live in certain cities, you might actually be able to have the best of both worlds.
Urban paddling is common in many American cities, especially as SUP boarding and kayaking grow in popularity. From the west coast to the eastern seaboard, there are cities where a paddling lifestyle is not only possible - it's incredible. Below are 10 such cities in the United States that are worth visiting, and might even be worth moving to if your love of kayaking or SUP boarding is strong enough.
1. Washington D.C.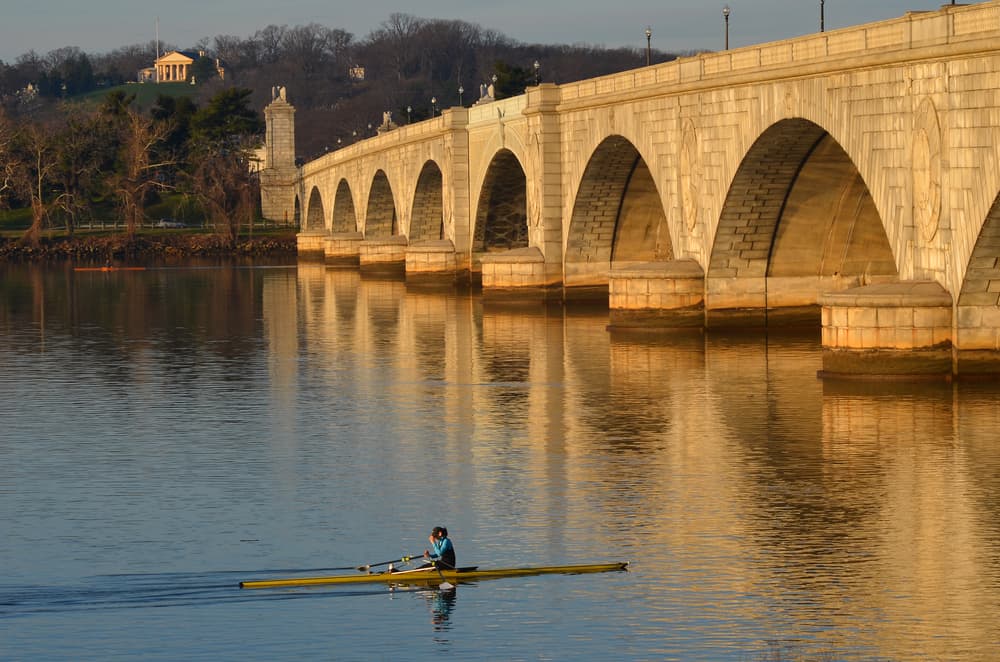 The nation's capital is known for its iconic monuments, historic buildings, and plentiful museums. But museums and monuments are not the only things Washington D.C. has a plethora of. The nation's capitol has several rivers, and several of them are an absolute joy to paddle in, including the Potomac, Anacostia, and Rock Creek rivers.
The most popular river in D.C. is the Potomac, which stretches more than 400 miles before ending just outside D.C. There is a lovely scenic stretch of the river near the charming Georgetown neighborhood, which is fantastic for kayaking in SUP boarding.
In fact, there are multiple companies locals and visitors alike can rent equipment and essential safety gear from in order to enjoy some activity on the water. You can gaze downriver at the nation's capital, paddle by Theodore Roosevelt Island, and be back in time for an elegant happy hour at one of The District's many eateries or watering holes.
This all helps to make the nation's capital an ideal place to get a perfect balance of urban decadence and natural aquatic splendor.
2. San Francisco, California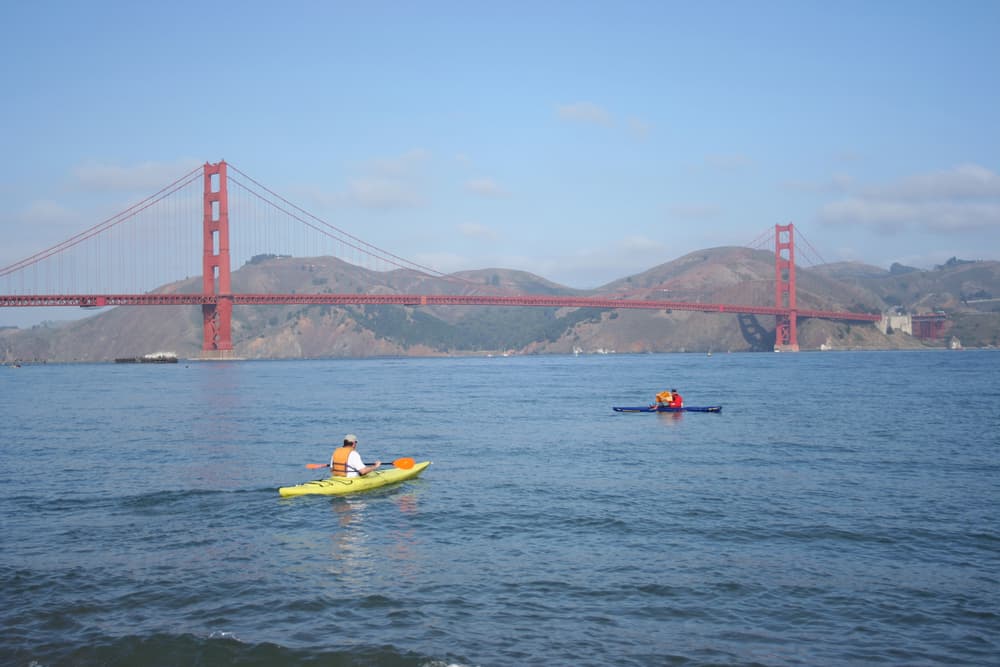 On the other side of the U.S. there is another iconic metropolis that is bustling with vibrant city life as well as plenty of paddling locations. San Francisco is no stranger to watersports and boating. There are ferries everywhere, sightseeing tours, sailboats, and lots of wind and kite surfers when the afternoon breeze kicks in.
But San Francisco is also a great city for kayak and SUP lovers. Arguably the best spot to launch from is Crane Cove. This recently-opened spot is great for the less-confident paddler, as it is protected and free of most of San Francisco's often-strong currents.
But there are all sorts of places you can launch a kayak or SUP board in the Bay area. From the shores of Alameda to Mission Creek and even right at Fisherman's Wharf. You can paddle among seals, and see the city skyline, Golden Gate Bridge, and the bay as you smell the salty air and listen to the call of seagulls.
Paddle back to land when you get cold and warm up in a cozy eatery for oysters and local wine. Not a bad life for a city-dwelling paddler.
3. Chicago, Illinois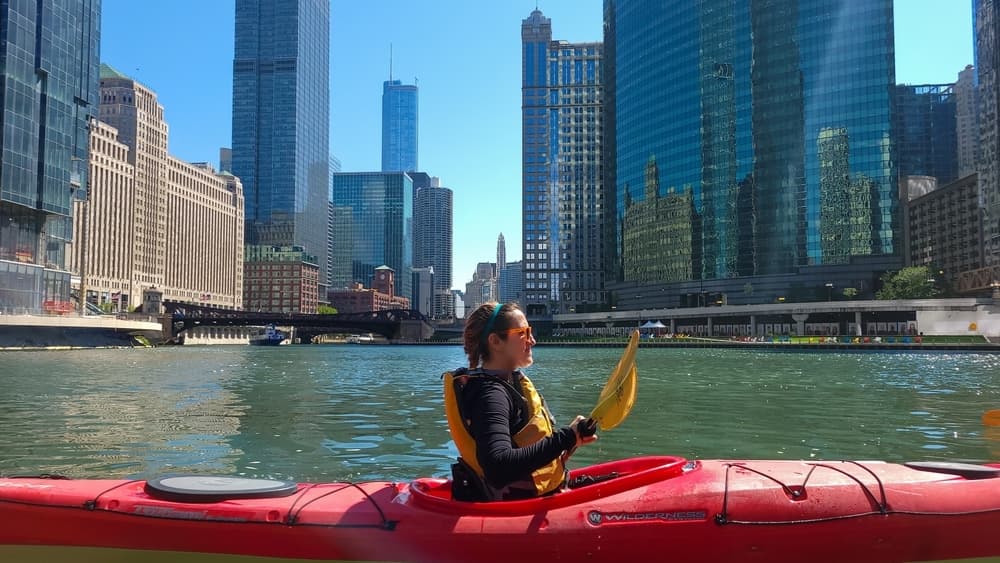 Coastal cities are not the only urban areas that are great for paddling enthusiasts. Chicago is located on the edge of Lake Michigan, which is a lake so large it might as well be an ocean.
You can rent kayaks and SUP boards right from beaches and launch sites along the lake's edge on a beautiful Chicago day. Paddle out a short distance and any Chicago local will feel lightyears away from the hustle, bustle, and stress of city life in the Windy City.
On breezier days when the lake is a bit unruly, the Chicago River is a great alternative. The Chicago River snakes through the entire city. It is a great way to float through some of Chicago's neighborhoods. There are multiple kayak and equipment rental facilities located right on the edge of the river, making this a fun and easy activity - just look out for other boats.
Paddling in Chicago is not only beautiful but also a great way to get exercise. After all, you are going to need some good cardio after eating all the sausages and deep-dish pizza the city is known for.
4. Portland, Maine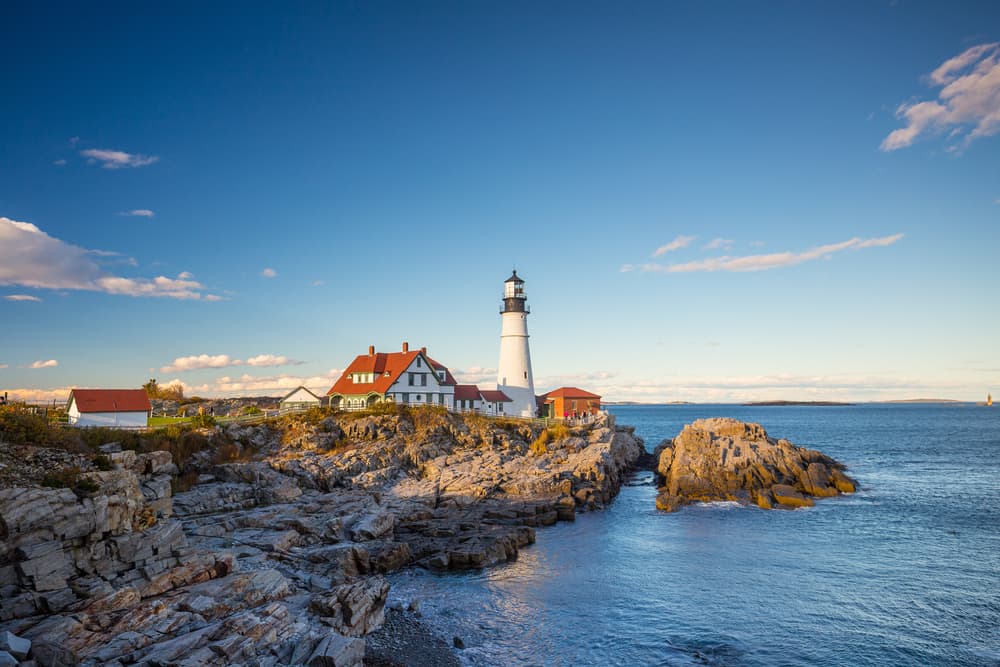 Portland is Maine's largest city, with a vibrant nightlife, and several trendy neighborhoods. It is home to lobster rolls, clam shacks, and endless summer fun. While watersports are not ideal during the frigid winter months, once the city comes alive in April and May, there are few places better than this Maine city to enjoy an urban paddling lifestyle.
Portland is composed of a few regions, all with their own harbors, hidden coves, and little beaches worth exploring on a board or kayak. There are also tons of small islands that those living in or visiting Portland can explore.
Peaks Island, a short ferry ride from Portland, is one of the city's most popular destinations. This quaint island village is a wonderful way to escape city life, and you can paddle around its waters. Just make sure to wear a wetsuit or other warm gear when SUP boarding in Portland, as the water might look gorgeous, but the temperatures are often frigid.
5. Pittsburgh, Pennsylvania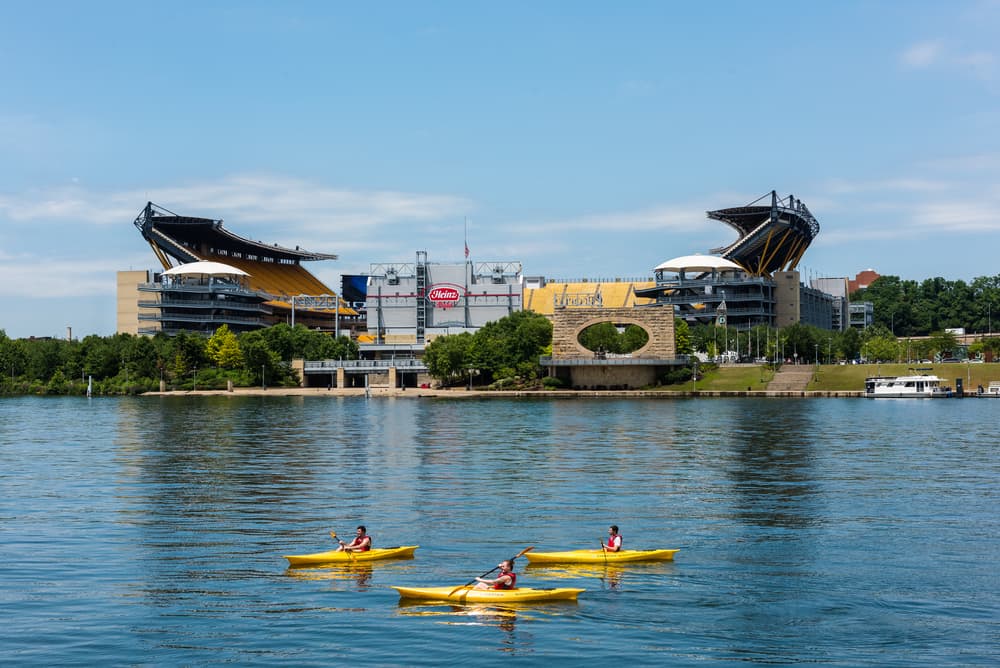 When many people think of Pittsburgh, the first thoughts are the industrial city landscape, or the Steelers Football stadium covered in snow. So kayaking in this city might come as a surprise, but what a pleasant surprise it is.
Pittsburgh, while rooted in the steel industry, has a thriving paddling and watersports scene thanks to its river system. There are three important rivers that are worth exploring with a paddle in this city; The Allegheny, the Monongahela, and the Ohio rivers.
The famous Ohio River trail runs through Pittsburgh. You can paddle a stretch of this trail by launching your kayak at the mile marker zero at Point State Park in this steel city.
You can paddle within the city itself, admiring the skyline and the beautiful steel bridges, or you can head out of the city for tranquility. The city's three main rivers have several smaller rivers that branch out. Many of these smaller rivers allow for tranquil kayaking and SUP boarding for those seeking some natural healing.
6. Austin, Texas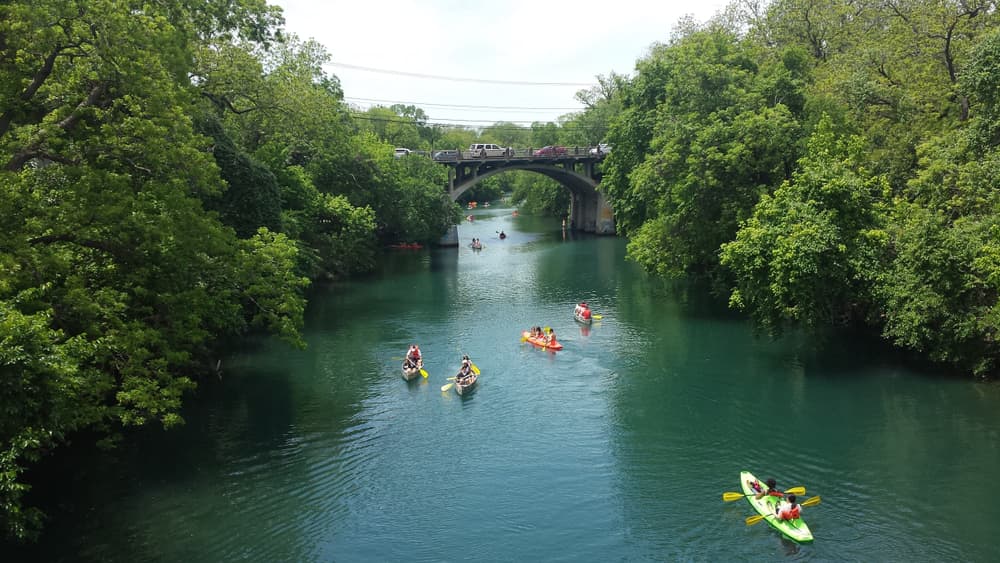 Not only is Austin the live music capital of the U.S., and loaded with some of the best Texas barbecues you'll try in your life, but it's also a great place to get in a kayak and paddle out. Austin might be in the middle of typically-dry Texas, but this capital city has rivers and lakes that are fun to explore year-round.
Lake Travis is arguably Austin's most famous body of water. This 18,000-acre lake has all sorts of water activities. You can paddle out on a SUP board to meet friends anchored offshore on a boat. Or you can take your kayak and pack a full survival pack and launch for a full day or even a multi-day trip. Lake Travis in the summer is a sight to behold, as thousands of city dwellers flock to its waters for some relief from the summer heat.
You don't even have to leave downtown Austin to enjoy some incredible paddling. Lady Bird Lake, located right in the heart of the city, is famous for SUP boarding. It is a great place to get some good cardio and meet fellow watersport and SUP enthusiasts in the city.
7. Portland, Oregon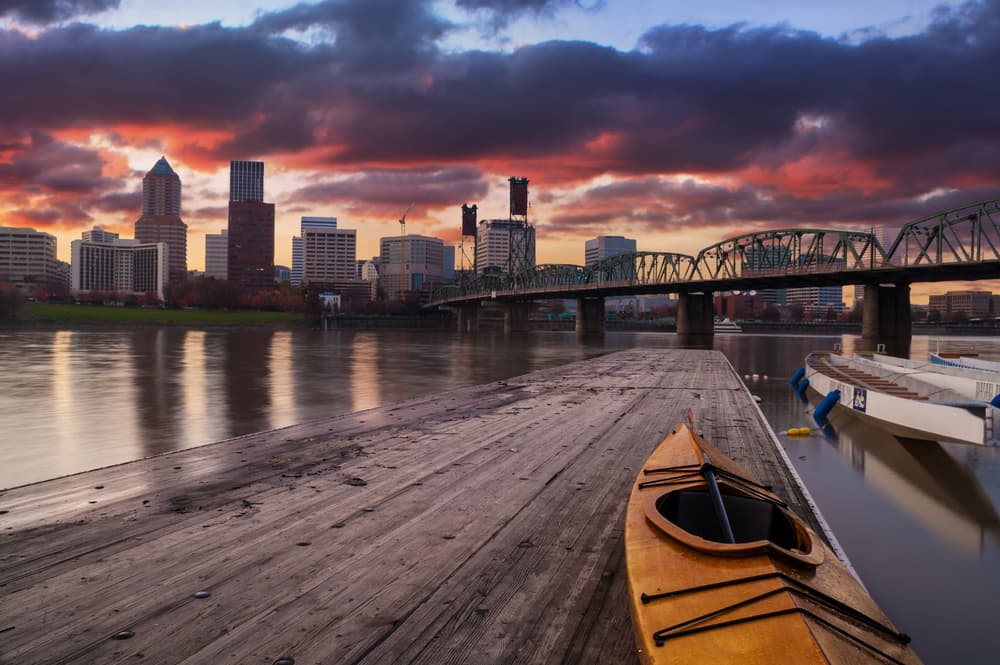 Portland Maine is not the only Portland city with incredible urban paddling opportunities - don't forget about Oregon. For one, the breathtaking natural beauty found in this Pacific Northwest city is truly a sight to behold from the water. But what makes paddling in Portland Oregon truly top-notch is the variety of paddling opportunities.
Portland is a great place for those just learning how to SUP board, as there are tranquil lakes and protected places like Cathedral Park and George Rogers Park. But it's also great for the more adventurous paddlers. You can kayak along the jagged Oregon coastline, or even try some of the challenging rapids the city has to offer.
After a full day of SUP boarding or kayaking, it is easy to find your way to a local brewery or bistro serving up some of Willamette Valley's best wine. Portland, Oregon is a true paradise for wilderness adventurers whose professional lives require city living. It isn't hard to find your zen if you are a paddle lover living in Portland.
8. St. Augustine, Florida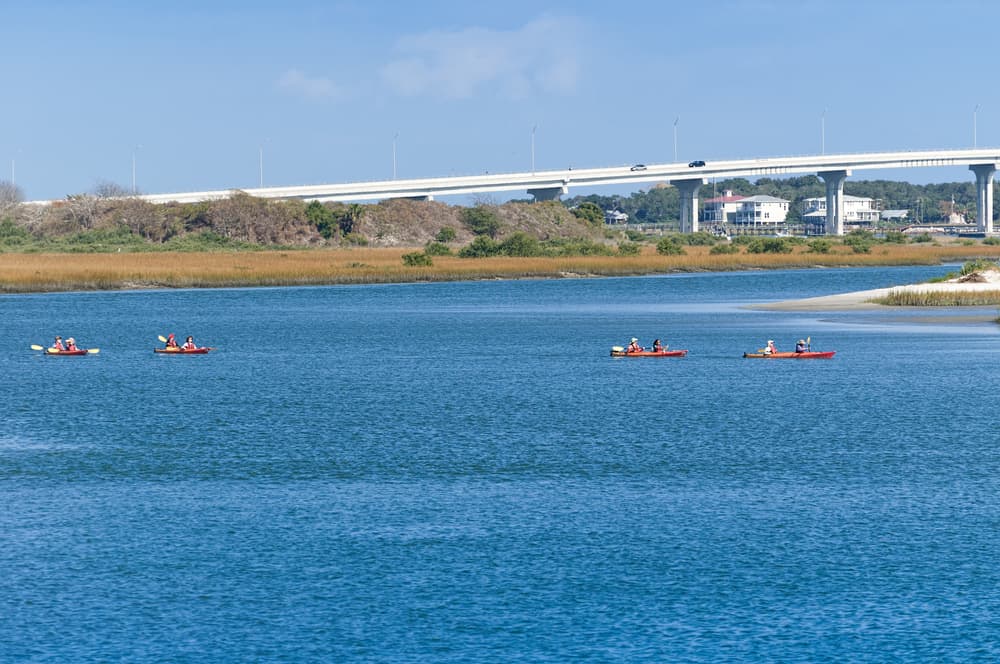 It only makes sense that the oldest American settlement is also one of the best cities to paddle in. St. Augustine, founded in 1565, is a historically rich gem of a city situated on Florida's North Atlantic coast. There is so much to see here, including the natural spring where Ponce De León believed he discovered the fountain of youth. The fountain of youth, however, is not the only water worth checking out in this stunning well-preserved settlement.
Paddle enthusiasts can kayak along the coast and gaze admiringly at Castillo de San Marcos, a huge and gorgeous Spanish fort. There is also the impressive St. Augustine lighthouse, as well as miles of white sandy beaches along Anastasia Island and its well-maintained state park.
But ocean kayaking is not the only type of paddling available in this Florida city. The tranquil and protected waters within the Intercoastal Waterway make it one of the best family-friendly paddling destinations in all of Florida.
9. Seattle, Washington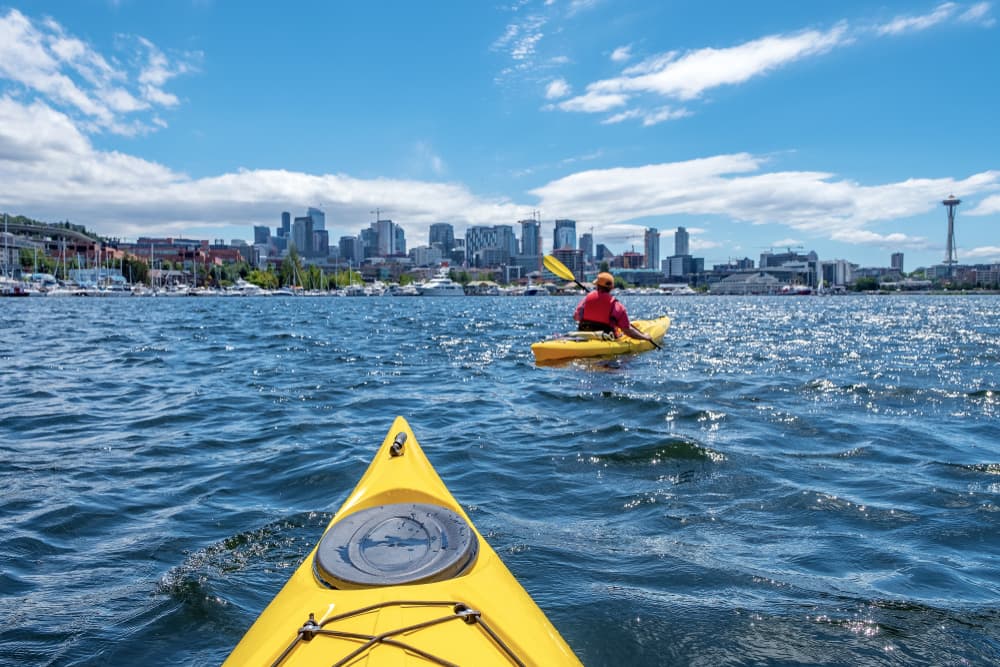 While the Space Needle might be the best way to see Seattle on land, the Emerald City is also quite spectacular when paddling through its Pacific waters. Water plays a major role in Seattle. In fact, many citizens take a ferry ride to work each day. So it should come as no surprise that Seattle is one of the best cities for Urban paddling in America.
For some stunning views of downtown Seattle, locals, and tourists alike paddle through Elliot Bay. Navigating this bay and its busy boat traffic can be a bit challenging, but those with skill and patience are rewarded with stunning views of Seattle's iconic skyline.
There are also tons of beautiful islands and peninsulas worth exploring in Seattle. Many of these more pristine areas even have kayak and SUP rentals, meaning there is no need to lug your own to harder-to-reach areas. Seattle makes it easy to enjoy the perks of city life, like great coffee and elegant cuisine, while also staying fully immersed in a paddling lifestyle.
10. Cleveland, Ohio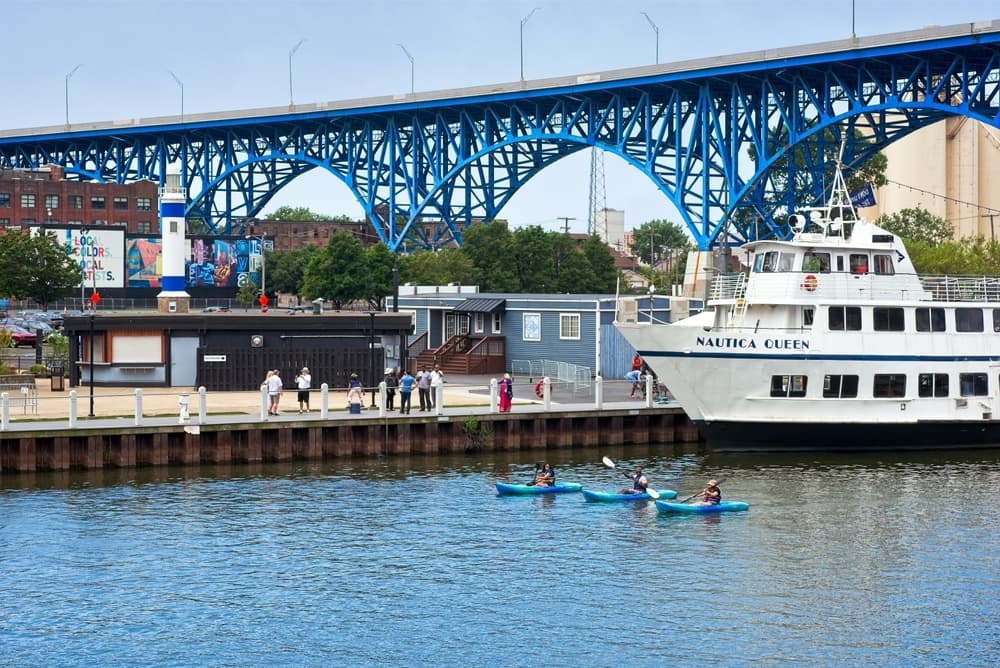 Sure, Cleveland is known for the Rock and Roll Hall of Fame as well as its professional baseball and NFL teams, but it also has a lot of water running through it. While there are very few enjoyable outdoor activities in the dead of winter in Cleveland, as soon as spring hits, this midwestern city is full of paddling action.
Cleveland is situated on the edge of Lake Erie, and it also has one of the state's most impressive rivers, the Cuyahoga, running through the heart of the city. In fact, the Cuyahoga runs right past the Rock and Roll Hall of Fame, and the delicious West Side Market, making it easy to enjoy a few hours of paddling while also taking in all the best Urban elements of Cleveland.
In the hotter months, paddling lovers can rent SUP boards and kayaks or bring their own to one of Lake Erie's many sandy beaches. This makes for easy and enjoyable paddling and is a fantastic way for paddlers to beat the sticky humidity in July and August.