It's always a good time to make the choice to bring stand up paddling into your life. It's a fun, healthy and calming activity that lets you reconnect with nature in ways few other recreational activities can. If you have never surfed or stood on any sort of floating board, however, the idea of taking up SUP boarding as a hobby might feel a bit intimidating or even overwhelming.
The good news is, while stand up paddling does have a bit of a learning curve, it really is like riding a bike. Once you understand the whole process and the movements, it becomes second nature. In order to get started, you just need to make sure you have all the right gear and learn a few basics. Then, before you know it you'll be paddling out into the great unknown on your own two feet.
Essential Stand Up Paddling Gear Checklist
As you prepare to embark on your SUP boarding journey, you should make a checklist to make sure you have all the items you need. The last thing you want is to unload your gear at the beach and realize you're missing an essential piece of the puzzle. The following list will help you to make sure you have all the (right) equipment.
The Stand Up Paddle Board
Most importantly, you need a SUP board. There are all sorts of board sizes, shapes and purposes. There are high-end professional boards and economical beginner boards. Once you know your price range, purchase a board that is the right size for your height, weight and goals. Remember wider boards are better for balance, but might slow you down if speed is what you are after.
View and Compare Stand Up Paddle Boards >>
Appropriate-Sized Sup Paddle
Finding the right size SUP paddle is easy. All you need to do is stand a paddle up vertically so the paddle is touching the ground next to you. Then reach your arm straight up along the same side as the paddle. Where your wrist bends is where you want the top of the paddle, known as the T-grip, to be. So once you find a paddle that fits that length, you found the right length for you. Adjustable paddles work the same way in that you want to adjust it to that same sweet spot near your wrist.
Stand Up Paddle Board Leash
If you are just getting started SUP boarding, you should really get a leash. A leash will prevent your SUP board from floating away from you when you take your initial (and often unintentional) dives into the water. A leash keeps your board close by attaching to your ankle, and it gives you an added layer of safety.
Recommended Product: NRS Coil SUP Leash
Person Flotation Device (PFD)
Speaking of safety, it is essential for every newbie paddler to have the right protective equipment. Make sure you have a comfortable and size-appropriate life vest. There are plenty of PFDs out there that protect you without being so bulky that they mess up your stroke or inhibit your good time.
Recommended Product: NRS Vapor PFD
Hat And Polarized Sunglasses Combo
You also need to protect your eyes and face. The sun is unrelenting on the water. You will get direct rays from the sky as well as the sun reflecting off the water. That is why it is best to have a hat (for the sun above) and polarized sunglasses (for the sunlight bouncing off the water).
Recommended Product: Maui Jim Polarized Sport Sunglasses
Dry Bag For Longer Paddles
Once you are comfortable with paddling and you have gotten your falls to a minimum, you might want to consider bringing a bag on a longer paddle. A dry bag is a great way to keep a camera or phone safe, as well as a beach towel and even a book if you plan to paddle to a quiet reading nook.
Tips for Getting Started on a Stand Up Paddle Board
Getting On Your Board Is Half The Battle
Once you have gotten all your gear and carried it to the water, you are ready for your first real taste of SUP boarding. You should know that just getting your board, carrying it from the car and getting it in the water is really the hard part. The rest will be fun once you get the hang of it.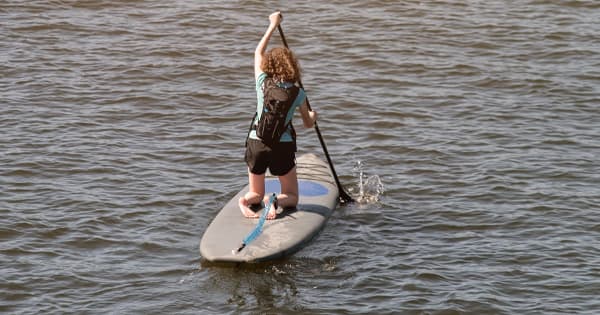 Make sure you use the board grips to carry your board to the water - never drag it. Dragging can cause scratches and decrease the longevity of your board. Get the board in the water as soon as you can so you can stop carrying it. Make sure it is floating at a depth where the fin doesn't hit the bottom. At this point you can adjust your hat, glasses, apply your leash and get yourself prepared.
Once you are ready, place your paddle horizontally on your board, and then mount it on all fours, with your knees touching at the middle of the board. When you feel balanced in this position, sit up so you are on your knees. Try paddling like this for a bit to get used to the balance. Adjust your knees and placement as needed.
Standing Up On Your SUP
Once you have mastered paddling on your knees, you are officially ready to stand up. The end goal is to get your feet where your knees are. The key is balance and patience. Place your paddle safely in a horizontal position, and then put your hands flat and wide on the board as you slowly lift up and tuck your feet forward.
It is always best to stand up when the water is calm and protected, especially when you are first starting out. Choppy waters and wind can make the balancing act much more challenging.
Paddle Smarter Not Harder
Once you get your balance and can stand up without issue, it is time to focus on your paddling. Sure, you might just feel great for just standing (and you should), but having an efficient and proper paddle stroke can make all the difference in how gracefully you move, and also how much your body hurts the next day.
You will notice that the paddle itself slants in one direction. You want that angled paddle to face away from you, and towards the direction you are headed. When it comes to where to place your hands on the paddle, one hand should hold on to the top T-grip, and the other should grip the paddle about two feet downward.
When you paddle, make sure you are using your core, not your shoulders and back. So keep those arms straight and twist your torso while crunching that core. Be mindful of your core, and use it when you can. This movement and motion will slowly become second nature.
Also remember posture as you paddle. You don't want to stay in a forward squat or look down while you paddle. Paddling like this makes it hard to balance and navigate. Over time this will also put unnecessary stress on your back and neck.
Learn How To Fall Gracefully (And Get Back Up Again)
By now you have gathered that the odds are, as you learn how to SUP board, you are likely to take an unintentional dive into the water once or twice as you get the hang of things. Even once you get comfortable, there may come times when you need to jump off your board in a safety or emergency situation.
The key is to fall outwards and horizontally. Fall away from your board whenever possible. This prevents you from hurting yourself or your board, which is likely to occur if you fall on it or very close to it. Falling horizontally is also important, especially in shallower waters. This will keep the fall just below the surface. If you dive in, you might hit the bottom, causing scratches or even serious injury.
Once you fall, first, gather yourself, and get back to the center of your board. Pull the board down a bit so you can reach the far side with your hand. This will allow you to reach over and hoist yourself back on in one kick motion.
This won't be graceful at first. But over time you will develop a rhythm, and you will also start strengthening the muscles that assist in this action. That's the beauty of SUP boarding. It's an adventure that keeps you and your body learning and growing. Once you get the right gear and start to stand up without wobbling, you will forget the initial learning curve, and even the fact that it's a workout. Instead can just paddle forward with ease, enjoying all the benefits it has to offer.
Tom Gaffey is a travel writer and author who first discovered his love of paddling at his grandparent's lake house in Massachusetts, where he could be found canoeing endlessly. As an adult he fell in love with SUP boarding while living on Oahu's North Shore. He also loves exploring in a kayak around some of his favorite places in the world, like Puerto Rico, Montenegro and the hidden shores of Oaxaca.