Stand up paddle boarding (SUP) is one of the most rewarding water sports activities on the planet. It's no wonder it has exploded in popularity in the last 10 years. From the shores of Waikiki to the canals of Venice, people are standing on these boards and paddling into epic places throughout the world.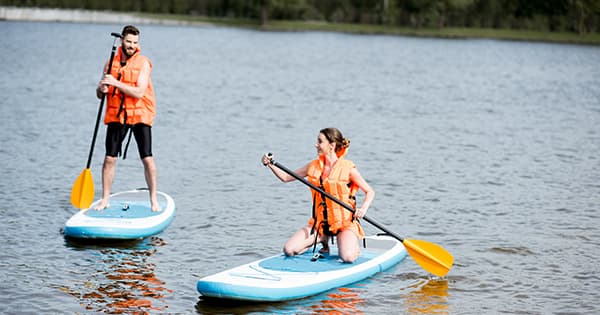 While stand up paddling is fun and invigorating, amusement is not the only reason to pick up the paddle. SUP is also one of the best workouts around, and can benefit your health in all sorts of ways. From heart health to joint health and even a balanced mind, stand up paddling is loaded with opportunities for you to improve your well-being.
Top 10 Health Benefits To Stand Up Paddling
1. It's Full Body Workout
One of the best aspects of standing up while paddling a board or boat is that it engages the entire body. Stand up paddling is a full body workout. It engages everything from your feet, to your legs, all the way up through your torso into your neck and arms. All your muscles get a chance to stretch and work. This means you are not letting any part of your body have an off day. It also means you are making the most out of this workout time.
2. Low-Impact Workout For All Athletic Levels
While competitive stand up paddling is an intense and rigorous workout, casual paddling on a SUP board is a lower-impact activity that experts and novices alike can enjoy. Low impact workouts are great for those who have issues like bad joints (i.e. bad knees), or even have flat feet. Low impact means you get all the benefits of exercise without it taking too much of a toll on your body. This is helpful for those who are still getting into better shape, and have not built up the tolerance to certain pain that can be associated with workouts.
3. Burns Calories And Promotes Weights Loss
One big reason many people take up exercise is to lose weight. Stand up paddling is a fantastic way to burn calories, and in turn, lose weight. In fact, you can burn anywhere from 300 to 450 calories an hour on your stand up paddle board. Of course, the more intense the paddle, the more calories you burn. But the best part about stand up paddling is that most of the time you don't even feel like you are "working out" because there is so much to see and enjoy. It certainly beats spending an hour at a crowded gym.
4. Great At Improving Balance
Balance is a critical skill that we use in our everyday life. Unfortunately, we often take it for granted. Balance, like any skill, must be practiced and fine-tuned. Stand up paddling is one of the best ways to work on balance and help you have more confidence in maintaining your equilibrium.
5. Perfect For Improving Core Strength
"Core strength" has been one of the biggest buzz words in fitness ever since pilates came onto the scene. But pilates is not the only way to work your core. In fact, stand up paddling is one of the best ways to work on your core strength. This is because it makes your muscles work together in balance and harmony, which is a key to core exercise.
6. Improves Cardiovascular Strength
Not all health is seen through bulging biceps and your Body Mass Index. The most important muscle in your body is your heart, and it needs exercise. Stand up paddling, especially when performed for at least 30 minutes (which is often the minimum paddle for most enthusiasts), is a great way to improve cardiovascular strength. It helps you reach your target heart rate for cardiovascular activity. Best of all, you are having fun while doing it. This makes SUP a great alternative to running or climbing a never-ending stair machine.
7 . Great For Improving Your Joint Function
Stand up paddling is also a good workout option for those looking to improve their joint strength. As you paddle and balance on your SUP board, this balancing act lends itself to improved joint function. This is particularly true for your knees. So for those who are looking to improve their knee strength, SUP is a great option, especially compared to running, which can negatively impact your joints.
8. Reduces Stress And Anxiety
In addition to improving your physical health, stand up paddling can be a fantastic way to improve your mental health. SUP can be very relaxing, and has been proven to have a calming effect on both the mind and body. Taking up stand up paddling as a regular exercise and leisure activity reduces your stress and anxiety levels. Many SUP paddlers even find the activity as a great gateway towards a good meditation session. Combining SUP with meditation can have all sorts of great results, including improved blood pressure.
9. Safe Alternative To More Dangerous Water Sports
One major health benefit to stand up paddling is that, when considering the alternatives, SUP is relatively low risk. Surfing, waterskiing, ocean swimming and other open water workouts come with potentially more risks. Where with surfing there are risks of major injury including concussion and arm dislocation, with SUP you can often stay out of danger.

Sure, taking your SUP board into 15 foot swells is hazardous, but if you want to be cautious and safe, paddling in a protected bay is a low-risk water activity with endless health benefits. Moreover, wearing a life vest while paddling does not interfere with your enjoyment.

Shop Life Vests Options for Paddling >
10. Excellent Source Of Vitamin D
When it comes to the health benefits of SUP, you can't leave out the benefits of the sun. Being outside is not only a great way to get fresh air and a sense of calm, it is a great way to soak up some much needed vitamin D. The best way to get vitamin D through nature is to get some sun exposure.
It is important to be careful out on the water, and you should use a highly effective waterproof sunscreen with high SPF. But once you have protected yourself properly with the right sun block, you can rest assured knowing not only will you avoid a sunburn, but you will also avoid a vitamin D deficiency.
Great Waterproof Sunscreen Options For SUP Boarders
Great For Effective Long Lasting Needs: BLUE LIZARD Sensitive Mineral Sunscreen with Zinc Oxide, SPF 50+
Quality Spray-On Option: Sun Bum Continuous Spray Sunscreen, SPF 50
And For Kids: Sun Bum Baby Bum SPF 50 Sunscreen Spray
Tom Gaffey is a travel writer and author who first discovered his love of paddling at his grandparent's lake house in Massachusetts, where he could be found canoeing endlessly. As an adult he fell in love with SUP boarding while living on Oahu's North Shore. He also loves exploring in a kayak around some of his favorite places in the world, like Puerto Rico, Montenegro and the hidden shores of Oaxaca.