As a paddling lover you have a passion for the water you can probably trace back to your youth, possibly even childhood. What might be a bit harder for you to recall is who got you into your first canoe or kayak and how, thus setting you off into a lifelong passion. Now that you are an adult you may find yourself wondering how you can take the passion and wonder for paddling and water sports that you have and instill it into your own children.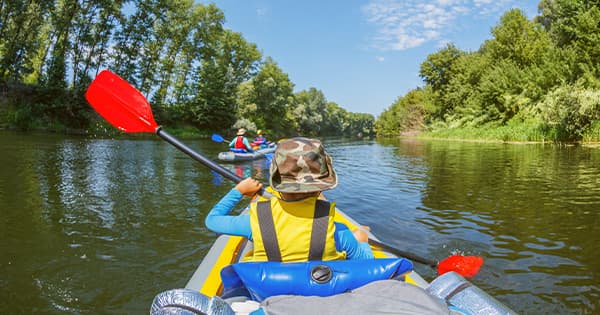 When it comes to getting your kids into paddling, the most important thing to remember is that you need to make it feel safe, fun and enticing. One terrible canoe or kayak experience can traumatize a child into never wanting to pick up another paddle again. The key is to start slow, and let their intrigue guide the way. Also, candy helps.

Entice Them Before You Embark On The First Journey
Instilling an interest for paddling should start before you ever put a life jacket on the child and sit them in a canoe or kayak. It can start with stories, photos and videos of kayaking. There are a plethora of movies that feature paddling, from documentaries to period pieces and family Hollywood adventure films. Planting the seed, and normalizing (perhaps even idolizing) the idea of paddling in a child is the first step in getting them to pick up a paddle.
The key is that taking them paddling should not feel forced. In fact, if possible it should be their idea. Once you have introduced them to the concept of paddling, and gotten them excited, you are ready to consider your next steps.
Make Them Feel Safe And Confident
It should go without saying that safety should be your number one priority when it comes to getting your kids into paddling. Always have the Coast Guard recommended life jackets and safety equipment. Not only do these devices help save lives, but you might be surprised how much a life jacket can help build a kid's confidence on the water.
Consider Swimming Lessons
If you are hoping to get a child into paddling at a particularly young age (under 8) ensure they are strong and independent swimmers. When a child has faith in his or her swimming abilities, water sports can feel more approachable and exciting to a child who knows how to (and loves) to swim. Just as you need to walk before you run, you should learn to swim before you paddle.
Start In Shallow Tranquil Waters
When you start to teach a child how to paddle, the open ocean is probably the last place you should go. Lakes and tranquil bays within the shallows are great places to get a child used to stroking a paddle, balancing and steering a boat. You may have forgotten, but these skills develop over time, and are best learned without having to worry about currents, waves and weather.
Bring Them Along For The Ride Before You Bring A Paddle
Slow immersion is a great way to get a kid more excited about paddling. If you are teaching them in a canoe, have them sit in the bow (with an adult or alone, depending on age). You can do all the paddling and steering while the child gets used to being on a boat.
This is effective at getting your child into paddling for several reasons. For one, the child is already learning one of the key aspects of paddling without even knowing it -balance. If you take the child on several rides, it won't take long for him or her to understand how to move and balance in the water. Plus, making those inevitable wobbly mistakes are much easier to recover from when you have your hands free instead of occupied by a paddle. This method is also great, because after a few ride-alongs, the odds are your child is going to start asking if they can paddle too. It is only natural for a child to want to imitate the parent or adult -especially when what they are doing looks like fun.
Two Person Kayak For Teaching Kids Recommendations
Advanced Elements AdvancedFrame Convertible Tandem Inflatable Kayak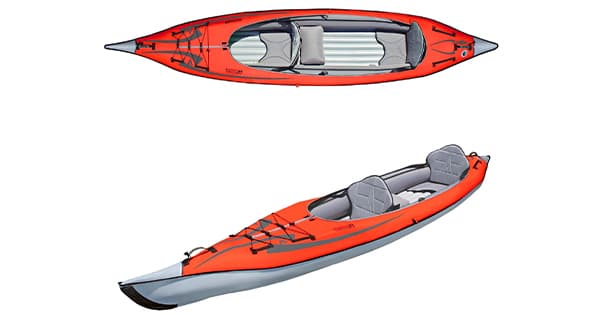 This inflatable kayak from REI offers you the option to make it a solo or tandem kayak -making it a great storable kayak option for those with young kids. Use it on your own, or add the tandem seat when you want to introduce your child to kayaking.
Try An Inflatable or Sit-On-Top Kayak When They Are Young
Another approach that can be effective is by introducing paddling as a game, or with a "toy." Both inflatable and sit-on-top kayaks are a perfect bridge between a youthful toy and paddling vessel. It's essentially a graduation from floaties, and inner tubes.
Sure, you wouldn't take most inflatable kayaks on a paddling adventure, but the goal here is getting the child comfortable with all the skills necessary for the future. Just like with training wheels, the odds are the child will beg forthe next level, which in this case is a canoe or proper kayak.
Sit-On-Top And Inflatable Kayaks For Kids
Lifetime Youth Wave Kayak (Paddle Included)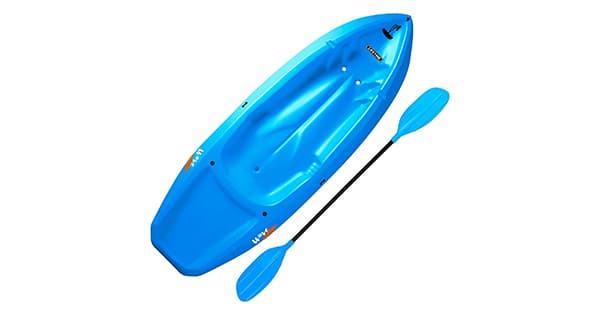 This is an affordable and lightweight sit-on-top kayak, recommended for children 5 and up. A great way to introduce your youth to paddling without breaking the bank.
Pelican Solo 6 Feet Sit-on-top Youth Kayak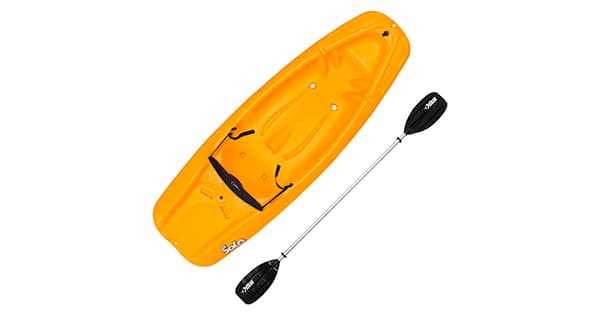 This is another great sit-on-top kayak option. It comes with more accessories, and is a good option for a slightly older youth looking to "test the waters" of actual kayaking.
Intex Challenger Kayak, Inflatable Kayak Set with Aluminum Oars and High Output Air-Pump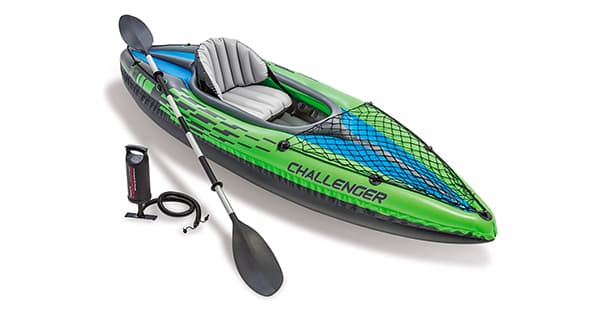 A popular and affordable inflatable kayak option that comes with all the tools you need to get your kid trying out what it's like to kayak, with it still feeling like a toy.
No Destination Is The Best Destination
The final key to helping you get your kids into paddling is to remember it is about the journey and joy of paddling, not about an elaborate itinerary. As a parent, surely you know the best laid plans are just waiting to be derailed. Savor the unpredictability, and make your early paddling adventures with your children less about the destination and more about the love of being one with the outdoors. This means not setting a strict agenda, or creating a detailed map for early paddling adventures. If your kid gets bored after an hour or feels like enjoying the beach instead of paddling on, don't force him or her to keep paddling on. Let the love of adventure slowly grow over time. Most importantly, make sure you have plenty of food, drinks and sweet treats to bribe them with to keep them smiling and wanting more.
Tom Gaffey is a travel writer and author who first discovered his love of paddling at his grandparent's lake house in Massachusetts, where he could be found canoeing endlessly. As an adult he fell in love with SUP boarding while living on Oahu's North Shore. He also loves exploring in a kayak around some of his favorite places in the world, like Puerto Rico, Montenegro and the hidden shores of Oaxaca.