Sometimes I think my desire to go bass fishing days before the lakes freeze over may be simply because I just need a reason to get out before winter hits. To be honest, it's not the most comfortable time to paddle across open water. The temperature has dropped, rain slowly turns to sleet or snow, hands cramp up, toes turn numb. Staying warm is just as challenging as finding where the fish are.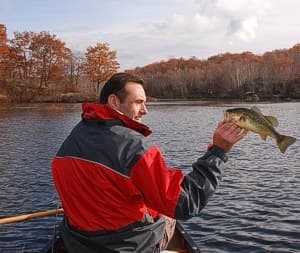 The good news, however, is that the bass are on a feeding frenzy to fatten up before winter. Catching a lot of monster-size fish can make the chill in the air worth every moment.
Summer canoe/fishing trips does seem easier. Casting a lure or jig into the shoreline weeds during a calm, misty morning can be absolutely blissful. When the temperature drops, however, the same shoreline vegetation that once gave off a rich source of oxygen is now decomposing and giving off high levels of carbon dioxide. The bass and the minnows they feed on pack up and move out in search of more oxygenated parts of the lake. It's like finding a needle in a hay stack if you don't know a few tricks.
The bass follow the baitfish, which seek deep water with more oxygen (the colder the water, the more oxygen it contains). Smallmouth bass migrate vertically, but largemouth travel horizontally in the late fall. That means smallmouth are usually found off points and drop offs, leaving the back bays. Largemouth move to furthest edge of the weedy shorelines. The deeper the water the more greener the vegetation. If you find that spot, you'll find almost every largemouth in the lake stacked up side by side.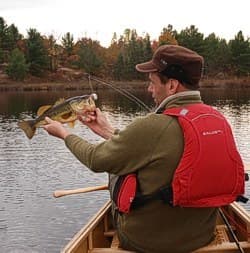 Crankbaits that dive deep and bounce off the bottom work. Even topwater lures can attract larger fish on warmer days. My choice, however, is to jig straight off the bottom with a tube jig or Carolina rig. Having a slight breeze drifting you can help locate the fish as well.
The best part of going on a late fall canoe/fishing trip however, is that no one else will be out there. Just you, the bass, and incredible Autumn scenery. It's an absolute dreamscape.
---
Kevin Callan is the author of 15 books including "The New Trailside Cookbook" and "The Happy Camper." A regular keynote speaker at major North American canoeing and camping expos for over 20 years, he has received three National Magazine Awards and four film awards, including top award at the prestigious Waterwalker Film Festival. Callan lives in Peterborough, Ontario, birthplace of the modern-day canoe.