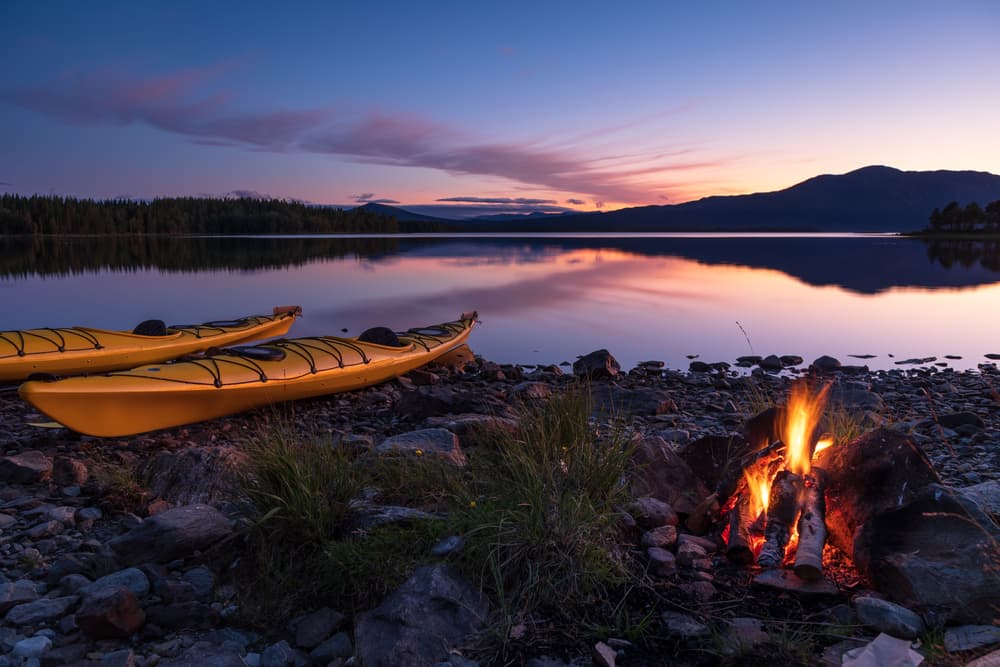 As the snow on my lawn melts away, so does the time for planning paddling trips. Friends and family will soon book their summer holidays, outfitters will fill up their schedules, and parks will fill their campgrounds. If you haven't already, it's time to start planning for summer 2023.
There is a lot to consider when planning a wilderness paddling expedition: Where will you go? Who will come with you? How long will the trip be? What logistical support will you need? What will you eat?
Perhaps the most difficult thing to determine is in what order you make all of these decisions. Your route may depend on your group, or does the group depend on your route? To avoid the "chicken or egg" decision paralysis, start with the 'why?' of your trip. Do you have a specific river or route on your bucket list? Do you have a group of people that you want to go on a trip with? Or, is there some other goal or reason for the trip?
Route
Often this is the stimulus for the trip. If you already know where you want to go, the next step is to find the right people to join you. If you don't yet have a destination in mind, choose your route based on the following: What are your objectives for the trip? Who are you going with? How long will the trip be? How remote do you want to be? And how much are you willing to spend on logistics (ie. float planes)?
Group
Maybe you have a group of paddling buddies that you do a trip with every year or you may have to start a campaign to recruit for your wilderness expedition. Either way, one of the first steps in planning a trip is to determine your team. Your comrades may need to get vacation time, negotiate with spouses and significant others, upgrade skills or acquire equipment. If you have already chosen the route, choose a group with the necessary skills and interests. Having the right route for your group or group for your route can make or break a trip.
Once you have a team determined, collaborate to make the big decisions and delegate details to each participant. I like to set up at least one meeting or video call with everyone involved. This gives a chance for everyone to meet, share notes on the route (or decide on one) and create a vision together. Subsequent planning meetings are advantageous, but if necessary, all of the logistical details can be figured out in a group email thread.
Outfitter or Self-Outfitted
How much logistical support you need will depend on your goals, skills and other resources. This could range from renting a few boats, to a fully outfitted trip. If you choose the latter, most of the planning is done for you. If you are going on your own, you have some work to do.
Transportation
Delegate one participant to organize all transportation needs. Getting to your wilderness destination may start with a carpool or commercial airline flight and could end in a van/truck, train or floatplane.
The transportation organizer should be responsible for:
Determining the most effective way for the group to get to and from the start and end of the route. Depending on your objectives and resources you will want to consider cost, comfort, safety, and reliability.

Making sure there is space, at each stage of the journey, for each person (and pet) and all equipment, including boats. They will need to coordinate with the gear person to ensure all gear makes it to the destination.

Booking all transportation logistics. Car rentals, shuttles, plane/train/ferry tickets etc.

Ensuring that all participants know what they are responsible for in terms of transportation. Are they bringing their car? Do they need roof racks? Etc.
Gear
Delegate one participant as the gear organizer. This person, with input from the group, should:
Make a list of all group gear needed (including boats, kitchen gear, tarps, packs, safety equipment, etc.)

Send out a group gear list and have each participant "sign-up" to bring specific items of group gear

From Step 2, determine if any group gear needs to be rented. Outfitters, outdoor stores, and clubs are all great places to source rentals. Book rentals early!

Provide a list to each participant of what personal gear they will require so that they can buy, borrow and rent as needed.
Food
Delegate one or two people to be responsible for organizing food. This is an extremely important task. It's easy to have too much or not enough; there are preferences, allergies and picky eaters. A well-fed team is crucial to a happy trip. You will need to determine how meals will go. The options are endless. Will all meals be prepared as a group? Will one person, or sub-group, organize/pack all the food or will each person pack X-number of meals for the group? Will everyone bring their own snacks? What about drinks?
Once you have a general food plan, the food team should:
Collect dietary information for all participants (preferences as well as allergies etc.).

Design a menu for the group and figure out a system for who brings what food items.

Coordinate with the gear organizer to ensure all necessary kitchen gear is included (what is needed will be determined based on the menu).

Ensure that each participant knows what they are responsible for packing and/or bringing for the group and for themselves.
There are many aspects to planning a wilderness trip that are not mentioned here, but hopefully this gets you started. The colorful bouquet of canoes and kayaks poking through the surface of the snow on my front lawn tells me it's time to pick a route, pull together a team and book the details for this year's paddling trip(s).