So, you've got your new kayak this season. You figured out how to transport it. Figured out how to pack it with gear. Most importantly, you figured out how to paddle it. Now, what about storing it? Hopefully some of these tips may help when putting your water companion away until the next adventure.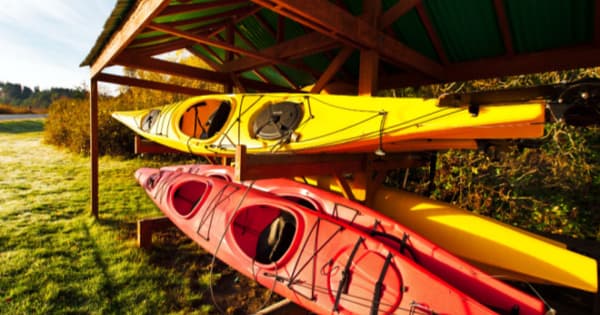 As in many other paddling topics, we can first begin our discussion noting how different kayaks may require completely different approaches for storage. Some are long, some are short. Some are heavy and built like a tank, others are ultra-light and require a gentler approach. At the same time, these decisions will also depend on what is available to us – and where we'll be able to store them. Outdoors, indoors, garages, basements, closets or sometimes even the trunk of our vehicle.
Let's begin with some general things to consider. Most of the time, paddlers will store their kayaks on racks that have two contact points – similar to when we transport them on our vehicles. And just like for transport, it's a good idea to try to pick two structurally strong locations on the kayak for support during storage. For example, on longer sea kayaks, lining up the racks under the bulkheads can provide good support.
It also will help to have plenty of padding between the rack and the kayak, especially if the rack has sharp edges. Some racks will use straps for the kayak to "hang" in place instead of resting on padding, so that the strap will follow the shape of the kayak exactly and reduce the chance of hurting it. Another consideration depending on your type of kayak and rack is to have the kayak rest on its side or upside down, as it may help keep your hull from deforming or getting hurt. Lastly, if you're storing your kayak for long periods at a time, consider shifting it every so often so it doesn't sit too long in the same position.
Plastics and Composites
Generally, plastic kayaks may be a bit more forgiving with ways to be stored, especially if it was made to take a lot of abuse on the water. Some whitewater kayaks are essentially tiny tanks. However, as mentioned before, sharp edges, extreme heat, or long periods of time without moving can cause problems for any plastic boat sitting on racks. Composites boats have different characteristics overall – they can be very strong on the water and super light. And while some will be tougher than others, still be mindful to store them using structurally sound spots and racks that will keep them safe.
DIY vs. Pre-made Racks
There's a lot of pre-made kayak racks, stands and slings already out there. Some are free-standing, others need to be attached to a wall, and there's even hanging systems to keep your kayak up near the ceiling and out of the way. Pre-made racks don't have to be the only route to take. If you're willing and have materials available, a kayak rack can be made at home with pretty much anything – wood, PVC piping, anything that might allow you to have those two points of contact and plenty of foam to ensure it will not damage the kayak.
I once re-used an extremely old rack from a broken electronic drum set that I had stored away in a closet for years. I re-configured it to the shape I wanted, added foam throughout, and had a double kayak rack ready to go. Currently, we have a rack we made at home with wood in our garage. The rack is attached to the wall studs for strength and support. The bottom arms rest on the floor just high enough to allow the bottom kayak to sit sideways, and there's another set of arms above it to hold a second kayak. You can see this particular setup in the video below.
Outdoor Storage
While storing your kayak indoors may be preferable (easier to keep it out of the elements, easier to keep the critters out, etc.), sometimes that's just not an option. If you must store your kayak outdoors, you can take a couple of steps for extra protection. A cover from the sun will be extremely helpful in keeping UV rays from degrading your kayak, no matter its material – as well as keeping it sheltered from rain and/or snow. If possible, a spot that might remain shady throughout the day can also be a good idea, as it might help in keeping a more constant temperature vs being blasted by the sun for prolonged periods of time. A cockpit cover will also help keeping unwanted visitors from making a home inside your kayak. It's never a fun surprise to have a creepy crawler say hi by walking on our legs during a paddle…
Folding, Collapsible and Inflatables
The types of kayaks that have the biggest advantage for storage are folding, collapsible and inflatable kayaks. These are designed with storage in mind and allow us to tuck them away almost anywhere – often times paddlers will keep them in their vehicles so they're always ready for the next adventure. Still, a couple of items to think about when storing these types of kayaks.
Moisture, dirt, and any other element that might hurt your kayak can cause more harm with these styles since they'll often be stored away packed tight without ventilation. So, before putting them away, make sure to rinse and/or clean them, and give them time to dry – especially if storing them long term. Also consider where it'll be stored and extreme heat or cold temperatures. If they remain in your vehicle for long periods of time, how will these temperatures affect them long term?
Some Last Items to Consider
Rinsing and cleaning your kayak before storage – especially if paddling in salt water will help keep them in good shape.
As mentioned, moisture can be harmful long term so allowing for them to dry before and during storage is a good idea. Maybe consider opening your hatches for a bit to air dry as well if there's a chance there is water or moisture in there as well.
Remember to empty out the kayak if there's a chance items might remain wet while in the hatches. We often keep safety gear inside full time so it's always there when needed – just make sure all of these items have a chance to dry as well.
Luke Rovner (Kayak Hipster) is a sea kayak instructor, photographer and filmmaker. Combining his experience as a photo and video professional with a love for kayaking, he started Kayak Hipster with the goal of capturing outdoor adventures and sharing kayaking tips.