We've all been there before. All through the cold months we dream of putting the heavy coats and extra layers away. So, when Spring finally comes around, we're eager to get back outdoors immediately. But paddling in the Spring can prove to be the toughest time of the year to dress appropriately for our environment.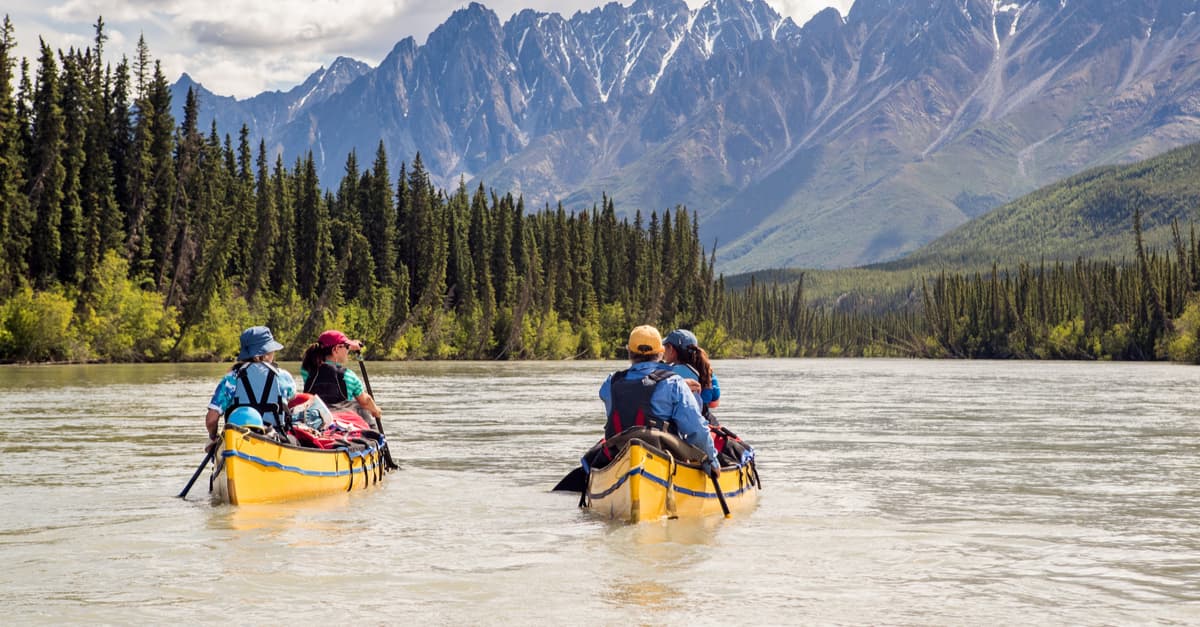 During the cold months, especially if you live somewhere where air and water temperatures drop significantly, dressing for the cold makes sense all around. We layer up appropriately to remain warm if we swim, just as much as when we're standing on the shore. But in the Spring, in many areas around the world, air temperatures rise way before water temperatures do. This leaves us in a tough predicament: if we dress for the water temperature the way we do in Winter we'll be hot, but if we dress for the air temperature alone, we could be in danger when we take a swim.
This is where making the best possible compromises across the two temperatures should always be implemented. The first rule needs to continue being "dressing for immersion." As we mentioned for Winter, we must have the right layers and/or types of layers to allow us to keep warm and function if we take a swim in cold water and avoid cold water shock. Now, in the Spring, we can look to use different types of layers that can keep us safe in the still-cold water yet help us stay cool while paddling in the warmer air. This short guide will showcase a couple of items and areas to consider when paddling in the Spring.

Should I opt for a wetsuit or a drysuit?
Like our Winter options, for Spring most paddlers will take one of two routes: wetsuits or drysuits. Wetsuits can help extend our paddling seasons, are affordable, and usually more favored in the Spring – and can also be paired with a drytop. Drysuits on the other hand can be used in a broader range and lower temperatures since they rely on the use of different types and amounts of layers underneath to keep us warm, and for Spring we can opt to decrease the amount of layering under a drysuit accordingly. They are, however, more expensive and require more upkeep.
Often, kayakers will decide between these options depending on the type of paddling they'll be doing each time. Let's say we're going surfing and there's a good chance we'll be swimming a lot. We might choose a drysuit with appropriate layers underneath for the water even if the drysuit might make us a bit hot overall in the warm air – getting dunked in the water is a great way to cool us down throughout the day. On the other hand, if we're day touring with a group and want to simply be safe in case of a swim in not-too-cold water, an appropriately chosen wetsuit with a splash jacket might do the trick.

Drysuits and layering
As we mentioned for Winter, a drysuit itself is only designed to keep you dry, so layering accordingly will help us stay warm if we take a swim. Synthetic or wool fabrics are ideal, and cotton MUST be avoided. Cotton will absorb water and dry slowly, making it a terrible choice when we want to remain dry, insulated, and warm. Base layers can be combined in different ways to address changing air and water temperatures. Also, sweat-wicking fabrics will help the drysuit breathe and keep you dry if you sweat.
A good example of a drysuit is the NRS Men's Crux Drysuit:
The NRS Crux Drysuit has a 4-layer Eclipse shell, giving it remarkable waterproof, breathable protection, and it's also stretchy enough to ensure freedom of movement while we're skirting eddies and dropping falls. It has a neoprene overskirt, latex neck and wrist gaskets, and a front zipper.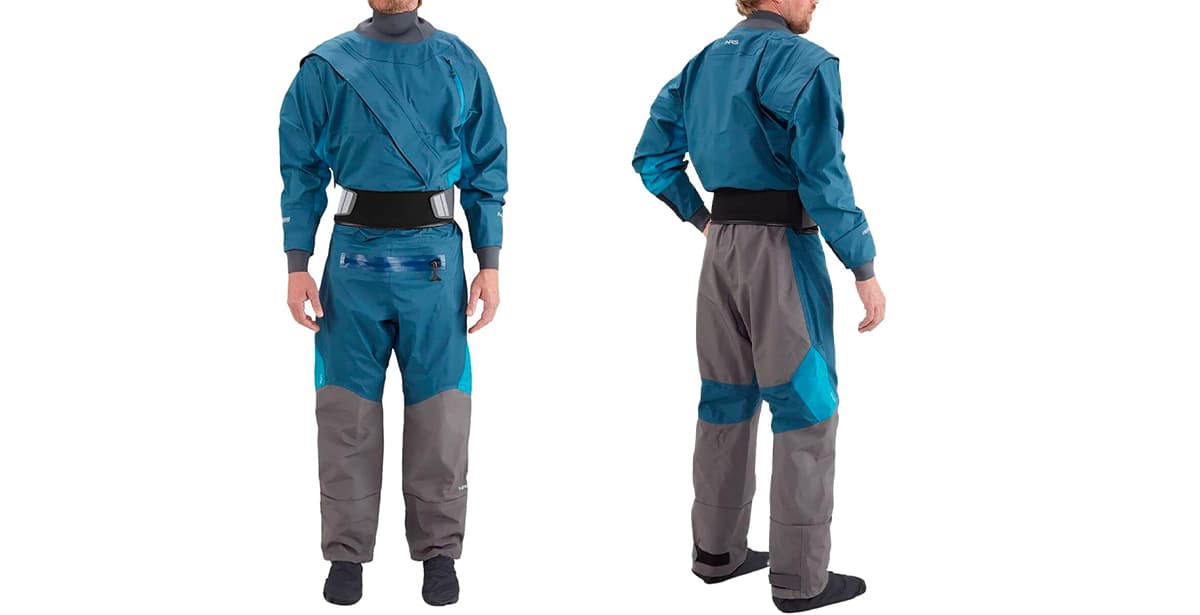 Shop Men's
Shop Women's
Wetsuits and layering
The other usual option is using Wetsuits. Wetsuits are affordable and an easy way to keep the body warm in the water. Lots of brands and styles are available, and you can mix and match their types and thicknesses – full body, farmer johns, tops, bottoms, vests, shorts, etc. For example, matching a vest with shorts could help keep our core warm in slightly chilly water, but allow us to not be too hot in warm temperatures.
Examples of .5mm, 1.5mm and 2mm zip-up jackets from NRS
The most versatile and popular piece of Hydroskin apparel, the NRS Men's Hydroskin 0.5 Jacket makes adapting to changing conditions easy. Zip it up over your Farmer John for full immersion protection or layer it over a Silkweight tee when you just need to cut the chill.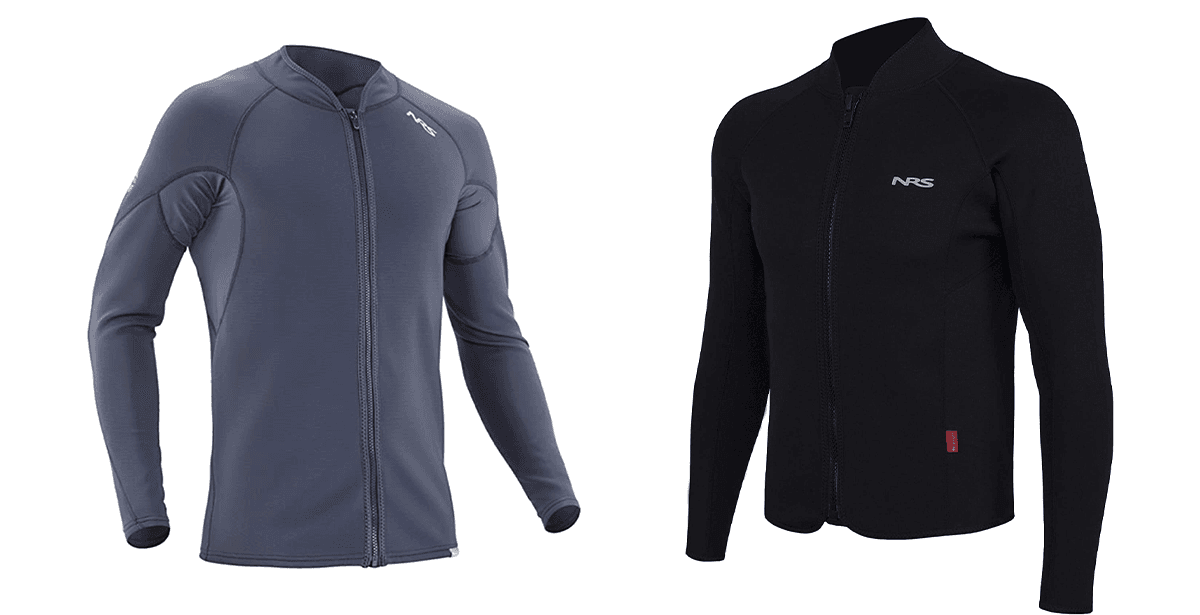 Shop Men's
Shop Women's
Throw on a paddling jacket
While wetsuits can help us stay warm if we take a swim, neoprene will not keep us warm when the wind gets going. You can add a splash or paddling jacket on top of your wetsuit to stop the wind chill, or even go for a full dry top that can keep you warm and dry as long as you remain inside the kayak.
A good example of a paddling jacket is the NRS Riptide Paddling Jacket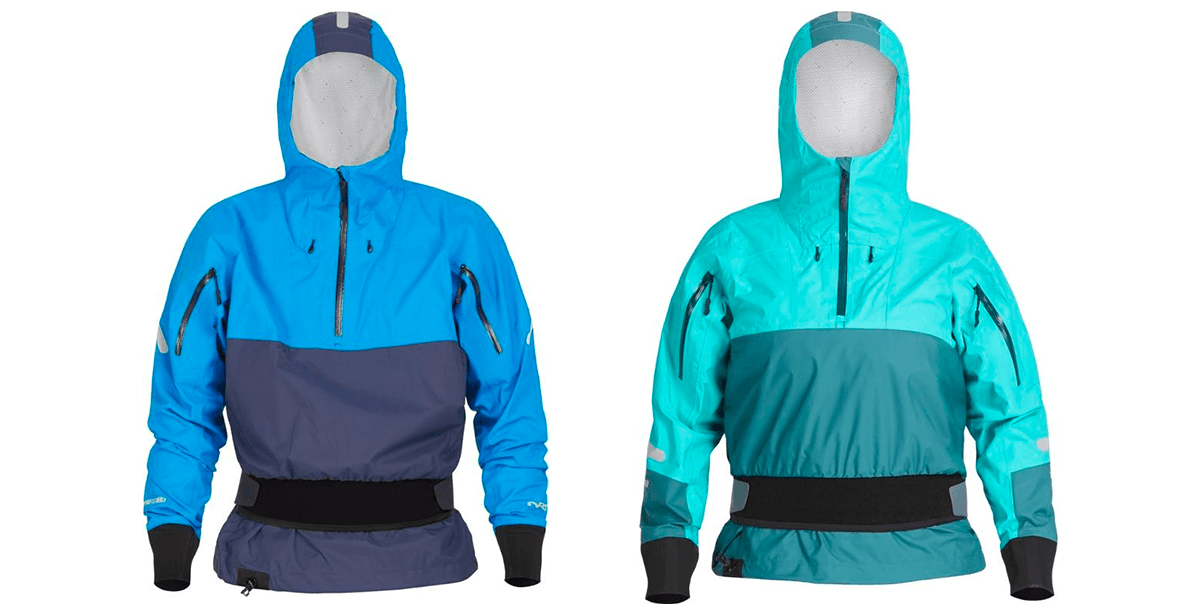 Shop Men's
Shop Women's
Stay dry with a spray skirt
Another way to stay dry and warm if you remain in your kayak is a good fitting skirt (for those that paddle sit-in kayaks). Similarly in the Spring, paddlers might opt for a lighter, still water-tight material that can also help not get too hot in warmer days. Reed's skirt/deck material Aquatherm is a great option.
Chillcheater Spray Decks
Aquatherm deck fabric has 360 degree stretch, instant memory return, and has 80% less volume and weight compared with traditional neoprene products without compromising performance. It is comfortable, durable and supple, UV stable, waterproof and fast drying.

Shop Now
Keep a dry change of clothes in a drybag
Just like during the Winter, having a dry change of clothes handy in a drybag can be a great safety measure. This is also helpful in the Spring and especially when we use wetsuits. A good drybag can keep your extra clothes dry whether inside a hatch or stowed away on your sit on top or canoe.
SealLine Baja Dry Bag
Dry Seal roll-top closure ensures the best Watertight Seal possible. These Bags provide complete waterproofing and durable protection with their heavy-duty nylon construction.
Shop Now
Keep a storm cag handy
The last item to mention for this list was also in our Winter list but can prove extremely helpful in any chilly situation. A storm cag is essentially a water-resistant jacket combined with a kayak skirt. It is big enough to fit over all our gear (including our PFD), and can attach to the rim of the cockpit to seal us in and help us warm up. Its use is not limited to the kayak, however. A storm cag can be worn at any time when we might be wet or cold, or given to another kayaker that might need the extra insulation.
Kokatat Hydrus Storm Cag
A one-piece combination jacket and spray skirt cover. Designed to be worn over existing clothing and PFD in inclement weather on or off the water. When not in use, the Storm Cag can be rolled into the hood for compact storage and tucked behind a seat back or into a day hatch.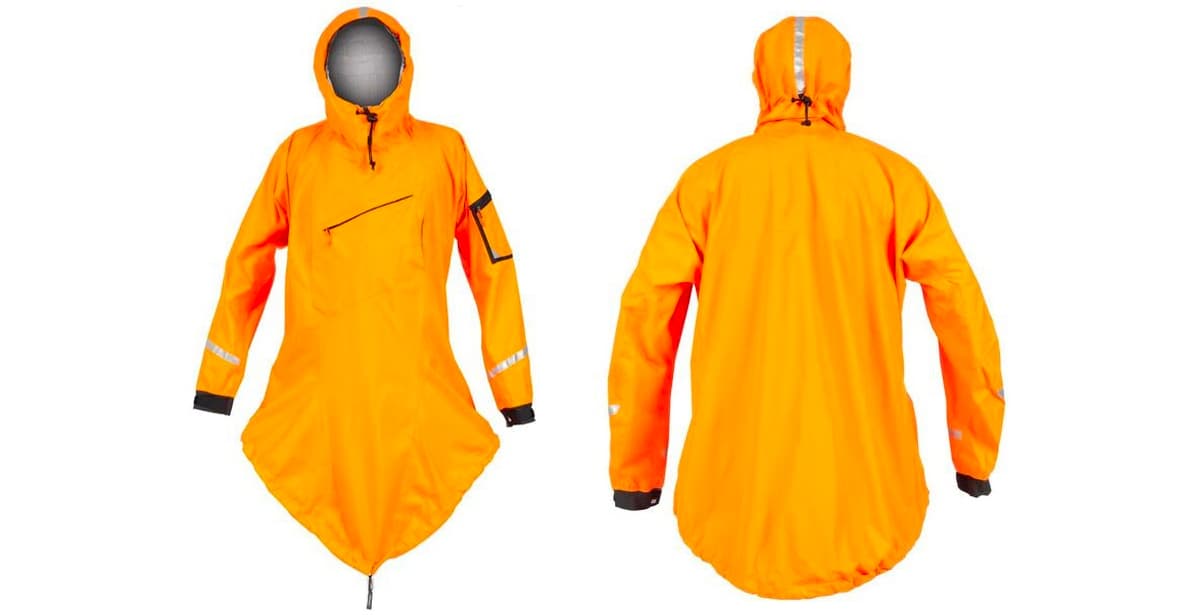 Shop Now

While Spring paddling might seem less dangerous than Winter paddling, the lagging cold water temperatures can be extra tricky to plan for when air temperatures rise. Still, wearing appropriate layers and being prepared to deal with a swim is essential. This list covers some areas and gear to consider, but please do continue learning about cold water paddling and ways to do so safely.
Luke Rovner (Kayak Hipster) is a sea kayak instructor, photographer and filmmaker. Combining his experience as a photo and video professional with a love for kayaking, he started Kayak Hipster with the goal of capturing outdoor adventures and sharing kayaking tips.